Located on Kenya's magical coast, lapped by the Indian Ocean and edged by the equator, Distant Relatives Ecolodge and Backpackers centres itself around connection, consciousness and community.
It's an orbit and a gravity as well-spun as it is well-grounded.
As their website beautifully puts it
'Distant Relatives sums up the central principle and aim of our project: to bring people together from all around the world to learn and share with one another and build lasting, positive relationships based on an understanding and appreciation of community and sustainability – at the end of the day, we are all Distant Relatives!'
And so we are!
Yet as travellers we are constantly confronted, if not defined by, our difference in relation to where in the world we find ourselves.
It is our "foreignness" that so often becomes our identity.
Here in Distant Relatives however, is a place where this is not only voiced and acknowledged, but, in doing so, a unique space is created in which these boundaries can begin to be trespassed and closer connections formed – with each other and the environment.
Now if that isn't a principle to base a backpackers on, I don't know what is!
---
Related Posts
---
My stay at Distant Relatives was kindly sponsored, but, as always all views are my own.
This page contains affiliate links meaning Big World Small Pockets may receive a small commission on any purchases at no extra cost to you.
---
Grab Your Copy of How to Travel Africa for Less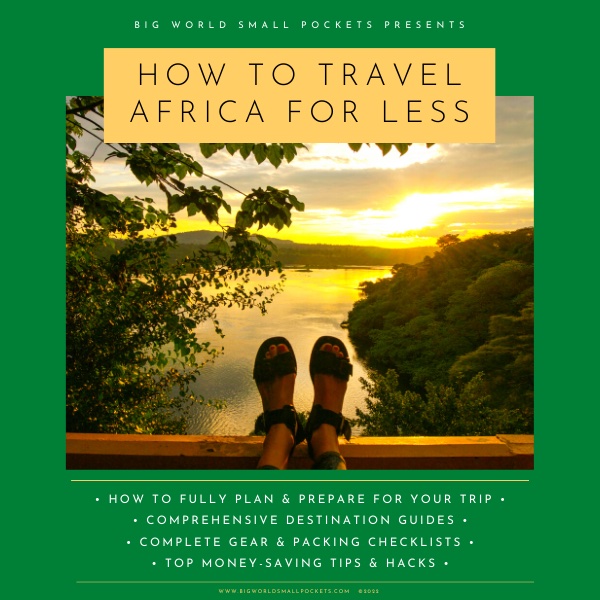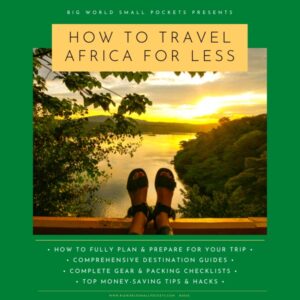 My ultimate guide to travelling Africa on a budget is now available, meaning you can finally get ALL my top tips for adventuring around all, or parts, of this amazing continent in one handy eBook, including…
Full Planning & Preparation Guides
Detailed Destination Info
Complete Packing & Gear Lists
Top Money-Saving Tips & Hacks
Inspiration and Integrity
Dreamed, established and owned by a French backpacker, who now lives in Kenya, it's perhaps no surprise that Distant Relatives holds integration and inspiration at its core.
After all, which budget traveller doesn't dream of setting sail to a land of tropical beauty, building a backpacker business and never returning?!
But the inspiration doesn't stop there.
Distant Relatives has created itself through 3 core principles…
#1 By welcoming and accepting everyone regardless of race or religion
#2 By honouring the environment and striving towards zero-impact
#3 By working strongly with the local community
And unlike many places around the world, which oversell the dream, this place stays amazingly grounded despite its lofty ambitions in a continent so often beset by ethical and moral challenges.
TRAVEL INSURANCE FOR KENYA
World Nomads offers simple and flexible travel insurance. Buy at home or while travelling and claim online from anywhere in the world.
Alternatively, if you're a long-term traveller, digital nomad or frequent remote worker seeking travel health cover, check out Safetywing's Nomad Insurance policies.
Welcoming and Accepting
For a start, Distant Relatives really is a melting pot for global travellers, a delightful haven to connect with those coming from as flung places as Egypt, England, Spain, South Africa, Norway, New Zealand, Argentina, Australia, China, Chile and of course, Kenya.
From families to solo long term travellers, everyone is made to feel welcome here with this hostel's beautiful chillout areas and large guest kitchen acting as spaces for the sparks of stimulating conversation to ignite and fly.
There's a buzz here, a beauty and a buoyancy.
And it's a big one… As in this place is literally huge!
In fact, Distant Relatives is more like a lodge, a rustic resort, rather than a backpackers.
From camping to dorms, private rooms to safari tents and even self-contained thatch cottages (known as bandas), there's plenty of accommodation choice for all.
There's a bar too. A restaurant, a pool, a movie projector room, a volleyball court, live music nights and lots of comfy, cushioned day beds.
This is a backpackers that knows what travellers want … (day beds mostly!)
And, of course, people get stuck here.
It's easy to see why.
I'm thinking of getting stuck myself.
It's a conscious sticking.
LEARN MORE: The Quick Guide to the Kenya Coast
LOOKING FOR A BUDGET TOUR IN KENYA?
If you're interested in an unforgettable, well-priced tour in Kenya with guides you can trust, then email me at [email protected] and I'll send you my top recommendations – simple!
Honouring the Environment
But stuck where?
The answer is a town called Kilifi about an hour north of Mombasa on the Kenyan coast in East Africa.
Easy to get to either by bus, plane or train from Nairobi, this well-established local town is however a world away from the country's capital.
Kilifi sits between a large creek that sparkles with bioluminescence and a turquoise, glittering ocean, surrounded by a rich forest and friendly faces.
It's a lush land of tropical green, ancient Boab trees and rolling hills, which infiltrate the earthy and outdoorsy Distant Relatives through its spacious grounds, ambling stone paths and wild gardens.
It's also wonderfully captured in the hostel's architecture, which was built with eco in mind and twinkle in the eye.
It's a recycle, upcycle, conscious kind of care, where rainforest showers fed through trees feed lemongrass, banana and moringa trees.
(Yes if you ever eat moringa superfood powder for breakfast you can see the real trees here while you do it!)
Toilets are dry and composting, used as fertiliser for the gardens, and natural materials such as bamboo, thatch, wood and local fabrics predominant.
Efforts for sustainability reign and during my stay I was lucky enough to spend an afternoon with the Distant Relatives head gardener, Benji, an incredibly interesting and inspiring man who is actually a leading authority in the permaculture movement in East Africa.
His passion, proficiency of knowledge and pleasure in sharing it, was as startling as it was joyful.
LEARN MORE: 14 Spellbinding Things to Do in Kenya
Working with the Community
Learning from Benji, listening and sharing my experiences of permaculture in Australia and Central America, I realised afterwards we were creating exactly the sort of captivating, connective, cultural conversation Distant Relatives seeks to create.
**Good work guys!!
Like 99% of the staff at Distant Relatives Benji is Kenyan and what meeting people like him, allows travellers like us to do, is engage organically.
It also provides local jobs of course in a country where it is believed 42% live below the poverty line on less than $1 a day.
Skilling, training and investing in people, Distant Relatives seeks to assist the Kilifi community closing gaps in hearts and minds.
My Stay at Distant Relatives Ecolodge
I stayed 11 nights at Distant Relatives and, as you can probably tell, fell under the spell of its magic as much as everyone else I met.
With my private, queen bed banda, I was quickly lulled into a routine of morning yoga, leisurely breakfasts, morning markets, afternoons tapping away at my keyboard, before enjoying sunset dhow rides, night swims and one too many beers.
As far as routine goes, it was delicious.
Some days I even failed to leave the lodge – there always being something exciting to do and someone interesting to talk to.
Distant Relatives is a rare treat for backpackers in Kenya, indeed in Africa, and I highly suggest you indulge and enjoy to your heart's content.
It will thank you.
Learn more about how much it costs to travel in Kenya here.
Beds at Distant Relatives fill up fast!
Click here for the best prices.
LIKE IT? PIN IT!