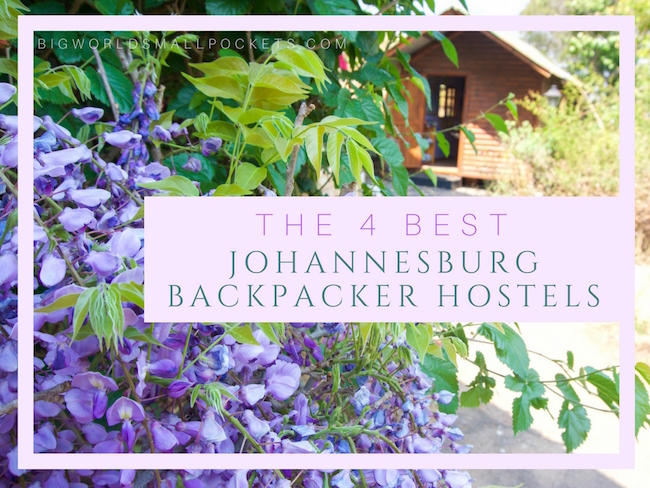 Not known for its traveller-friendly status, Johannesburg is, however, a major international hub when it comes to flying into or out of Africa.
As such many travellers, like me, find themselves spending a couple of days here either at the beginning or end of their journey.
But don't fear, this city really doesn't deserve the bad rep it has, and actually makes a great spot to acclimatise before you hit up the rest of this amazing country or continent.
So if you are sticking around for a couple of days, here is my list of the best 4 Johannesburg hostels to stay at while you do.
---
Related Posts
---
This page contains affiliate links meaning Big World Small Pockets may receive a small commission on any purchases at no extra cost to you.
---
#1 Once in Joburg
Coming in at the top spot, it has to be Once in Joburg – a pretty new backpacker hostel right in the centre of the Johannesburg.
We stayed here 2 nights and loved the hipster, student area it was based in, complete with trendy cafes, bars and glorious neighbourhood markets.
The staff at Once in Joburg were also excellent and our ensuite, private room spotlessly clean.
To top it all off, there was free breakfast – a delicious bagel – and lightning-fast wifi speed throughout the property.
#2 The Backpackers Ritz
Set within a quieter and more affluent suburb, the Backpackers Ritz of Johannesburg is located a little out of the city, but definitely feels safer for it.
I walked 15 minutes to the supermarket here alone for example and felt perfectly secure.
The hostel is a bit run down to be fair, housed in a large property, but the lovely staff / owners here make it!
In fact, these guys (who couldn't help enough) and the interesting grounds were entirely why we rated this place one of the best backpacker hostels in Johannesburg.
There's good free wifi at the Backpackers Ritz too – although it's only available in the main building – and the guest kitchen is large, spacious and well-equipped.
#3 Curiocity Backpackers
Based right in the centre of Johannesburg's most happening suburb – Maboneng – Curiocity Backpackers is the hostel for those who want to indulge their inquisitiveness and explore museums, markets and some great cafes.
With a great guest kitchen, wifi and rooftop, this is a very social place to meet some fun travel friends and from female dorms to private rooms, there's a super spectrum of accommodation choices dependent on your budget and travel-style.
Voted one of the top 10 industrial-chic hostels in the world by the Guardian, Curiocity Backpackers is definitely one of the best Johannesburg hostels.
#4 Lebo's Soweto Backpackers
It's this hostel's unusual and important setting which really make Lebo's Soweto Backpackers.
Located in Soweto, Lebo's is not just a place to stay, it's an experience… possible on 2 feet or 2 wheels!
Safe to walk around and enjoy, the surrounds of South Africa's most famous township make this is a fascinating backpackers and a great way to see a different side of this country and life for the people here.
And if even you don't feel like venturing out much, the hammocks in the garden at Lebo's, as well as the campfire and very relaxed atmosphere, make this a super place to chill as well.
These guys are Fair Trade in Tourism accredited and also offer camping, so what's not to love!
PIN IT TO PINTEREST!
So there you have it, the 4 best Johannesburg hostels.
Have you visited this top South African city?
Which backpackers did you choose and would you recommend it?