I think it's one of the biggest misnomers in budget travel – namely that Africa is cheap to travel.
Again, that's far too obtuse, let me reframe that…
I think it's one the biggest misnomers in budget travel that East Africa is a cheap destination to head to.
Indeed, travelling in East Africa, of which Kenya is a part, can often be hugely costly to adventure in, especially if you don't shop around for bargains or are constantly off on activities and excursions.
As usual, tours are always the most expensive way to travel but, because many people feel so nervous about travelling in this part of the world, they often opt for them, which although isn't necessary, I do understand.
Now this is all fine – if you have a big budget, want to splurge on the trip of a lifetime or don't have a lot of time to research and plan then having an expensive trip to Kenya is no problem!
However, if you want to visit this country on less than your average tourist and still have a good time, it pays to know a few key tips.
So here's my guide to what you can expect to pay for a trip in Kenya, as well as some of my top budget tips for travel here.
Hope it's helpful!
---
Related Posts
---
This page contains affiliate links meaning Big World Small Pockets may receive a small commission on any purchases at no extra cost to you.
---
Grab Your Copy of How to Travel Africa for Less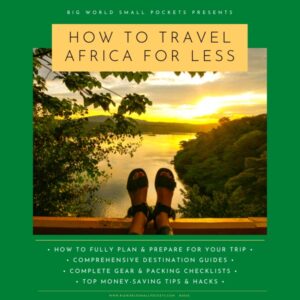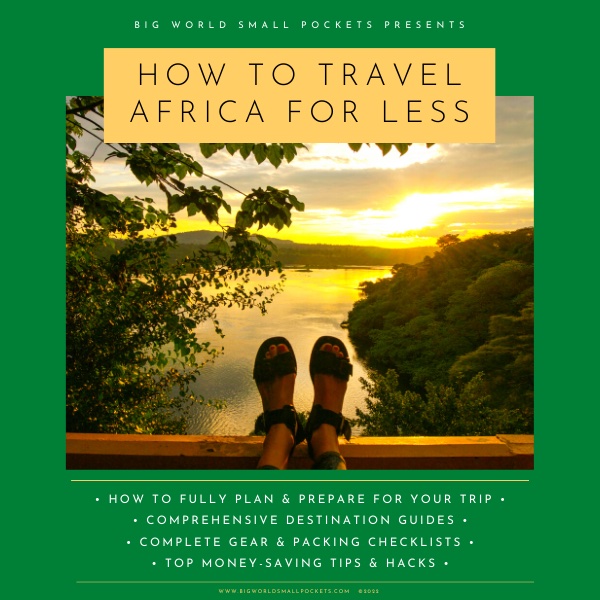 My ultimate guide to travelling Africa on a budget is now available, meaning you can finally get ALL my top tips for adventuring around all, or parts, of this amazing continent in one handy eBook, including…
Full Planning & Preparation Guides
Detailed Destination Info
Complete Packing & Gear Lists
Top Money-Saving Tips & Hacks
Introduction to this Kenya Travel Budget
This budget is based exactly on my travels in Kenya, which actually lasted a couple of months in total… so you can trust it's entirely authentic!
And now that you trust me(!), let's be clear about something – this budget involves travelling in Kenya as a solo shoestring adventurer i.e. eating in cheap local spots, staying at cheap local hostels and opting for cheap safari and scuba diving deals.
It involves using local public transport where possible and works towards keeping entrances fee, tours and guides services to an absolute minimum.
And that's because I'm a budget travel blogger!
This means I'm always looking to do things as cost-effectively as possible while still having a good time and the odd treat 😉
And have a good time in Kenya I certainly did, which is why I'm so happy that my daily expenditure here actually came in lower than that of any other East Africa country I visited – namely Rwanda, Uganda and Tanzania.
Mostly this is down to the fact that I stayed in Kenya the longest and, in particular, stayed put in a number of places at the coast for quite a while, which certainly helped lower the cost.
As always, slow travel wins!
But I realise this isn't everybody's style and so this article is going to be based around what particular elements of your trip might cost and to give you some idea about what you can expect to spend, especially if you're trying to watch your small pockets!
Things Not Included in the Budget
However, it's worth pointing out that there are some elements I didn't include in the budget, most of which involved expenses incurred before I reached the country.
For example, this budget doesn't include the cost of any visas (which for Kenya you probably will need FYI), nor the cost of international flights, (I always use Skyscanner to find the best deals) so don't forget to factor those in as well.
The budget also doesn't include any gear I bought before the trip, nor does it include travel insurance.
World Nomads offers simple and flexible travel insurance. Buy at home or while travelling and claim online from anywhere in the world.
Alternatively, if you're a long-term traveller, digital nomad or frequent remote worker seeking travel health cover, check out Safetywing's Nomad Insurance policies.
And with that preamble out the way, let's get on with bringing you my full guide about how much travel in Kenya really costs…
#1 Accommodation in Kenya
So the first thing that might start to surprise you about the cost of travelling in Kenya is the accommodation.
This is likely to be because it's probably is not as cheap (on average) as you would expect.
As with a lot of travel services in this part of the world, there's a reason for that – the infrastructure isn't as well developed and it is mostly aimed at a foreign market and priced accordingly.
There are slight nuances to this in Kenya, mainly that the tourism infrastructure here is quite well-developed especially compared to other countries in the region, and also that I did travel with other Kenyans – hoorah (there's a growing urban-based middle class that especially enjoy going to the coast) – but broadly speaking my initial assertion rings true.
Or at least, that's how the tourism industry has developed in this country and that's how it's stuck!
In this way, your accommodation prices are likely to be comparable to countries like South Africa, Peru or Italy.
Think around $10-20 USD for a dorm bed and $25-40 USD for a private room in a hostel.
Hotel rooms start from around $65 USD and more deluxe options can easily run into hundreds of dollars a night.
If you're interested in staying in hostels – and there are some seriously great ones in Kenya, then do check out my ultimate Kenya itinerary, which lists all my favourites.
In general, these are local businesses that really help enable cheaper and more lowkey forms of travel in Kenya, so I think it's great to support them.
Most are very clean and comfortable places where you can easily meet other travellers and also score safari trip deals that are more appropriately priced for budget travellers.
If you prefer to look for a hotel or apartment however, then I highly suggest checking out the following major destinations options for some great deals…
When it comes to accommodation, you'll also want to remember that travelling in high season is always going to involve the top price tags, as will visiting during a major holiday or festival, such as Christmas or Easter.
If you want to really work at keeping your accommodation costs down in Kenya, then a great tip is to stay in one place for longer.
By this I mean basing yourself in one city or destination for a lengthier period of time, and then simply day tripping from there.
As an example, there are several safari parks you can easily visit from Nairobi in a day and likewise from Mombasa or the southern coast.
The other top tip to keeping accommodation costs low in Kenya is to camp.
We'll talk about this in the activities section, but in general, most safari parks offer camping and this is by far the cheapest way to enjoy some time here, especially as there's often very little choice in between this and a luxury lodge.
I wouldn't advise wild or free camping in Kenya, it's best to do it either with a designated accommodation or tour provider, but within these parameters, it's a good option.
To work out your overall accommodation costs for Kenya (or anywhere!), you simply multiply the average budget accommodation figure of say, $20 USD per night, by the number of nights you plan to spend in the country.
Et voila, you have your rough accommodation budget mapped out!
To be honest though, it's hard for me to do this on this occasion because so much of the accommodation I booked in Kenya (especially the camping) was included as part of a safari tour and I therefore have no idea what I paid per night.
This is why working out the costs to travel somewhere like Kenya can be confusing as most people (even us hardcore budget adventurers) will end up taking at least some form of multi-day excursion.
And why not?
It really is often the best way to see some of the main attractions here.
#2 Transport in Kenya
This is another area that, when working out travel costs, can be tricky in Kenya.
And that's because, once again, if you take any tours in Kenya, especially to safari reserves, they are likely to include transport costs, so it can be hard to ascertain what exactly the individual travel costs are.
However, as I did travel independently in parts of Kenya, I have got a reasonable grip on some of the costs of moving around this county.
First up, the cheapest way to get anywhere in Kenya is via a local bus or matatu.
The latter are minivans that ply short distances, say within a city itself or between neighbouring towns.
Normally there's a lot of loud music and crowding involved and they can be very fun – just watch your pockets.
Trips through Nairobi on one of these cost less than $1, while ones that transport you between cities, say Nakuru and Nairobi, costs under $10.
These guys go fast and safety isn't the best, but they are no worse than chicken buses in Central America or the marshrutkas in the Caucasus!
Otherwise, there's also more "sophisticated" coach services that ply longer distances, say up to the north of the country, as well as the train that runs from Nairobi to Mombasa and is frequently used to get to the coast easily.
Finally, for short distances, it's good to know that Uber operates in Kenya, and for longer stretches, there's a domestic airline service, care of Air Kenya, that can get you to destinations like Mombasa or Lamu.
Flights can be booked for the best rates on Skyscanner, because these guys compare even budget airline options.
As an example, you're looking at around $80 USD to get from the capital to Mombasa direct.
Otherwise, when it comes to rail and bus travel, it's best to head to the station itself to buy a ticket and confirm the departure time – things can be a little flaky around here as you can imagine!
Of course, transport costs are going to be hugely dictated by how much you travel around Kenya and which modes of transport you use.
Buses are cheapest of course and flights are the most expensive – although booking these early will get you some good rates.
As such, a key way to keep transport costs down, if you don't want to use local buses and just rock up on the day, is to plan your Kenya itinerary in advance so you know exactly which days you're going where and book accordingly.
This will also allow you to book accommodation in advance and keep things cheaper there too, as you'll be reserving spots ahead of the curve!
#3 Tour & Activity Costs in Kenya
Ok, where this is where things can really start to diverge, and also spiral, with your Kenya travel budget if you're not careful.
And that's because I'd say the biggest indicator of how much your Kenya trip will cost you will be based on this component – namely how many tours you take in this country, how long they last and what level of luxury they involve!
At the cheapest end, a standalone tour to one reserve near to Nairobi that has camping as its choice of accommodation is still likely to cost around $100-150 per day per person.
Generally, this will include a pick-up and drop-off, as well as 2 meals a day, secure accommodation, transport within the park and safari guides too.
When you consider all this, it's really quite reasonable, especially given that all this will help you have the best time and see the greatest wildlife too.
On the other end of the spectrum, which I'm not really going to go into, there's opulent luxury tours that can easily stretch into $1000's of dollars for just a few nights.
Of course, these will have smaller group numbers, private transport and safari drive options and involve stays in boutique lodges.
If you can afford it, the sky really is the limit!
If the sky is not quite your limit however, and you're trying to keep costs low in this country, then I'd certainly recommend minimising the number of organised activities and tours you take, because you really could go to town!
Honestly, I'd recommend reserving tours in Kenya to the places you can't go by yourself, or you can't get the same experience when you go by yourself – this would include scuba diving activities on the coast, hiking Mount Kenya or safari tours to parks you really want to visit (again research pays off here!)
In my opinion, these safari parks include:
Taking guides or trips to these areas is a great way to experience the diversity of Kenya and dig deeper into the culture, landscape and history of this nation.
If that interests you too, then I do recommend spending some money on day trips and tours, as they will likely offer some fantastic and unforgettable experiences.
I certainly consider the money I put into tours and activities in Kenya well-spent – after all, why travel to a country if you're not going to see the best of it?!
And when it comes to safaris or other excursions I've mentioned, the reality is they are very difficult, and often more costly, to do independently.
Weird, but that's just how it works round here! Largely because companies can tap into bulk discounts and repeat deals, you simply can't as an independent traveller,
Also it's worth bearing in mind that if you book tours in person, last minute, you can always try to negotiate a good deal.
Likewise, if you take a longer tour, or a couple of tours with the same company, the price per day will come down.
All worth bearing in mind!
#4 Entrance Fees & Guides
In Kenya, most entrance or guide fees are included in day trips or tours you take, which means it's likely that this section of your budget will be very low outside of those costs.
Great news if you've accidentally gone over budget in other areas!
For me, these charges amounted only to what I tipped guides and drivers at the end of a tour – this is the culture in Kenya and can make a real difference when it comes to what people earn.
#5 Eating & Drinking Costs in Kenya
Well hello to this category, because first up sticking to local offerings means food and drink is very cheap in Kenya.
This is because it's the one part of the tourism offering that many local people obviously engage heavily with as well.
Ok, so I'm not talking about fancy restaurants in Nairobi, although of course they are there and attended by certain strata of Kenya society, but I'm also talking about just your average beer in a shop, local cafe or street food!
Because going local is always cheaper – local beer is the bargain of choice and you'll likely drink a lot of it in the warm sunny climate of Kenya. Tusker is the most popular option!
Food-wise, there's a lot of rice, beans, corn, eggs and goat if you eat as locals would – plus fish on the coast.
If you eat on the street or in a local joint, a plate will cost you just a couple of dollars…. And will fill you up!
Fresh veggies can be harder to come by – so go to supermarkets and shops for these.
Actually there are some "Western supermarkets" in more developed areas of Kenya that boast an impressive array of options, certainly in the major cities at least, so you'll be fine.
I have to say though, even as a vegetarian, I always found something to eat in Kenya… and it wasn't that hard!
There's also bottles of drinking water to factor into your Kenya travel costs.
Although if you take a Lifestraw Go Water Filter Bottle as I did – this will reduce this cost to zero, thanks to the handy technology it employs that allows you to drink the tap water safely no matter where in the world you are.
#6 Miscellaneous Expenses
And finally, when it comes to your Kenya travel costs, you've got to factor in all those other incidental expenses like laundry (once a week should do it) and possibly a SIM and data package too.
Luckily, both these things are very cheap and readily available!
An average laundry load cost me around $4 USD and getting a tourist SIM with loads of data is possible in Kenya for around $10 USD.
I used Safaricom and found them excellent.
And don't forget a bit of extra money for souvenir buying!
This is East Africa after all!
So…. How Much Does it Cost to Travel in Kenya?
And with all that in mind, I'm going to put my neck out here and say that you could probably travel Kenya on an average budget of around $70-110 USD a day at the very bottom end.
Some days will be less of course, but when you undertake tours, safari drives and activities (as you definitely should!), these will bump up the overall spend.
As I mentioned at the start of this article, I'm delighted to say my travel budget in Kenya was the lowest of any of the other East Africa countries I travelled at a similar time, and that's largely because I spent longer in Kenya and didn't move as much.
It's also due to the fact that Rwanda is overall a more expensive country to travel, Uganda offers gorilla trekking, which is a very large spend in and of itself, and Tanzania transport costs more if you're going to Zanzibar or up Kilimanjaro.
That said, the 1 return domestic flight I took in Kenya did hike up my budget, but luckily my saviour was the food budget, which was incredibly low as were the reasonable local bus rides and hostel rooms I opted for.
Also avoiding tours at the coast in Kenya and instead travelling Diana, Kilifi and Mombasa independently, helped keep my costs low.
I avoided Lamu for this reason too – it's another set of expensive flights – but I'd def head there if I had the chance again!
I think you should spend at least 2 weeks in Kenya, as this allows you to see some of the best parts of this huge country in a limited time frame.
Here's what an example budget for this timeframe might look like…
Total Accommodation (private hostel rooms) x8 nights when not on tours = $240 USD
Total Transport Spend (1x return domestic flight, bus, matatu and Uber rides) = $200 USD
Total Tours and Activities (3 day Masai Mara trip & 3 day Hells Gate, Lake Naivasha & Nakuru trip with camping) = $700 USD
Total Entrance Fees & Guides = n/a (included in tour prices)
Total Food and Drink = $140 USD
Other Expenses = $30 USD
Total 14 Day Trip cost= $1300 USD
Please remember this is based on a budget traveller, where much of the food, accommodation and transport costs are built into the tours and will vary wildly depending how many activities you do, whether you stay in dorms or private rooms and how much you eat, drink and shop!
PIN IT TO PINTEREST!
So there it is, my guide on how much it costs to travel Kenya and what budget-saving tips you can use to keep the expenses down here.
Did my budget breakdown surprise you too?
Was it more or less expensive than you imagined?
Let me know your thoughts in the comments below…