Trying to pick places to stay in East Africa is never easy.
Information tends to be patchy, pictures blurry and standards dodgy!
Is there good shower pressure?
No, Ok.
Is there hot water?
No, Ok.
Is there running water?
No, Ok
Is there water?
Often the questions go this way!
TIA, my friends, TIA (This is Africa!)
And that's why it's so great to find a place that feels safe, homely, clean… and where everything works.
It's also great to get recommendations for places like this in big bustling cities like Nairobbery Nairobi.
And it's in this vein that I want to introduce you to the wonderful Milimani Backpackers, a haven in the Kenyan capital where you can relax, unwind and start enjoying this amazing country.
---
Related Posts
---
My stay at Milimani Backpackers was sponsored, but as always, all views are my own.
This page contains affiliate links meaning Big World Small Pockets may receive a small commission on any purchases at no extra cost to you.
---
Grab Your Copy of How to Travel Africa for Less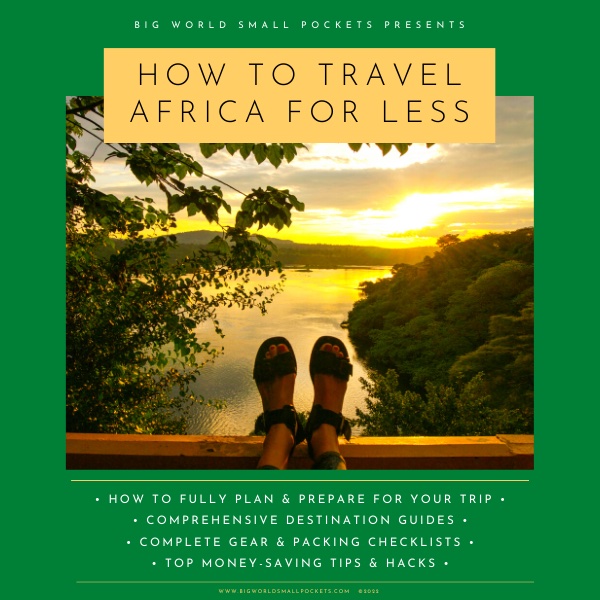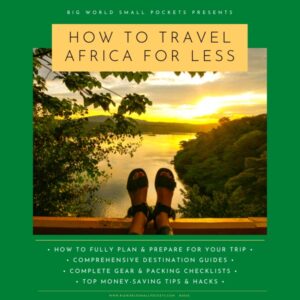 My ultimate guide to travelling Africa on a budget is now available, meaning you can finally get ALL my top tips for adventuring around all, or parts, of this amazing continent in one handy eBook, including…
Full Planning & Preparation Guides
Detailed Destination Info
Complete Packing & Gear Lists
Top Money-Saving Tips & Hacks
First up, I have to say that Milimani Backpackers was actually recommended to me by another travel blogger, when I messaged asking for her advice.
(Yes, you see us bloggers come in handy sometimes!)
And I'm so glad I accepted her advice.
When I first got to Nairobi, I was actually staying somewhere else, but after 1 grotty night of dirty showers, bad beds and a mossie net full of holes, I quickly decided it was time to change.
And so I was recommended Milimani Backpackers, which turned out to be a godsend for my remaining 3 nights in Nairobi; where all I really wanted was just to be clean, comfortable and able to catch up on some much-needed work.
And that's exactly what Milimani Backpackers enabled me to do.
Safe and Secure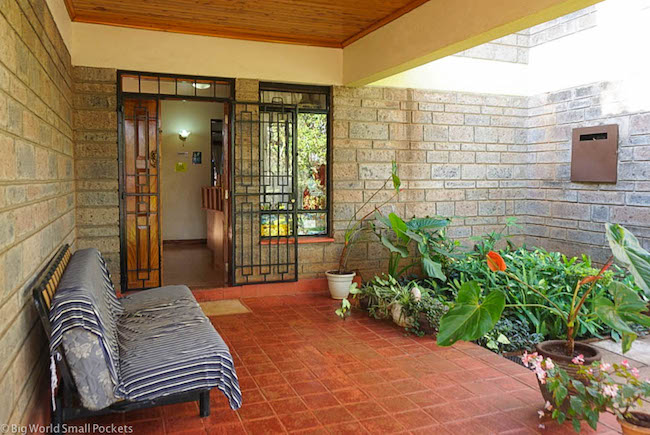 First up this great hostel is in a very safe location.
Situated in the upmarket suburb of Karen, about a 20 minute drive from the city centre, this backpackers is set down a gated lane with 24hr security, so you can feel totally safe here in a city with a less than desirable reputation.
And you know with that security, brings peace of mind and an ability to relax – all travel gold qualities.
Public Transport Links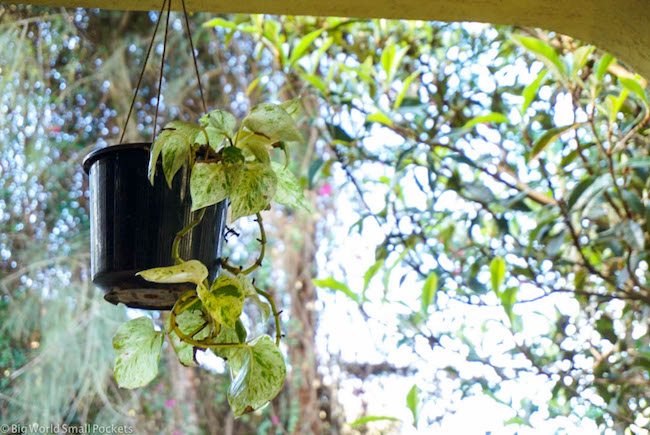 But you don't need to feel like you are cut off in Milimani Backpackers, in fact the hostel is very well located for accessing almost anything you might need to in Nairobi.
For starters, just walking 3 minutes to the top of the street brings you onto the main Langata Road.
From here, it's easy to grab a matatu (local minivan) running regularly to the Galleria Shopping Centre and then on to the centre of Nairobi.
Otherwise, head the other way and you'll quickly find yourself in the centre of Karen and the local market area.
From here it's just a 5 minute walk to The Hub, one of Nairobi's biggest and best malls, where you should be able to find everything and anything you need, including camping / hiking / safari gear, electronics, souvenir shops, banks and even a Carrefour Supermarket.
Perfect!
Several of Nairobi's top attractions including The Giraffe Centre, Karen Blixen Museum and Uhuru Gardens are also nearby – ideal if you can't be bothered with the city centre.
LOOKING FOR A BUDGET TOUR IN KENYA?
If you're interested in an unforgettable, well-priced tour in Kenya with guides you can trust, then email me at [email protected] and I'll send you my top recommendations – simple!
Peaceful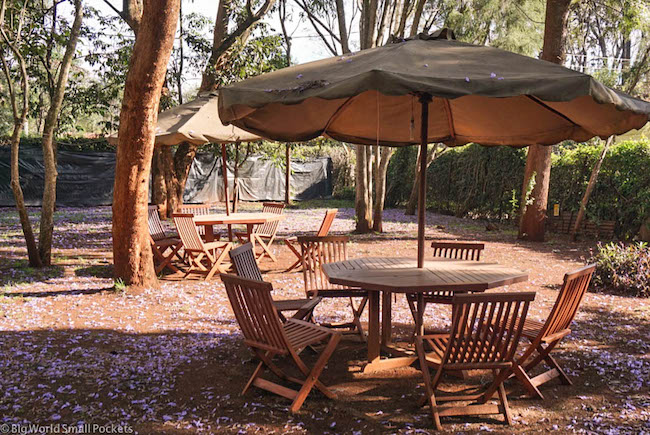 So as well as safe, secure and well located, I also think Milimani Backpackers is the best Nairobi Hostel because it is incredibly peaceful – just what I needed to crank out the serious amount of work that had been building up following my 2 month overland trip with Absolute Africa.
Add into this delightful situation the fact that the wifi was FREE and EXTREMELY FAST and I was one happy pony!
In the main lounge / communal area there was a great table with power points where I could tap away at my laptop and still enjoy the relaxed, social hostel atmosphere.
Beautiful Grounds
If I felt like being anti-social however, I could always slink away to one of the great outdoor tables, complete with umbrellas, that scattered the beautiful grounds of Milimani Backpackers and chill solo in the garden instead.
I really like hostels with decent amounts of outside space where you can relax with some fresh air and this was one definitely of the best aspects of Milimani Backpackers.
Not to mention the gardens were very beautiful and incredibly well-cared for – this certainly gave the whole place a really nice, homely feeling.
TRAVEL INSURANCE FOR KENYA
World Nomads offers simple and flexible travel insurance. Buy at home or while travelling and claim online from anywhere in the world.
Alternatively, if you're a long-term traveller, digital nomad or frequent remote worker seeking travel health cover, check out Safetywing's Nomad Insurance policies.
Clean and Comfortable
And this attention to detail also extended inside the property where everything was immaculately clean.
From the communal lounge and dining area to the kitchen and the rooms themselves, everything was spotless and I saw the staff at least, once a day, even moving furniture out of the way to clean underneath it – incredible!
And in that vein, a special mention has to go out to the staff who were so kind, helpful and fun that I immediately felt so welcome.
I mean, I even got chaperoned by them the first time I went into the city centre of Nairobi and then given an impromptu city tour and local advice – just what a bumbling and disorientated Mzungu needed!
Talk about the best Nairobi hostel service!
Rooms
In terms of rooms, Milimani Backpackers has a wide selection – from dorms to shared bathroom privates and even ensuite family rooms, it's all there.
In my opinion, by far the best rooms are upstairs, so try to scope them out if you can.
There's also studio-style, self-contained cabins out in the garden, which is where I stayed.
Newly built, these are a bit more rustic in feel, but worked all the same and I was so delighted to have hot water in my shower and my own sink / toilet / mirror, that I didn't mind the occasional slug wandering in!
The bed was also extremely comfortable and I slept like a log each night!
Food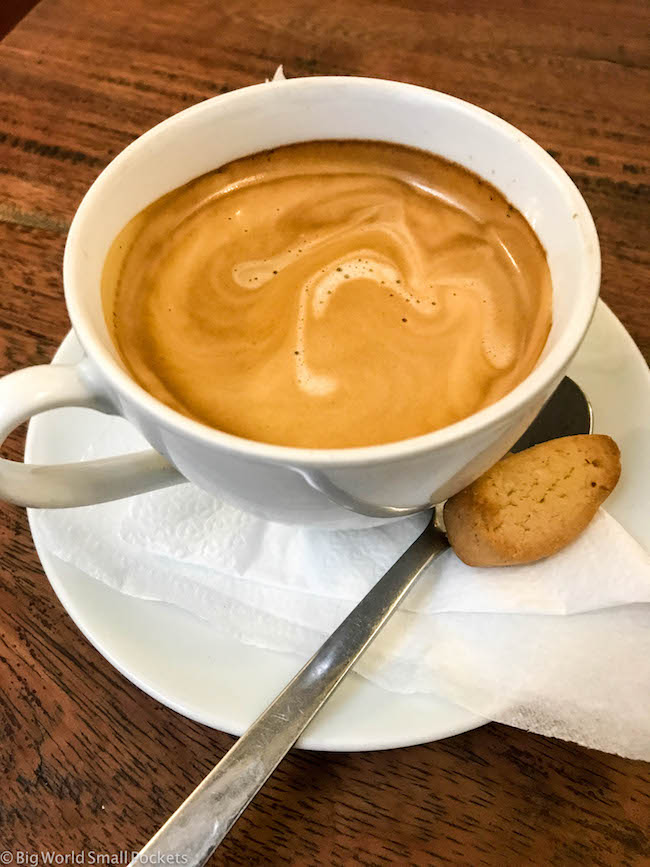 With free, delicious breakfast included (omelette, tea/coffee, fruit and toast) the prices for Milimani, the best Nairobi hostel, are a steal.
Then if you want to order anything else to eat or drink the rest of the day the kitchen / bar is always open!
The only potential fault I could find with Milimani Backpackers is the lack of a guest kitchen – but kindly the staff let me make use of their fridge anyway!
Get the Best Price at Milimani Backpackers HERE
Have you visited Milimani Backpackers?
Did you think it was the best Nairobi hostel too?