As the capital of Kenya, if you're travelling at all in this fantastic country, it's likely you'll pass through Nairobi at least once during your time here.
Sadly the city doesn't have a great reputation, often known as Nairobbery (!), but I really enjoyed my time here and found more than enough to do to for the few days I spent there between my explorations of the Masai Mara and the Kenya Coast.
To help others to do the same, I've compiled my list of the top 10 things to do in Nairobi, so read on to discover the best places to visit in this bustling metropolis.
---
Related Posts
---
This page contains affiliate links meaning Big World Small Pockets may receive a small commission on any purchases at no extra cost to you.
---
Grab Your Copy of How to Travel Africa for Less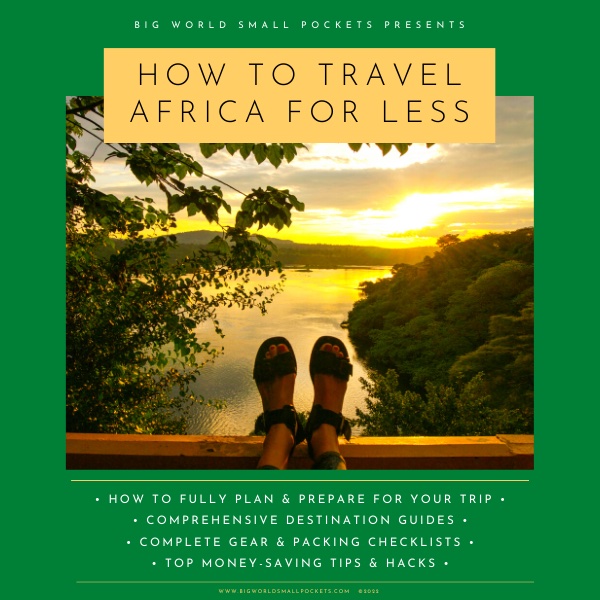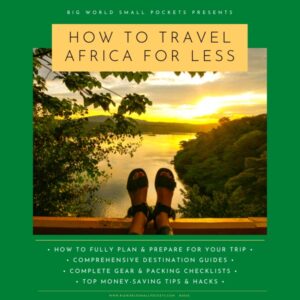 My ultimate guide to travelling Africa on a budget is now available, meaning you can finally get ALL my top tips for adventuring around all, or parts, of this amazing continent in one handy eBook, including…
Full Planning & Preparation Guides
Detailed Destination Info
Complete Packing & Gear Lists
Top Money-Saving Tips & Hacks
#1 Visit the Karen Blixen Museum
Originally the farmhouse where Karen Blixen, heroine of the movie Out of Africa, lived, this beautiful colonial building has now been turned into a museum dedicated to her life's story.
Admission to the Karen Blixen Museum is KSh 1200, which includes the service of a guide – a useful addition to get the best out of your experience here.
Set in lovely grounds, this is a nice place to wander around in its own right and you can easily spend an enjoyable afternoon here.
LOOKING FOR A BUDGET TOUR IN KENYA?
If you're interested in an unforgettable, well-priced tour in Kenya with guides you can trust, then email me at [email protected] and I'll send you my top recommendations – simple!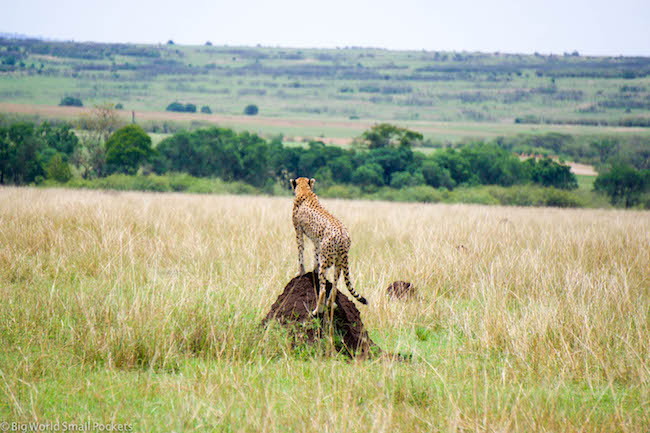 #2 Enjoy a Coffee at the Thorn Tree Café, Stanley Hotel
Established in 1902, the Stanley Hotel is something of a Nairobi icon.
While staying here was a little out of my budget, I did go and visit the hotel, as it's home to the famous Thorn Tree Café.
This café became an iconic part of the epic Cape to Cairo overland route, when travellers and traders would leave paper messages for each other tacked to the centrally-located Acacia tree.
Although, the tree is no longer filled with notes as it once was, and the café is actually on its 3rd specimen, there's no denying the fabled allure this place still has for voyagers in Africa.
#3 Explore the Kenya National Museum
The fantastic National Museum is one of Kenya's best and a visit here is definitely one of the top things to do in Nairobi.
With great ethnological exhibits, including bird and mammal displays, as well as some super information about Kenya's different tribes, the museum is set in delightful grounds and well worth exploring for a few hours.
#4 Don't Snap the Parliament Building!
The imposing Parliament building in the centre of Nairobi is architecturally distinctive although unfortunately taking photos of it isn't allowed… as I found out the hard way!
Nevertheless, you can certainly marvel at its exterior or even get a permit to view inside via the public gallery if Parliament is in situ.
Permits can be obtained at the gate and you'll need to bring your passport, but are otherwise, it's free and easy.
WHERE TO STAY IN NAIROBI
The best budget accommodation I always recommend in Nairobi is Milimani Backpackers.
Well located, clean, with excellent free wifi and wonderful helpful staff, this is definitely the best Nairobi hostel.
Check out my full review of Milimani Backpackers
Or book here for the best prices guaranteed.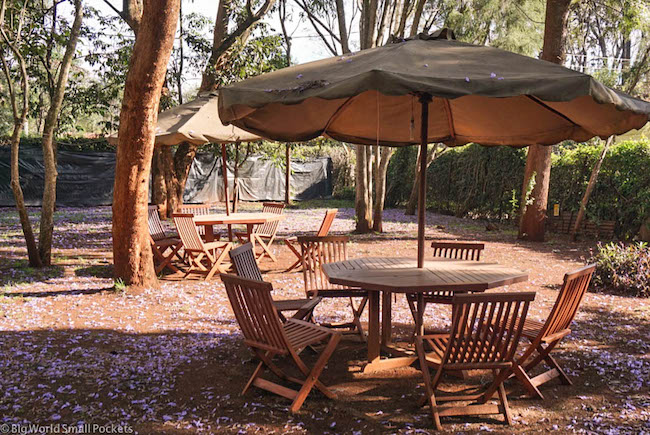 #5 Coo at Baby Elephants in the David Sheldrick Wildlife Trust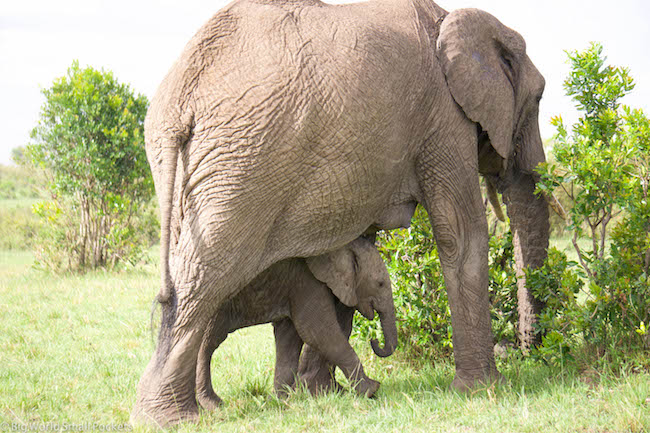 If you haven't seen any elephants yet during your time in Africa, then a trip to the David Sheldrick Wildlife Trust is certainly one of the top things to do in Nairobi.
Established in 1977, in memory of the late David Sheldrick – a key anti-poaching activist, here orphaned baby elephants are cared for and raised, before being introduced back into the wild.
The trust actually occupies a part of the Nairobi National Park and the baby elephants (as well as the few baby rhinos they have) wander in the park when they are not being shown to tourists.
Largely speaking the trust is involved in some excellent conservation projects and stopping here to learn more about the work they do and the animals they care for, is one of the great things to do in Nairobi.
TRAVEL INSURANCE FOR KENYA
World Nomads offers simple and flexible travel insurance. Buy at home or while travelling and claim online from anywhere in the world.
Alternatively, if you're a long-term traveller, digital nomad or frequent remote worker seeking travel health cover, check out Safetywing's Nomad Insurance policies.
#6 Relax at the Uhuru Park
The beautiful green space of Uhuru Park is set a little out of the city centre, but is a delightful place to get away from the smog and crowds in Nairobi.
Join the picnicing locals and businessmen relaxing on their lunch break as you soak up the cleanest atmosphere in the city.
Not costing a cent, this is definitely one of the best free things to do in Nairobi.
A Word of Warning: Uhuru Park is not safe to wander at night (like anywhere in Nairobi really) and you'd be silly to visit here around or after sunset.
#7 Splurge at the Giraffe Centre
If you're feeling flush, then a trip to Nairobi's Giraffe Centre is a definite must in Nairobi.
Protecting the highly endangered Rothschild Giraffe is at the centre of the work here and your visit obviously supports their efforts.
It's heart-warming to learn that centre have been very successful in their endeavours and many giraffes have been released into Kenyan National Parks to help swell the population.
Help keep the trend going in the right direction by paying these guys a visit and enjoy strolling, feeding or even receiving a kiss here from the most elegant animals in Africa.
5 PACKING ESSENTIALS FOR KENYA
#1 Headlamp – Required for those all too often power cuts, Black Diamond are always my go-to brand.
#2 Natural Sunscreen – Things get hot here so do be prepared!
#3 Good Camera – An absolute must if you're looking to capture the incredible landscape of Kenya. I love my mirrorless Sony A6000, which is light, compact and robust – ideal for Africa travel.
#4 Sarong – Whether it's covering yourself from the dust on safari, using as a pillow on long bus journeys or making into a beach dress, this is a great multi-purpose travel item for Kenya. 1 World Sarongs have a great collection if you're looking for some inspiration.
#5 Kenya Lonely Planet – Incredibly useful for the maps and accommodation recommendation, the Kenya Lonely Planet is a must-have.
#5 Insect Repellent – Malaria is a huge risk in Kenya, so cover up at night and pack at least 30% DEET spray.
#8 Spot a Rhino in Nairobi National Park
There's not many capital city's that can boast a National Park in their midst, but Nairobi can do just that!
It's kind of crazy to see huge animals roaming around freely with the city backdrop gleaming behind them, but this is Africa people and the strangest of things is always possible here!
Luckily, the animals seem unperturbed by the city chaos around them and testimony to this is the park's very healthy (in relative terms) rhino population.
In fact, Nairobi National Park is one of the best places to spot a black rhino in Africa, so if you're still missing this large, but elusive animal off your big 5 list, this is the place to head.
#9 Souvenir Shop
Nairobi has some of the best souvenir-buying opportunities in Africa, which is especially handy if you're flying home from here.
So, if you want to purchase textiles, wood-carvings or just about anything else you can think of, get your haggling hat on and head out to one of the city's markets.
Top spots include the City Market and the Westland Curio Market, which have a huge range of stalls to choose from.
Otherwise, the great Masai Market, held only on a Tuesday, is also a great spot to snap up a potential bargain.
#10 Scale the KICC
And last but least, one of my favourite things to do in Nairobi is to scale the dizzy heights of the KICC – The Kenya International Convention Centre.
Now the 2nd highest building in the city, this skyscraper's top floor still gives an impressive view of the metro-landscape and can be accessed via a super-speedy lift for just KSh 500.
Once at the viewing platform you're allowed to take pictures, so snap away to your heart's content whilst keeping your eyes peeled for the misty peaks of Mount Kenya gleaming in the background.
LIKE IT? PIN IT!
So there you have it, my list of the top 10 things to do in Nairobi.
Have you visited this bustling capital city?
Did you enjoy it and what was your favourite thing to do there?