Over in the east of Ethiopia, as you head towards the Djibouti border, the ancient city of Harar is a rare gem in an otherwise pretty, desolate landscape.
A UNESCO World Heritage Site, this walled civilisation has long been an important trading centre, situated strategically between the Red Sea and the great empires of inland Africa.
Having withstood its fair share of invasions and conquests, Harar has stayed strong in maintaining its own distinct flavour and character, with the local people here undeniably proud of their traditions and culture.
As such, Harar is a totally unique destination with Ethiopia – a unique enough country in its own right!
This makes a trip to Harar an exciting part of any travel in Ethiopia and taking the time to spend just a few days in its chaotic markets and windy, cobbled streets will give you a rare glimpse into the life of a city that has changed little for hundreds of years.
To give you just a taste of what lies behind its ancient walls and to help you best plan your itinerary, here are my 10 favourite things to do in the Ethiopian city of Harar, including its most famous drawcard – feeding wild hyenas!
---
Related Posts
---
This page contains affiliate links meaning Big World Small Pockets may receive a small commission on any purchases at no extra cost to you.
---
Grab Your Copy of My Real Travel Guide to Ethiopia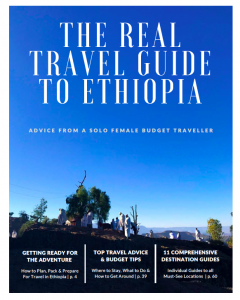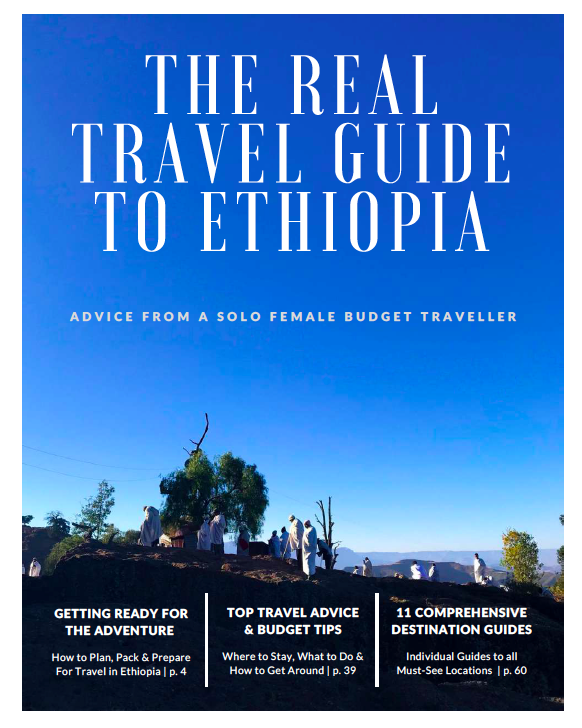 My ultimate guide to travelling in Ethiopia is now available, meaning you can finally get ALL my tips for adventuring in this amazing country in one handy eBook, including
11 Complete Destination Guides to the Best Cities & Attractions
Recommended Places to Stay
Recommended Guides & Tour Companies + Contact Details
Money Saving Tips + Budget Planner
Advice on What to Expect & How to Stay Safe
Packing Checklist
Itinerary Schedule
#10 Buy and Taste Harari Coffee
Harar is famous for its coffee and no trip to this incredible city is complete without sampling at least a few cups.
There's plenty of cafes, restaurants and street stalls where you can enjoy a taste of this black gold or, if you're lucky, a friendly local may even invite for a cup too!
Don't forget the Ethiopian coffee ceremony rules apply in Harar too – drink anything less than 3 cups in a sitting and you'll bring bad luck upon the household!
If your tastebuds are enjoying what you're drinking, and you want to pick up a back of Harar's finest caffeine, then head to Nure Roasted Harar Coffee.
Right next to the main Mosque in town – Jamia Mosque – the smell emanating from this place gives it away!
Definitely one of the best things to do in Harar, you can watch the roasting and grinding process here and then pick up a half kilo or kilo bag either as beans or ground. Prices start from just 75 Birr!
#9 Photograph the Old City Gates
If there's one thing Harar is more than chaotic and crazy, it's photogenic.
Perhaps some of the best snaps of the ancient city can be captured at the city gates, where traffic, donkeys, market sellers and chat-ridden locals all jostle together.
There are 6 city gates to choose from, but contrasted against that epic blue sky and with the most evocative of wooden doors, it's hard to top the Erer Gate on the eastern flank.
Made famous by Richard Burton, who was the first non-Muslim to penetrate Harar disguised as an Arab merchant in 1854, it's almost impossible to stand at these historic doors and not feel like you've been transported back in time.
LOOKING FOR A BUDGET TOUR IN ETHIOPIA?
If you're interested in an unforgettable, well-priced tour in Ethiopia with guides you can trust, then email me at [email protected] with details of where you want to go and I'll send you my top recommendations – simple!
#8 Eat Fatira Behind Local Doorways
The Islamic influence is strong in Harar, so between the frequent calls to prayer and the prevalence of Arabic spoken here, it's sometimes easy to get confused about where exactly in the world you are!
When it comes to food, Harar is no exception, with the local speciality – fatira – which Harari's consume in great quantities every evening, having a strong Arab feel to it.
Essentially a thin piece of wheat dough stretched across a hot skillet that sits an open fire (think Turkish gozleme), this cross between a flatbread and a chapatti is then filled with the number of eggs of your choice, along with peppers, tomatoes and onions, before being quickly cooked, folded and sliced for you.
Served with bread and normally a steaming hot, sweet chai tea, the best place to savour this experience is in one of the many semi-makeshift Fetira cafes that often lie behind doorways just cracked ajar in the evening – heading to one is certainly one of the best things to do in Harar.
Fatira is also often served for breakfast, when it's paired with honey and, of course, lashings of tea!
THE QUICK GUIDE TO HARAR
#1 Getting to Harar – Hopping across to Harar is a fair old journey from the capital of Ethiopia, Addis Ababa, so be warned! Either take a long bus journey or a quick flight to Dire Dawa and from there a 1 hour minivan will take you to Harar for 40 Birr. Take note that airport passengers will need to catch a tuk-tuk or a taxi from the airport to the bus station in Dire Dawa first. This price is 50 Birr and vehicles are easy to find just outside the airport.
#2 Getting Around Harar – This city really is a rabbit-warren of streets and while you'll always eventually pop out on a main road somewhere, I really do advise grabbing a guide for the first morning, at least, to help show you the highlights. Highly recommended is Adisu – a young, local Harari with excellent English and a great knowledge of his home city. Call him on 09 42 99 62 21 and he'll meet you wherever you like!
#3 Where to Stay in Harar – I stayed at the wonderful Anisa Abdella Guest House in Harar, which is an excellent budget choice. Well-located in the Old City, the 400 Birr a night price here includes free breakfast and free wifi. It's beautiful traditional Adare House too and the ladies that work here are lovely. Just don't expect a piping hot shower! For bookings call 09 15 33 00 11 and arrange to meet at the Harar Bus Station – you'll never find the place otherwise!
#4 How Long to Spend in Harar – If you're short on time, 2 nights will give you enough of an opportunity to see the sights and sounds of Harar. If you want to experience one of the day trips outside of the city (more details at the bottom of this post), then allow 3 nights.
#7 Feed the Kites at the Meat Market
So it's not just wild hyenas that you can feed in Harar, but wild birds of prey as well!
The Old City's meat market, otherwise known as Girdir Magala, is a popular place for tourists to do just this, as black kites wait on the rooftop, desperate to scoop some of the butchers' latest offerings below.
You can either just watch the action or, if you do want, have a go yourself!
Just make sure you get advice about the best method from locals on hand – these are birds of prey after all and swooping at your hand and head, they have been known to scratch… you've been warned!
TRAVEL INSURANCE FOR ETHIOPIA
World Nomads offers simple and flexible travel insurance. Buy at home or while travelling and claim online from anywhere in the world.
Alternatively, if you're a long-term traveller, digital nomad or frequent remote worker seeking travel health cover, check out Safetywing's Nomad Insurance policies.
#6 Explore the Plethora of Religious Buildings
Winner of the UNESCO Peace Prize in 2003, Harar has become famous for its religious tolerance and within the Old City you can find 3 different styles of worship located all within a few metres of each other.
Predominantly Muslim, the main mosque here is Jamia Mosque, built in the 16thC.
While foreigners aren't allowed inside, this is a good place to orientate yourself from; after all, with 81 other mosques just within the Old City of Harar you can easily get confused!
Next on the list and very nearby to Jamia Mosque, is St Mary's Catholic Church.
Started by a French Missionary, the current priest here will show you around for a small donation.
And finally, the Ethiopian Orthodox Church – Medhane Alem Cathedral – sits proudly in the main square… taking it all in is definitely one of the best things to do in Harar.
In true Ethiopian form, there's also countless other semi-hidden shrines for you to discover as you wander the streets here, some bizarre and some beautiful.
#5 Marvel at the Old Photographs in the Arthur Rimbaud Museum
With an entrance fee of only 50 Birr, this is one of the biggest steals in town – not because it's a huge museum, but because the old photographs here show a Harar practically unchanged for hundreds of years!
Largely taken by the French poet Arthur Rimbaud, who lived for some time in Harar, you can spend a good hour or so marvelling at the detail in these black and white prints, as well as learning about this artist's fascinating life.
#4 Peruse the Amazing Array of Markets
No trip to Harar would be worthwhile without sampling at least a few of the city's crazy markets.
From the recycling market (think 2nd hand goods) to the smuggler's market (think cheap, Chinese hardware) both set in the New Town, to the Spice Market, the vegetable Market and the Chat Market (a stimulating plant that the Hararis' chew with enthusiasm day in, day out) there's plenty to choose from, and each come with their own range of colourful characters!
#3 Visit the Sherif Harar City Museum
Another great museum is the Sherif City Museum – entrance 50 birr + tip for a guide – and a visit here is definitely one of the best things to do in Harar.
You really can learn tons here about the city's incredible history among these small exhibition spaces, as well as see direct artefacts from the fascinating array of cultures that have left their influential mark on this city, helping it to become the unique meddle it is today.
7 ESSENTIALS TO PACK FOR HARAR
#1 Headlamp – Required for those all too often power cuts, Black Diamond is my go-to brand.
#2 Toilet Paper – Most places don't provide it!
#3 Long, Thin Trousers – Perfect for the cold evenings and conservative dress standards during the day. Columbia are great brand for women.
#4 Good Camera – An absolute must if you're looking to capture the incredible landscape and cultural practices of Harar. I love my mirrorless Sony A6000, which is light, compact and robust – ideal for Africa travel.
#5 Hiking Boots – Necessary for the cold nights here, I always recommend Keen's Targhee II.
#6 Travel Scarf or Sarong – Whether it's covering your shoulders in churches, wrapping round you at night as a shawl or using as a pillow on the long bus journey here, this is a great multi-purpose travel item that is a Harar must.
#7 Ethiopia Lonely Planet – For the maps alone this guidebook is well worth a buy, although I found the history, language and cuisine sections also super useful.
#2 Get Lost in the Old Streets
Yes getting lost is just about a rite of passage in Harar, but don't worry because before too long you'll always be spat out on a recognisable main street.
As you do wander, lost in the maze of the thin, winding cobblestones, don't forget to keep your eyes peeled for the fascinating tailor street of Mekina Girgir.
Allegedly called 'Sewing Machine Sound Street', it's true there are a lot of sewing machines here!
Many are old vintage beauties too, just sat out on the street begging to be photographed.
#1 Feed Those Wild Hyenas
And last but not least, the piece d'resistance when it comes to the best things to do in Harar is, of course, feeding the wild hyenas.
There are 2 main spots you can do this in town, but the one on the Eastern side is better with less passing traffic to disturb you.
You'll be amazed how close the hyenas come… and how unfazed all the locals are as the Hyena Man allows them to eat off a stick dangling from his mouth.
If you're brave enough, you can also give this a try yourself, with these animals even climbing skillfully up your back to reach their prize!!
It's 100 birr for the privilege of the Hyena Man's show and a Bajaj or tuk-tuk to get here will set you back around 70 birr.
The show starts at 6:30 and you're pretty much guaranteed a sighting.
Guides aren't a requisite, but may help!
AND 3 BONUS HARAR DAY TRIPS…

#1 Babille Elephant Sanctuary
A delightful place to spot Elephants, this sanctuary has a booming wildlife population and exceeds many other Ethiopian National Parks when it comes to spotting them some great African animals.
The entrance is just 200birr, but you'll need to hire transport to get there, as well as a scout when you arrive.
#2 Babille Camel Market
Taking place every Monday and Thursday, the Babille Camel Market is quite an experience only 30km from Harar.
Set in a nearby village, this colourful trading point for livestock is just a 45-minute ride away from Harar and you're likely to see a huge range of animals being traded from sheep, pigs and goats through to camels used in the salt lakes of the Danakil Depression.
#3 Valley of the Marvels
Combining a trip to the Valley of the Marvels with the Babille Camel Market will keep costs down and many visitors complete them together as a half day trip.
A collection of smooth rocks piled up on each other, Valley of the Marvels reminded me a lot of Devil's Marbles in Australia, which has a similar range of crazy formations.
PIN IT FOR LATER!
So there you have it, my list of the 10 best things to do in Harar.
Have you been to this amazing city?
What was your highlight?