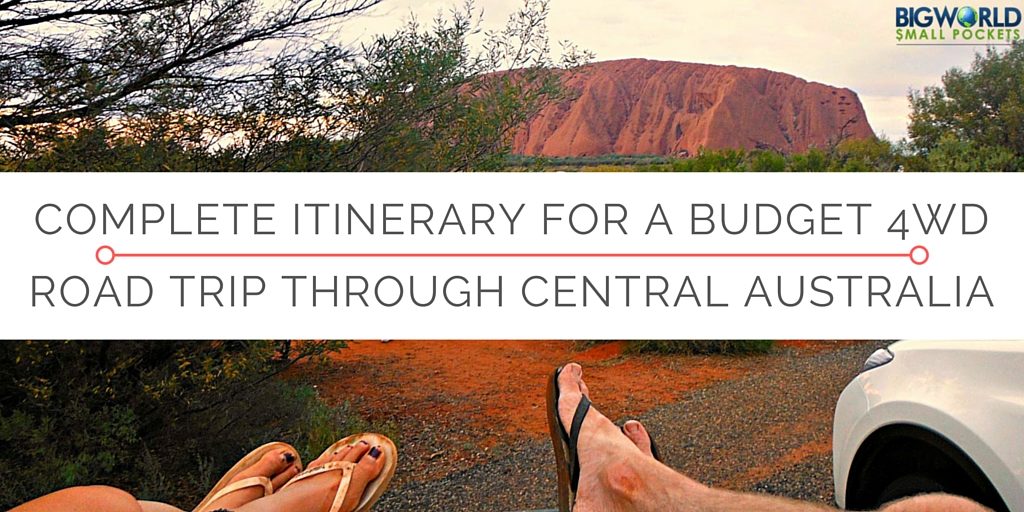 This complete itinerary for your budget 4WD Road Trip through Central Australia is based on the trip I took with the boy in the Land Rover recently.
In fact, this 2 week guide follows the exact route we took from South Australia up through the Northern Territory to Darwin.
And what an incredible route it was!
As there didn't seem to be many complete online guides for a budget 4wd version of this journey when we were planning our adventure, I decided to write a post mapping out our exact route to help others plan their trips too.
This means I've included tips on the cheapest places to stay as well as free things to see and do in the various destinations.
Keep reading to learn more…
---
Related Posts
---
This page contains affiliate links meaning Big World Small Pockets may receive a small commission on any purchases at no extra cost to you.
---
Based on our trip, I know the distances I've given for each day are highly possible, even though they might seem like great distances from the outset.
Sure there's a lot of driving, but that's the nature of any Australian road trip, especially one right up through its Red Centre!
But don't worry, as part of this itinerary, I've made sure to schedule in days with no driving and if you're not pushed for time, many of these can be extended.
Despite being a fairly barren desert, it is amazing how much there is to explore in between Post Augusta and Darwin so, if you're anything like us, you're likely to always be running out of time!
We chose to do the journey from south to north simply because of where we were at the time.
But of course, this itinerary for a budget 4WD road trip up through Central Australia can also be followed in reverse, from north to south, if that suits.
When to Go
Do remember factors of climate however and that it really is best to visit the Australian Outback during the winter months of May to September.
Places are more crowded at this time, it being high season, but there is a good reason for this – the humidity and heat in the summer months are unbearable!
I think the best time to go is early May – this is when the weather has started to cool down and there is less rain, but not yet so many tourists.
Keys Things I Recommend Carrying on a Budget 4WD Road Trip Through Central Australia

#1 Head Fly Net! You have never seen so many flies in your life and if you want to remain sane this is an absolute must! Don't worry about the fashion element, once you get to the outback everyone is wearing them! Avoid paying extortionate rates for one when you're in the Territory and snap up a bargain in advance.

#2 Hiking Boots or Walking Shoes. There is a lot to explore in Central Australia and some of the greatest bits can only be seen by walking. A good pair of boots, shoes or trainers will ensure you don't miss out.

#3 Natural Sunscreen. The sun is fierce here, even in the winter months of May – September, so sunscreen is a must. A product with as few nasty chemicals in as possible really is best. I recommend Jason's Natural range – tried and tested I guarantee they work.

#4 Metal Water Bottle. Staying hydrated is key in Central Australia's desert climate. Choose a BPA-free metal water bottle, like Simply Simily which has a lifetime warranty, and keep with you at all times!

#5 Sunglasses. A must in the extreme glare of the sun here! I love these vintage frames.

#6 Mosquito Repellent. Again, a natural product is best and I recommend Eco Bug Spray. You only have to see how anything with DEET in it burns through your clothes to worry about what it does to your skin!

#7 A good camera. I love my Sony A6000 Mirrorless camera, which is ideal for capruting the beauty of all those Outback landscapes.
---
Itinerary for a Budget 4WD Road Trip Through Central Australia
Day 1 : Port Augusta to Coober Pedy
Drive up the Stuart Highway to spend your first night at the underground town of Coober Pedy, the opal capital of the world.
Campers can pitch a tent underground at Riba's for $10 like, which is great fun.
Make sure you drive to the nearby 'Breakaways' to watch the sunset.
Day 2 : Coober Pedy to Coward Springs
Spend the morning exploring the weird and wonderful world of Coober Pedy and stocking up on any necessary supplies – there is a good IGA and free water pump in town.
After lunch head to William Creek to enjoy a drink in this historic pub, then head out on the Oodnadatta Track to Coward Springs.
Stay at the Coward Springs Campground and make use of their free natural spring hot tub under the starry night sky.
Alternatively you can head to Halligan Bay at Lake Eyre for some wilder, cheaper bush camping – certainly recommended if there is water in the lake, but watch out for dingos!
Day 3 : Coward Springs to Oodnadatta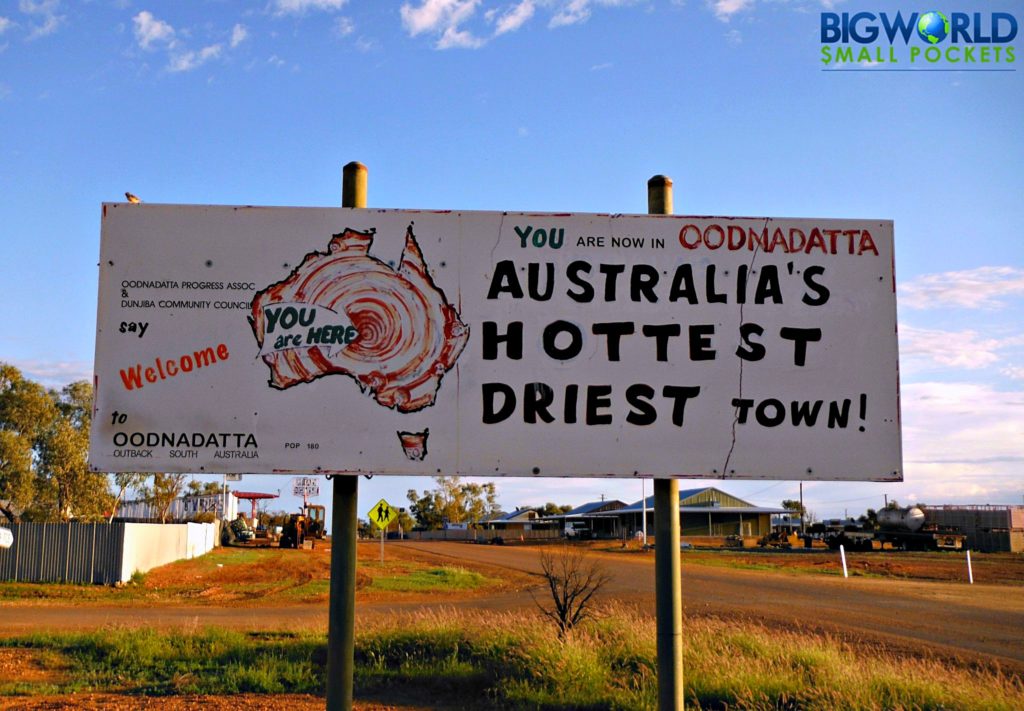 Welcome to the hottest, driest place in Australia!
The mosquitoes here are vicious, so check out the infamous Pink Roadhouse for some repellent if you didn't bring any!
Camping is free in and around Oodnadatta – wherever you like!
There is a town campground, but we chose a more secluded spot on the outskirts. Enjoy your first taste the Outback!
Day 4 : Oodnadatta to Curtin Springs Station
Continue the Oodnadatta Track until you re-reach the Stuart Highway at Marla.
Stock up on fuel here even though it seems crazy expensive – it was the cheapest we found until we got to Alice Springs.
Drive to Erldunda and then turn off towards Uluru.
Before this great rock you'll see the towering shape of Mount Connor – check the lookout if you can.
Camp the night nearby at Curtin Springs Station – camping is free and you can have a shower for $2.
Enjoy the wild emus that roam the campsite, but watch your dinner!
Day 5 : Curtin Springs to Yulara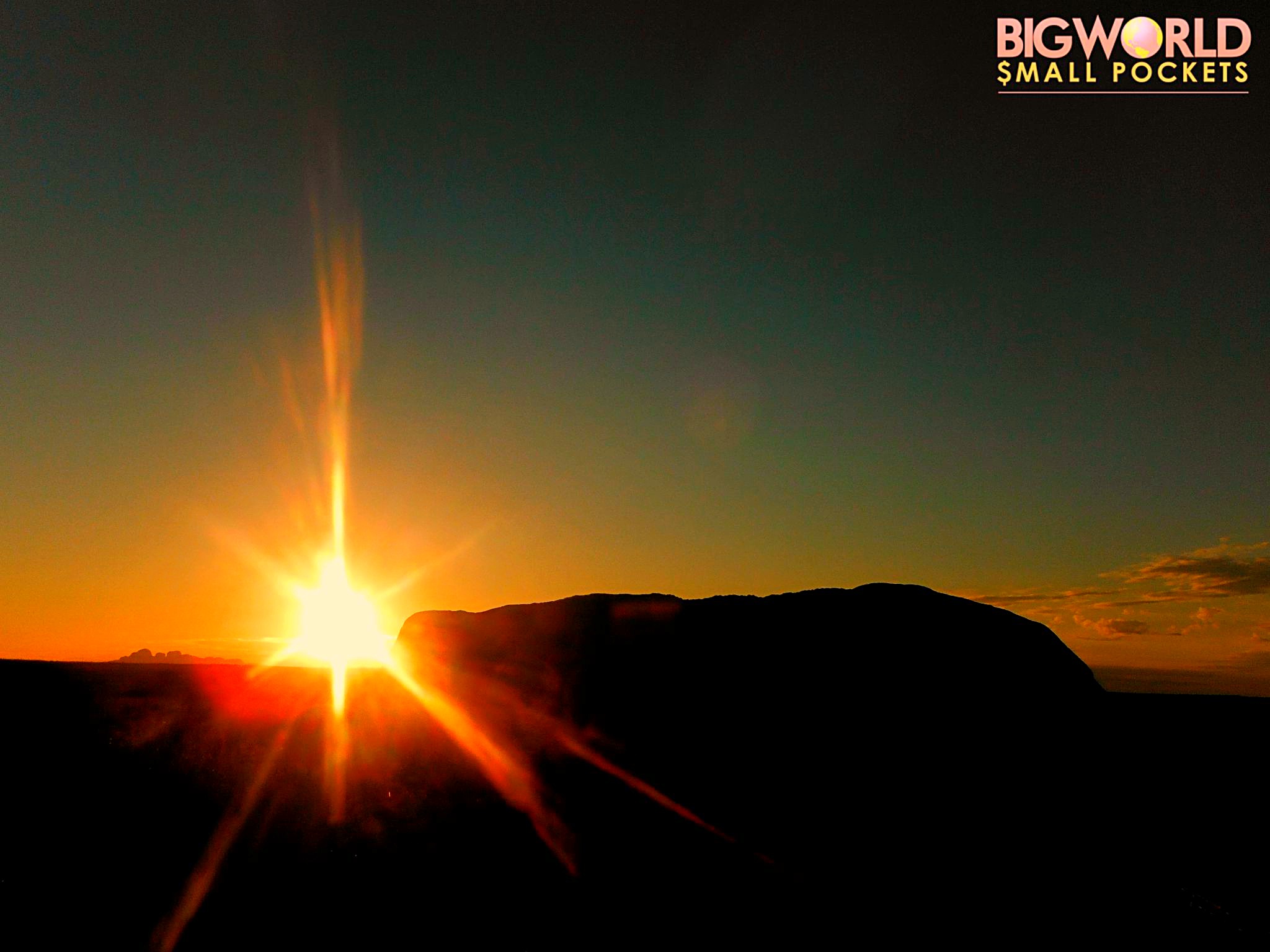 Yulara is an artificial township built to accommodate Uluru visitors.
It is the nearest place you can stay to Uluru and offers a wide range of services including a bank, post office, newsagency, fuel station and IGA supermarket.
The cheapest accommodation in Yulara is at the Ayres Rock Campground, where we stayed in a non-powered campsite for $36 p/night.
Although at the top end of our budget, we really enjoyed this campsite and found it clean and staff helpful.
The campsite has good laundry, kitchen and bathroom facilities. There is also a swimming pool.
Once you've settled in, go to watch Uluru at sunset from one of the many lookouts within Uluru – Kata Tjuta National Park.
Standard park entrance is $25 per person (under 16's free) and is valid for 3 days – pay at the gate.
Day 6 : Visit Uluru… Again
Get up early to see sunrise at Uluru from one of the park's lookouts.
While it's still early, it's then a good idea to set out on the Base Walk – a loop track around the bottom of Uluru, which is one of my top walks in Central Australia.
Get out of the sun afterwards and spend the afternoon exploring the free Cultural Centre within the park, which is well worth a visit.
At night, drive to see sunset over the rocks of Kata Tjuta – personally I thought them more stunning than Uluru!
Day 7 : Kata Tjuta to Kings Canyon
Get up early to see sunrise over Kata Tjuta from one of the park's lookouts.
Afterwards, start the Valley of the Winds, probably the best walk we did in the whole of Central Australia due to the exceptional landscape.
In the afternoon, drive back along the Lasseter Highway and the turn off along Luritja Road towards Kings Canyon.
Free camping can be found at Salt Creek Rest Area 50km along, this is the nearest free camping to Kings Canyon – trust me!
Alternatively, there is paid camping at the Kings Canyon Resort Campground, with a pool and simple BBQ facilities.
We paid $20 each for a non-powdered site … Welcome to the Outback price scheme!
Sadly, we did not find this place nearly as nice as Ayres Rock Campground.
Day 8 : Kings Canyon to Redbank Gorge
Buy your Mereenie Loop Pass ($5) from Kings Canyon Resort and then drive this bumpy 4wd track to Redbank Gorge in the McDonnell Range.
Stop at Tylors Pass Lookout to marvel at view of Goose Bluff – caused by a meteorite landing.
Camp the night at Redbank Gorge, it's one of cheapest sites in the McDonnell Range ($10) and enjoy a stroll into the gorge if you have time – you might want to drive up to the gorge itself as the campsite is quite far from the start of the walk.
Day 9 : Redbank Gorge to Alice Springs
Get up and journey along the Namatjira Drive towards Alice Springs, stopping to enjoy the many sights of the McDonnell Range.
The walk at Ormiston Gorge and Glen Helen Gorge were 2 of our favourite places – both free to enter.
Arrive at Alice Springs and spend the night at Alice's Secret Travellers Inn
– lovely owner, good kitchen, pool and delightful atmosphere.
Day 10 : Explore Alice Springs
Take a day to refresh and refuel in the Outback's biggest settlement.
There is a good IGA and Coles supermarket in Alice Springs, so I advise restocking. I also suggest you refuel as this will be the cheapest place before Darwin.
In terms of relaxation, breakfast at the Bean Tree Café in the Olive Pink Botanic Gardens comes highly recommended!
Walk in the gardens if you have time and check out some of the interesting galleries in Alice's main street.
If you have a bit more time on your hands, why not drive south down to explore Rainbow Valley and the Henbury Meteorites Conservation Reserve or head west out to the Finke Gorge National Park and Palm Valley for some more cheap camping and hiking.
Day 11 : Alice Springs to Devils Marbles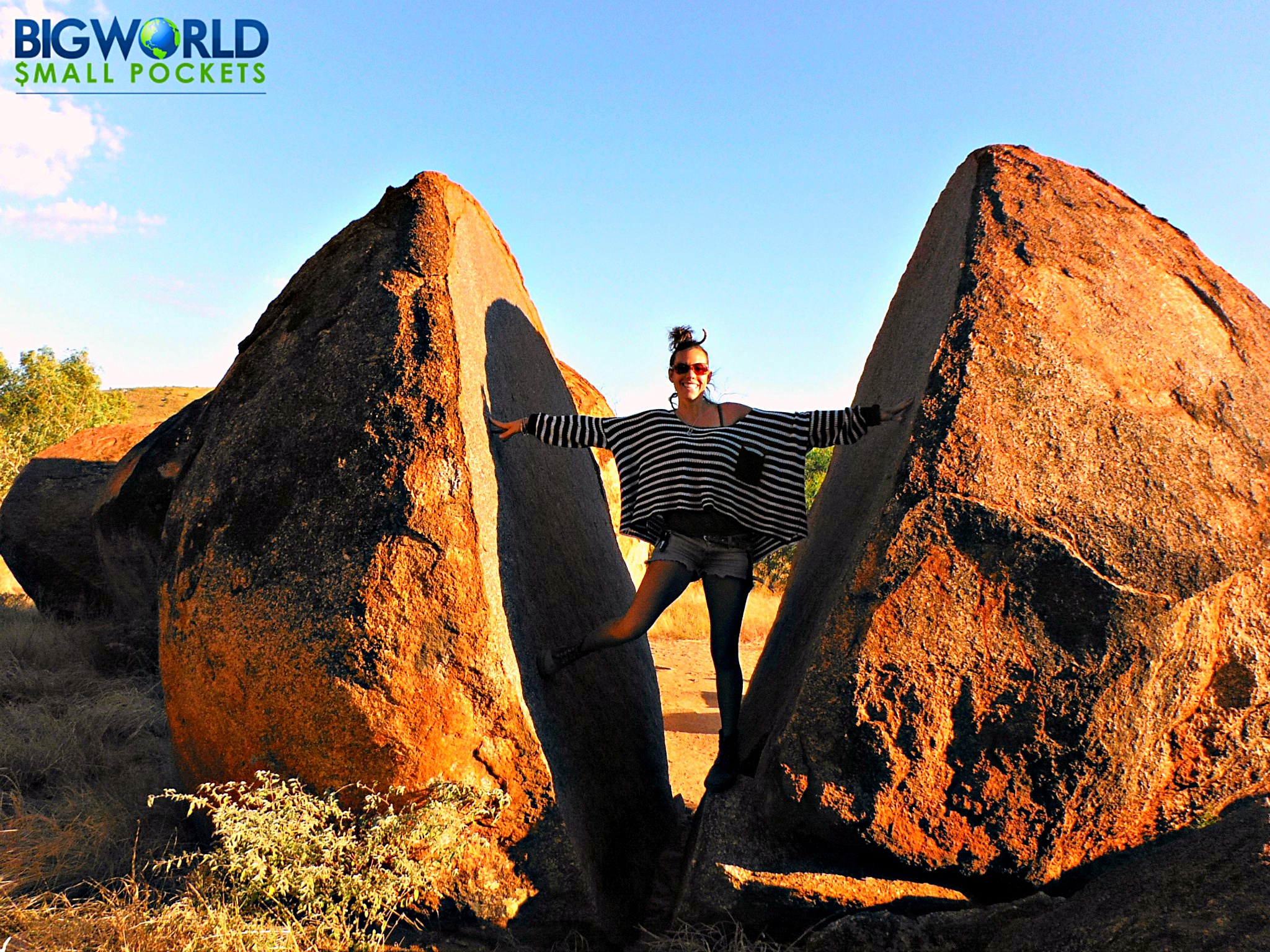 Leave Alice and head north along the Stuart Highway.
Visit Devils Marbles which are a very beautiful collection of large boulders sacred to the indigenous populations here.
It's a very worthwhile 5km detour off the highway and is well signed.
You can camp at the Marbles for a small fee, but I recommend continuing another 5km along the highway to a great free camp we found at Bonney Well.
Day 12 : Bonney Well to Daly Waters
Continue north along the Stuart Highway, admiring the growing termite mounds as you go!
Turn off at the Daly Waters to see the pub and stay cheaply in the adjacent campground.
The pub has a great atmosphere and is an iconic outback watering hole filled with memorabilia. You can stay here as well.
Day 13 : Daly Waters to Katherine
Get back onto the highway and continue north until you reach Matarkanka.
Stopping here for a dip in the lushly-surrounded hot springs is a must.
Even better because it's free!
After Mataranka, continue to Katherine.
Here you'll find an IGA, Woolworths, post office and tourist office with free wifi as well as several service stations.
Definitely take a detour out to Nitmulik National Park where you can walk to the top of Katherine Gorge and enjoy spectacular views for free.
Explore more of the park and then enjoy a swim by heading to Edith Falls, which can be accessed by getting back on the highway at Katherine and continuing north for 42km towards Darwin.
You will then see signs for Leliyn (Edith Falls) on the right.
This is one of the most beautiful places I saw in the whole of the territory and there is a great, cheap and very friendly campsite here where you can spend the night.
Day 14 : Edith Falls to Darwin
If you haven't had time the day before, take the 10km round walk to the upper pools at Edith Falls to enjoy another swim.
Afterwards, return to the highway and continue north to towards Adelaide River.
If you have a few spare days, detour here to reach Australia's largest and most famous National Park, Kakadu.
If not continue on until to reach Darwin.
Enjoy your first night in this diverse town by relaxing on a deckchair at the city's wonderful outdoor cinema and then spend a night at Chilli's Backpackers.
LIKE IT? PIN IT!
Hope you enjoyed my itinerary for budget 4WD road trip through Central Australia.
Do get in touch if any have another tips or advice for readers.