Not usually one for visiting the most touristy and iconic attractions in a country, I thought I probably wouldn't ever visit Uluru during my time here in Australia, mainly because it had been widely downplayed to me as "just a big rock"!
As one of the country's most outstanding and recognisable landmarks, Uluru is a key bucket list entry for many global travellers and nothing puts me off going somewhere more than crowds of other tourists elbowing each other out the way!
Nothing however, could have been further from the truth. Situated within the Uluru-Kata Tjuta National Park, in Central Australia, Uluru, or Ayers Rock, as it was formerly known, is spacious, large and a wonder to visit.
Renowned for both its geological and indigenous importance, it is a fascinating place, the sheer magnitude and awe-inspiring quality of which cannot be downplayed.
Uluru truly is a world wonder, an epic visual spectacle and a vivid colour display by nature, which has to be seen to be believed.
I would strongly urge anyone visiting Australia to go and experience the magic of Uluru and here are 9 of the best ways to do just that!
---
Related Posts
---
This page contains affiliate links meaning Big World Small Pockets may receive a small commission on any purchases at no extra cost to you.
---
Uluru On a Shoestring…

#1 Drive There
One of the most incredible ways to experience the magic of Uluru is to drive there.
My complete itinerary for a budget 4WD road trip through Central Australia gives details about how the boy and I drove there all the way from Noosa, Queensland within the period of a week, so believe me when I say, there is nothing more spectacular than seeing the great mound of Uluru rise before you after viewing only flat, red dirt for days!
The magic and grandeur of this huge stone cannot be put into words and the anticipation of turning the corner to finally get a glimpse of it after you've travelled miles is wild!
#2 Hike Around It
The 10.6km circumnavigation track of the wonderful Uluru is an absolutely brilliant way to view the many angles and colours of this photogenic rock, as well as familiarise yourself with the legends, stories and history of its role in aboriginal culture.
One of the best day walks in Central Australia, the Uluru Base Walk took us roughly 3 hours, but we foolishly made the mistake of undertaking it in the afternoon when there was very little shade to be had!
Luckily the sarongs we'd brought along did a great job of protecting us from the fierce heat (their use as a sunshade is just one of the great reasons to always take a sarong travelling!) but my tip would be to get started on the walk just after sunrise instead!
At this time of day, you're assured of a fantastic light display as the sun warms both the colours of the rock and the incredible sky above it.
#3 Snap it at Sunset
Nobody can visit Uluru and miss out on the chance to photograph this most famous rock in its best light.
There at least 4 designated sunset/sunrise viewing spots within the Uluru-Kata Tjuta National Park, all of which have special raised platforms for better angles.
Sunset snaps are a must, but make sure you get up early at least one day to see the colours of the day coming to life over Uluru at sunrise as well – it will also make for some unforgettable memories.
#4 Explore its Cultural Significance
The Cultural Centre within the park is free to enter and will give you an excellent insight into the natural and cultural significance of Uluru.
You can easily spend a good few hours here as there is plenty of information, which is beautifully displayed and very accessible.
There are also brilliant guides and helpful staff on hand to answer questions and give you more information.
Uluru For Flashpackers…

#5 Dine at Uluru
The Sounds of Silence is a once in a lifetime opportunity to eat your dinner with the famous setting of Uluru in the background.
Enjoy the views of this great rock as the sun sets and then choose from a fabulous array of bush tucker treats and other cuisine delights as the incredible stars of Central Australia come out.
#6 Ride a Camel
Who can resist the opportunity to experience all the delights of Uluru's desert setting including sitting on the back of a camel?
Take an amazing Uluru camel tour on the back of one of these wonderful animals in the surrounding dunes and get a whole new angle on this great arid area.
A super one for the whole family, walking the red sands atop a camel with the backdrop of Uluru is an experience that will transport you right back in time to the days of the early pioneers and the wild landscape they traversed.
5 ESSENTIAL PACKING ITEMS FOR AUSTRALIA
#1 Good Camera – You will be pretty much snapping non-stop in Australia and will need a good camera to do this gorgeous country justice. I highly recommend the Sony A6000, which I use for all my travels and love, not least because it's light, compact and robust!
#2 Good Walking Shoes – There will be a lot of walking in Australia – from cities to national parks! Make sure your feet are comfortable therefore with a pair of New Balance Trainers. Perfect for stylish strolling, I love mine.
#3 Good Guidebook – I'm still a massive fan of the Lonely Planet Guidebooks and do think their Australia edition is well put together.
#4 Good Water Bottle – Travelling in hot old Australia can be thirsty work, so make sure you have a metal water bottle that you can refill as you go, because tap water is drinkable… and free!
#5 Good Sun Hat – And there's no denying you'll need a good sun hat for protection in Australia too. In my opinion, you can't go past this Hello Sunshine one, which is both gorgeous and ideal for keeping the rays off your face.
Top End Treats at Uluru…

#7 Skydive Uluru
What could be more amazing for experiencing the magic of Uluru than hurtling towards it at some crazy speed right?!
For me, even the thought brings me out in a cold sweat, but many I know would jump (pardon the pun!) at the chance to say they have skydived over Australia's most famous landmark.
One of the newest adventures to be had at Uluru, this is certainly a different sort of way to see the area!
#8 Enjoy a Harley Ride
Feel the wind in your hair as you race to Uluru on the back of a Harley Davidson.
These professional motorcycle tours get rave reviews and are very popular with small groups looking to mark special occasions.
Travel in style to the rock at either sunset or sunrise and enjoy lots of information from your knowledgeable guide along with views you certainly won't forget in a hurry!
#9 Fly Over It
One of the best ways to experience the magic of Uluru, a scenic flight or chopper ride over this incredible landscape is not suited to everyone's budget and certainly not ours.
If you can stretch to it however, I think this would be an amazing way to view the rock, with 360° views of its many angles.
There are a number of options to choose from when it comes to seeing the best of this famous monolith from the air, so whether you want a short 25 minute helicopter ride or an hour long journey, whether you want to fly over at sunrise, sunset or in between, there are plenty of prices and adventures to choose from.
PIN IT TO PINTEREST!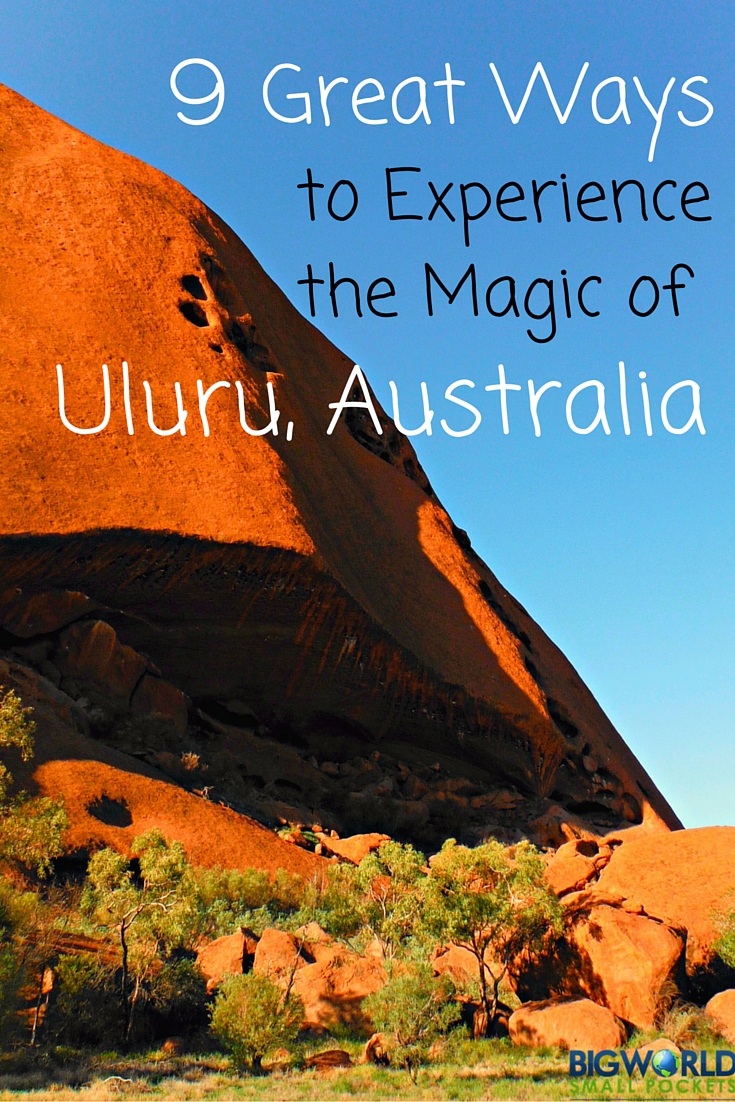 So those are the best 9 ways I think you should experience the magic of Uluru.
Have you visited Central Australia before?
How have you chosen to see this great rock?
Any recommendations?