If there's one thing Australia does well, it's sensational landscapes and never was this brought home to me more than during our 10 month road trip across the country.
Ancient, awe-inspiring and let's be honest, just downright AMAZING, the diversity and enormity of the Australian countryside takes some beating.
And never is this more apparent than in the glorious light shifting colours of sunset.
Yes those Aussies can do a good BBQ, they can do a good surf and they can certainly do a good sunset.
So after travelling around this country far and wide, here's my pick of the bunch, the top 15 spots to snap the best Australian sunsets.
---
Related Posts
---
#1 Cable Beach, Broome, WA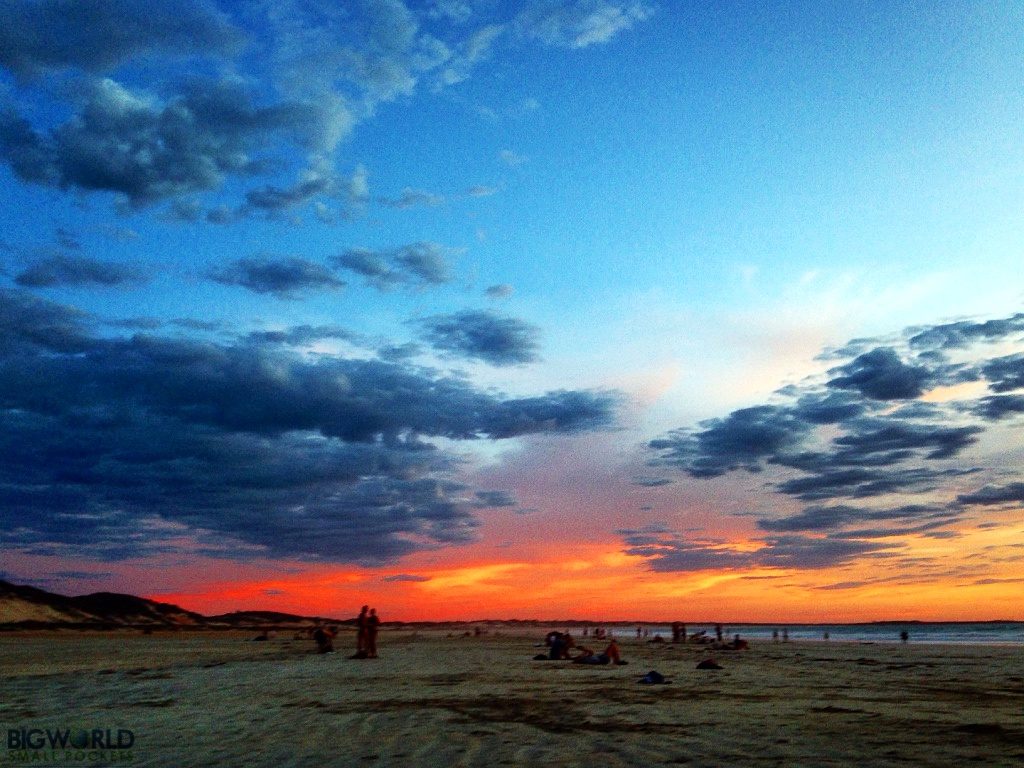 The crème de la crème of Australian sunsets, Cable Beach in Broome is a must-see location.
Set on the country's west coast, the colours over the Indian Ocean here as the day's light fades are frankly unbelievable.
5 ESSENTIAL PACKING ITEMS FOR AUSTRALIA
#1 Good Camera – You will be pretty much snapping non-stop in Australia and will need a good camera to do this gorgeous country justice. I highly recommend the Sony A6000, which I use for all my travels and love, not least because it's light, compact and robust!
#2 Good Walking Shoes – There will be a lot of walking in Australia – from cities to national park! Make sure your feet are comfortable therefore with a pair of New Balance Trainers. Perfect for stylish strollling, I love mine.
#3 Good Guidebook – I'm still a massive fan of the Lonely Planet Guidebooks and do think their Australia edition is well put together.
#4 Good Water Bottle – Travelling in hot old Australia can be thirsty work, so make sure you have a metal water bottle that you can refill as you go, because tap water is drinkable… and free!
#5 Good Sun Hat – And there's no denying you'll need a good sun hat for protection in Australia too. In my opinion you can't go past this Hello Sunshine one, which is both gorgeous and ideal for keeping the rays off your face.
#2 West Point, Magnetic Island, QLD
One of the few places on the east coast that you can see a sunset over the ocean, Magnetic Island's West Point is a killer spot.
Getting here is only accessible via 4wd, but given that the journey is half the fun, this is a aussie sunset spot you can't miss.
#3 Uluru, Central Australia, NT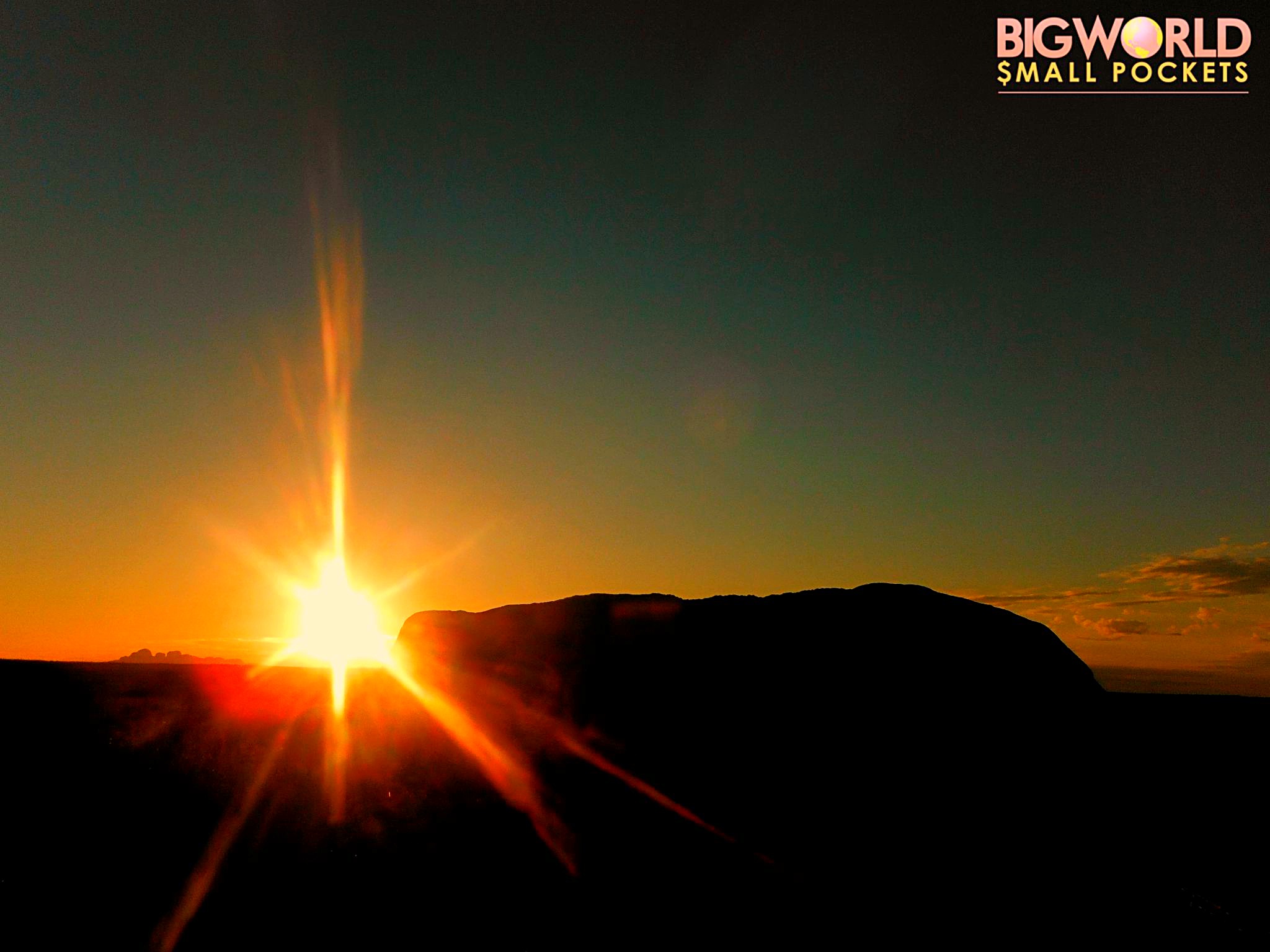 For those who make the epic journey to Uluru in Central Australia, there's few experiences more rewarding than snapping a sunset here.
Centre stage is Australia's giant monolith and around, the light display of the great Outback dances around in one amazing show.
#4 Harbour Bridge, Sydney, NSW
From one extreme to another, sometimes the sunsets of Australia's urban landscape can be just as striking as those of its rural areas.
And there's few more iconic than Sydney's Harbour Bridge. Check out the Opera House too at sunset if you can, you won't be disappointed.
#5 Peninsula Hot Springs, Mornington Peninsula, VIC
If there's one thing I'm willing to splurge on in my budge travel life it's a good hot spring and those in the Mornington Peninsula's Hot Springs in Victoria definitely didn't disappoint!
Set up the side of a hill, the pools gradually increase in temperature as you make your way up.
At the top, sits the hottest pool of all, which rising just above the canopy, is the most epic place to enjoy the fading light of the day in this gorgeous area.
#6 Mindil Beach, Darwin, NT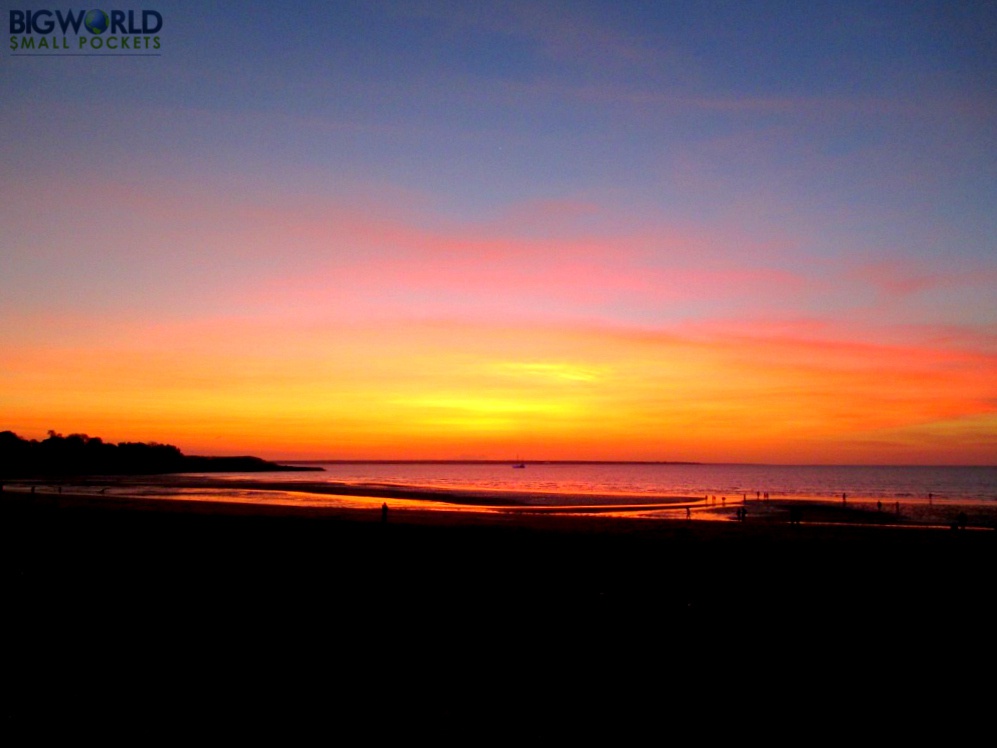 The twice weekly Mindil markets are definitely one of the best free things to do in Darwin, not least because of the amazing sunset you can see on the beach here.
Enjoyed to the sound of market chatter, local music and merriment, pack some beers and a picnic and enjoy this sunset the local way.
#7 Ubirr, Kakadu, NT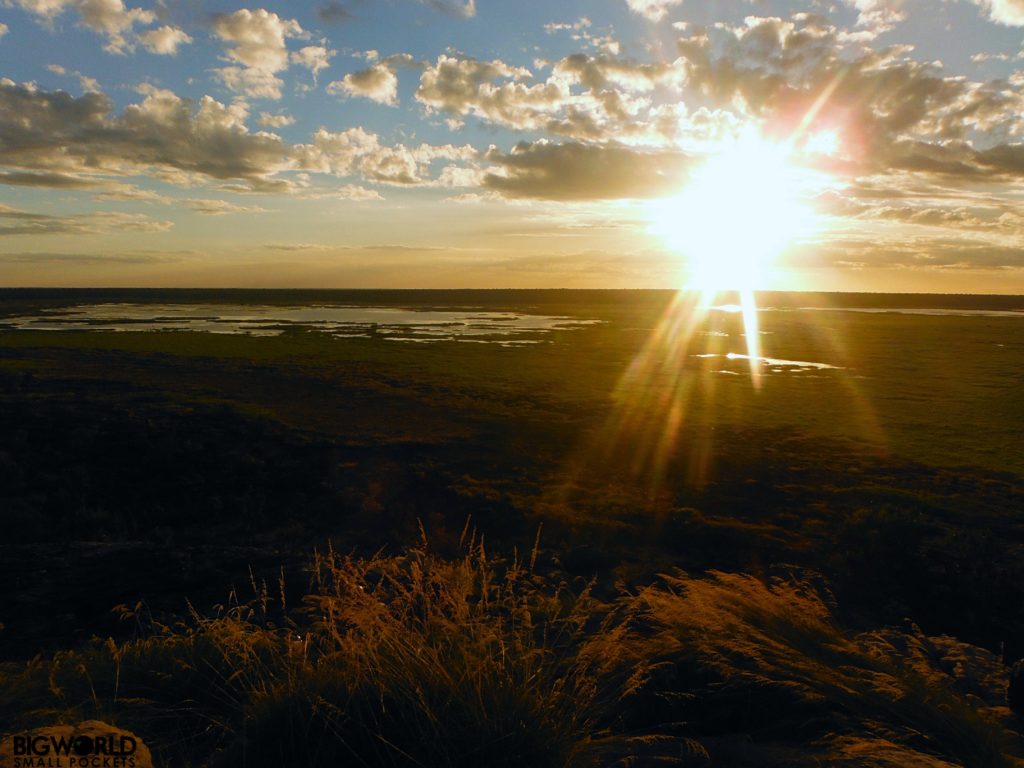 I've seen the amazing sunset spectacle from the top of Ubirr twice in my life – 2 years apart.
Both times it's moved me to tears. Enough said!
#8 Cottesloe Beach, Perth, WA
The beautiful Cottesloe Beach is one of Perth's best beaches and backed by a beautiful park is a winning spot to kick back with friends or family and enjoy the end of the day – West Australian style!
#9 The Breakaways, Coober Pedy, SA
A short drive from the crazy underground town of Coober Pedy in South Australia, the Breakaways are definitely one of the best places to see a great Australian sunset.
The viewing platform you drive to here is high up and below you spreads the golden and enormous landscape of the arid Outback in all its glory.
#10 Main Beach, Noosa, QLD
Having lived in Noosa for 18 months, I have a real soft spot for this gorgeous Queensland beach town and its sunsets are definitely up there with the best.
Go to the river to see a great one or you can head to the Noosa National Park as well.
My pick has to be Main Beach though – you really can't beat the atmosphere at sundown on this stunning stretch of sand.
#11 Karumba, Gulf of Carpentaria, QLD
Way up in the north of Queensland we visited the stand out town of Karumba as part of the Savannah Way journey we made from Cairns to Darwin.
Life in the steamy of tropics of Karumba – a town dedicated to fishing – is like a different world and the sunsets are pretty out of this world too!
Definitely one of the top places to visit in North Queensland, check out the full list here.
#12 Lake Eyre, SA
Only filling once in every 8 years or so, Lake Eyre more regularly resembles a massive dry plain than a body of water.
But that doesn't make it any less spectacular, especially when it's sunset time.
Yes, this remote and isolated national park in the South Australian Outback definitely had one the best Australian sunsets I've ever seen.
#13 St Kilda Beach, Melbourne, VIC
Poor old Melbourne did pull the short straw when it came to the Aussie beaches, but that's notwithstanding St Kilda.
A really fun spot, we loved heading here after a busy day of sightseeing with a bottle and a picnic to enjoy the people watching.
#14 Cape York, QLD
Right up at the top of Queensland, Cape York is one of the truly off the beaten track spots in Australia – at least it was when we went!
Only accessible via 4wd – the wonderful Elim Beach just north of Cooktown comes highly recommended and the colours of the sunset here, in one of the country's most remote outposts, was breathtaking.
#15 Boodjamulla National Park, QLD
It was so hard to pick just 15 spots to see the best Australian sunset, but I just couldn't leave this one out.
Boodjamulla National Park is definitely one of the best Australian national parks there is and the stunning sunset walk you can do here is incredible – taking you up the range to view the enormous and barren Outback landscape spread before you.
PIN IT TO PINTEREST!
So there you have it, my list of the top 15 spots to snap the best Australian sunsets.
Have you seen some crackers in Australia not on this list?
Please give me some more ideas in the comments below…
Save
Save