If you're about to embark on a road trip from Perth to Broome, then let me tell you, you're in for a serious treat!
Having driven 20,000km around Australia on a budget road trip, I have to say this was my favourite stretch of the journey with the sheer diversity of landscapes, incredible scenery and insane colours blowing me, and my camera, away!
From the amazing Kalbarri and Karijini National Parks through to the iconic Pinnacles, Ningaloo Reef and dolphins at Monkey Mia – if you're looking to see the best of Western Australia, this is probably the road trip for you!
And it's easy to do on a budget too, with well-priced caravan parks and free camps aplenty.
Plus, if you need a great campervan hire rate, then you can easily find one through Discovery Campervans, who compare hundreds of deals to get you the best price.
So, what are you waiting for?
Here's my ultimate Perth to Broome budget road trip itinerary for the Western Australian adventure of a lifetime.
Grab Your Copy of How to Road Trip Australia on a Budget
My ultimate guide to road tripping Australia on a shoestring is now available, meaning you can finally get ALL my top tips for driving around all, or parts, of this amazing country in one handy eBook, including…
Full Planning & Preparation Guides
Day by Day Itineraries & Routes
Complete Packing & Gear Lists
Top Money-Saving Tips & Hacks
---
Related Posts
---
This page contains affiliate links meaning Big World Small Pockets may receive a small commission on any purchases at no extra cost to you.
---
Day 1: Perth to Jurien Bay (via Yanchep & Pinnacles)
I'll start with a simple instruction on day 1 – leave Perth and head north!
Yes getting out of the city might take you a while, based on traffic, and that's one of the reasons I've included a stop just out of Perth, which makes the perfect place for a break and a snack!
Yes Yanchep National Park is a gorgeous reserve that's right on your way.
A firm favourite with families especially, don't miss checking out the koalas and kangaroos which are abundant here and very easy to spot.
There are also free BBQs in the park too if you fancy lunch already.
After you've got your fill at Yanchep, it's time to make a beeline for Nambung National Park, otherwise known as The Pinnacles.
One of Western Australia's most unique icons, these crazy-looking sand towers make for an awesome excursion and are best captured at sunset, when the colours of the golden desert landscape really spring to life.
After you've wandered around the Pinnacles and snapped away to your heart's content, it's then time to head to Jurien Bay for the night.
This cute coastal town is the perfect place to spend the first night on your Perth to Broome road trip, especially as there are a number of good caravan parks here.
Otherwise, head slightly further north to the free camp at Billy Goat Bay in Green Head if that's what your budget calls for!
This stretch of coastline north of Perth is known as the Turquoise Coast.
If you fancy chilling here for a few more days, then check out my list of the 10 best spots to visit in the area for some more great travel ideas.
Day 2: Jurien Bay to Geraldton (via Indian Ocean Drive)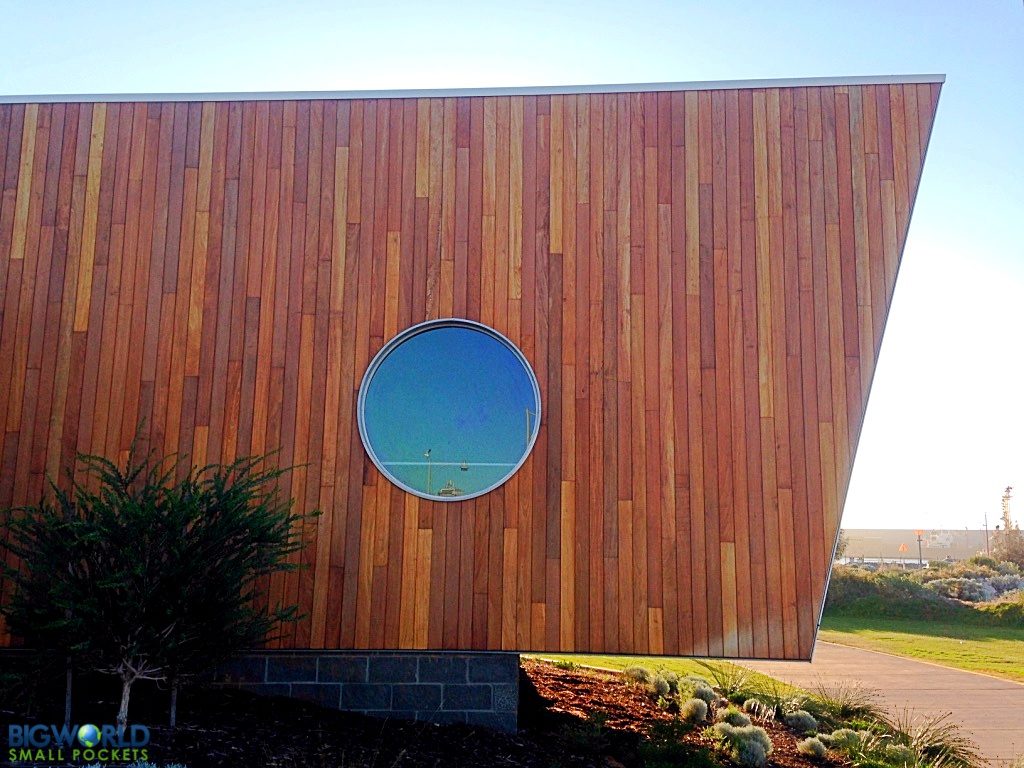 On day 2 of your Perth to Broome road trip it's all about the Indian Drive, which is a stunning route that takes you north from Jurien Bay right up the coast.
During the months of July to October there are spectacular wildflowers to be found here, so head inland slightly to Lesueur National Park to see the best displays if you're travelling during these months.
Make sure to snap the awesome Leaning Trees at Greenough too as you make your way towards the highly underrated town of Geraldton.
A charming spot, I loved the cute little town of Geraldton, which has some super quirky cafes (Quiet Life was my favourite), along with some lovely street art, historic buildings and a peaceful esplanade to explore.
There's also the HMAS Sydney II Memorial and the brilliant Museum of Geraldton (both free to enter) which are definitely worth checking out too.
Learn more about what to see and do in Geraldton in this article I wrote all about the town.
Then it's time to treat yourself to a night at Ocean West Apartments which, while still affordable, is a nice place to stay if you would like a proper bed, kitchen and a swim in the pool – check out my review here!
Otherwise, you can camp very cheaply at Ellendale Pool.
Day 3: Geraldton to Kalbarri (via Pink Lake)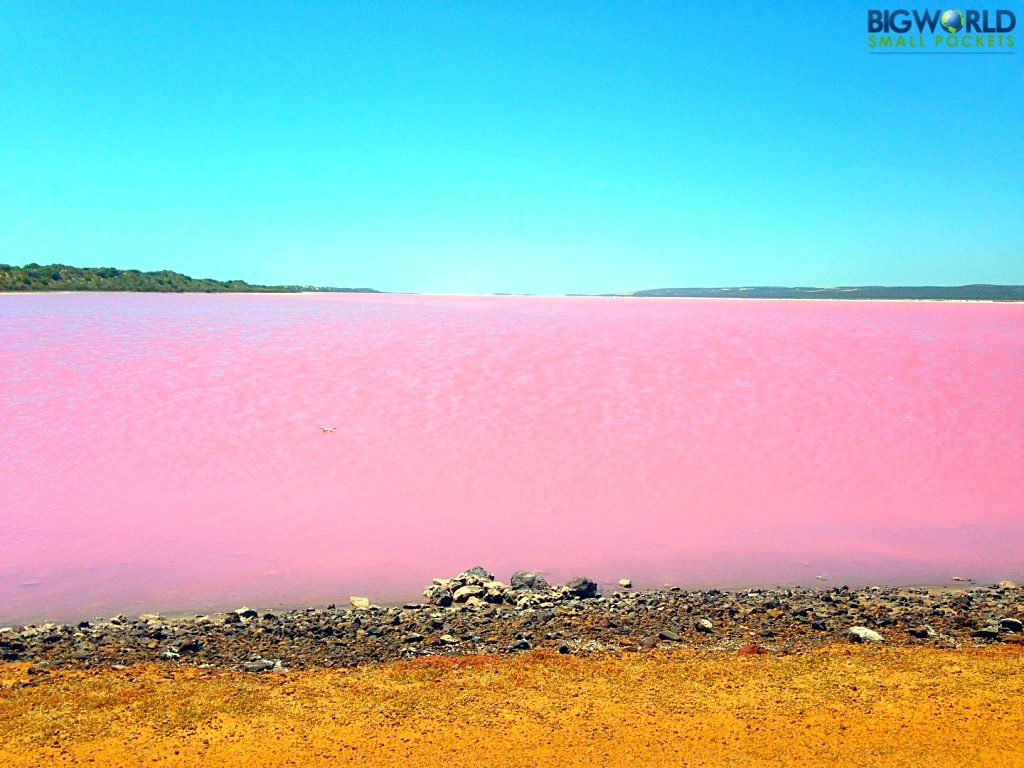 Enjoy a delightful swim at one of Geraldton's great beaches or watch the windsurfers and kitesurfers ripping it up at Point Moore and Coronation Beach in the morning before you pack up and leave Geraldton.
Then motor out of town and on to your first stop at Port Gregory to check out the Hutt Lagoon, otherwise known as the Pink Lake.
This bubblegum-coloured body of water really has to be seen to be believed and will give you some of the best photos of your Perth to Broome self-drive itinerary!
Next, stop at Eagle Gorge – part of the coastal part of Kalbarri National Park – and watch out for seasonal whales, before continuing onto the quaint town of Kalbarri itself to spend the night at the Kalbarri YHA Backpackers or one of the town's caravan parks.
A small place, it's easy to locate where you intend to stay, but things do get booked out in the season here, so I really recommend reserving well in advance.
Day 4: Explore Kalbarri National Park
Take a day off from any serious driving on day 4 of your Perth-Broome road trip and explore the inland section of Kalbarri National Park at your leisure instead.
From stunning gorges to sensational lookouts, don't forget your camera when it comes to exploring this place – one of Australia's best national parks imo.
Highlights include Nature's Window and the Z-Bend – you really can't miss them!
Learn more about Kalbarri National Park – including how to visit it and what to do there – in this ultimate guide I wrote.
There's no camping within Kalbarri National Park itself, so you'll need to return to town to spend the night of day 4.
Stop at the Meanarra Hill Lookout on the way back if you can!
Day 5: Kalbarri to Shark Bay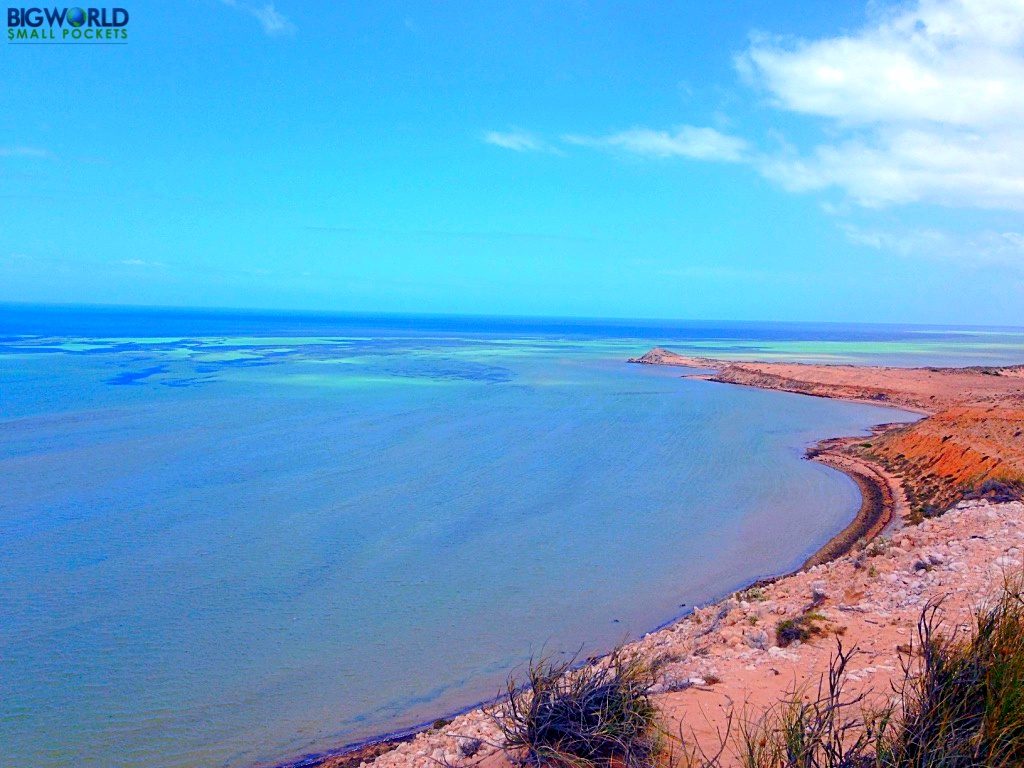 Continue north from Kalbarri on day 5 and head to the UNESCO World Heritage Area of Shark Bay.
This really is where the Outback meets the ocean, so be prepared for some gorgeous views of red dirt hitting white sand and the turquoise Indian Ocean lapping beyond.
There's tons of incredible free things to do in Shark Bay – from stromatolite boardwalks to dugong spotting and even soaking in an artesian water hot tub, so don't miss out!
Most of these activities are situated along the World Heritage Drive, which takes you up the Peninsula to the main town of Denham – a great place to enjoy a picnic lunch on the foreshore.
Once you're rested and fed, I then suggest continuing onto Monkey Mia and camping at the RAC Monkey Mia Dolphin resort – this is a fantastic place for the big and small kids alike!
Day 6: Explore Shark Bay / Monkey Mia
Today is another day to hold off on driving too much – because believe me you'll need a down day like this every once in a while!
Instead, take the time to relax by the Indian Ocean in Monkey Mia and don't miss the chance to feed the friendly population of wild bottlenose dolphins that call this place home.
Day 7: Shark Bay to Carnarvon
On day 7, it's then time to hit the road again!
Leave Shark Bay and head north to the country town of Carnarvon, which is known as the fresh produce king of Western Australia.
In the town itself, the One Mile Jetty, the Fascine and the Heritage Precinct Museums are all worth exploring, especially as they are free to enter or by gold coin donation!
Next drive Carnarvon's fruit loop, stopping at the farm shops to buy some of the delicious local produce they grow here, before heading out to see the amazing blowholes at Quobba Point!
Honestly, you cannot miss the spectacle of these giant forces of nature, but please do take care, as the huge sign you'll see on arrival here will warn you about!
When it comes to spending the night in Carnarvon, you can either camp cheaply out at Quobba, or head back into town and stay at the awesome Wintersun Caravan Park – check out my review of this place here.
Day 8: Carnarvon to Exmouth / Coral Bay
Today's the day on your Perth to Broome road trip that you get to visit the amazing Ningaloo Reef.
When it comes to seeing this marvellous underwater spectacle, you'll have to make a choice about where to base yourself.
Either choose Exmouth – the main town in the region and best for diving – or select Coral Bay – a much smaller settlement great for snorkelling with manta rays.
Arrive at your chosen destination and book your excursion for the next day – after all, you can't come to this incredible UNESCO World Heritage Site and not get out on the water to explore the reef!
Then finish your day either with a stroll on the beach at Coral Bay to check out the shark nursery, or a drive to the striking Vlamignh Head Lighthouse near Exmouth for stunning views over the reef, especially at sunset.
Spend the night at Potshot Hotel Resort in Exmouth where you can either camp, grab a dorm bed for the night, or splash out on one of their apartments – read my review here.
Alternatively, in Coral Bay, you have a choice of 3 caravan parks – I thought Bayview was the best of the bunch.
Day 9: Explore Ningaloo Reef
Take full advantage of the fabulous surroundings amidst the Ningaloo Reef and either spend the day snorkelling with manta rays from Coral Bay on this eco marine safari, or scuba diving (possibly with whale sharks depending on the season) from Exmouth.
If your budget won't stretch to this, or you have another day up your sleeve to play with here, then you should definitely check out Cape Range National Park.
This stunning reserve protects both the reef, as well as onshore area, where emus, echidnas and roos roam freely.
Highlights of this national park include Yardie Creek and Turquoise Bay – the colours of which really have to be seen to be believed!
You can camp cheaply in Cape National Range National Park too and entrance is free of course with your WA Parks Pass – see my tips at the end of this article for more info on this!
And don't forget, if you only have a week to travel from Perth, and don't fancy driving, then this 7 day Explorer Return Tour from Perth to Exmouth could be the perfect answer!
Day 10: Exmouth / Coral Bay to Karijini National Park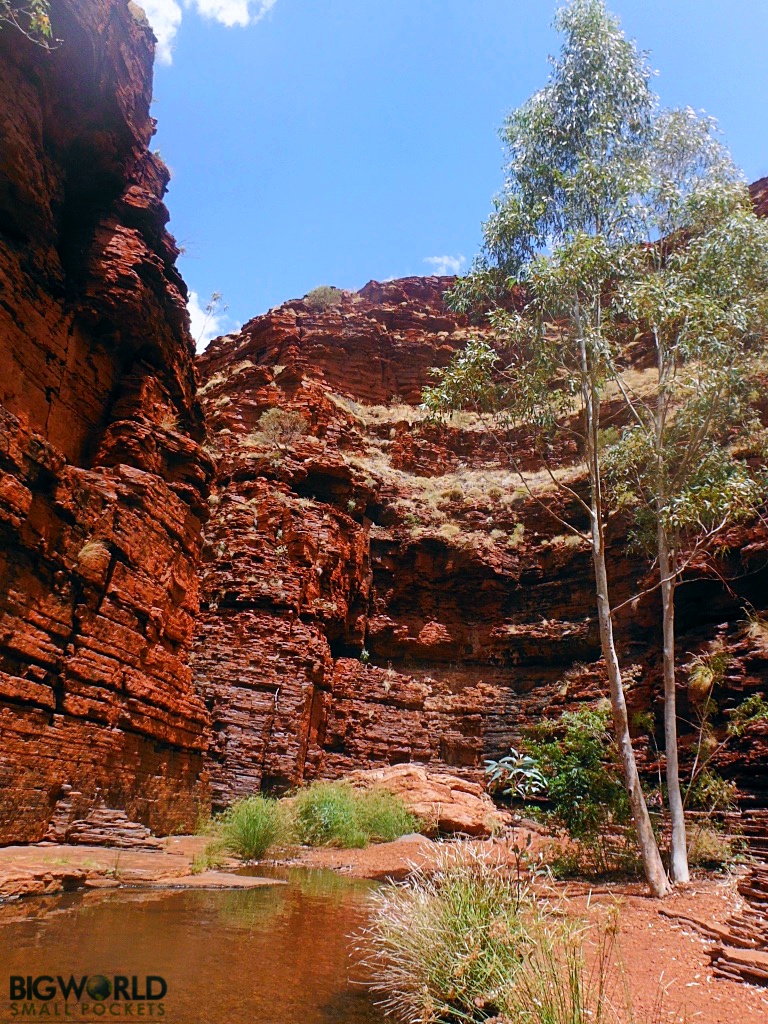 While it's super hard to pick my favourite bit of the road trip from Perth to Broome, Karijini National Park just might clinch the top spot!
This massive national park, set in the remote Pilbara region of Western Australia, showcases some seriously stunning landscapes with incredible gorges, waterfalls, swimming holes and lookouts you can explore on foot and by vehicle.
All of it is giant and all of it is mind-blowing – it literally feels like you are walking through some prehistoric landscape… minus the dinosaurs of course!
Accessible even by 2wd vehicles, there is basic national park camping available in Karijini where you should stay to keep the budget down.
Otherwise, treat yourself and upgrade with a spot of glamping at the wonderful Karijini EcoRetreat.
Day 11: Explore Karijini National Park
Given that Karijini was 20 billion years in the making, it seems at least fair for you to allocate a full day to enjoy it!
And there's no question in my mind that this ancient landscape is definitely worth a 2 night stopover on your Perth to Broome road trip.
The Spider Walk is the most epic attraction for the intrepid explorers among you, and it's hard to beat Fortescue Falls for a delightful dip – def do both if you can!
To learn more about visiting Karijini and the top places you can't miss while you are there, check out this ultimate guide I wrote all about this amazing national park.
Day 12: Karijini to Port Hedland
Not the most picturesque of places it has to be said, but the mining town of Port Hedland is, however, a great overnight stop if you want to grab a decent coffee and replenish supplies as you continue north from Karijini.
It's also a good place to spend the night and I highly recommend the Discovery Parks – Port Hedland Caravan Park, which is situated right above the gorgeous beach of Pretty Pool that has great sunset views.
In the town itself, there's loads of free things to see, including the snow mountain (Rio Tinto's massive huge salt piles), the never-ending iron ore trains or the insanely huge ship loading facility – all kind of depressing and intriguing in equal measure!
Day 13: Port Hedland to Eighty Mile Beach
Gosh we're getting so close to the end of this Perth to Broome road trip, as day 13 brings us to Eighty Mile Beach, which is certainly worth a stop on the final leg of your journey.
The colours of the coast here are truly unbelievable and the brilliant Eighty Mile Beach Caravan Park sits right among them with some epic views – stay there!
Day 14: Eighty Mile Beach to Broome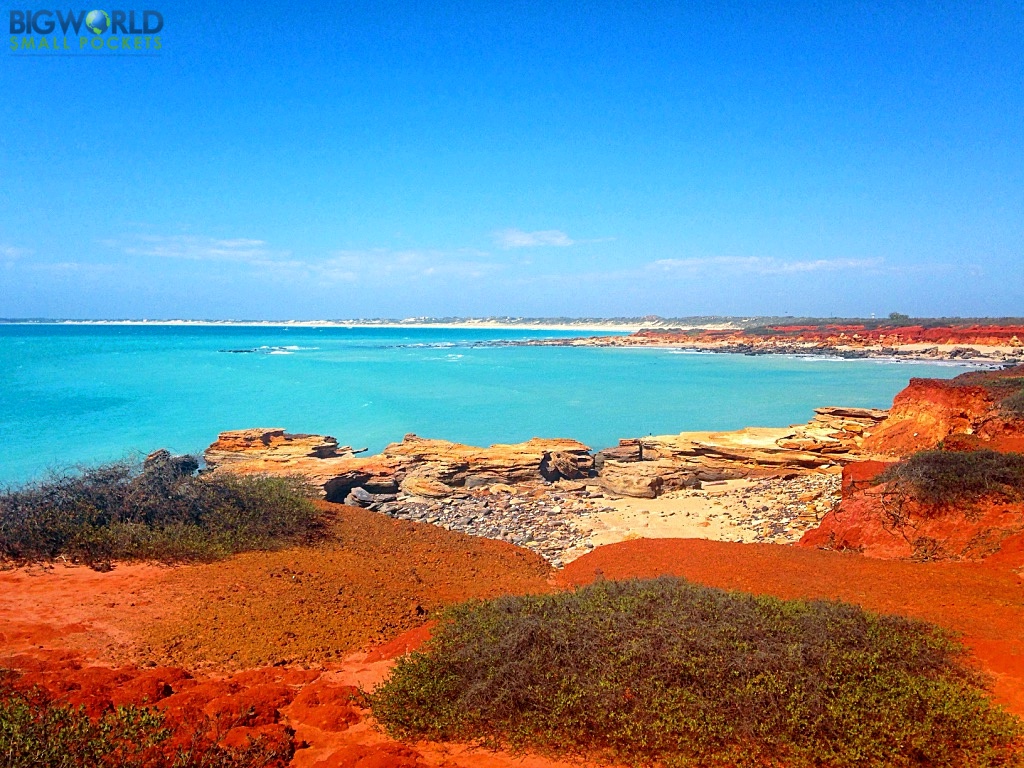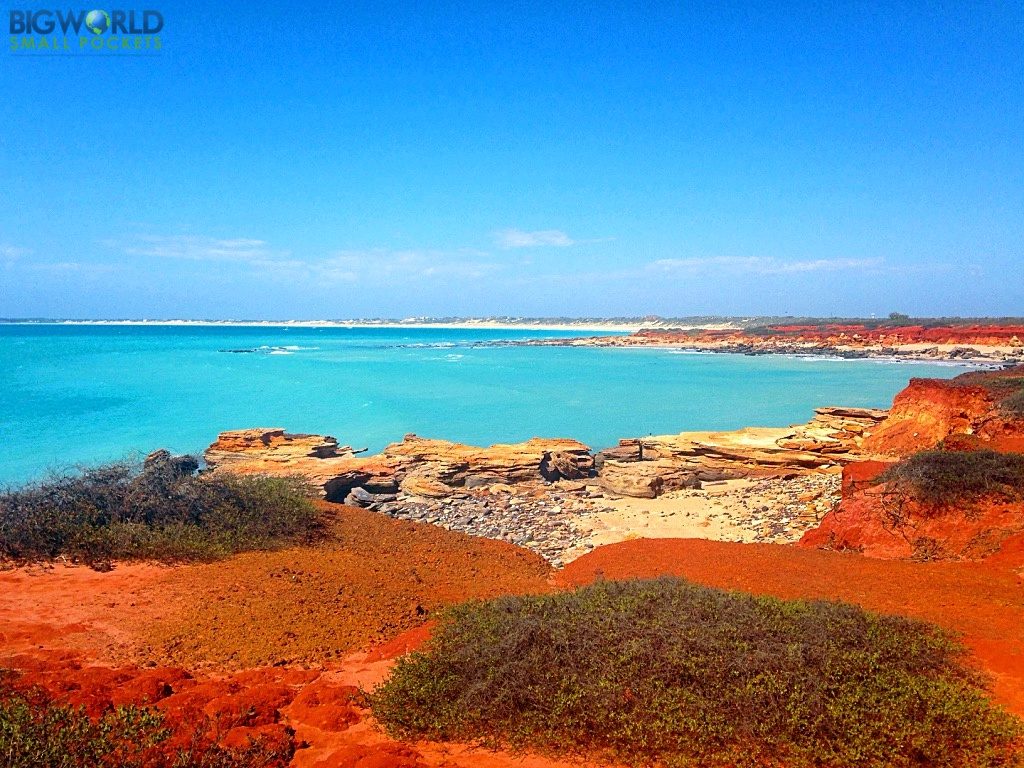 Saving the best till last, on day 14 you'll finally reach Broome!
Arriving at the top of Western Australia is no less spectacular than you would expect and you're going to want at least a few days to really absorb this town to its fullest!
Yes, everybody loves Broome, and it's easy to see why thanks to the Cable Beach sunsets, Gantheaume Point views and rich cultural heritage evident throughout the town.
Check out my favourite free things to do in Broome, as well as my guide to the best Broome caravan parks, for more info about what to do and where to stay when you're here.
Top Tips for Road Tripping Perth to Broome
5 Key Packing Items for your Perth to Broome Drive
#1 Good Camera – You will be pretty much snapping non-stop in Australia and will need a good camera to do this gorgeous country justice. I highly recommend the Sony A6000, which I use for all my travels and love, not least because it's light, compact and robust!
#2 Good Walking Shoes – There will be a lot of walking in Australia – from towns to national parks! Make sure your feet are comfortable therefore with a pair of New Balance Trainers. Perfect for stylish strolling, I love mine.
#3 Good Guidebook – I'm still a massive fan of the Lonely Planet Guidebooks and do think their Australia edition is well put together.
#4 Good Water Bottle – Travelling in hot, old Australia can be thirsty work, so make sure you have a metal water bottle that you can refill as you go, because tap water is drinkable… and free!
#5 Good Sun Hat – And there's no denying you'll need a good sun hat for protection in Australia too. In my opinion, you can't go past this Hello Sunshine one, which is both gorgeous and ideal for keeping the rays off your face.
PIN IT TO PINTEREST!
So that's it folks, my ultimate 14 day Perth to Broome budget road trip itinerary.
Have you made this incredible journey?
What was your favourite place and do you have any great tips to share?
I'd love to hear them in the comments box below…