Come on, let's be honest, this is probably the big daddy of them all!
Yes the drive from Darwin to Broome through the jaw-dropping Kimberley region is about as awesome as road trips get I reckon and easily competes with both the drive up the red Centre from Adelaide to Darwin, as well as down the West Coast from Broome to Perth.
Have I sold it to you yet?!
I mean I literally spent the entire 2 weeks it took us to make this drive, hanging out the window, just trying to grab photographs as we bumped along … it's that stunning (and also no one would let me make any more stops!)
But I digress, the point is you have to make this drive at least once in your life and here, to show you how to get the best from it, is my ultimate Darwin to Broome road trip itinerary!
Grab Your Copy of How to Road Trip Australia on a Budget
My ultimate guide to road tripping Australia on a shoestring is now available, meaning you can finally get ALL my top tips for driving around all, or parts, of this amazing country in one handy eBook, including…
Full Planning & Preparation Guides
Day by Day Itineraries & Routes
Complete Packing & Gear Lists
Top Money-Saving Tips & Hacks
---
Related Posts
---
This page contains affiliate links meaning Big World Small Pockets may receive a small commission on any purchases at no extra cost to you.
---
Day 1 & 2: Darwin to Litchfield National Park
Depart Darwin early in the morning and make the short drive south to Litchfield National Park.
Only an hour or so away, this park has tons going for it, so be sure to set off early so you get the most out of your days there.
My favourite highlights include swimming at Florence Falls, hiking around Wangi Falls and snapping the giant termite mounds, but there's literally loads to do… and it's all free!
For more ideas, check out my guide to Litchfield National Park, including where you can camp for just $3.30!
BEST BUDGET ACCOMMODATION IN DARWIN
If you're looking for places to stay in Darwin, I highly recommend either the City Gardens Apartments for those who want a bit of privacy or Gecko Lodge if you want a good dorm bed!
Day 3 & 4: Nitmiluk National Park
After Litchfield, it's time to check out another Northern Territory wonder – Nitmiluk National Park.
Definitely one of Australia's most epic national parks, Nitmiluk, sits just outside the town of Katherine and is a massive gorge that stretches deep into this ancient landscape.
Top activities include hiking, kayaking and cruising around the gorge, but if you have enough money, a helicopter ride has got to be an amazing way to see the enormity of this deep ravine.
For more ideas about where to stay in this national park, check out my full guide here.
Or check out this great option for a full-day tour to Nitmiluk National Park, which includes a cruise up Katherine Gorge and a swim in Edith Falls.
5 ESSENTIAL PACKING ITEMS FOR AUSTRALIA
#1 Good Camera – You will be pretty much snapping non-stop in Australia and will need a good camera to do this gorgeous country justice. I highly recommend the Sony A6000, which I use for all my travels and love, not least because it's light, compact and robust!
#2 Good Walking Shoes – There will be a lot of walking in Australia – from cities to national park! Make sure your feet are comfortable therefore with a pair of New Balance Trainers. Perfect for stylish strollling, I love mine
#3 Good Guidebook – I'm still a massive fan of the Lonely Planet Guidebooks and do think their Australia edition is well put together
#4 Good Water Bottle – Travelling in hot old Australia can be thirsty work, so make sure you have a metal water bottle that you can refill as you go, because tap water is drinkable… and free!
#5 Good Sun Hat – And there's no denying you'll need a good sun hat for protection in Australia too. In my opinion, you can't go past this Hello Sunshine one, which is both gorgeous and ideal for keeping the rays off your face.
Day 5: Judbarra / Gregory National Park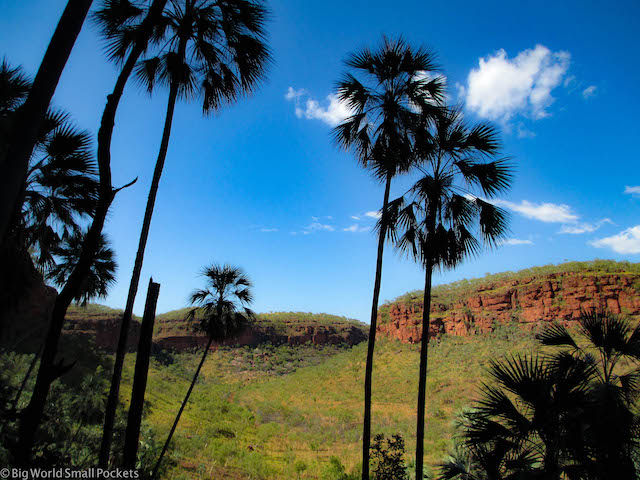 It's national parks all the way it seems!
Well when you come this far into remote northern Australia, you want to enjoy the landscape and what better way to do it right?!
Next up is Judburra / Gregory National Park, which is well-distanced from Katherine, bearing in mind you'll want to stock up on supplies there before leaving.
Stop at the hot springs in Katherine on the way out if you can too, before reaching Judburra / Gregory National Park and camping at Bullita Campground.
The nearby Bullita Homestead is an excellent free heritage exhibition that tells the true tale of a devastating flood that swept through what was once a cattle farm here.
If you're in a 4wd, there's also some great tracks (former stock routes) to undertake… we loved the Tuwakam Track!
Day 6 & 7: Keep River National Park
This little known park was one of my favourite on the whole trip and I highly recommend spending 2 nights here so that you get to enjoy all the delightful walks and incredible views.
The best hikes, in my opinion, were the Goorrandalng Walk and the Ginger's Hill Walk which had some fascinating aboriginal artefacts.
There's 2 campsites within Keep River National Park to choose from, and whichever you choose, the sun bouncing off that red Kimberley range provides the perfect backdrop.
Right near the Northern Territory border, this is the place to finish off all your fresh fruit and veg before the crossing into Western Australia too… you have been warned!
Day 8: Lake Argyle
Once you have made it into Western Australia (congratulations!), your first stop should really be Lake Argyle!
Quite the engineering feat, this flooded valley to help aid agriculture in the area is seriously impressive and stretches for miles.
Grab your snaps and then head back to set up camp and chill at the Lake Argyle Resort & Caravan Park.
This award-winning caravan park (and its infinity pool) is seriously awesome!
Day 9: Kununurra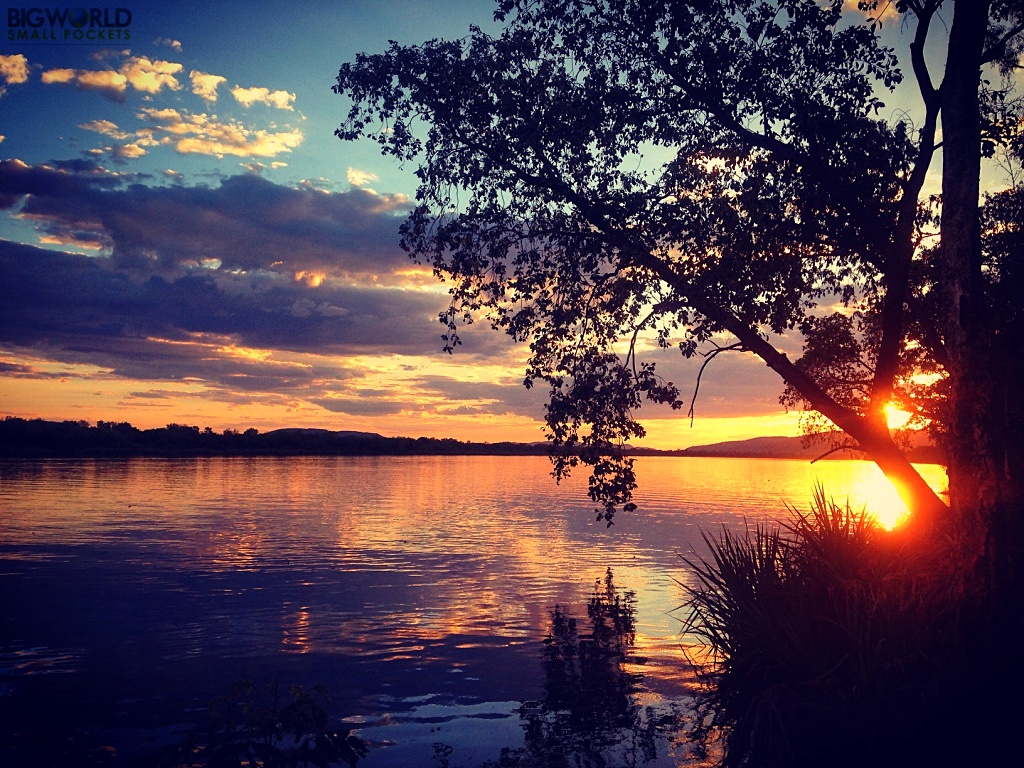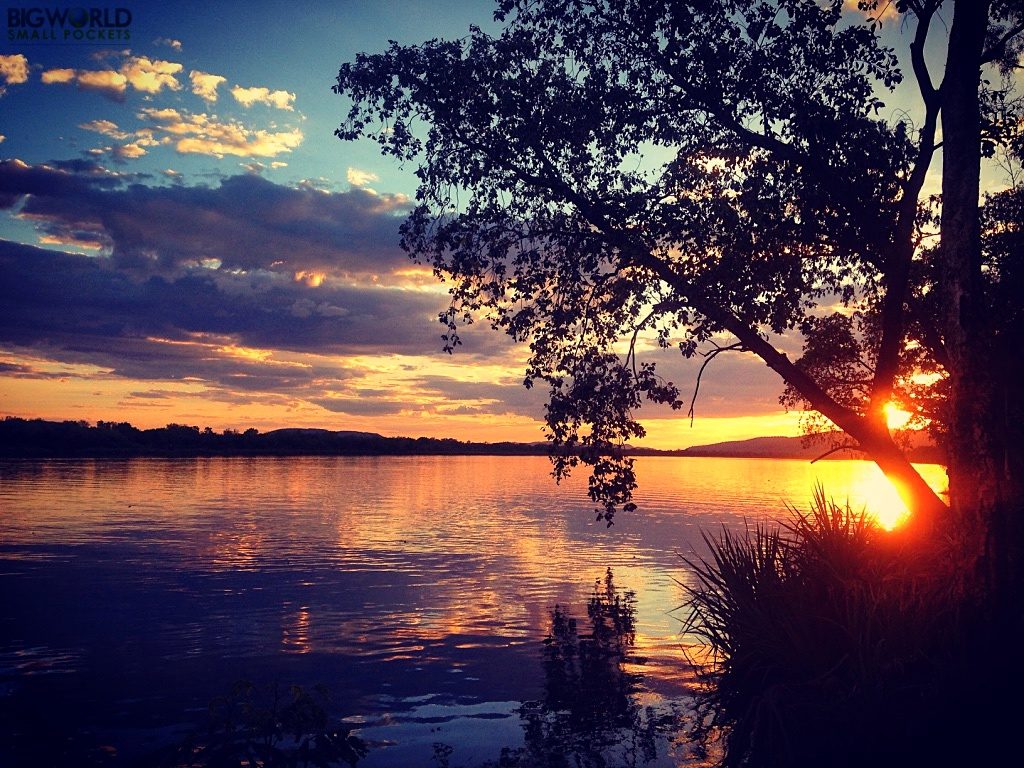 Time to head onto Kununurra and replenish supplies!
There's loads to do around this town and you could easily keep extending your stay like we did!
For some ideas about what to do, check out my post about the best free things to do in Kununurra … oh and another tip, make sure you stay at Discovery Parks – Lake Kununurra, the sunsets and sunrises here are to die for!
From Kununurra the road splits!

For those who want to drive the Gibb River Road read on here.

For those who want to take the Great Northern Highway option, scroll down a little…

And for those who want the best of both worlds (like we did) pick and choose between the 2!
Gibb River Road: Days 10, 11 & 12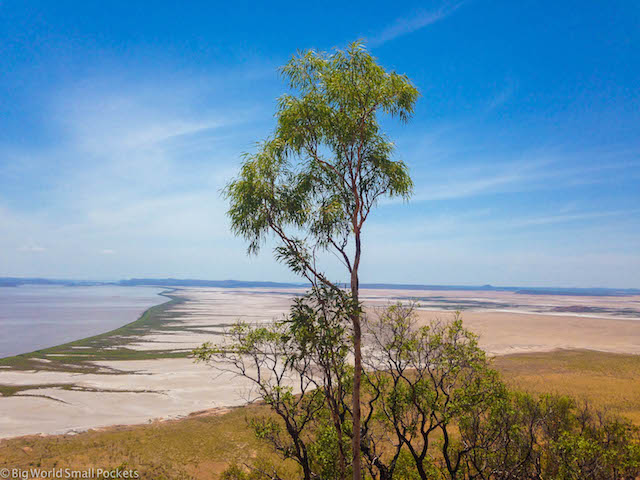 From Kununurra, head north towards El Questro and spend 2 nights there, exploring the amazing Zebedee Hot Springs, Emma Gorge and more.
Take a side trip to Wyndham to see the Fiver Rivers Lookout before heading on to take a hike and a dip at Bells Gorge.
Spend the night nearby.
It's here that things start getting seriously remote!
Great Northern Highway: Days 10, 11 & 12
From Kununurra, make your way into Purnululu National Park.
Absolutely spellbinding, you'll need to 2 nights here to really appreciate the spectacle of the giant beehive-like rock formations and the park's other attractions including Cathedral Gorge and Echidna Chasm.
Do beware the ride into the park is ROUGH however and a 4wd is essential … it will also take you ages!
After this, make your way west stopping 1 night at Fitzroy Crossing on the way – we thought it much nicer than Halls Creek and there was a good visitor centre.
The next day pop into Tunnel Creek on your way to see …
Day 13: Windjana Gorge
Both the Gibb River Road and the Great Northern Highway essentially join at Windjana Gorge, so this is a stop worth making regardless of the route you take.
Be sure to hike into the gorge and don't miss the daily croc display!
You can camp here and there are showers as well – hoorah!
Day 14: Derby to Broome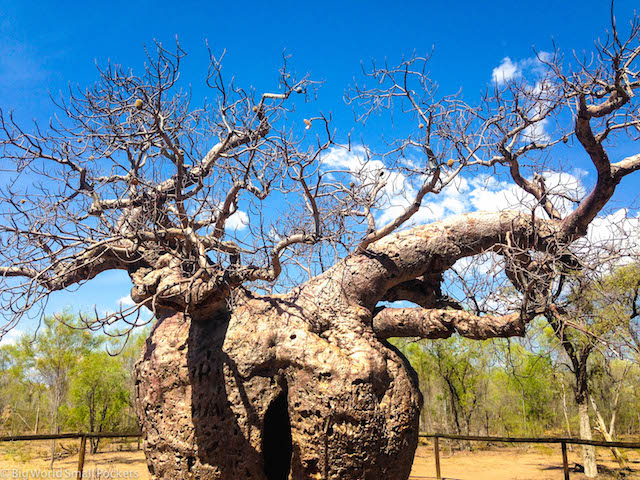 The final stop before Broome, Derby is an interesting little town worth exploring.
Derby's main attractions include the highest tides in Australia (which be can be viewed from the Wharf) and the Boab Prison Tree, which is believed to be about 1500 years old.
Stop here and spend the night, or glimpse it in an afternoon before motoring on to Broome.
PIN IT TO PINTEREST!
So there you have it folks, the ultimate road trip itinerary from Darwin to Broome.
Have you made this epic journey?
Did you go the Gibb or the Highway?
Please let me know in the comments box below…
Save
Save
Save