Located way up in Australia's remote and wild Northern Territory, Katherine Gorge National Park encapsulates and protects 292,800 hectares of this country's truly incredible landscape.
The park is also known by its indigenous Jawoyn name – Nitmiluk – which means Cicada Place.
The National Park is actually comprised of 13 separate gorges and superb hiking, kayaking and cruising opportunities all await you here amidst a backdrop of dramatic scenery and the remote peacefulness of Australia's Outback.
For us, Katherine Gorge National Park repeatedly stood out as one of the highlights of our budget 4wd road trip around Australia.
Breathtakingly beautiful we spent 2 nights were here but were totally captivated by the gorge, as were our cameras!
So if you're planning on a trip to the Territory anytime soon, I highly recommend putting Katherine Gorge / Nitmiluk National Park on your itinerary.
Read on to discover loads of practical tips for your trip there, as well as detailed information about activities and accommodation on offer.
Grab Your Copy of How to Road Trip Australia on a Budget
My ultimate guide to road tripping Australia on a shoestring is now available, meaning you can finally get ALL my top tips for driving around all, or parts, of this amazing country in one handy eBook, including…
Full Planning & Preparation Guides
Day by Day Itineraries & Routes
Complete Packing & Gear Lists
Top Money-Saving Tips & Hacks
---
Related Posts
---
This page contains affiliate links meaning Big World Small Pockets may receive a small commission on any purchases at no extra cost to you.
---
Why Should I Visit Katherine Gorge National Park?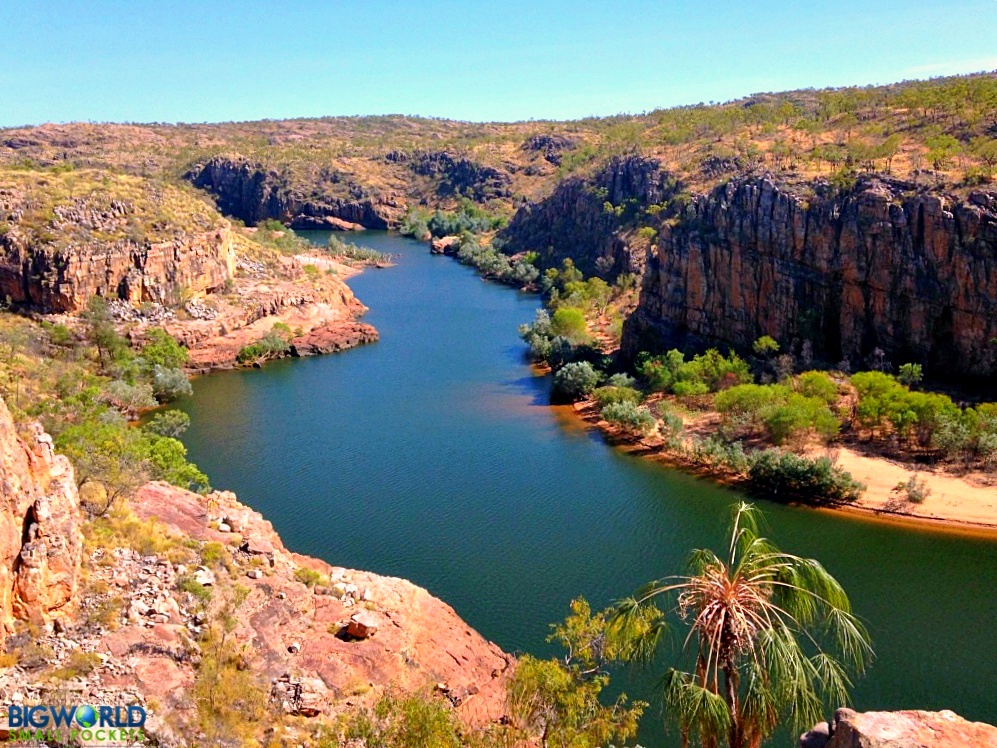 Cutting through an otherwise scorched and hostile environment, Katherine Gorge really is a sacred oasis, which provides a year-round water supply to sustain life out here in the Outback.
As such Nitmiluk's significance to the indigenous Jawoyn people of the area and the magical array of wildlife it is home to, cannot be underplayed.
The plethora of flora and fauna here is a sight to behold and add to this, the dramatic scenery of the gorge, which over millennia has been carved out of the surrounding rock face, means Katherine Gorge National Park really can't be missed.
With swimming holes, rock art and helicopters activities all on offer as well guided tours and an excellent visitor centre, Katherine Gorge / Nitmiluk National Park gives visitors a key opportunity to learn more about this part of Australia, the landscape and its people.
Getting to Katherine Gorge
Nitmiluk Gorge is located in the Top End of the Northern Territory, 29km from the town of Katherine.
Katherine itself is a major centre in this part of Australia lying about 310km on the Stuart Highway south of Darwin.
The town has a good selection of shops, banks, vehicle repair facilities and amenities, as well as a great visitor centre. It also boasts a regular bus service, rail alternatives and helicopter transfer options.
However most people, like us, arrive in Katherine in their own vehicle, often as part of a larger road trip adventure.
This makes getting to the gorge itself very easy, as it's only a short half an hour drive along one road (Gorge Road!) from Katherine which is accessible to both 2wd and 4wd vehicles.
Of course we made the journey to Katherine Gorge National Park as part of our great budget 4wd around Australia.
Coming from East to West along the Savannah Way, we hit the Stuart Highway at Mataranka and from here headed north towards Katherine.
This made the gorge a great and easy side trip for us, as the Savannah Way then continues west to Broome directly from Katherine.
If you are following a similar route, I highly recommend a side trip to Katherine Gorge if you are looking for a pit-stop and a chance to soak up one of the Territory's best sights.
Katherine Gorge is also a major attraction on the Nature's Way drive itinerary which takes in many of the most famous spots in Australia's Top End.
You can read more about the perfect 10 day itinerary for discovering this incredible region here.
5 ESSENTIAL PACKING ITEMS FOR AUSTRALIA
#1 Good Camera – You will be pretty much snapping non-stop in Australia and will need a good camera to do this gorgeous country justice. I highly recommend the Sony A6000, which I use for all my travels and love, not least because it's light, compact and robust!
#2 Good Walking Shoes – There will be a lot of walking in Australia – from cities to national park! Make sure your feet are comfortable therefore with a pair of New Balance Trainers. Perfect for stylish strollling, I love mine
#3 Good Guidebook – I'm still a massive fan of the Lonely Planet Guidebooks and do think their Australia edition is well put together
#4 Good Water Bottle – Travelling in hot old Australia can be thirsty work, so make sure you have a metal water bottle that you can refill as you go, because tap water is drinkable… and free!
#5 Good Sun Hat – And there's no denying you'll need a good sun hat for protection in Australia too. In my opinion, you can't go past this Hello Sunshine one, which is both gorgeous and ideal for keeping the rays off your face.
When to Visit Katherine Gorge
The best time to visit Nitmiluk National Park is undoubtedly during the winter months of April-August, when the chance of heavy rain is significantly lower and the day temperatures are also a little cooler, which makes hiking and exploring the park more comfortable.
When we visited in September, day temperatures were already around 35 degrees!
In the wet season between October – March, the gorge can flood and render the park inaccessible. Check the Northern Territory National Parks website before travelling to Katherine to ensure the park is open.
It is also very humid and hot during this time!
Katherine Gorge Accommodation
As the biggest tourist attraction in the Katherine area, Nitmiluk National Park can get busy during peak times. Booking accommodation in advance, especially during school holidays comes highly recommended.
This is an exclusive accommodation choice right by the park entrance.
Ideal for those looking to explore the beauty of Nitmiluk Gorge and enjoy a bit of luxury at the same time, the Cicada Lodge boasts a number of exclusive facilities and top accommodation suites with high levels of dining and service.
A relaxing pool area, as well as free wifi and a range of signature gorge experiences, Cicada Lodge is a top-end retreat.
This is the only option for budget travellers near the park, but it's a good one!
A large campsite with both powered and unpowered sites, as well as chalets and permanent safari tents, there is something to suit everyone here.
Families are well catered for with a pool, licensed bar, children's play area, free BBQ's and a café.
There's also a generous-sized camp kitchen, potable water, laundry facilities, hot showers (not that you need them!) and some super shady camp spots.
The Katherine Gorge camping ground is perfectly placed to explore the park too, situated only a 5 minute walk from the entrance and visitor centre.
Not super cheap, but you can grab an unpowered site here for around $17pppn, which is worth it for a night or 2 so you can explore the spectacular gorge.
The campground has lots of sites, but I would still book in advance by calling 1300 146 743 or going online to the Nitmiluk website.
Otherwise, just turn up and pay for your stay at the Visitor Centre who will issue you with a ticket to be displayed on your vehicle.
How Long Should I Stay at Nitmiluk National Park
I'd say most people visit this National Park for 1 night only.
This may sound like enough time to see the gorge, but I really advise staying at least one more night as there is so much to do here.
We stayed 2 nights in Katherine Gorge camping ground and could easily have stayed 1 more.
You can read more about our time there in week 10 of the great budget 4wd adventure around Australia.
During this time, we undertook one of the park's awesome hikes. We also enjoyed hiring a kayak and canoeing up the gorge.
For us, the 2 days were well-timed, as we didn't feel rushed, but I'd hate to have cut it any shorter.
If you want to enjoy some of the many other tours on offer here, including dawn cruises, sunset dinner cruises or helicopter tours that allow you to see further up the gorge, 2-3 days really is required.
Katherine Gorge Walks
There are over 100km of walking tracks within Katherine Gorge National Park and exploring at least some of them is an absolute must if you want a true sense of the grandeur and solitude of this magical place.
As with all outside activities in this steamy part of the country, it's essential you carry lots of water on your journey, as well as a hat and chemical-free sunscreen.
Katherine Gorge walks are best done very early in the morning, ideally just after sunrise.
This is one of the most popular and challenging walks in the Top End.
A 62km trail that covers a diverse landscape, this route takes you from Nitmiluk Gorge to Leliyn (Edith Falls) over a 5 day period.
Winding your way through paperbark forests, sandstone gorges and hiking past waterfalls and sacred rock art sites, this walk is only open 15 hikers per day so you need to register well ahead of time.
The trail is open June to September only and there are designated campsites and swimming holes to cool off in along the way.
It looks incredible and I'm really sorry we didn't get to experience this!
This is a network of trails that gives you a number of different hiking options.
Beginning right near the visitor centre, you need to walk the Baruwie Loop Trail to access the Southern Walks.
From here, the Southern Walks take you up onto the escarpment so that are you given stunning views down over the gorge as it winds its way through the Arnhem Land Plateau.
Going as far as the 8th gorge, the longer parts of the Southern Walk will involve you camping overnight on the trail. These nights must be booked in advance and a permit acquired from the Nitmiluk Visitor Centre.
Otherwise, the Southern walks also offer lots of day hike possibilities too.
Following the Waleka Walk as far as Butterfly Gorge and then returning via the Yambi Walk is a great 20km option that we really enjoyed. Showcasing some fantastic views of the gorgeous landscape, as well as a number of good lookouts and refreshing swimming holes, this is a great choice for a Katherine Gorge day hike if you start early.
Katherine Gorge Canoeing
After hiking, another great activity when it comes to exploring Katherine Gorge is canoeing.
Only available in the dry season, water level permitting, you can choose from half day, full day or overnight canoe hire.
Half day canoe hire limits you to the first gorge and starts from 8am. It costs around $40pp for a double canoe.
Full day canoe hire allows you to go beyond the second gorge, although this does involve carrying the canoe at some points. Again departing at 8am, the costs here are roughly $65pp for a double canoe.
Overnight Katherine Gorge canoe hire gives you more options to explore further, but a high level of physical fitness is required. Camping gear is not provided and permits are required. Prices start from around $85pp for a double canoe.
Other Activities to Enjoy in Nitmiluk National Park
While hiking and canoeing are certainly the main activities to enjoy when visiting Nitmiluk National Park, there are plenty of other things on offer too.
The Nitmiluk Visitor Centre is very interesting with lots of fascinating information about the area and a great air-conditioned place to cool down in the afternoon!
Cruising the gorge is a very popular tour option – both picturesque and relaxed. Choose from Dawn Cruises (probably the most popular option) to longer tours that allow you to explore more and soak up more the traditional stories and importance of the area. There is also a Sunset Dinner Cruise available, which gives you the chance to view the spectacular colours of the gorge as the fading sunlight bounces off the sandstone walls. Then, under a starry sky, you can savour a delicious 3-course candlelight dinner and a magnificent bottle of Aussie wine.
Helicopter Tours are a pretty expensive choice, but no doubt the aerial views they give of the Gorge make them worth the expense. This is one of the only ways to see all 13 gorges in the Nitmiluk National Park, which can be achieved in a 20-minute flight. Prices start from around $230pp.
Taking a dip in some of the gorge's swimming holes and enjoying the gorge-made beaches is also a great way to enjoy this national park and to cool down!
What to Take to Katherine Gorge
Along with the usual kit, there are a few things that we found would be especially helpful to take to Katherine Gorge National Park.
Head lamp for post-dawn walks: I love this one by Black Diamond
Good trail runners or light walking shoes (you don't need boots for the day walks)
Protective Sunhat
Sunglasses
Water bottle: I always like a good stainless steel one to steer away from nasty plastics
Daypack to Carry for walks
Swimwear
PIN IT TO PINTEREST!
So that's my ultimate guide for visiting Katherine Gorge National Park in Australia's Northern Territory.
I really can't recommend visiting this place highly enough, so if you ever do get the chance, definitely add it to your Down Under bucket list.