One of the jewels in Australia's famous Top End, Litchfield National Park is an absolute must if you are spending any amount of time in the Northern Territory.
Highly accessible and only a short drive from the capital Darwin, Litchfield National Park really is up there with Uluru, Kakadu and Nitmiluk, when it comes to experiencing some of the state's most stunning landscapes.
We visited Litchfield National Park as part of our great budget 4wd trip around Australia and there was no question of it making its way onto both our list of the best Australian National Parks in the country and one of the highlights of our first 6 months on the road.
And to give you more insight into exactly why, here's our ultimate guide to Litchfield National Park…
Grab Your Copy of How to Road Trip Australia on a Budget
My ultimate guide to road tripping Australia on a shoestring is now available, meaning you can finally get ALL my top tips for driving around all, or parts, of this amazing country in one handy eBook, including…
Full Planning & Preparation Guides
Day by Day Itineraries & Routes
Complete Packing & Gear Lists
Top Money-Saving Tips & Hacks
---
Related Posts
---
This page contains affiliate links meaning Big World Small Pockets may receive a small commission on any purchases at no extra cost to you.
---
Why Should You Visit Litchfield National Park?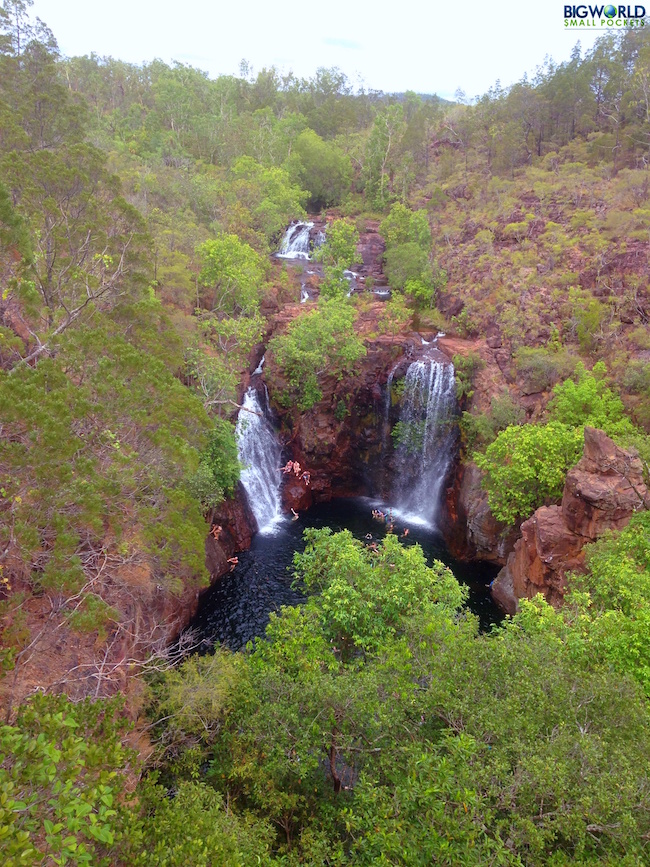 Litchfield National Park is one of the easiest areas of natural beauty in the Northern Territory to visit.
With a sealed road leading all the way into and through the Park, it is ideal for families or those without 4wd and can easily be visited from the city of Darwin in a day.
But don't for a second think that Litchfield is any less beautiful because it's easy to get to.
From towering waterfalls to delightful swimming holes, great walks, crazy termite mounds and some epic 4wd tracks, this National Park packs a mean old punch when it comes to showing off this wild and wonderful landscape at its best.
So Where Exactly is Litchfield National Park?
120km south-west of Darwin in the North of Australia, Litchfield National Park sits high up in the tropics.
Set within an area of the country known as the 'Top End', this is a dramatic landscape of towering rock formations, arid red dirt landscape and beautiful scenery.
The nearest town is a small hamlet known as Batchelor, which has some accommodation, a gas station, a small store and a pub.
Most people visiting the park however will base themselves in Darwin, which is just over an hour's drive north.
From the south, the nearest town of note is Katherine, which is about 250km away and home to the amazing Nitmiluk National Park.
How to Get to Litchfield National Park
Litchfield National Park is accessible from Darwin or Katherine via the Stuart Highway.
Turnoff at the Batchelor exit and continue through the town to the park entrance, which is well-signed.
This route is suitable for 2wd and open all year round.
Alternatively, the Cox Peninsula Road is open during the dry season and links Litchfield with Berry Springs. This route has some unsealed sections.
The 4wd Reynolds Track from Daly River Road in the South is also open during the dry season.
Top Tip: If you are considering taking either the Cox Peninsula Road or the 4wd Reynolds Track to Litchfield National Park, then you should check road conditions in advance by visiting www.roadreport.nt.gov.au.
When to Visit Litchfield National Park
Like all of Australia's Top End, Litchfield National Park is best visited during the less humid dry season, which runs roughly from May-September.
This is peak tourist season, so do be aware that during these months, the park is likely to be busy and campsites fill up quickly, especially during school holidays.
That said, Litchfield National Park is open all year round.
Often the waterfalls are at their most impressive during the wet season and early dry season, although they are regularly closed due to flash flooding at these times as well.
We visited Litchfield in September, but already the season had started to turn and we got significant rainfall when we were there.
It just goes to show, you can never really predict the best time to visit!
Top Tip: Call the park visitor on 08 8976 02828 if you are concerned about flooding or access.
5 ESSENTIAL PACKING ITEMS FOR AUSTRALIA
#1 Good Camera – You will be pretty much snapping non-stop in Australia and will need a good camera to do this gorgeous country justice. I highly recommend the Sony A6000, which I use for all my travels and love, not least because it's light, compact and robust!
#2 Good Walking Shoes – There will be a lot of walking in Australia – from cities to national parks! Make sure your feet are comfortable therefore with a pair of New Balance Trainers. Perfect for stylish strolling, I love mine.
#3 Good Guidebook – I'm still a massive fan of the Lonely Planet Guidebooks and do think their Australia edition is well put together.
#4 Good Water Bottle – Travelling in hot old Australia can be thirsty work, so make sure you have a metal water bottle that you can refill as you go, because tap water is drinkable… and free!
#5 Good Sun Hat – And there's no denying you'll need a good sun hat for protection in Australia too. In my opinion, you can't go past this Hello Sunshine one, which is both gorgeous and ideal for keeping the rays off your face.
Litchfield National Park Entrance Fees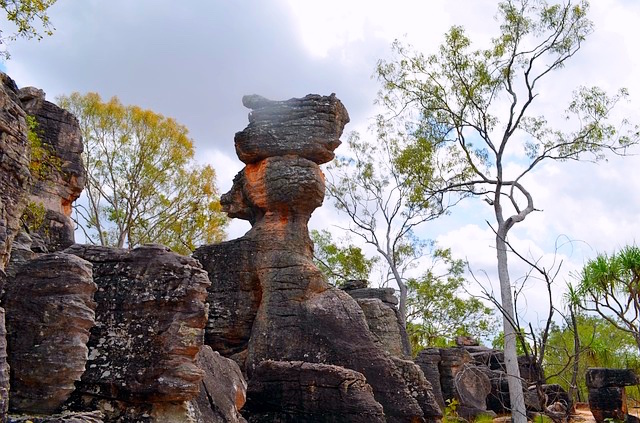 Like almost all of the National Parks in the Northern Territory, Litchfield National Park is free to enter – woo hoo!
You do however need to pay for camping if you are staying in the park, but more about this later.
Litchfield National Park Accommodation Guide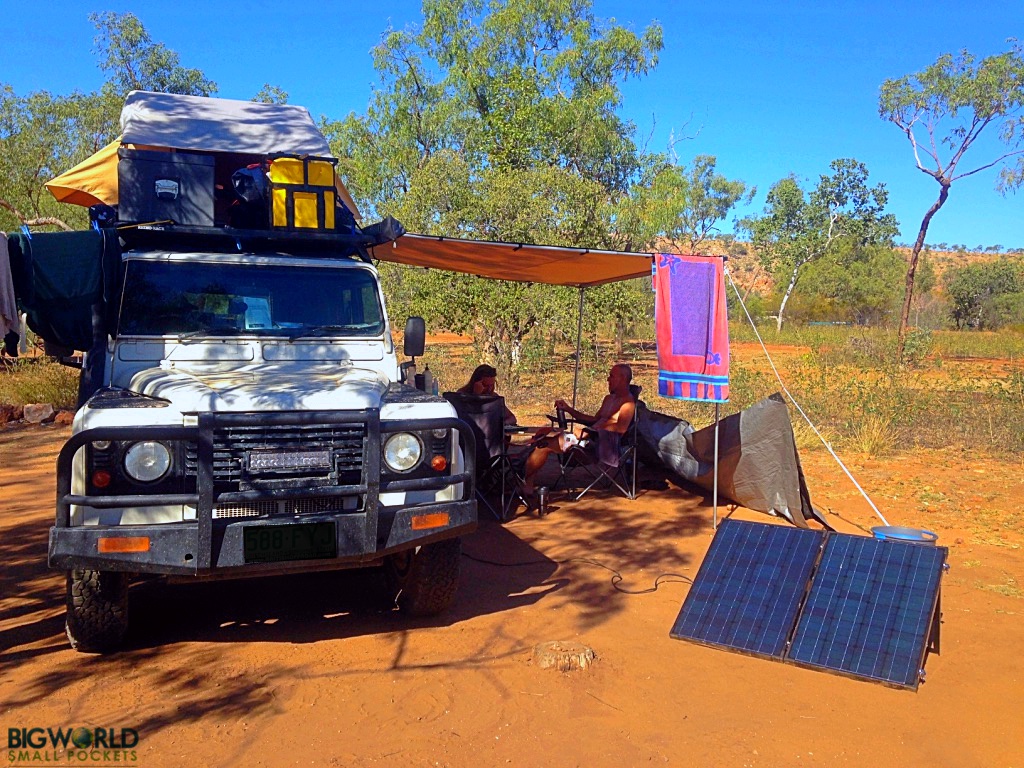 Darwin
If you just want to visit Litchfield National Park for the day, then you would be best to base yourself in the city of Darwin.
I say city, but really Darwin is a very relaxed, town.
We stayed here for over a week (largely because of car repairs) but it is a fun place with lots to see and do.
When it comes to accommodation, my recommendation for those on a budget would either be Down Under Hostels – Darwin if you are looking for backpackers or City Garden Apartments if you're travelling as a group or would like something a bit more private.
Batchelor
You could also stay the night in Batchelor and visit Litchfield from there. Although much closer, do be aware there isn't a lot going on this part of the world!
If driving less is your choice however, then check out the Batchelor Butterfly Farm as your best option. The friendly owner Chris is sure to give you a warm welcome.
In the Park
Once within the park, there are a number of campsites operated by Parks and Wildlife NT, which offer excellent value for money.
Litchfield National Park Camping
Litchfield National Park Camping, like all the camping within the Northern Territory National Parks, is an absolute bargain!
No prizes for guessing where we stayed!
There are 6 different national parks campsites within Litchfield.
Wangi Falls, Florence Falls and Buley Rockhole offer 2wd camping options.
4wd camping is available at Tjaynera Falls, Surprise Creek Falls and Florence Falls
Walk-in camping is available along Walker Creek (dry season only)
All campsites are paid for on arrival at the campground and administered on a first-come, first-serve basis.
Wangi Falls is the only camping for caravans and also offers showers for visitors.
The Litchfield National Park Camping Fees are either $3.30 pppn or $6.60 pppn depending whether or not the campsite has shower facilities.
Generators cannot be used anywhere within Litchfield National Park, pets are not permitted and all water must be boiled or treated before being consumed.
There are no rubbish facilities in the park, so all must trash must be taken out with you.
How Long to Stay at Litchfield National Park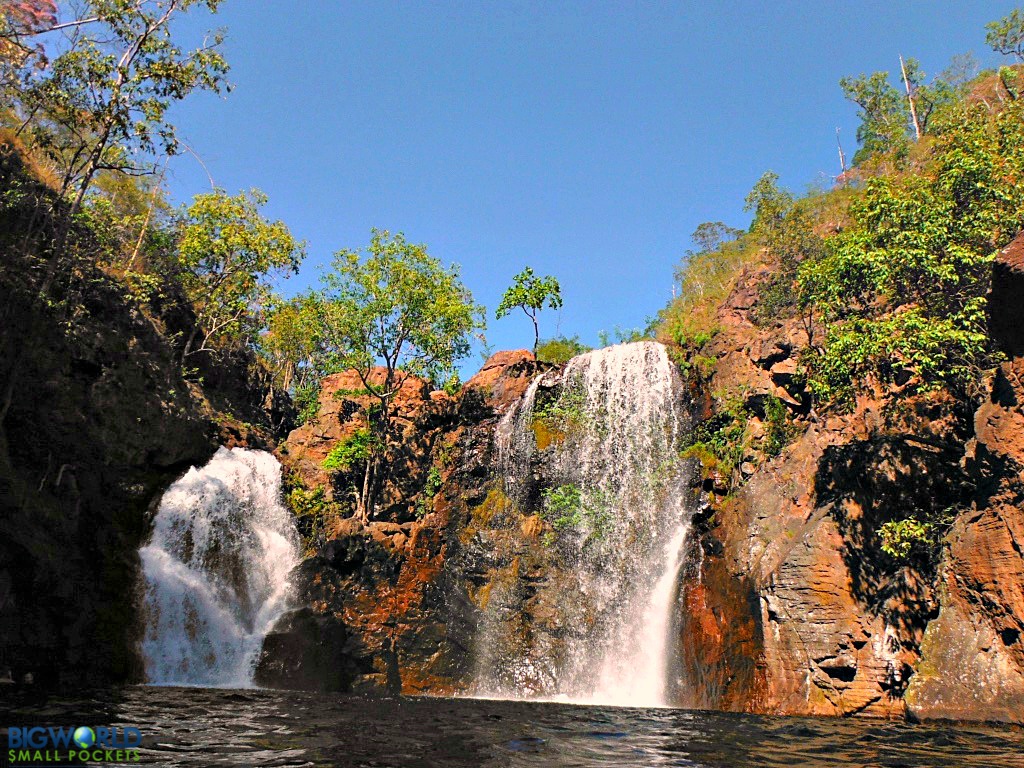 Bearing in mind that Litchfield is quite easy to access and compact, I'd suggest 1 or 2 nights there would be perfect.
We planned to spend 2 nights here – camping at Wangi Falls, which has a great swimming area near to the campsite – but the heavy rain scared us off after 1!
Top Tip: Try to avoid visiting Litchfield National Park at the weekend, when the place can be crowded with locals!
Litchfield National Park Swimming Holes
Litchfield's most famous drawcard is certainly its towering waterfalls, tumbling cascades and delightful swimming holes.
Checking out at least one of these beauties is a must during your time there.
Florence Falls
The spectacular Florence Falls makes the perfect photo opportunity and can be snapped from either the elevated lookout or at the bottom.
Set in monsoon forest, climbing down to the pool at the bottom of the falls and enjoying a dip is a must.
There are toilets here, as well as car parking close by, picnic facilities and a great lookout.
Wangi Falls
Further into the park, Litchfield's biggest drawcard is quite different to Florence, but equally as spectacular.
The large swimming pool here is ideal for families and you can swim right up to the falls.
There's picnic tables, as well as BBQ and toilet facilities.
Stretch out on the grass in the sun to dry off, or else why not attempt the short, but excellent hike that takes you up and around the back of the waterfall and boasts some great photo opps.
Buley Rockhole
For some reason these beautiful cascades are my favourite, maybe because you can use them to relax half in and half out of the water – the perfect sunbathing and cooling down combination!
Tolmer Falls
A short drive off the main road, Tolmer Falls cascade over a high escarpment into a deep plunge pool below.
Really dramatic, you sadly can't swim at Tolmer Falls, but the lookout is well worth the journey anyway.
Other Things to Enjoy in Litchfield National Park

Magnetic Termite Mounds
One of Litchfield's most unique and bizarre attractions are the hundreds of magnetic termite mounds, some of which stand at over 2m high!
As you drive along the park's main road you'll see plenty of them and there's a car park where you can pull over if you want to get some snaps of them too.
4wd Tracks
The Lost City and Reynolds River tracks offer great 4wd opportunities in Litchfield National Park and are open during the dry season from May to September.
The Tabletop Track
This long distance bushwalk offers an amazing opportunity to get away from the crowds and experience the remote nature of this landscape in a whole new way.
At 39km however, this circular track is no easy feat, so you will need to be prepared and have extensive bushwalking experience.
All food, camping equipment and water will need to be carried and you'll have to notify someone before you set off.
Please note the Tabletop Track is closed during the wet season.
Remember to Take …
Hot weather clothing, including long sleeved tops and hats
Natural Sunscreen
Vehicle equipment and essential repair kit
Cooking stuff, including all food
Water – enough for you to drink a lot and still wash up etc
Swimwear
A headlamp if you intend on camping
A good camera with a charged battery (I love my Sony A6000)
Natural insect repellent
PIN IT TO PINTEREST!
So that's our ultimate guide for visiting Litchfield National Park in Australia's Northern Territory.
I definitely recommend putting this one on your list if you're heading to the Top End anytime soon.