The tropical capital of the north, Darwin, is a steaming melting pot of cultures, cuisines and … crocodiles.
Located right at the top of the Northern Territory, this city sometimes looks and feels a lot closer to Asia than Australia.
And that's because it is!
With Indonesia just across the horizon, a flight to Bali will take you a lot less time and cost you a lot less money than a trip down to Sydney or Melbourne from here!
As such, Darwin is the perfect entrance or exit point for many backpackers and budget travellers making their way into or out of the Land Down Under from southeast Asia.
It serves as a great introduction to either continent, straddling the border as it does, and is both a wonderful city to both relax in or seek out some adventure.
We loved our time in Darwin during our great 4wd budget trip around Australia.
This meant that even after our Landrover broke down in remote Arnhem Land and we were forced to return to Darwin to get her fixed, we didn't really mind the delay on our trip!
So, having spent a fair few weeks there (read. getting any sort of car part in the Territory will take forever), here are our recommendations when it comes to the 10 best free things to do in Darwin.
---
Related Posts
---
This page contains affiliate links meaning Big World Small Pockets may receive a small commission on any purchases at no extra cost to you.
---
#1 Picnic at East Point
Heading to East Point Reserve is definitely one of the best free things to do in Darwin.
This huge park area is the perfect place to take a stroll, enjoy a cycle ride to or from the city and laze by the lake.
With stunning views back over the city, taking a picnic here and enjoying a swim in croc-free Lake Alexander afterwards, is a must when it comes to the best free things to do in Darwin!
#2 Meander the Museum
The Museum and Art Gallery of the Northern Territory is an absolute gem.
Honestly, even for those of you that aren't exhibitions buffs, this free cultural centre takes some beating when it comes Australian museums.
With a fascinating collection of indigenous art and cultural information to an incredible display about the effect Hurrican Tracy had on the city of Darwin in 1974, this place is brilliant.
We even got to enjoy a free talk from a local historian when we were there and viewing Sweetheart, the famous 5.1m crocodile finally captured in 1979 is something of a Darwin initiation ceremony!
Don't miss him!
#3 Swim at Berry Springs
The perfect place to cool down on a sticking hot Darwin day, Berry Springs is a nature park less than an hour's drive from the city.
It's a classic natural swimming hole area, which really imparts a sense of the bush country outside of urbanised Darwin and is a delight for the whole family with several swimming holes and even a waterfall.
Definitely one of the best free things to do in Darwin, with a picnic area and free BBQs, this place is well worth the drive if you are looking to get out of the city and explore the amazing landscape of the NT a little more.
#4 Delight at the Deckchair Cinema
The Deckchair Cinema, situated on Darwin's iconic esplanade, is a must-do when you are here.
There really is nothing like reclining under the stars to enjoy a great movie, while the salty air of the Timor Sea wafts over you.
Normally screenings are ticketed at the Deckchair Cinema, but if you're lucky enough like we were, you'll be able to catch one of their awesome free screenings.
We saw an incredible French documentary film called Demain when we were there and I can highly recommend the cinema's onsite café and bar if you're feeling like a treat too!
#5 Snap the Sunset
Despite being in the north of the country, the weird thing about Darwin is that it actually faces a westerly direction.
This is due to the protected harbour it occupies – a spit of land that curls itself around through the tropical waters and posits Darwin right at the top.
What this essentially means is that Darwin gets some banging sunsets!
Yep, one of the top places to snap a sunset in the whole country, the fiery skies of Darwin sunset are a photographer's dream.
Heading to East Point to see the day draw to an end, or hitting up Mindil Beach (especially on market day) to watch the flaming orb of the sun dip below the horizon is one of the best free things to do in Darwin you can't miss!
BEST BUDGET PLACES TO STAY IN DARWIN
Backpackers: I stayed at Chilli's Backpackers the first time I went to Darwin as it was handily located in the central street and had an awesome rooftop pool area and massive kitchen. Down Under Hostels – Darwin and Dingo Moon Lodge also get great reviews.
Apartments: The second time I visited Darwin we wanted something a bit more private, where we could park the Landrover and relax. We chose the City Garden Apartments and were delighted with the excellent location (easily walkable to town) private pool, full kitchen and laundry facilities. The City Garden Apartments were really super spacious and great value if you're travelling in a group or as a family.
#6 Explore the Heritage
Characterised by a diverse and divergent collection of cultures, Darwin has a fascinating number of histories and heritages, which have layered themselves onto this cityscape in a highly unique tapestry.
Rightly proud of this, taking the time to wander the streets of Darwin and learn about the many cultures that have influenced the makeup of this place is incredible.
From the grand Government House, which does boast some free open days and events, to wandering indigenous art galleries, discovering wonderful street sculptures and enjoying the informative Heritage & Cultural Trail, there's plenty of free heritage stuff to get your teeth stuck into.
#7 Stroll the Bicentennial Park
Situated along The Esplanade in the centre of Darwin, the Bicentennial Park is the perfect place to take a stroll and enjoy the views of Darwin's coastal location, right from the heart of the city.
There's several paths to take within the park, as well as the Cenotaph War Memorial and Civilian Memorial to explore.
A little further out of the centre, the Nightcliff Foreshore is another similar area where you can enjoy coastal walking tracks, cycle paths, outdoor exercise circuits and even tennis courts for free.
Spending a few cooler hours in one or both of these locations is definitely one of the best free things to do in Darwin if you're looking for a relaxed time.
#8 Discover Litchfield National Park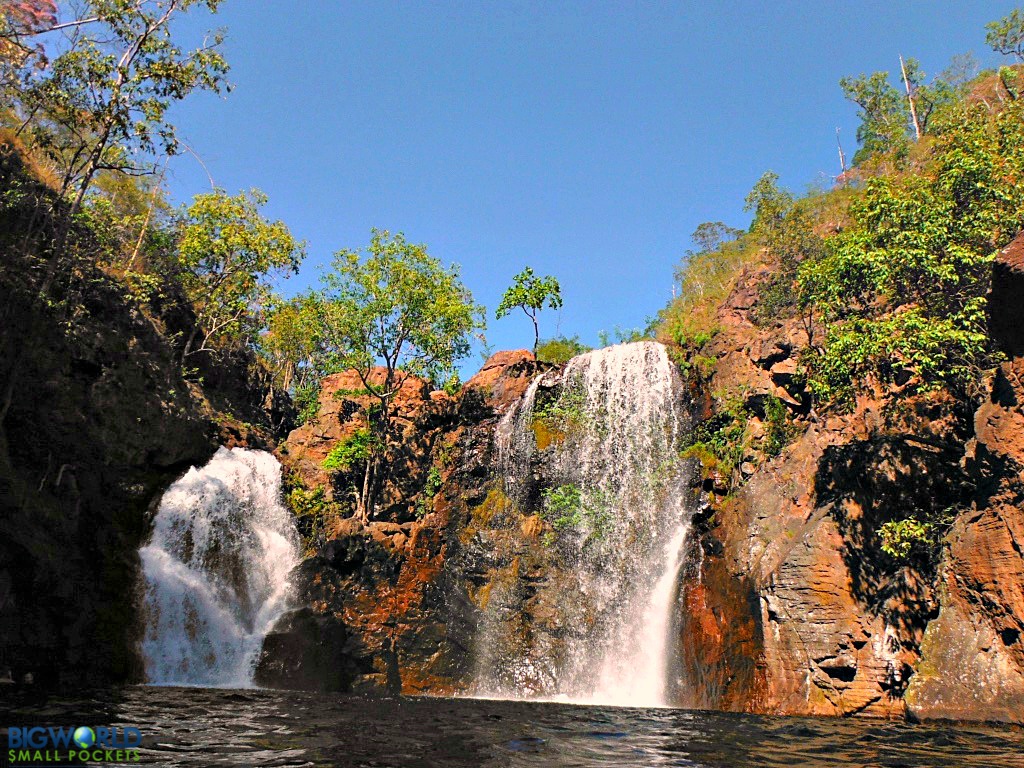 Only an hour and a half drive from Darwin, Litchfield National Park is one of the Northern Territory's biggest drawcards.
With stunning waterfalls, refreshing swimming holes, walking trails, 4wd drive tracks and some great camping locations, this place is a must-see!
Free to enter, you can either make this a long day trip from Darwin, or pay only $6.60pppn for some great camping right in the centre of the park.
Highlights include Wangi Falls, Florence Falls and Buley Rockhole.
You can also see some absolutely mammoth-sized termite mounds here – many dressed up with sunglasses, hats and t-shirts!
Overall, this is a premo attraction you can't miss, even if you're only in Darwin for a few days.
5 ESSENTIAL PACKING ITEMS FOR AUSTRALIA
#1 Good Camera – You will be pretty much snapping non-stop in Australia and will need a good camera to do this gorgeous country justice. I highly recommend the Sony A6000, which I use for all my travels and love, not least because it's light, compact and robust!
#2 Good Walking Shoes – There will be a lot of walking in Australia – from cities to national parks! Make sure your feet are comfortable therefore with a pair of New Balance Trainers. Perfect for stylish strolling, I love mine.
#3 Good Guidebook – I'm still a massive fan of the Lonely Planet Guidebooks and do think their Australia edition is well put together.
#4 Good Water Bottle – Travelling in hot old Australia can be thirsty work, so make sure you have a metal water bottle that you can refill as you go, because tap water is drinkable… and free!
#5 Good Sun Hat – And there's no denying you'll need a good sun hat for protection in Australia too. In my opinion, you can't go past this Hello Sunshine one, which is both gorgeous and ideal for keeping the rays off your face.
#9 Swim at the Waterfront Pool
Darwin's newest baby is its waterfront area and with all credit to the developers, this place is great.
Set right on the coast there's plenty of cafes, bars and restaurants to choose from here, with a spattering of street art and some green grassy areas to relax on too.
If you want to cool down, the Wave Lagoon is a great option for kids, with entry available from 10am – 6pm, prices apply.
Otherwise, the FREE Recreation Lagoon is a paradise spot for backpackers and budget travellers.
We literally went for a swim here every day we were in Darwin (note you can't swim in the sea here due to the crocs and jellyfish) and loved the salty, yet safe-haven it provided for us to cool down!
#10 Marvel at the Markets
If you say the word Darwin to me, the first thing I think of (aside from the stinking humidity) is the city's wonderful markets.
From Nightcliff's offering every Sunday, to Parap Market's on a Saturday and the crème de la crème that is Mindil Markets every Thursday and Sunday (during the dry season), Darwin is awash with cracking community food stalls and independent traders.
The atmosphere at all of these free events are great and the food delicious – so make sure you come hungry!
For me, the produce, crafts and diversity they showcase is second to none!
PIN IT TO PINTEREST!
So there you have it, the 10 best free things to do in Darwin!
Have you visited this awesome capital of the Top End?
What did you enjoy seeing and doing while you were there?