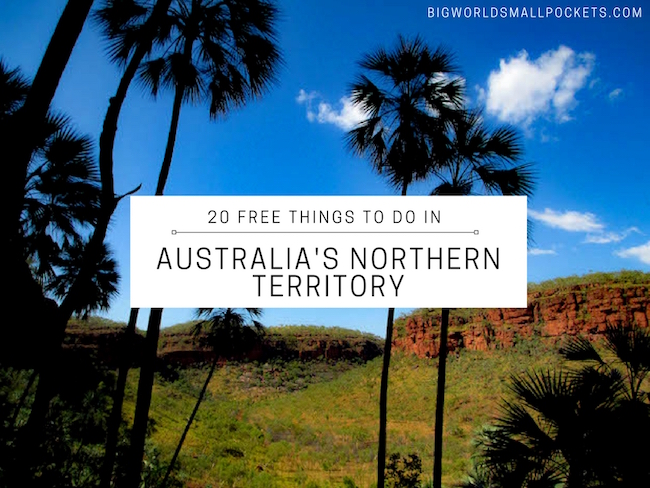 Oh the Northern Territory, Australia, that wild-west, dusty-dry, blue-sky film set of a location.
Stuff of legends, a fabled place to disappear and all round story-rich scenery makes this an absolute must during any Australian trip.
Many put it off however due to the perceived expense of adventuring out to the red centre and beyond.
My advice? … Don't put it off.
---
Related Posts
---
This page contains affiliate links meaning Big World Small Pockets may receive a small commission on any purchases at no extra cost to you.
---
This Australian state is awash with some of the country's most stunning landscapes and breathtaking views which, roadtripping it as part of the great budget 4wd trip around Australia, we were lucky enough to discover.
We also discovered that there are plenty of ways to see this incredible part of Australia on a budget, including Uluru cheaply, and here's my list of the top 20 FREE things to do in the Northern Territory to prove it.
#1 Marvel at the Marbles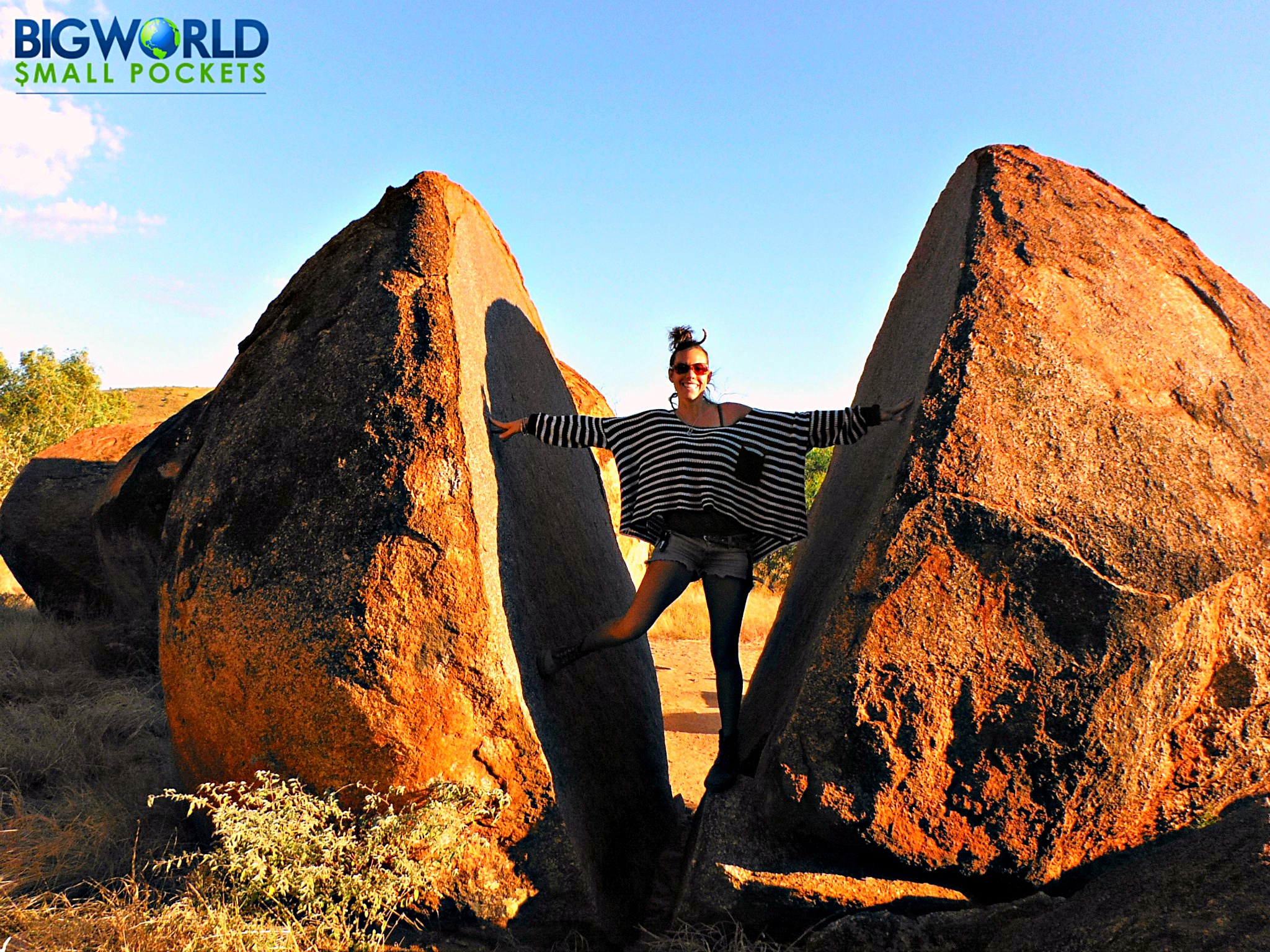 Devils Marbles north of Alice Springs are a beautiful geological feature on the landscape.
Admire the shapes, sizes and surrounds of this great attraction and strike a great pose for super photos.
#2 Waterfall Swim in Litchfield National Park
Closely rivalling Kakadu for the National Park top spot in these here parts, Litchfield is certainly better is one way – it's free to enter!
Check out my ultimate guide to Litchfield National Park to learn more.
#3 Stroll the Olive Pink Gardens
These lovely botanic gardens in Alice Springs are the perfect way to relax and take in the gorgeous blue skies and nature of this desert town.
Make sure you climb to the lookout.
#4 Mistake Mount Connor for Uluru
You will, everybody does!
Try and catch someone out now you know this!
5 ESSENTIAL PACKING ITEMS FOR AUSTRALIA
#1 Good Camera – You will be pretty much snapping non-stop in Australia and will need a good camera to do this gorgeous country justice. I highly recommend the Sony A6000, which I use for all my travels and love, not least because it's light, compact and robust!
#2 Good Walking Shoes – There will be a lot of walking in Australia – from cities to national park! Make sure your feet are comfortable therefore with a pair of New Balance Trainers. Perfect for stylish strollling, I love mine
#3 Good Guidebook – I'm still a massive fan of the Lonely Planet Guidebooks and do think their Australia edition is well put together
#4 Good Water Bottle – Travelling in hot old Australia can be thirsty work, so make sure you have a metal water bottle that you can refill as you go, because tap water is drinkable… and free!
#5 Good Sun Hat – And there's no denying you'll need a good sun hat for protection in Australia too. In my opinion you can't go past this Hello Sunshine one, which is both gorgeous and ideal for keeping the rays off your face.
#5 Explore the Museum and Art Gallery of Northern Territory
Darwin hosts this great museum and gallery which charts the history and cultural collections of this eclectic city.
Check out my list of the 10 best free things to do in Darwin for more inspiration.
#6 Climb Katherine Gorge
You can pay to fish, fly, cruise or kayak in this beautiful escapement, but the good old walking is free.
Enjoy a nice lookout from the top as you go!
READ MORE: The Ultimate Guide to Katherine Gorge National Park
#7 Meander Memorabilia at the Daly Waters Pub
This is a classic Territory pub making it the stuff of legends and insane collections of memorabilia.
Turn off the Stuart Highway between Three Ways and Mataranka to enjoy this walk down memory lane.
#8 Cool down at Edith Falls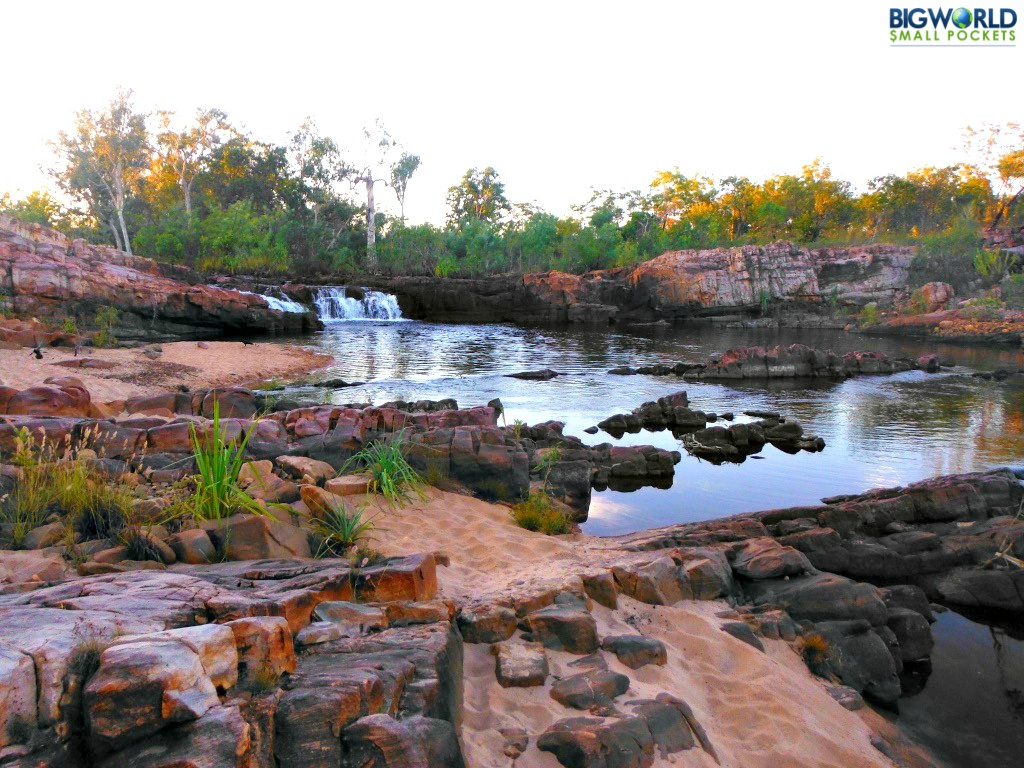 Lesser known, but just as beautiful, Edith Falls is an absolute find when it comes to refreshing waterholes in the NT.
Probably one of my favourite places in Australia, there's also a nice walk here to the quieter upper pools too.
#9 Discover Ancient Rainforest
Finke Gorge National Park near Alice Springs contains some of the last tracts of rainforest that once covered Australia, including the rare Red Cabbage Palm.
Discover this Jurassic landscape for an afternoon, whole day or overnight, all free!
#10 Snap a Stunning Sunset from Mindil Market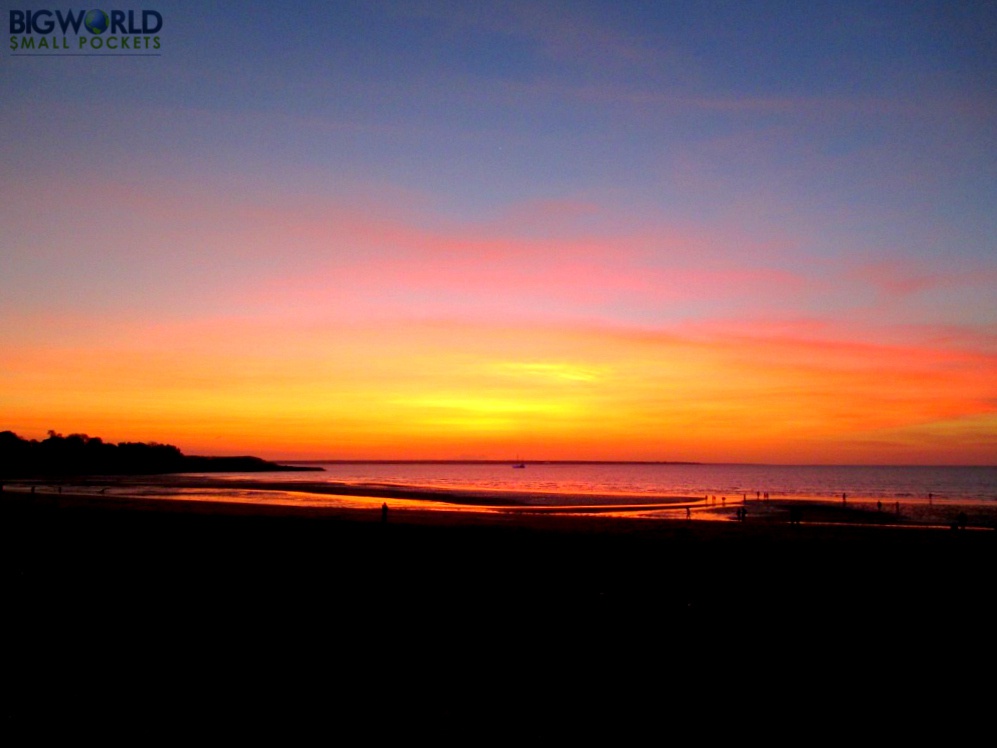 For an east coast dweller, seeing an ocean sunset again is a marvellous and wonderful thing.
Especially on the beach, in Darwin, with the wonderful bustling market kicking into life behind you as the evening light fades.
#11 Drive through Tenant Creek
Don't stop. Keep driving.
That's free (aside from the fuel!)
#12 Hike King's Canyon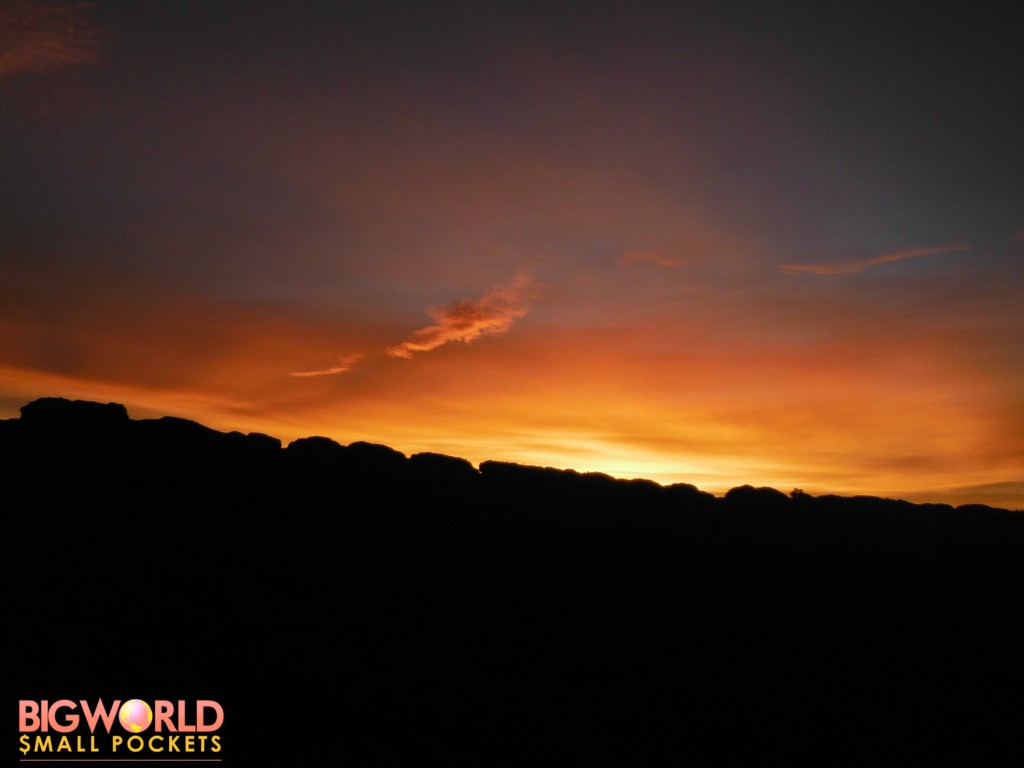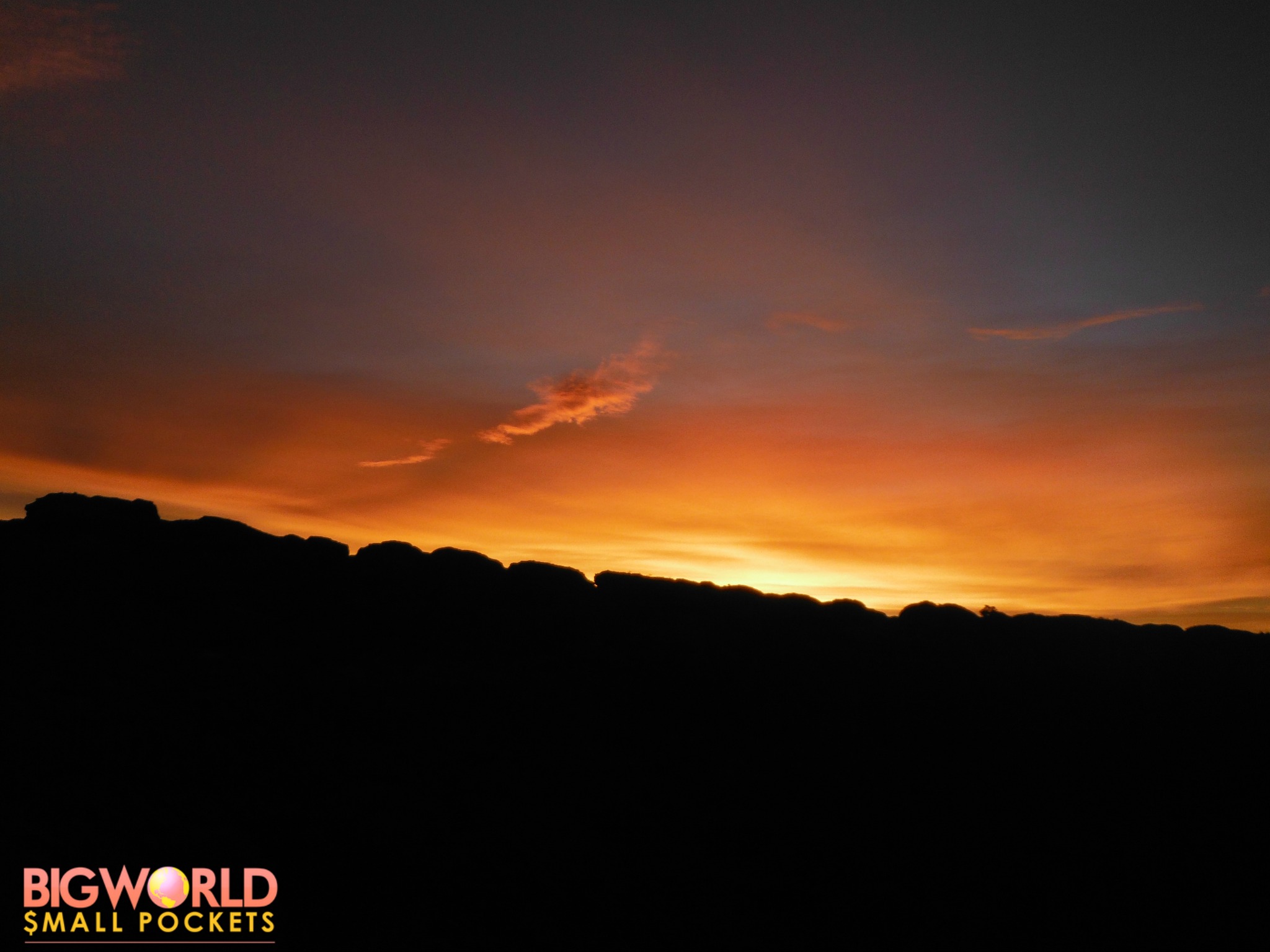 One of the best day hikes in Central Australia, the dawn walk in this National Park is a real winner and well worth battling the crowds and early morning blues for.
#13 Visit the War Cemetery at Adelaide River
A fitting tribute to the sacrifice many Australians made.
#14 Go Crater Crazy
Henbury Conservation Reserve is a fascinating site showing clear evidence of a large, fragmented meteorite that hit earth over 4700 years ago.
Great place to explore and capture during a dawn photoshoot.
Otherwise, admire the huge Goose Bluff from afar – another great crater imprint in this vast landscape.
#15 Dress up a Termite Mound
If you're driving up to Darwin, you'll see them everywhere.
Join the avantgarde fashion designers and pick your own termite mound mannequin.
#16 Relax in Hot Springs
Literally brilliant!
The natural Bitter Springs at Mataranka make you feel like you're floating in a tropical paradise, which you kind of are!
If you've also been camping rough for a few days it's also great way to get a wash in!
Unbelievably free!
#17 Camp on a Cattle Ranch
Curtain Springs Cattle Ranch near Uluru offers visitors the perfect opportunity to camp for free on a working Australian outback farm.
Just watch out for the emus at dinner time!
#18 Tour Parliament House
Get a
 free guided tour of this important Darwin building every Saturday morning.
Also available every Wednesday morning during dry season (May to Sept).
#19 Stimulate the Circulation at Ormiston Gorge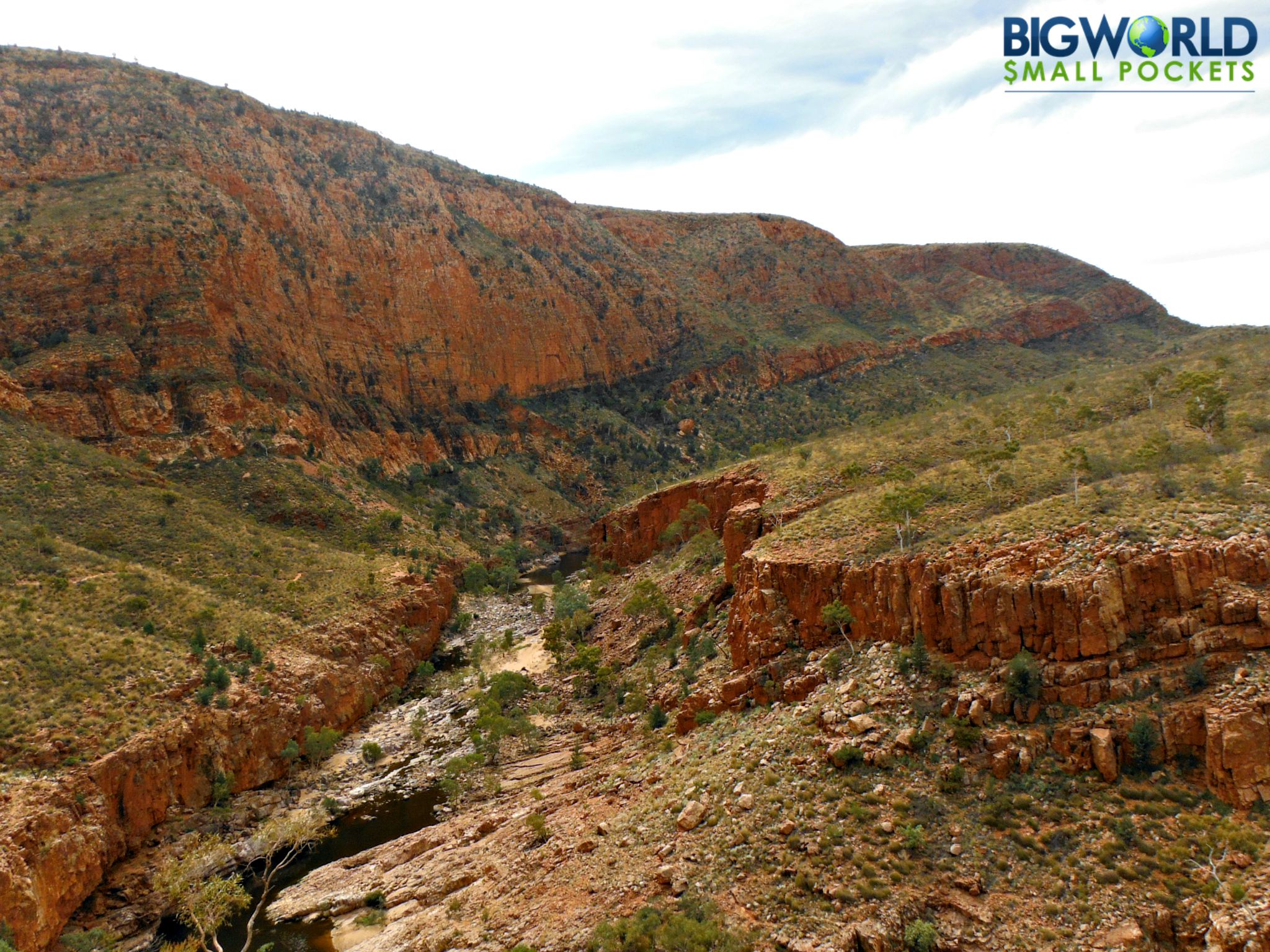 Walk the beautiful trail along this stunning escarpment in the Glen Helen range before diving into the freezing cold waters of the gorge.
Sure to get the blood flowing quicker on both accounts!
READ MORE: The 5 Best Day Hikes in Central Australia
#20 Star Gaze
Sometimes the simple ones are the best!
One of the most amazing free things I did in the Northern Territory was climbed on the bonnet of our 4WD at night and watched the millions of stars twinkling as though they were alive.
With zero light pollution to diminish their presence, stargazing in the NT makes you realise there is actually more light in the night sky than there is darkness.
PIN IT TO PINTEREST!
So that's my list of the top 20 free things to do in the Northern Territory, Australia.
Have you been to this incredible part of the world?
What did you enjoy there?