Central Australia is not best known for its walking potential – you're probably more likely to explore it by 4wd, campervan or motorbike.
However, even the most hardened motor heads need to stretch their legs every so often and what better way to do it than with a good day walk in Central Australia – the red centre of this massive island.
When I took a road trip from South Australia to Darwin, I was on a seriously tight budget – mostly free camping and living on snacks out the esky for a few weeks.
I mean the price of fuel alone was enough to make anyone weep!
As such, free day walks in Central Australia became one of my primary activities and I was both surprised and delighted by the availability and accessibility of them in a region not known for its walker-friendly arid climate!
Yes, I'm pleased to report that this area is actually brimming with good jaunts, including the famous multi-day Larapinta Trail, which is quickly becoming one of the most popular hikes in Australia.
Sadly, time constraints didn't allow me to follow this great walk, but I did get to experience a multitude of others, from dawn walks to gorge walks and cultural walks, all of which took me on a journey across a wild range of different national parks.
Day walks in Central Australia really allowed me to soak up the fantastic diversity of this region in a way that I simply wouldn't have been able to through the Land Rover window!
Plus there is nothing like a walk in nature to break up those 9-hour driving days!
I seriously can't recommend getting out and about in the red centre enough, so don a good hat, lather up with natural sunscreen, take plenty of water and get out there with my recommended top 5 day walks in Central Australia.
Oh, and you might well need to purchase a fly head net too… this is the outback after all!
---
Related Posts
---
This page contains affiliate links meaning Big World Small Pockets may receive a small commission on any purchases at no extra cost to you.
---
#1 Base Walk – Uluru-Kata Tjuta National Park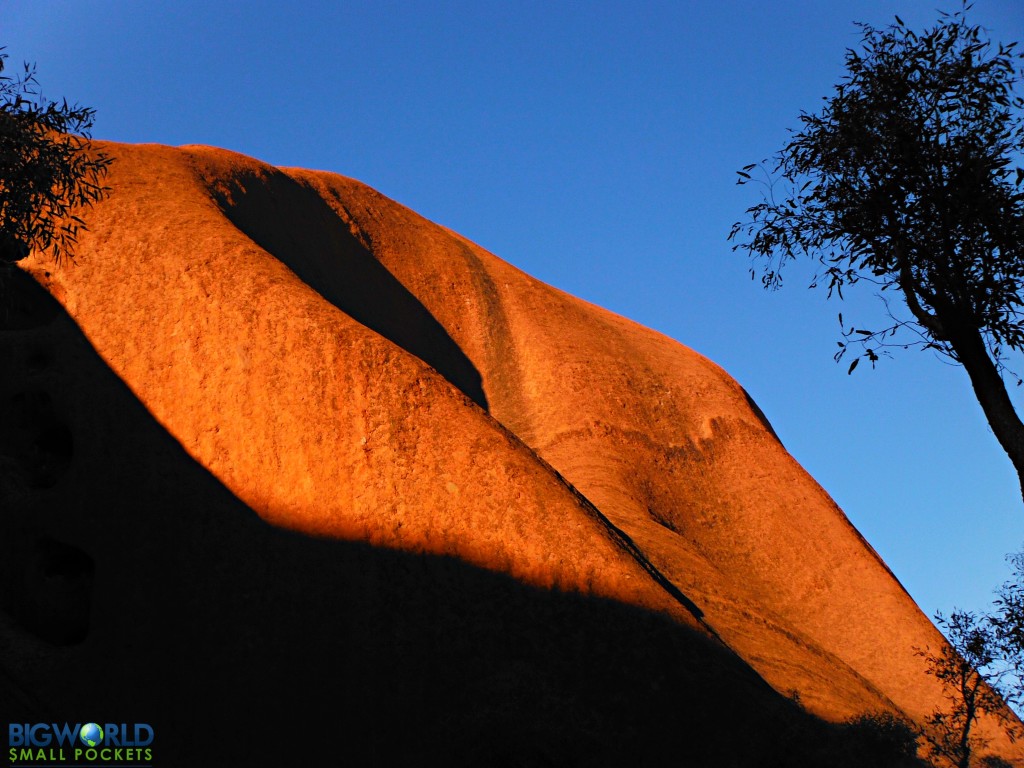 One of the first walks I did in Australia's red centre was the 10.6km circumnavigation of the wonderful Uluru.
This is an absolutely brilliant way to view the many angles and colours of this photogenic rock, as well as familiarise yourself with the legends, stories and history of its role in aboriginal culture.
The walk took me roughly 3 hours, but I foolishly made the mistake of undertaking it in the afternoon when there is very little shade to be had.
Luckily the sarong I'd packed (as always) did a great job of protecting me from the fierce heat, but my tip would be to watch sunrise over Uluru and then get started.
At this time of day, you're also assured of a fantastic light display as the sun warms both the colours of the rock and the incredible sky above it.
It's my firm belief that people who say Uluru is "just a big rock" haven't yet visited this World Heritage-listed monolith, as once you get close, nobody can deny the very awe-inspiring presence it omits.
When visting Uluru, the closest place to stay is the nearby resort town of Yulara. I stayed in the cheapest accommodation there – the Ayers Rock Camping Ground – and was really impressed by the facilities and the grounds.
#2 Mpulungkinya Walk – Finke Gorge National Park
This fantastic stroll really exhibits the surprising diversity of Central Australia.
Located in Finke Gorge National Park about a 2-hour drive west of Alice Springs, the looped trail showcases the lush desert oasis of Palm Valley, a legacy from when this part of Australia was once covered by tropical forest.
Home to the endemic Red Cabbage Palm, this 5km trail gives you an excellent sighting of this rare flora and was wonderfully free of the crowds when I was there.
If you're looking to get off the tourist route, I can definitely recommend this park, its 4wd tracks and cheap camping facilities.
5 ESSENTIAL PACKING ITEMS FOR AUSTRALIA
#1 Good Camera – You will be pretty much snapping non-stop in Australia and will need a good camera to do this gorgeous country justice. I highly recommend the Sony A6000, which I use for all my travels and love, not least because it's light, compact and robust!
#2 Good Walking Shoes – There will be a lot of walking in Australia – from cities to national parks! Make sure your feet are comfortable therefore with a pair of New Balance Trainers. Perfect for stylish strolling, I love mine.
#3 Good Guidebook – I'm still a massive fan of the Lonely Planet Guidebooks and do think their Australia edition is well put together.
#4 Good Water Bottle – Travelling in hot old Australia can be thirsty work, so make sure you have a metal water bottle that you can refill as you go, because tap water is drinkable… and free!
#5 Good Sun Hat – And there's no denying you'll need a good sun hat for protection in Australia too. In my opinion, you can't go past this Hello Sunshine one, which is both gorgeous and ideal for keeping the rays off your face.
#3 Ormiston Pound Walk – West MacDonnell Range National Park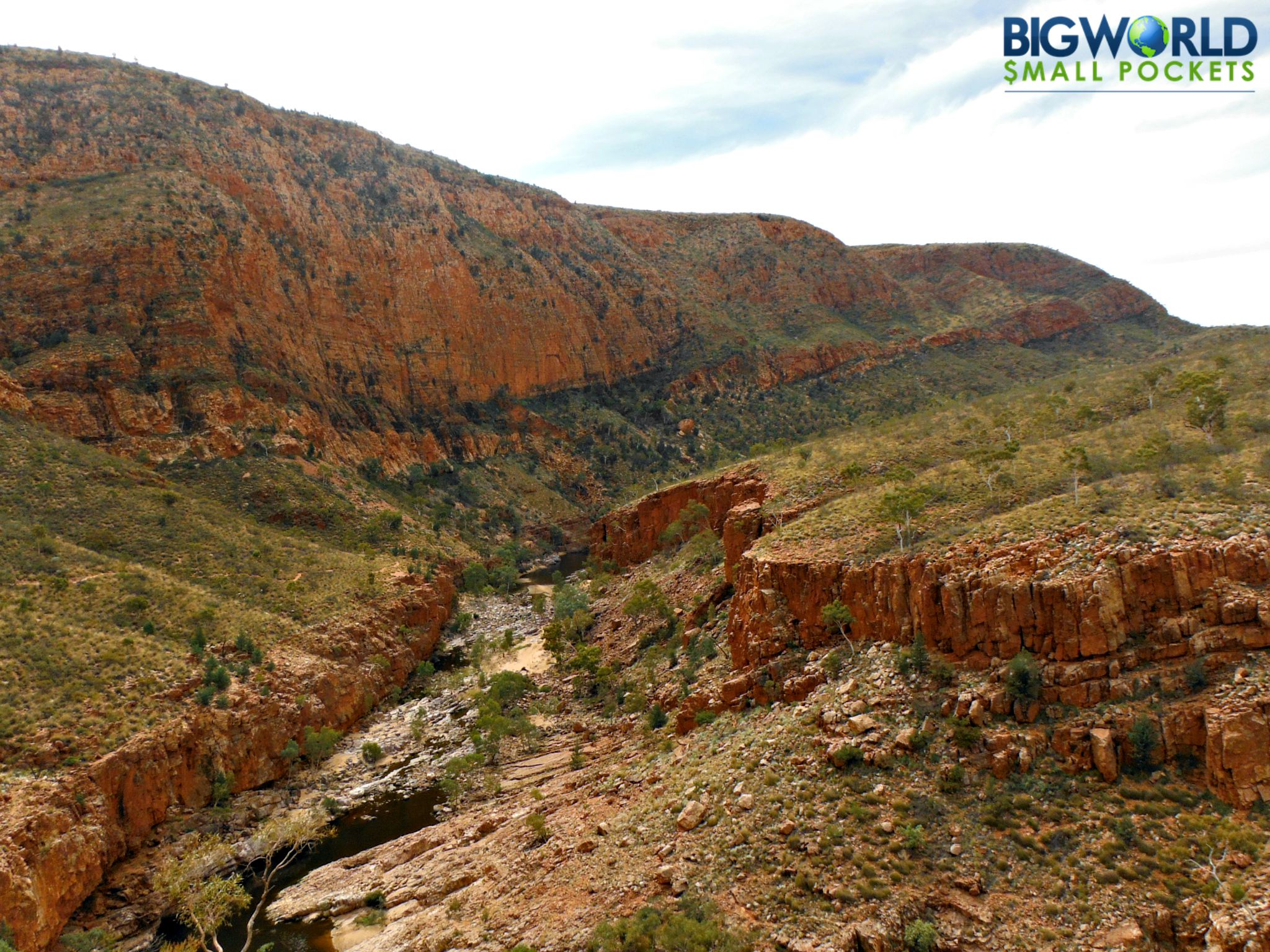 Probably my favourite walk in the whole of Central Australia, the 4-5hr Ormiston Pound route takes you, unsurprisingly, through and around the Ormiston Gorge.
You can easily get here on a day trip from Alice Springs, or else make a few days of it and camp out in the stunning West MacDonnell Range National Park.
There are plenty of campsites to choose from, all varying in facilities and price, as well as cabin accommodation available at the rustic Glen Helen Resort.
I camped at Redbank Gorge, because it was the cheapest option and because it also has a short walk into the mini-valley, but it's nothing compared to the Ormiston route.
Take your camera for some interesting water crossings and finish up with a very refreshing dip in the waterhole! Not for the faint-hearted!
#4 Kings Canyon Rim Walk – Watarrka National Park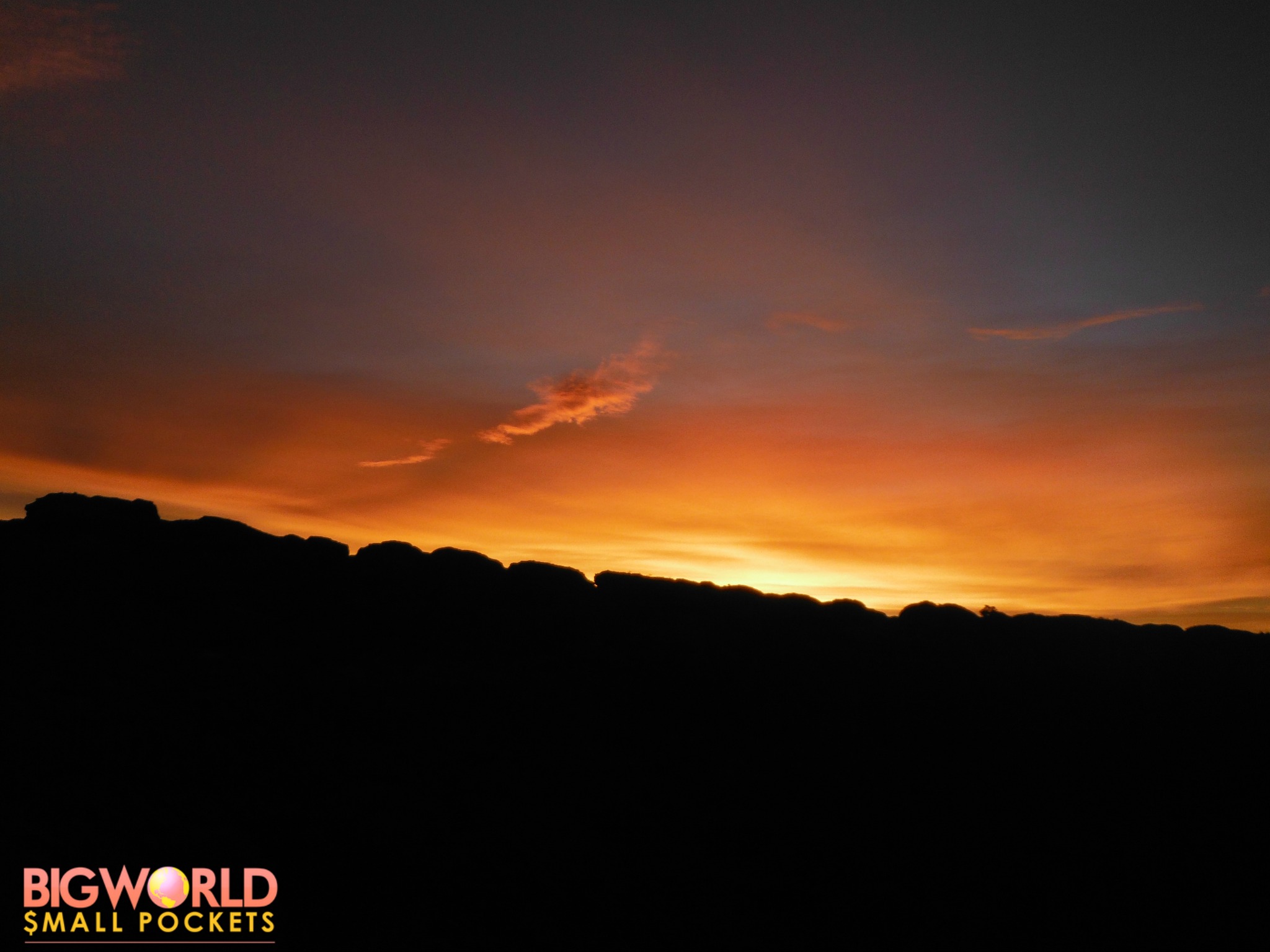 As one of the day walks in Central Australia, you'll have to get there before the tour groups to really enjoy this one unfortunately.
But it is worth, even if before the crowds means setting off in the dark, because yes, you've guessed it, this walk is best done at dawn.
The start of the track is a fairly bracing straight climb up, particularly tough when you've just rolled out of the tent, but make it in time and you get to welcome the day from a 150m high lookout that gives you a stunning view of the canyon's changing colours.
Follow the track map round the rim before descending into the Garden of Eden waterhole and then continuing back to the car park in a 6km loop.
Take a picnic as I did and you can easily make this walk a leisurely morning stroll, with plenty of solitude and spectacular views once the tour groups have passed you, it's worth lingering to savour the moment.
There is no free camping near enough to Kings Canyon to make the dawn walk possible. Instead, I stayed at the Kings Canyon Resort Campground, which is the cheapest in the area and has a pool area that is great to cool down in.
#5 Valley of the Winds Walk – Uluru-Kata Tjuta National Park
As another day walk in Central Australia best done just after dawn, you might be cottoning on to the fact that it's all about the early starts when it comes to a stroll in this part of the world!
Sure there's the heat factor, but the light at this time of day, plus the greater proliferation of wildlife, all make it worth getting up early for.
I did the Valley of the Winds walk after watching the sunrise over Kata Tjuta, wolfing down breakfast in the car park and then setting off.
There are some stunning vistas on this trail, especially as you pass through a narrow gorge to see the green valley spread out below you.
Cameras at the ready, this is probably the walk that gave me all the best shots of the Uluru-Kata Tjuta National Park.
The trail is, at points, only a rough track often just etched into the rock and the whole circuit feels wonderfully wild.
If you visit Uluru-Kata Tjuta on a budget and only have time to do one walk, make this the one.
PIN IT FOR LATER!
Hopefully this list has convinced you to get and out of the 4wd and start exploring the wild and wonderful offerings of the red centre by foot.
I highly recommend it!