Hot as hell, dusty, dry, remote and rural the journey from Alice Springs to Uluru is hard to beat when it comes to the world's most inhospitable landscapes.
As inhospitable as it is however (and exactly just how inhospitable will depend on the time of year you visit!) this drive more than makes up for it in terms of jaw-drop-ability.
Yes, it's that breathtaking people, that I just had to make up a new phrase to describe it!
After all, at the heart of this world-class road trip lies one of Australia's most incredible sights – Uluru – and that's just the big natural giant you've heard of … trust me there's lots of others you won't of, which are every bit as amazing!
If, like me, you're adventuring from Adelaide to Darwin (or visa-versa) then the Red Centre Way from Alice Springs to Uluru really is the most unmissable of side trips and here, to show you exactly why, are 6 breathtaking spots along the way you can't miss.
Grab Your Copy of How to Road Trip Australia on a Budget
My ultimate guide to road tripping Australia on a shoestring is now available, meaning you can finally get ALL my top tips for driving around all, or parts, of this amazing country in one handy eBook, including…
Full Planning & Preparation Guides
Day by Day Itineraries & Routes
Complete Packing & Gear Lists
Top Money-Saving Tips & Hacks
---
Related Posts
---
#1 Ormiston Gorge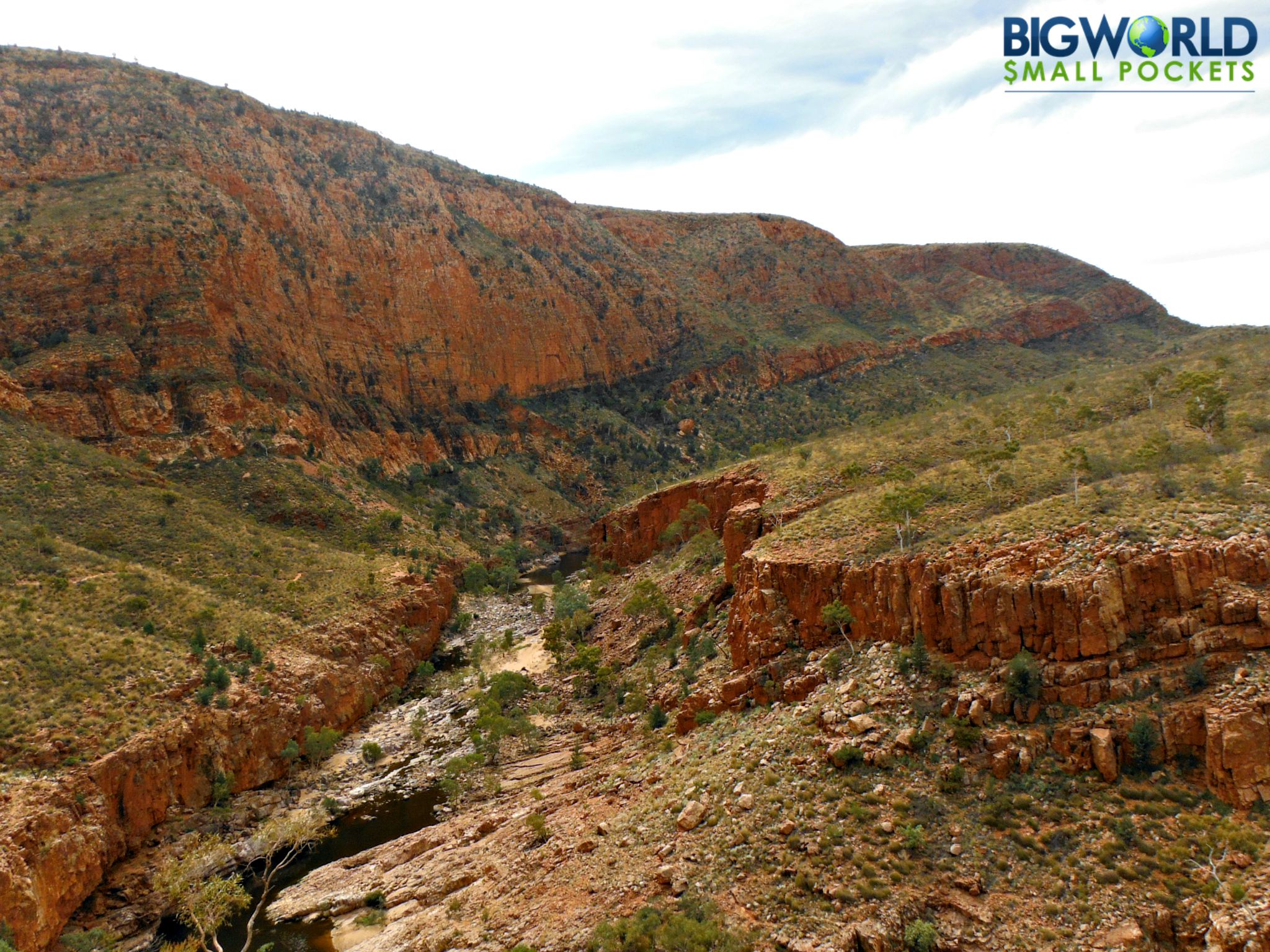 As soon as you get out of Alice Springs and start heading west along the Red Centre Way, you'll hit the West McDonnell Range.
With tons of amazing chasms and jaw-dropping rock formations, this hugely dramatic landscape is awash with amazing places that will just make you stop and stare, including Simpsons Gap, Standley Chasm and Ellery Creek!
However the crème de la crème in my opinion has to be Ormiston Gorge – definitely one of the most breathtaking spots from Alice Springs to Uluru you can't miss.
With a great walk that meanders around the gorge, stunning views for miles and a refreshing (to say the least!) waterhole to swim in at the end, this is an incredible place the enormity of which really is spellbinding.
And best of all, the whole way there is bitumen … sorry I've travelled on so many dirt and badly corrugated roads now I get very excited about black top!
#2 Palm Valley
From Ormiston Gorge you can then loop round (the long way I'm afraid folks) to Finke Gorge National Park, wherein lies the amazing Palm Valley.
So-called because of the Red Cabbage Palm, which exists only in this part of the world, Palm Valley boasts some fantastic bushwalking and some wonderful campsites.
The scenery here is also amazing, and, quite strangely for a desert, lush and green, due to a precious year-round water supply.
Contrasted against the red earth, this spot really is a photographer's paradise and bound to take your breath away!
#3 Goose Bluff
The next stop on your journey from Alice Springs to Uluru is Goose Bluff.
Looking like a strange mound rising from the otherwise flat landscape, your mind will start to boggle when you realise you're actually looking at the rim of a 20km impact crater in the earth's surface!
Yes this is the sort of landscape where evidence of comet collisions some 142.5 million years ago is still very much present!
A deeply significant site to the traditional owners of this land, you can't walk into the crater, but viewing its enormity from some distance away, where you're actually able to get it into perspective, is probably just as spellbinding
#4 Kings Canyon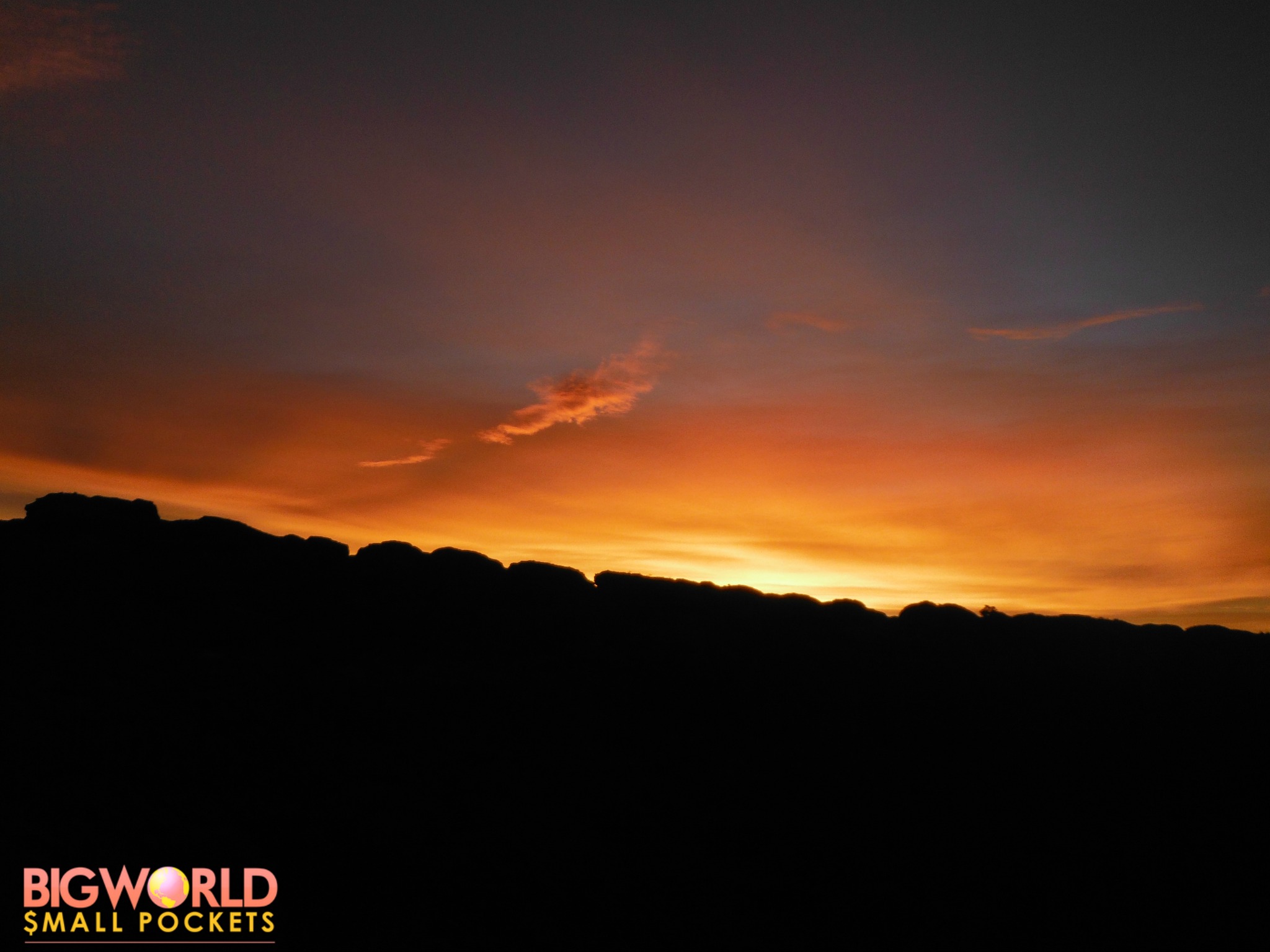 And now the splendour of the journey from Alice Springs to Uluru really starts unfurling itself as your approach Watarrka National Park.
Whereas Uluru, of course, stands out from the ground at an impressive height, Kings Canyon seems to bury itself into the earth of Central Australia at an impressive depth!
Yes, the staggering walls of this natural canyon fall away so sharply that even the trees here seem to desperately cling to the side of it, and a peek over the edge is a sure-fire vertigo inducer!
Top of your list when you get here should be the dawn hike, which easily made its way onto my list of the best day walks in Central Australia.
Be sure to undertake the famous rim walk at Dawn however to make sure you see this staggering feat of nature in its most impressive light.
#5 Uluru
The big daddy of them all, Uluru (formerly known as Ayers Rock) is probably one of Australia's most famous icons and certainly the major drawcard when it comes to travelling from Alice Springs to Uluru.
Ignore all those who say Uluru is "just a big rock" and be sure to go judge it for yourself.
Once you get there, the immense of power and awe-inspiring qualities of this huge monolith are hard to put into words.
For more of a sense of just how superb this spot is, and how much there is to do there, check out my post about the best ways to take in the magic of Uluru.
#6 Kata-Tjuta
Literally next door to Uluru is the far less famous, but (in my opinion) even more beautiful rock formation known as Kata-Tjuta.
Ok, maybe it's not right next door, but being 53km away it's only considered a short drive away after you're travelled from Alice Springs to Uluru!
Add into the mix that these 2 great beauties are both situated in the same National Park and it's almost a done deal that they are neighbours!
Whereas Uluru is one giant rock, Kata Tjuta is a series of smaller (although still huge) rocks all sitting together.
Their silhouette against the otherwise flat landscape is perhaps even more stunning at sunset than that of their giant neighbour and the Valley of Winds walk, which takes you directly through Kata Tjuta, is an absolute must.
Other Great Places to Check Out Between Alices Springs and Uluru
Curtin Springs
Chambers Pillar
Hermannsburg
Rainbow Valley
Top Accommodation on Your Alice Springs to Uluru
As always I travelled this part of Australia on a tight budget, cheap accommodation was key for me.
Here are my top picks for where to stay on a shoestring…
Alice Springs: Alice's Secret Travellers Inn
Kings Canyon: Kings Canyon Resort Campground
Uluru / Kata Tjuta: Ayers Rock Campground
Otherwise, if you want a splurge, then a stay of luxury at the magnificent Sails in the Desert near Uluru and KataTjuta is hard to overlook, as is the Kings Creek Station near Kings Canyon.
Pin it for Later!
Undoubtedly one of Australia's most breathtaking road trips, the drive from Alice Springs to Uluru is littered with some incredible sights that really make the journey this far into Central Australia more than worth your while.
Have you driven from Alice Springs to Uluru?
What was your favourite part?