It has to be one of the world's greatest adventures. A once-in-a-lifetime trip.
Epic, remote, totally unique and absolutely awe-inspiring, an African wildlife safari is bound to be the sort of travel journey you're unlikely to forget.
After all, it's not every day you get to see some of the earth's largest and most spectacular creatures out in the wilderness of their natural habitat, the wildness of the African continent.
I mean, whose bucket list isn't this on?!
Well it's certainly on mine!
In fact, I'm very excited (read. over the moon, ecstatic-kid-at-Christmas excited) to say I'm going to be ticking this ultimate travel goal off my list in the next few months!
Yep, I'm heading back to Africa people and have been researching like crazy in readiness for my next travel adventure.
Of course, I'm looking to do it all on as small a budget as possible and wanted to bring you some of the best tips I've discovered so far.
And here they are, the top 5 places for an African wildlife safari on a budget …
---
Related Posts
---
This article was written in collaboration with Ashanti Travel Centre and contains affiliate links meaning Big World Small Pockets may receive a small commission on any purchases at no extra cost to you.
---
Grab Your Copy of How to Travel Africa for Less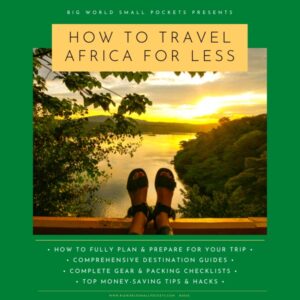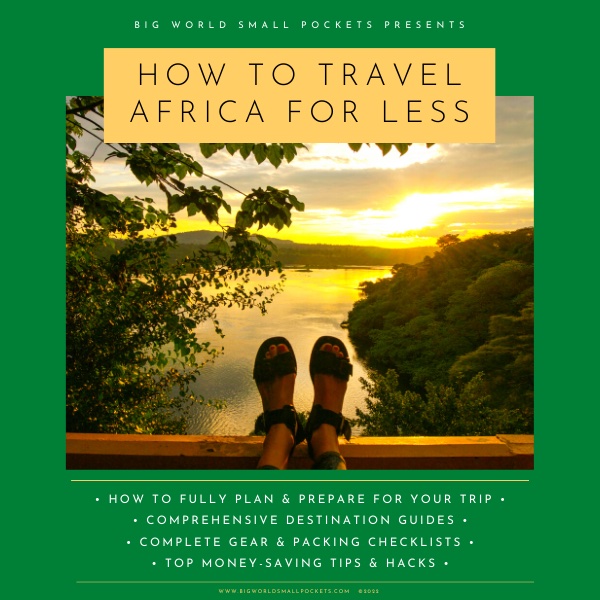 My ultimate guide to travelling Africa on a budget is now available, meaning you can finally get ALL my top tips for adventuring around all, or parts, of this amazing continent in one handy eBook, including…
Full Planning & Preparation Guides
Detailed Destination Info
Complete Packing & Gear Lists
Top Money-Saving Tips & Hacks
South Africa
South Africa is a great first-time safari destination in Africa and can be travelled independently or as part of a guided tour.
For more information about a top South African tour that includes both of the below wonderful spots, click here, otherwise read on to discover the best places to safari here on a budget…
#1 Kruger National Park
Maybe the continent's most famous reserve, Kruger National Park lies in the north of South Africa and is one of the continent's largest game reserves – the perfect place for an African wildlife safari on a budget.
One reason is Kruger's proximity to the major city of Johannesburg, which is where many international travellers arrive into South Africa. Picking a safari tour that doesn't involve covering a huge distance is a great way to keep costs down.
Another reason I've chosen Kruger as one of the cheapest African safari options is because you can self-drive here; that is, you can hire a vehicle and undertake your own safari, without the need for a tour …* ka-ching*
If you do choose a self-drive option however, you'll need to pay the R304 per adult / per day entrance fee, as well as accommodation costs in one of the park's many camps and bush lodges.
On the other hand, taking a tour may cost a little more, but will allow you to spot and learn more about what you're seeing on your African wildlife safari – so do consider why you are taking this trip before making your decision.
It's also wise to know that there's a daily limit on visitors to Kruger National Park, so booking in advance, as part of an organised trip, is guaranteed to get you access.
Kruger is known for its big 5 inhabitants – lion, rhino, leopard, buffalo and elephant – so a good safari here will give you a great chance to tick them all off your list.
LEARN MORE: How to Experience a Kruger Safari on a Budget
#2 Addo National Park
Another African wildlife safari where it's possible to undertake a self-drive option is Addo National Park.
This park is smaller than Kruger and the entrance fee is cheaper too, at R248 per adult /per day.
That said, Addo is till the 3rd largest park in South Africa, with over 120km of tourist roads suitable for normal 2wd vehicles. There's also plenty of hiking trails and horse trails to be enjoyed as well.
Addo is a great option for a budget safari trip if you are already travelling in South Africa, as it can be easily accessed from the country's popular Garden Route – it's only 72km by road from Port Elizabeth in the Eastern Cape.
Most famous for its Elephant Park, which was established in 1931 to save 11 elephants on the brink of extinction, this amazing place is now home to over 350 of these incredible creatures and is a top spot to head for if you're yet to see one of the world's largest creatures.
Why Southern Africa is Cheapest for a Safari
As you scroll through this list you'll quickly realise that all 5 of my wallet-easy safari solutions are based in Southern Africa.
Now in no way is this because I've ignored all the amazing opportunities other parts of the continent provide for African wildlife safaris.
Far from it!
No, it's simply because South Africa, Botswana and Namibia are all countries much easier on the traveller budget in terms of food and fuel.
Zimbabwe, Zambia and most of East Africa are much more expensive places to travel, and this will obviously have a big effect on the costs of your safari tour too.
Botswana
Just north of South Africa, Botswana is another classic safari nation, with 2 brilliantly diverse wildlife-spotting options.
For tours that include trips to both the Okavango Delta and Chobe River National Park, check out these super offerings, otherwise scroll down to learn more about each of these spots individually…
#3 Okavango Delta
Rated by many as the top destination for an African wildlife safari, Botswana's Okavango Delta has to be seen to be believed.
A huge wetland at the edge of the Kalahari Desert, the seasonal flooding here – which peaks in July – sees a giant migration of animals from the dry hinterland and is one of the greatest wildlife sanctuaries on earth.
The 1000th site to be inscribed on UNESCO's World Heritage List, this really is a totally unique and special place.
For that reason, it's impossible to get to the region without taking an organised tour, the vast majority of which are high-end, luxury tours definitely way out of my budget!
That said, Ashanti Travel Centre offers some great Okavango Delta budget camping trips, which give an amazing opportunity for those of us who can't afford the earth to still experience this incredible part of it.
In fact, many people don't realise you can experience the Okavango Delta on a budget at all … but you can!
Largely travelling on dugout canoes (mokoros), Ashanti's budget tours give you the chance to experience plenty of hippos and crocodiles, as well as great herds of antelopes, zebra, buffalo, elephants, lions, leopards and cheetahs.
The quietness of the canoes, which locals have traditionally used for centuries, allow visitors to silently sail close to the animals in a way a game drive could never do!
READ MORE: What's the Best Time to Visit the Okavango Delta in Botswana?
#4 Chobe National Park
Botswana's first national park, and perhaps one of the remotest on this list, Chobe is massive, with many parts simply inaccessible.
As a result of this however, it has a huge concentration of wildlife and is often referred to as the elephant capital of Africa. In fact, latest estimates put the elephant population here at 120,000 – making Chobe home to the largest continuous surviving elephant population on earth.
Now if that doesn't excite you, I don't know what will!
In the dry season – April to October – literally thousands of these huge mammals make their way to the Chobe River, meaning this park offers visitors one of Africa's truly great wildlife spectacles.
Seeing some of this action yourself isn't possible via a self-drive in Chobe, but from Kasane you can easily do a day safari, or even a boat safari down the Chobe River.
Alternatively, if you're looking to get to the less accessible areas of Chobe National Park, Ashanti offer mobile camping tours that will get you into the heart and soul of one of Africa's last remaining wildernesses.
From simple games drives to 13 day complete Botswana safaris, their African wildlife trips are perfectly designed for those of us on a budget – hoorah!
DISCOVER MORE: Chobe River National Park : A Photo Essay
Namibia
And coming in at number 5, it's this gem in Namibia!
If you want to take a tour of Etosha National Park, then check out these great options, otherwise read on to learn more about this stand-out safari spot…
#5 Etosha National Park
Totally unique when it comes to African national parks, Etosha is actually a huge salt pan – so huge in fact, it can be seen from space!
Indeed, in the language of the Ovambo tribe, Etosha means 'great white place' – no prizes for guessing why!
Despite its desert landscape however, Etosha National Park still boasts some of the most abundant wildlife on the continent and you're almost guaranteed game sightings here, as multiple species gather around the precious waterholes.
To make things even easier, some of the waterholes are floodlit at night to increase your chance of spotting wildlife and are fully accessible in a regular 2wd car.
As such, you can visit Etosha as part of a self-drive, but in reality, many of the budget camping tours available are not much more expensive.
Due to the vast size of Etosha, animals here still roam freely and are largely unrestricted by human activity.
Taking a tour will provide you with an experience that can never be achieved on a self-drive, which may be something to think about.
A tour will also give you the chance to spot an endangered black rhino, as well as some of the 1 million flamingos, who help to make this park the only known mass breeding ground for flamingos in Namibia.
LEARN MORE: The Ultimate Guide to Etosha National Park
PIN IT TO PINTEREST!
Don't these top 5 places for an African wildlife safari on a budget all sound amazing?
I'm so excited for my trip to this incredible continent soon and can't wait to bring you more amazing photos and tips then!
In the meantime, please feel free to share your top Africa safari experiences too …
Where did you go?
What did you see?
Do you have any more great budget tips to add?