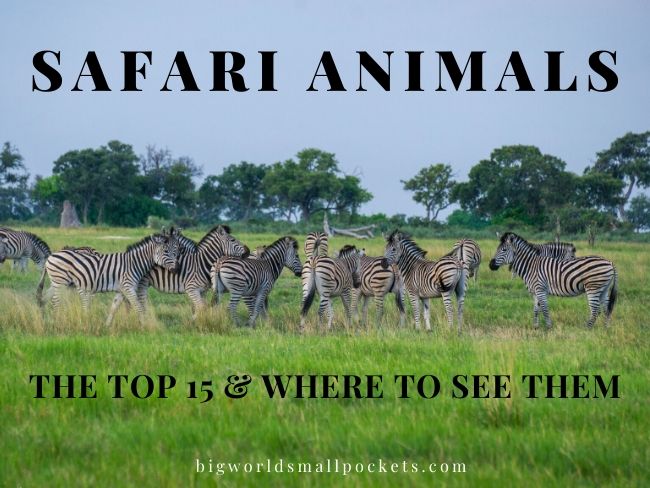 The amazing wildlife of Africa sure does take seem beating!
But when it comes to knowing what to see where, it can be quite the mind-field!
For the great African continent holds so many treasures that deciding where to begin your trip if you want to spot the best safari animals can be a difficult decision.
And that's not to mention where your itinerary should take you, how long it should take you for and where you will finish your adventure.
But fear not, after 5 trips to this amazing continent, I've compiled this handy list of what I think are the 15 most amazing safari animals and where, in this continent, you can most easily spot them.
---
Related Posts
---
This page contains affiliate links meaning Big World Small Pockets may receive a small commission on any purchases at no extra cost to you.
---
#1 Elephants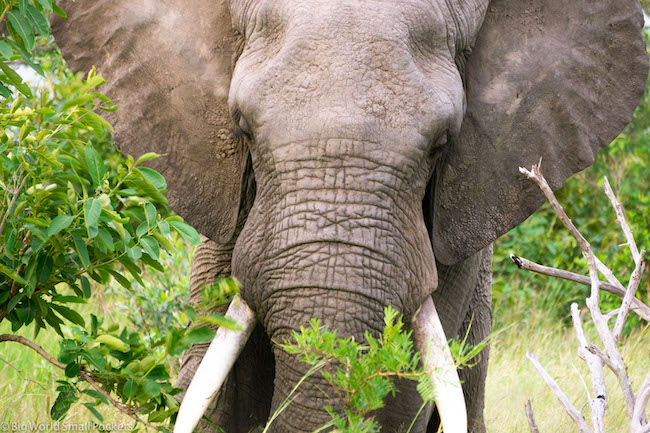 I'm going to kick off with a big one here… literally!
Yup not only are African elephants huge, but they are also part of the "Big 5" – the 5 safari animals that regularly make up the African wildlife bucket list if you will!
Thanks to a severe clampdown on poaching, elephants are one of the easiest safari animals to spot due to their large populations and yes, well, their size too!
From Kenya to South Africa, Namibia to Tanzania, it's likely you'll see elephants in almost any "safari" nation in this continent and just about any reserve.
That said, the country where I saw the most elephants, and where the populations are thought to be the largest due to strict and enforced protection regulations, is Botswana.
Head to the amazing Chobe River National Park in this country to see elephants in the river, on land, from a land vehicle or from a boat… yup the opportunities are endless.
Best Place to Spot Elephants: Chobe River National Park, Botswana
#2 Leopards
Coming in at number 2, it's another of the Big 5 safari animals, but these ones are certainly a little harder to spot.
In fact, I've only seen 2 leopards despite having taken countless game drives, because these large cats are so secretive, silent, shy and well camouflaged.
As such, the thrill of seeing an exclusive leopard is one of the most exhilarating safari animals spots and their grace and elegance only adds to this appeal.
Often travellers get to glimpse their first leopard in the Ngorongoro Crater in Tanzania, or in the Masai Mara in Kenya, but the best place I recommend for seeing this enchanting safari animal is one of Zambia's top parks – South Luangwa National Park.
This is where I got my best leopard sighting and the shot you see here!
Best Place to Spot Leopards: South Luangwa National Park, Zambia
#3 Lions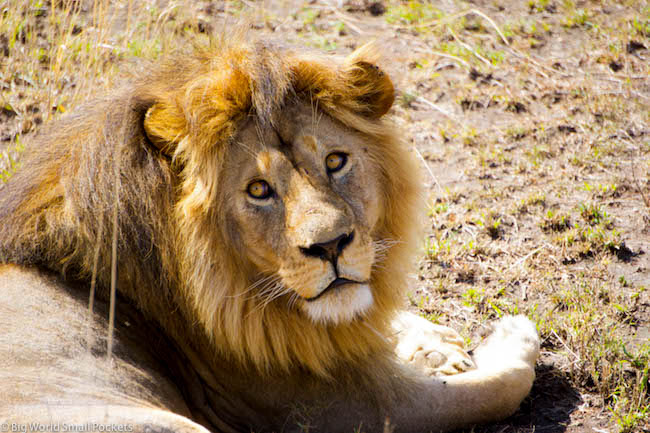 And sticking with the big cat theme, it's true that one of the most popular and amazing safari animals you can't miss are the lions.
Yup that's right, the kings of the jungle are every bit as epic to see in real life as you imagine and doing so has to be on your bucket list!
Again, thankfully, lions are quite easy to see and an early morning game drive is the best way to do just this.
Fresh from their nighttime hunt, and often lying out in the open before they retreat to the shade in the heat of the day, a dawn safari trip is definitely the best way to spot a pride of lions, especially a group of females with the cubs.
Again I've seen lions in a lot of different reserves across Africa, but I think the place I saw the most – including a large number of cubs, as well as a mating male and female – was in the Serengeti in Tanzania.
Best Place to Spot Leopards: Serengeti, Tanzania
#4 Rhinos
And from the common to the extremely rare, rhinos are definitely up there as one of the hardest safari animals to spot.
While they are one of the Big 5 animals too, they are also one of the most endangered safari animals out there and their populations are still declining to a worrying level.
Many parks have either none or only a few rhinos left and, as such, the chances of you spotting one can be pretty slim.
The delightful country bucking this trend is the tiny nation of eSwatini – formerly known as Swaziland, where rhino protection measures are going very well and there are large populations in at least one of the reserves – namely Hlane Royal National Park.
Here you can actually enjoy a walking safari with rhinos and get really close to them, which is incredible.
Such an opportunity is also available in Matopos National Park in Zimbabwe and I've also seen rhinos, from the safety of a safari vehicle (!), in both Kenya's Nakuru National Park and Namibia's Etosha National Park.
Best Place to Spot Rhinos: Hlane Royal National Park, eSwatini
#5 Buffalos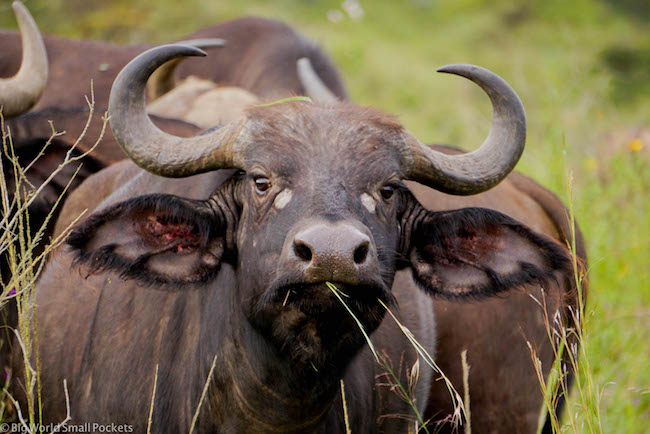 And last of the Big 5 safari animals is the mighty buffalo.
These guys are pretty common and easy to spot across sub-Saharan Africa with most parks having a plentiful supply.
Again I've seen them across South Africa, Botswana, Zimbabwe, Zambia, Tanzania, Uganda and Kenya… so take your pick!
Best Place to Spot Buffalo: Queen Elizabeth National Park, Uganda (because this is a really picturesque reserve)
#6 Hippos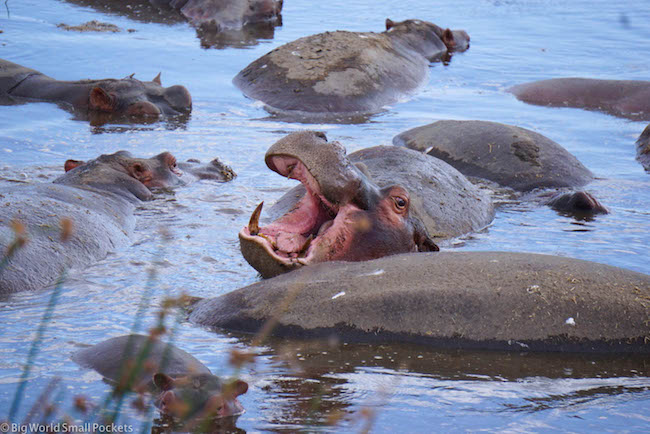 And now onto another creature, the hippo is another common safari animal that you should be able to spot in most reserves with water!
As such, it's really all about the most interesting places to see hippos and, for me, that award has to go to Lake Naivasha in Kenya, where a sunset cruise can bring you really up close and personal with these guys, with fewer tourists around.
Other top hippo spotting parks are the Masai Mara in Kenya and South Luangwa National Park in Zambia – in particularly the latter is great if you want to have hippos crashing around your tent at night!
Best Place to Spot Hippos: Lake Naivasha, Kenya
#7 Hyenas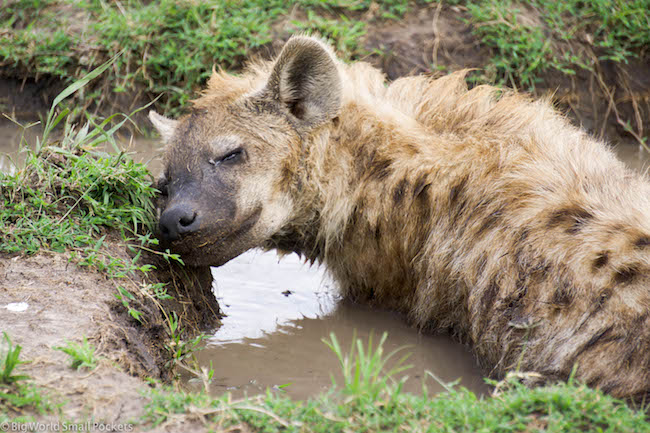 Hyenas are quite a prolific safari animal, but due to being largely nocturnal, they aren't always as easy to spot as they perhaps should be!
However, as the scavengers of Africa, watching them in full action chewing on a carcass is every bit as mind-blowing as you imagine and certainly one of my top African experiences.
Lucky enough to have spotted these strong-jawed creatures across Tanzania and Kenya, I think my best hyena experience came from Ethiopia.
Yes in the eastern Ethiopian city of Harar, you can actually watch a man feed wild hyenas as they claw up his back to eat raw meat off a stick dangling from his mouth.
Yup no joke!
And if you want to go one step further, you can even try it yourself!
Again, no joke!
Best Place to Spot Hyenas: Harar, Ethiopia
#8 Zebras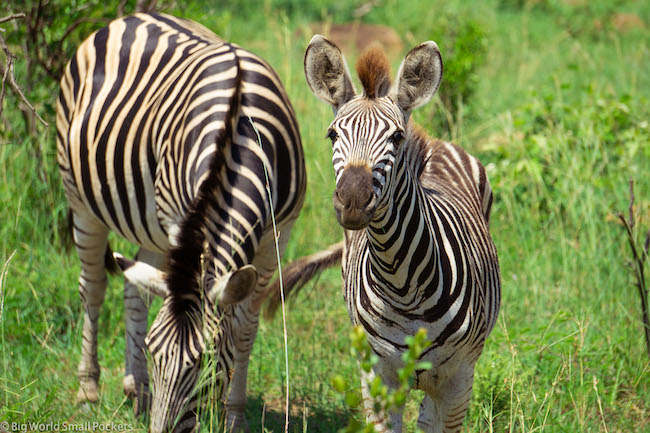 The beautiful zebra is absolutely one of the most amazing safari animals and no matter how many I've seen, I never tire of watching groups of these beautifully stripped creatures against a backdrop of the African plains.
Easy to see, but no less spectacular for it, zebras are plentiful and there are many countries and parks in which you are guaranteed a sighting.
Perhaps, my most memorable experience however was in Kenya's Hells Gate, where the lack of predators in this park, means there were more zebras here than I'd ever seen before… AND, even better than that, you can enjoy a cycling safari in this park and get close to zebra on 2 wheels without the noise and barrier of a vehicle between you and them.
Check out this great day trip from Nairobi to Hell's Gate if this sounds like something you'd love to experience.
Best Place to Spot Zebra: Hell's Gate National Park, Kenya
#9 Giraffes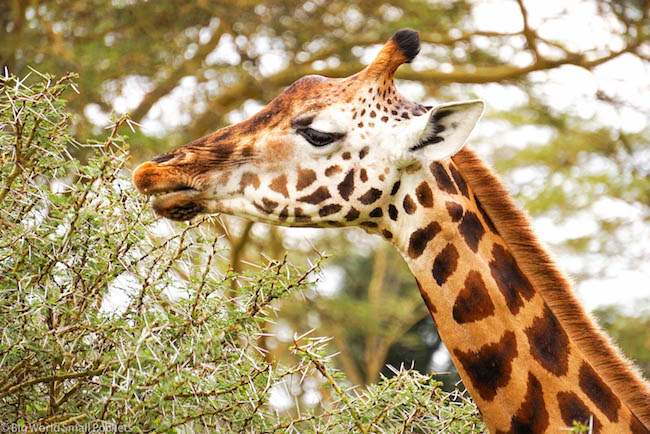 Like zebras, giraffes are also common and easy to spot when it comes to safari animals, but no less incredible as a result.
Inexplicably graceful, seeing these long-necked giants striding across the plains is something you'll never forget.
I've seen giraffes in almost every game park I've visited in Africa, but some of my best sightings and shots (including this snap) came from my time in Zimbabwe's Hwange National Park.
Best Place to Spot Giraffes: Hwange National Park, Zimbabwe
#10 Cheetahs
Oh now we start to turn up the dial, because enter another of the more elusive safari animals, those incredible cats, the cheetahs!
The thing with spotting cheetahs is that when you see one, you tend to see a few, because these guys travel and hunt and hang in groups.
This makes seeing them even more rewarding.
And the places where I've witnessed groups of cheetahs include both Etosha National Park in Namibia and the Masai Mara in Kenya, with the latter just grabbing the top spot because we got to see a coalition of cheetahs (yes that is the collective noun) in mid-hunting flow!
Amazing!
Best Place to Spot Cheetahs: Masai Mara, Kenya
#11 Wildebeest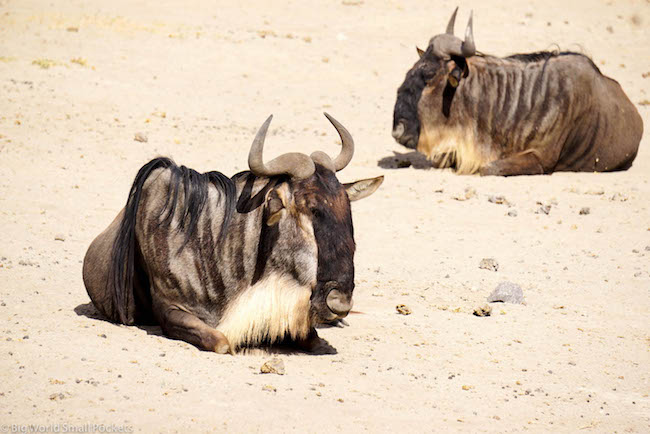 The famous migration of wildebeest is one of the greatest spectacles of safari animals there is and an absolute must-see during your time in East Africa if possible.
Contrary to popular belief, this is not a single event that only occurs at a certain time of year.
Instead, it is an ongoing process in which the wildebeest are actually continually on the move, following the rains, and therefore the lush grass, through the Serengeti and Masai Mara reserves.
Essentially part of the same wildlife corridor, divided only by a land border, the Tanzanian Serengeti and Kenya Masai Mara are the best places to spot wildebeest and it's easy to visit both parks as part of one trip.
Best Place to Spot Wildebeest: Masai Mara, Kenya & Serengeti, Tanzania
#12 African Wild Dogs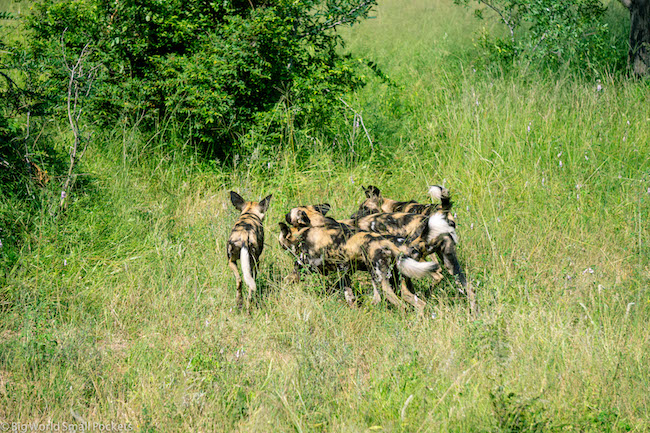 These are one of the rarest safari animals around, but if you do get to see them, the wait is well worth it!
I've seen just one pack of African Wild Dogs throughout my whole time in Africa, but spotting them with cubs too was absolutely incredible and certainly made my trip to Kruger National Park even more memorable.
Once on the brink of extinction, the numbers of these incredible animals are thankfully now swelling and Kruger has one of the healthiest population levels.
If you don't get to spot them here however, then there is a sanctuary in Zimbabwe where you can see those who have been injured or abandoned being reared by hand.
Obviously in the wild is better, but the Painted Dog Sanctuary just outside Hwange National Park is a good second option.
Best Place to Spot African Wild Dogs: Kruger National Park, South Africa
#13 Oryx
The prettiest of all the antelope species in my opinion, I was totally mesmerised by the Oryx.
Their bold stripes and distinctive horn / antler shapes really do set them apart and amazingly help them blend into the landscape around too.
That said, once you do spot one, you'll start to see a lot because, as with most antelope species, these guys travel in herds of large numbers, largely for protection purposes.
Less common in East Africa, it's best to head to Southern Africa to see Oryx and top of the list for me was Namibia and the mighty Etosha National Park, where I saw heaps.
Best Place to Spot Oryx: Etosha National Park, Namibia
#14 Caracals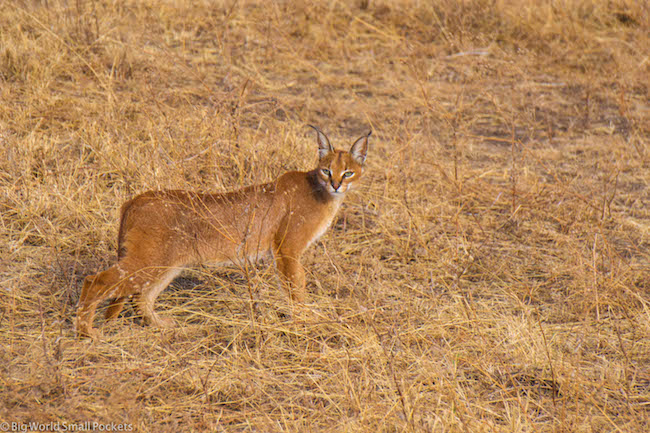 And now we get onto the real rare spots when it comes to safari animals and again, we're back with the cats.
Yes the serval is definitely one of the hardest safari animals to spot… probably hence why I've never seen one!
But hot on the heels of the serval, is the caracal, another wild cat that is as rare as it is magnificent.
Small, sleek, svelte and stunning, the quick-footed caracal is certainly not easy to spot, given its super level of camouflage.
But I was lucky enough to see one in Tanzania's Ngorongoro Crater, where the bowl-like geography of this landscape literally collects wildlife!
As such, I'd definitely recommend heading here if the caracal is one of the safari animals you want to see.
Best Place to Spot Caracal: Ngorongoro Crater, Tanzania
#15 Honey Badgers
And at number 15, it's another rare gem… the African honey badger.
I have seen one of these amazing creatures as part of a morning safari walk in Botswana's Okavango Delta, but it was far away and so quick I couldn't get a snap.
However, rest assured, if you see one of these elusive, nocturnal guys, you won't feel like you need a photograph to prove it either!
Best Place to Spot Honey Badgers: Okavango Delta, Botswana
BONUS NUMBER #16! Flamingos
And last but not least, the bonus item on this list of the most amazing safari animals and where you can spot them, has to go to the flamingo.
I thought I'd neglected the birds a bit in this article, which is why I put in a bonus entry.
And although it was a toss-up between the ostrich and the flamingo, the latter made the cut thanks to its glorious colours which never fail to amaze me!
Yes, the iridescent pink feathers of these wonderful creatures are distinguishable from a mile off, which means the excitement that you've seen them tends to kick in even before you've got close!
And where did I get closest?
Well that prize has to go to Kenya's Nakuru National Park – it's stunning lake setting is the perfect place to spot and snap these incredible birds.
Best Place to Spot Flamingos: Nakuru National Park, Kenya
Other Top Safari Animals: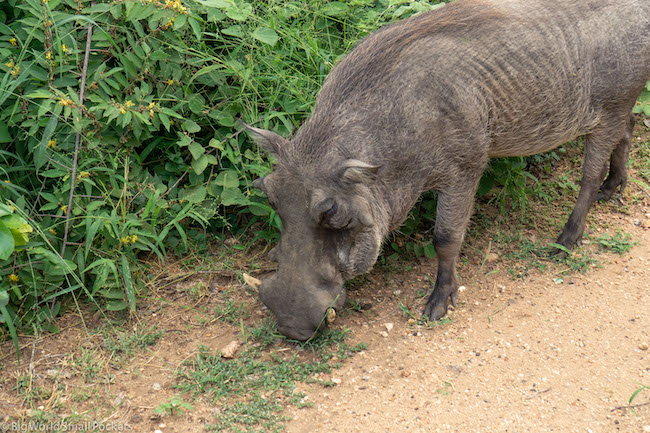 Warthogs
Impalas
Kudu
Elands
Mongeese
Baboons
And you can learn more about how much your safari will cost in this post I wrote, which details many expense variables, as well as some top money-saving tips.
PIN IT TO PINTEREST!
And there it is, my list of the 15 most amazing safari animals and where you spot them.
I hope you've found this guide helpful and, fingers crossed, now you can start planning your amazing Africa trip with a bit more knowledge on your side!
Let me know if you're planning on going to any of the parks I've mentioned… or some I haven't!
I would love to know more!