A Kenya safari holiday really is a once in a lifetime trip, isn't it?
The sort of adventure that people dream about for decades and have on their bucket list for years.
Yes, Kenya safari holidays are up there with all the time great experiences you can have in this incredible planet of ours.
And even though I'm a huge Africa travel fan, this isn't just my subjective bias… promise!
However I do know that thinking about this sort of trip isn't all excitement.
Because as soon as you begin thinking about going or researching your Kenya safari holidays, you quickly realise just how much you've got to cover!
From when and where to go, to the time of year, the type of trip and what to expect, there's a huge amount of preparation involved in any Kenya safari holiday that can seem overwhelming.
Well fear not, help is at hand, because after my experience of travelling in this country for several months, I've compiled my full guide on how to plan the most perfect of Kenya safari holidays.
So let's get to it…
---
Related Posts
---
This page contains affiliate links meaning Big World Small Pockets may receive a small commission on any purchases at no extra cost to you.
---
Grab Your Copy of How to Travel Africa for Less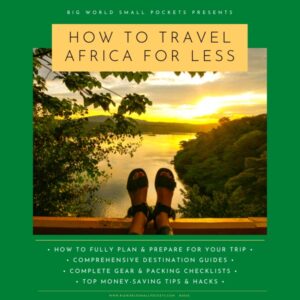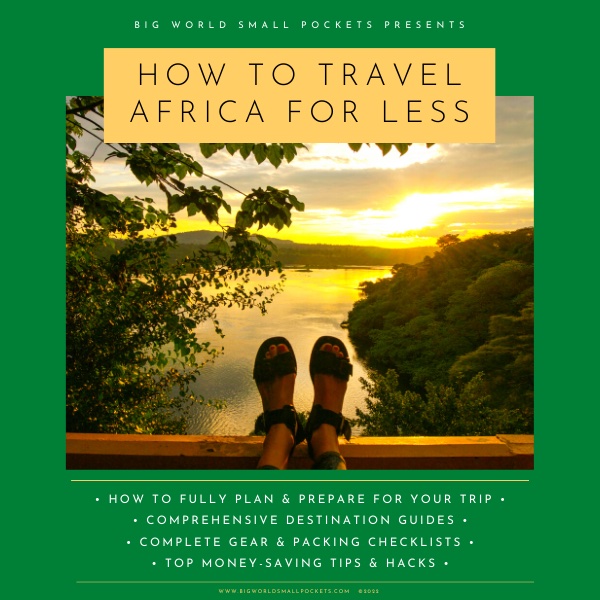 My ultimate guide to travelling Africa on a budget is now available, meaning you can finally get ALL my top tips for adventuring around all, or parts, of this amazing continent in one handy eBook, including…
Full Planning & Preparation Guides
Detailed Destination Info
Complete Packing & Gear Lists
Top Money-Saving Tips & Hacks
When To Go On Your Kenya Safari Holiday?
It's always hard to pick the best months to visit Kenya because, as a tropical country, rain can come at any time here… and it's always hot!
Throw in the confusion of the seasons, thanks to global warming, and you've got yourself a bit of a predicament!
That said, Kenya traditionally has 2 wet seasons and I'm going to suggest visiting outside of these as still your best chance of dry weather… although no guarantees.
The big rains, aka the primary rainy season, fall in Kenya between the months of April and May, while the small rains, aka a 2nd lighter rainy period, fall between the months of November and December.
This makes the best time for your Kenya safari holidays the intermittent periods.
The months of June to October form the high tourist season, and January through March is considered the shoulder season.
Learn more in this post I wrote all about the best time to visit Kenya.
How Long Should Your Kenya Safari Be?
How long should your Kenya safari holidays last for?
Well how long is a piece of string?
No seriously, I know most people are constrained by work commitments or finances or both, which means that you'll be pleased to hear the minimum amount of time you need for your trip is around 5 days – this allows for an international arrival in Nairobi, a 2-3 safari trip from there to a nearby national park or reserve, before a return to Nairobi for an international flight departure.
Of course, for those of you whose visas and commitments allow it, you could easily spend anything up to 1+ month in this diverse and delightful East African nation as I did.
Be sure to check visa restrictions and requirements for Kenya safari holidays in line with your nationality – these can usually be found on your government foreign office website.
That said, the happy medium for a Kenya safari holiday seems to be around 10 days!
This timeframe will allow you to see a 2-3 safari parks at a fairly relaxed pace.
To keep things most chilled if you're on a shorter timeframe, I suggest visiting national parks that are both near each other and close to Nairobi (see the next section for more details).
This will help you reduce travel times and give you more opportunity to enjoy your safari holiday… it's meant to be a vacation after all!
Where To Go On Your Kenya Safari Holidays?
And now we're getting to the fun stuff, namely where to go on your Kenya safari holidays!
Well the first great thing to know is that you've got loads of options and, depending on your time, budget and the sort of adventures you enjoy, there's lots of choice…
#1 Parks Near Nairobi
If you're short on time for your trip to Kenya, then consider visiting a safari park near the capital Nairobi.
Doing this will give you more opportunities to enjoy your safari, as travel and logistics won't eat up so much of your time.
Nairobi has the biggest airport in the country, so this is where you're likely to start your trip from if you're arriving from overseas.
As always, I recommend Skyscanner for finding the best flight deal into or out of Nairobi.
The best national parks around the capital in my opinion are…
Nairobi National Park, which is actually set within the city, is the obvious solution here and can be enjoyed in a day. Ideal if you are flying into Nairobi and only have a few days to look around, this park is amazing given its location!
Otherwise, Nakuru National Park is also quite close to Nairobi and can easily be enjoyed as part of an overnight adventure from the city or as part of a weekend break. This park has a beautiful setting around a lake and a lot of rhinos, making it one of your best chances to spot these rare animals.
Finally, the Masai Mara is often accessed from Nairobi as part of a 3 day excursion, but more about this later.
If you are planning to visit Nairobi then do check out this post I wrote about the best things to do in this city.
#2 Parks Towards the Kenya Coast
If you're heading out towards the coast in Kenya during your trip (which you definitely should if you have the time FYI), then it may make more sense to base your Kenya safari holidays around parks that are over in the east of the country.
This way, you may be able to avoid Nairobi altogether, as you can often find international flights that directly land in Mombasa or stopover in Nairobi but don't require you to spend any time there, before they fly onto the coast.
Amboseli National Park is the most famous park in the east of Kenya, renowned for its abundant elephant population and, on a clear day, stunning backdrop of Mount Kilimanjaro which lies just over the border in Tanzania. It's definitely one of the prettiest parks for your Kenya safari holidays.
Tsavo East and Tsavo West National Park also lie close to the Kenya coast and are regularly favoured by travellers who are basing themselves at the beach, but want to get a short safari experience too. Both of these parks are less crowded, with Tsavo West in particular, being one of the least visited safari destinations in Kenya.
If you are planning on a trip to anywhere on the Kenya coast, then do check out my guide to this region which gives a good overview of the best places to visit there.
#3 Parks That Offer Something Different
And over in the west of Kenya are a couple of national parks that offer something very special, namely quite different types of safari.
Hell's Gate National Park offers cycling safaris, which make for a truly, delightful experience. Given the lack of predators in this reserve, cycling is safe and you can get far closer to the giraffes, zebras, warthogs etc than you can in a vehicle. The amazing geothermal landscape here also provides the perfect backdrop.
Close by, Lake Naivasha is also another destination for your Kenya safari holidays that offers something a bit different. Sunset cruises are the way to experience this watery world, where hippos, crocs and amazing birdlife can all be spotted out on the water or on one of the islands situated within it.
Across in the west of the country, both of these national parks can be reached from Nairobi within a day of travel, or are often visited by adventurers who are travelling overland into Kenya from Uganda.
#4 The Most Popular Parks
And now we move onto the most popular parks for Kenya safari holidays – these are definitely the bucket list ones that most people want to see.
We've already talked about Amboseli National Park, which definitely makes this list and I'd include Nakuru National Park too.
But the big daddy of them all has to be the Masai Mara.
Actually, the irony is, this is quite a small park, but its gorgeous scenery, the abundance of wildlife, including the Big 5, and rich human culture make it the best of all the safari experiences in Kenya in my opinion.
Essentially separated from the Serengeti only by the international border, between them these 2 parks form a massive wildlife corridor and are, of course, famous for the Wildebeest migration – a continually moving cycle of animals that follow the weather patterns and the associated grazing seasons.
For more information about the Masai Mara, check out this article I wrote.
You can learn more about all these national parks and more in this article I wrote about the best places to safari in Kenya.
What To Expect from a Kenya Safari?
What to expect from your Kenya safari holidays is something we all ask before our first trip, because it really is hard to imagine how it all works.
Of course, each safari experience is different, but by and large, they involve you sitting or standing in a vehicle, driving around to spot amazing wildlife and incredible scenery for hours on end!
What vehicle you are in depends on the place and your budget – some are open-sided 4wd vehicles, some are high clearance minivans with pop-up roofs, some are soft-top jeeps… it really just depends.
Safari adventures usually last a number of hours, but again this depends, as often full-day trips are available, as well as dawn and sunset experiences.
Wildlife tends to be most active in the coolest part of the day, so getting up for a dawn drive can be well worth it, trust me!
In some parks, you may even be able to enjoy night game drives.
Depending on the size of the park, you're likely to spend 1-2 days driving through it.
As such, this generally means a stay somewhere in the region of 1-3 nights is required.
Depending on the facilities and your budget, choices could be outside the park in the nearest town, inside the park in a lodge or camp, or somewhere on the outskirts.
If you're not taking a guided tour, then your accommodation can usually arrange safaris for you on arrival – although availability might be limited, so you may want to reserve something when you book your bed / room!
Alternatively, if you are taking a tour, usually these operate as package deals, meaning selected accommodation and safari drives are included in the price you pay.
Although, as always, please check your inclusions and exclusions carefully.
As always, I highly recommend SafariBookings who offer a huge number of Kenya safari holidays to suit a range of travel styles, tastes and budget.
Different Sorts of Kenya Safari Holidays
And this leads me nicely on to my next point, which is about the different sorts of Kenya safari holidays you can enjoy.
Not all options are available in all parks, which is why I suggest working out when you want to visit, how long for and where to, first.
You'll then have a few more parameters in place when it comes to getting an idea of price and availability etc.
There are 3 main options here are…
#1 Full Tour
Usually with an overland company, or extended tour operator, this is a huge package solution with all safari visits, accommodation, transport and certain meals usually thrown in.
Full tours normally cover the whole length of your trip – from arrival in the country, until your departure, and some may even include flights from your home country to Kenya.
Full tours can range from customised, personal itineraries in 5* star lodges, through to budget camping tours with 25 others in a huge overland truck… and everything in between.
Food normally isn't included and the tours operate within set dates, which means flexibility can be an issue.
Needless to say, full tours are the most expensive Kenya safari holiday option, but they require the least organisation and, if you're feeling nervous about heading here, they may allay your fears too.
Full tours can either be private (for just you or your group) or shared.
Touring Kenya with strangers really is not as bad as you might think – it's mostly very fun – and this is definitely the most affordable option!
#2 Park Specific Tours
These are tours you use simply to explore 1 or a number of parks in Kenya.
Typical examples include tours to visit teh Masai Mara or to visit Hell's Gate and Lake Naivasha, which are often paired together.
These types of tours tend to last between 2 and 5 days and usually involve you meeting at a certain point for pick-up (often a hotel in Nairobi), where you'll then be dropped off at the end of your time.
These are great for travellers who want to combine independent travel with some arranged excursions.
They also give more flexibility, as these sorts of trips tend to run constantly during the right seasons, with smaller groups.
If booked in the country, they also tend to be pretty affordable by Kenya safari standards!
#3 Self-Drive
And finally, there's the self-drive option, which will see you organising your own transport to a park and, likely, your accommodation there too.
Depending on the park, you may or may not be able to drive your own vehicle on safari, in which case you'll need to organise your safari drive with a ranger or guide – likely to be available through your accommodation.
This option takes the most organisation, as you'll have to sort all the different parts of your Kenya safari holiday out yourself and then piece them together.
Needless to say however, that it's also likely to be the cheapest option, but you do have to consider whether you feel confident hiring and driving a vehicle in East Africa too – personally it's not for me!
Get in touch with African Budget Safaris for some great safari vehicle rental options in Kenya.
Of course, each type. of Kenya safari holiday also comes with a range of different costs.
Generally self-drive tends to be the cheapest option and full tours the most expensive.
Get all the details in a specific post I wrote about what an African safari costs.
How To Organise Your Kenya Safari Holiday?
As I've mentioned above, each different sort of Kenya safari holiday requires a different level of organisation and booking style.
Some types can be arranged last minute, on the ground, when you're in the country.
These may be perfect for people with a lower budget, but who have more time and flexibility on their side, as you may not always be able to get on your desired trip straightaway.
Alternatively, if you're travelling on a shorter timeframe and want to be assured you're going to get that dream chance of visiting the Masai Mara for example, you may want to book a full tour, or a safari-specific tour, in advance.
When it comes to safari-specific tours, I highly recommend Get Your Guide, who specialise in tours that last up to a few days.
Ideal for heading out to see 1 park, or perhaps 2, Get Your Guide uses local providers and, again, allow you to read reviews and book in advance to ensure your perfect trip goes according to plan.
It's likely with both the above options (even a full tour) that you'll have to sort your own flights, visas and insurance for your Kenya safari holidays, so do check any requirements around this – including which airport you should book flights into and out of.
How to Prepare for Your Kenya Safari Holiday
And finally, we come to the preparations you'll need to make for your Kenya safari holidays.
Presuming you know when you're visiting the country, how long for and roughly where you want to go, you should start researching visas, flights and itineraries.
Once you've picked a tour (or made an independent plan), you first need to book your flights.
As always, I recommend Skyscanner for the best flight deals going.
You should then research travel insurance.
World Nomads offers simple and flexible travel insurance. Buy at home or while travelling and claim online from anywhere in the world.
Alternatively, if you're a long-term traveller, digital nomad or frequent remote worker seeking travel health cover, check out Safetywing's Nomad Insurance policies.
Next, you need to about any medical requirements, such as vaccinations, anti-malarial medication etc required for your Kenya safari holiday.
I would always advise going to see a Travel Doctor, or similarly qualified health professional, at least 6 weeks before departure.
Then last, comes the packing!
First up, you want to consider the gadgets you might want to take as these may take some researching too, namely some binoculars, a kindle, a headlamp and a sleeping bag.
You're also likely to want a decent camera, and I highly recommend the Sony A6000, which I've named the best camera for your safari.
Don't forget to purchase a zoom lens, protective case, spare battery, tripod and memory cards to go with your camera too.
Plus a cleaning kit, which will be a godsend in those dusty Kenya conditions.
Then you'll want to think about clothes, hats, shoes and any medical supplies, toiletries and other personal items you may want to take.
Learn more in this item-by-item Kenya packing checklist I compiled.
Check out this list of the best shoes for your safari I wrote, as well as this full safari gear packing list I published too.
Then finally, it's finding the right bag to put it all in, fitting it in there, choosing what you're going to wear to travel in and getting on that flight!
Bon voyage!
Mini Kenya Mini Travel Guide
Best Budget Safari Tours in Kenya
I travelled through Kenya as part of an amazing adventure with Absolute Africa who I highly recommend for their excellent prices, great customer service, wonderful itineraries and amazing overall experience.
And you can now get an exclusive discount on your Absolute Africa safari when you email them at [email protected] and quote the code BWSP.
For other Kenya tour choices, including those with a more comfortable travel style check out these top options.
Top 5 Packing Items for Kenya
#1 Good Camera – Don't even think about coming to Kenya without a good travel camera to capture the best of this country. The Sony A6000 mirrorless ticks my box every time!
#2 Walking Shoes / Boots – These are highly recommended for walking safaris in Kenya and for early morning or evening game drives when the temperatures can really drop. Keen Targhee's II always get my vote!
#3 Birkenstocks – And talking of footwear, a good pair of sandals are king in Kenya. I love my Arizona Birkenstocks which were perfect for keeping my feet cool and supported at the same time. Literally wore them every day in this country!
#4 Waterproof Windproof Jacket – I visited Kenya in the dry season, but was amazed how cold it got at night, especially when camping. Having my North Face lightweight, windproof and waterproof jacket saved me!
#5 Power Adapters – Kenya primarily uses British-style power outlets, so make sure you come prepared with a suitable Skross adapter.
Travel Money in Kenya
When it comes to paying for things in Kenya, it's great to know that accommodation and tours can generally be paid for by card.
ATMs are also available in most major towns.
Whether you use ATMs or pay by card however, you'll want to ensure you're not being charged overseas transaction fees or getting poor exchange rates, which is why I always take my Wise card away with me wherever I travel.
The easy way to spend abroad with real exchange rates, no markups and no sneaky transaction fees, you can use your Wise card just like a debit card in Kenya… and it links easily with Google and Apple pay – sold! Get yours here.
PIN IT TO PINTEREST!
So there you have it, my full guide on how to plan your perfect Kenya safari holiday.
Have you decided to book anything yet?
When and where are you looking to go?
Tell me all in the comments below…