If you know anything about me, you'll know I knew I was going to love travelling in Armenia… and I was right.
Arriving from Singapore, after a sticky and polluted time in Southeast Asia, it was a complete delight for me to find myself in the chilled, safe, quiet and clean environment of this Caucasus country.
What a dream!
Situated on the cusp of Europe and Asia, it's hard to define Armenia, so I'm going to try and describe it best as a mix between the Balkan states of the Europe and the near-eastern nations of Lebanon and Turkey.
I'm all good with places that defy description, in fact I love them even more, and no doubt that's one of the reasons I enjoyed my travels in Armenia so much.
But where in Armenia did I love the most?
Well it has to be the region that includes Geghard, Garni and Goght.
This is where I ended up getting stuck for 5 out of 10 nights in the country… and it could have been a lot longer did my travel plans for Georgia not call me away!
Definitely off the beaten track, with minimal information available online, I wanted to write this guide to help other independent travellers who may want to visit this region too.
So here we are, my full travel guide to Geghard, Garni and Goght in Armenia… enjoy!
---
Related Posts
---
This page contains affiliate links meaning Big World Small Pockets may receive a small commission on any purchases at no extra cost to you.
---
Why Travel to Geghard, Garni & Goght?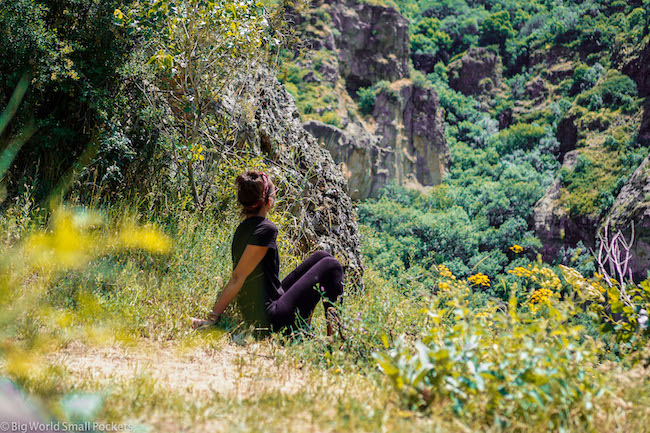 First up, 2 out of 3 of these destinations are home to some of Armenia's best sites, so you've got to come here to see them.
They are, namely, the UNESCO-listed monastery in Geghard and the Roman Temple in Garni.
And well, Goght, is just a super cute village in between Geghard and Garni where you should stay… but more about that later!
You should also visit this region for some of the best hiking in Armenia which, in a land made for hiking is quite the accolade, and to savour the amazing views and peaceful traditional lifestyle people lead here.
It feels like a very real, very rural Armenia and, like most of the country, is delightfully free from tourists and full of friendly locals (are they always correlated?!)
There's also yummy, homemade food and delicious homemade wine to be drunk everywhere around here.
Sold yet?!
If not, just know that visiting Geghard, Garni & Goght is definitely one of my top things to do in Armenia.
How to Get to Geghard, Garni & Goght
Actually, Geghard, Garni and Goght are not that far away from Yerevan.
Situated just to the southeast of the capital, getting here is delightfully easy, which is a real treat in Armenia I can tell you!
That's because, due to a lack of tourist infrastructure and some poor road conditions mostly, getting around Armenia can generally be a little tricky.
Public minivans, known as marshrutkas, are the cheapest way to go, but they only ply the main roads and generally only operate to and from the capital.
Public Transport
Luckily however, this does mean Garni and Goght are 2 places you can reach easily from Yerevan using public transport.
In saying that, there are 6 marshrutka stations across Yerevan and finding out which buses leave from which stations is an adventure in itself!
Check out this useful website, which had the most current info I found online, otherwise ask where you're staying for the latest details, as the often buses often change stations!
When I was heading to Geghard, Garni and Goght, I had to get the #44 marshrutka from the France Square bus stop, which is right near the Opera House in Yerevan, situated along Mesrop Mashtots Avenue.
I took this marshrutka towards Gai Bus Station, which is outside the city and it cost me 100 Armenian Dram for the 20-30 minute journey.
I got off at the Mercedes Benz dealership – it's big and hard to miss on the right hand side – and then walked down the street to the side of the dealership, which is Samvel Safaryan Street.
From here, I picked up another marshrutka which took me to Goght via Garni in around 1 hour.
Geghard is not reachable by public transport, but you can walk or hitch there from Goght.
As always in Armenia, you have to wait for the marshrutka to fill up before it leaves, but if you make the journey to Goght in the morning especially, this won't take long.
The price for the 2nd marshrutka to Goght was 300 Armenian Dram.
Hitchhiking
If the minivan situation sounds all too confusing however, the good news is that hitchhiking is easy and commonplace across rural Armenia – often you'll be picked up on the street without even having to stick your thumb out!
I recommend this option if you are trying to get to Geghard, Garni and Goght from anywhere else in the country, for example, Khor Virab or Areni.
Tours & Taxis
Failing all of the above, guided day trips or private taxis will happily shuttle you to Geghard, Garni and Goght. If you can get a group together this can be a surprisingly cost-effective option.
A taxi from Yerevan to Goght should cost around 5000 Armenian Dram.
A taxi from Khor Virab to Goght costs around 10,000 Armenian Dram – bearing in mind the driver will likely have to backtrack with no one in his car.
5 PACKING ESSENTIALS FOR ARMENIA
#1 Caucasus Lonely Planet – Still my go-to when it comes to guidebooks, the Caucasus Lonely Planet packs in a huge amount of information about travelling in Armenia, Georgia & Azerbaijan and will likely save you the cost of a guide in many of this country's fabulous historical attractions.
#2 Good Camera – From the mountain landscapes to the village life, you'll want a good travel camera to capture the best of Armenia and the Sony A6000 mirrorless ticks my box every time!
#3 Headscarf – If you're heading to see any monasteries in Armenia, ladies will need to come prepared with a headscarf to enter, as well as a long skirt or pair of pants and long-sleeved top.
#4 Hiking Shoes – No trip to Armenia would be complete without spending at least a day or two hiking in this country's untouched rural landscape. Being equipped with a pair of good walking shoes is essential therefore and Keen Targhee's II always get my vote!
#5 Rain Jacket – I visited Armenia in June, technically the start of summer and the high season, but was amazed how storms suddenly blew in across this high altitude country. Having my North Face lightweight, windproof and waterproof jacket therefore saved my life!
How Long to Spend There
A lot of people day trip to Geghard and Garni from Yerevan and return to the capital in the evening, but I think you're doing the place a disservice if that's all you get to see.
Instead, why not allow a few days to stay here and to soak up the Armenian culture and views – honestly I found both irresistible.
If this sounds like a winner to you too, then allow half a day to get to Goght from Yerevan – perhaps 2-4 nights to unwind, hike and sightsee from here – and then half a day to get back to Yerevan or onto your next destination – possibly Areni, Khor Virab or Noravank Monastery.
Learn more in my full Armenia itinerary post, which gives you 5 different options for trips in this country.
HOW TO GET TO ARMENIA
The capital of Armenia, Yerevan has a small, but well-appointed international airport that is an easy taxi ride from the city centre.
The cheapest flights generally arrive here from Dubai and Istanbul, so check out FlyDubai and Pegasus Airlines via Skyscanner if you're looking to score a well-priced ticket.
Otherwise, many people take a budget flight to Kutaisi in Georgia, and from there head to Tbilisi and cross overland to Yerevan. This is easily and cheaply done by either an overnight train or a local minivan (marshrutka) ride, which takes around 6-7 hours.
Where to Stay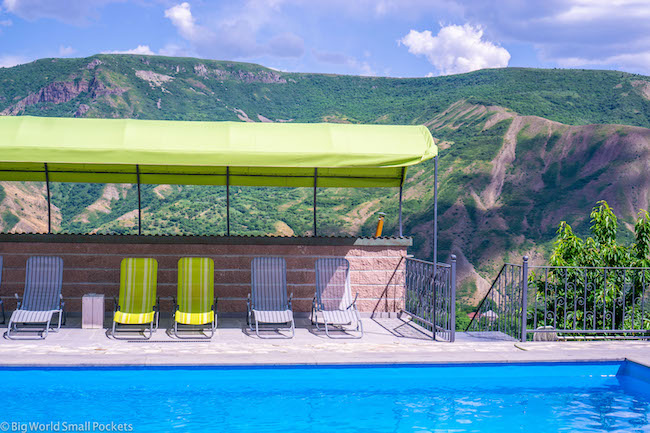 So I've kinda been holding back on a little secret here…
Namely that one of the reasons I stayed so long in this area, and one of the reasons you'll want to as well, is because it's home to my favourite accommodation in Armenia.
Big call!
Yes this is also the reason to visit Goght, which is otherwise just a small local village situated between Geghard and Garni.
Because in Goght, lies the 3G's Camping and Guesthouse.
Trust me, this place is the best.
From the peaceful vibes, friendly owners, stunning views and top facilities, you're not going to find better in Armenia I promise you.
The swimming pool, gardens and loungers here make it the perfect place to relax, and the camping options for those with or without their own tent or van, make it ideal for budget travellers too.
There are 2 well-equipped kitchens if you want to make your own food and some delightful terraces where you can eat it too.
Otherwise, breakfast and drinks can be bought here if you prefer.
Learn all you need to know about Geghard and Garni and hiking from the staff at 3G's, they honestly can't help enough.
To get to 3G's via public transport, get a marshrutka as I describe in the 'How to Get to Geghard, Garni & Goght' section of this article. Get out at the last stop in Goght, which is on the edge of the village by a small shop and fuel station.
From here, 3G's is a short walk uphill, followed by a turning off to the right, which is well-signed.
THE BEST TRAVEL INSURANCE FOR ARMENIA
I would never travel to a destination like Armenia without proper coverage and always recommend travel insurance from World Nomads which I've used during my time in this country and beyond.
I love World Nomads great protection for outdoor activities like hiking – essential in a place like Armenia – as well their easy claims process and the ability to buy or extend coverage with them when you're already overseas.
Things to Do in Geghard, Garni & Goght
You have to visit the UNESCO-listed temple in Geghard and can easily walk or hitch from 3G's camping there.
On the way, don't miss the traditional lavosh bread breaking and buy some, it's delicious!
You also can't miss the Roman temple in Garni, which is the only pre-Christian monument still standing in Armenia… did you know Armenia was the first nation-state to adopt Christianity?
Below Garni Temple, you can also enjoy a walk to the Symphony of Stones – a fascinating rock formation that makes for a nice stroll.
And finally, don't miss the fresh produce stalls and charming village life of Goght.
In and around this hamlet you can enjoy several wonderful hikes, including to an abandoned monastery, which is an epic 5-6 hour trek. Ask Sandra at 3G's for all the info and download maps.me for the routes, as the trails are not properly maintained in Armenia as a whole.
Hike Armenia is another great resources if you like walking, so check out their website or pop and see them in their office in Yerevan – details in this post.
When to Visit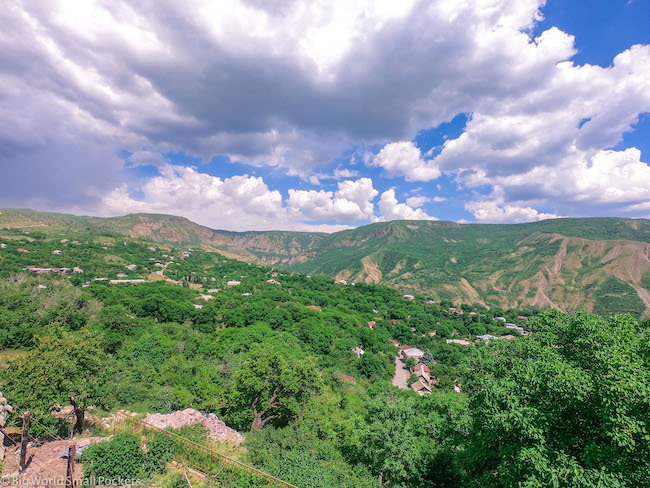 Winters in Armenia can be fiercely cold with snow and freezing temperatures not uncommon across the country, especially in the mountainous areas. At this time, many roads become impassable and travelling difficult.
As such, I would definitely visit Geghard, Garni and Goght during their summer months, when the climate is wonderfully warm and the skies almost always blue.
The summer season here runs roughly from May to September, however July & August can be super-hot (like 40 degrees hot), so do bear this in mind if you're not a fan of the heat and want to enjoy some hiking.
I visited Armenia in June and the weather was perfect – very warm and clear days, with loads of wildflowers around and perfect camping / hiking conditions.
Based on this, I would suggest the shoulder season months of May, June and September as the ideal times to visit this country when the weather is good enough to enjoy getting outdoors and sightseeing, but not too hot that you'll worry about burning and dehydrating!
What to Take
Outside of the usual clothes, personal items and toiletries etc, you will definitely want to bring some good activewear gear to Armenia, including decent walking shoes.
A hat, good hiking daypack and metal water bottle, would also be excellent ideas, because remember, in Armenia, you can drink the water almost anywhere!
Bring a good travel camera to snap the amazing views of this country, as well as the maps.me app on your smartphone and a kindle or book for the downtime.
Don't forget insect repellent, sunglasses, hiking socks or sun screen too.
You'll also want to bring a sleeping bag or a tent if you're camping out, otherwise there are pre-pitched ones available to sleep in at 3G's.
Finally, do bring cash with you (there's no ATM's anywhere outside of Garni) and any essential supplies – shops here are small and badly stocked!
PIN IT TO PINTEREST!
And that's it, my travel guide to Geghard, Garni and Goght.
Can you now see why they make up my favourite destination in Armenia?
If you've been there recently and have any updated info, please do drop it into the comments box below so we can help out other off the beaten track travellers.
Thanks 🙂