I've got to be honest, I expected to be pretty cynical about Singapore – a city known for its sterile feel and rampant consumerism (not my vibe!)
But having spent almost a week in this country, I've got to admit I was wrong!
And it's not often that happens, so you know this is serious!
Yes, despite all predictions, Singapore blew me away.
Seriously, I challenge the most hardened cynic not to be impressed by this city – how clean it is, how diverse it is, how great the public transport is and just how many incredible FREE places to visit in Singapore there are.
And don't even get me started on the airport… it's like Disneyland for travel bloggers!
Amazingly, I actually spent way less money in Singapore than I expected to as well, just another reason to like this destination!
So if you want to keep your budget to a minimum too, then check out this list of the 14 best places to visit in Singapore for free!
---
Related Posts
---
My stay in Singapore was kindly sponsored by Beary Best Hostels, but, as always, all views are my own.
This page contains affiliate links meaning Big World Small Pockets may receive a small commission on any purchases at no extra cost to you.
---
#1 Botanical Gardens
Straight in at number 1 on this list of the best free places to visit in Singapore is the amazing Botanical Gardens, which form a huge, green public space complete with a lake, family activities, walking trails and, of course, an impressive array of trees and plants too.
Getting to the gardens couldn't be easier either, with a dedicated MRT stop (called the Botanic Gardens) right outside and the top highlights when you're there including the National Orchid Garden, the Waterfall, the Keppel Discovery Wetlands and the Eco Lake.
Actually, given how massive this place is (74 hectares to be exact!), you really could spend a whole afternoon, if not a whole day, here.
Because that's one of the best things that surprised and delighted me about Singapore – it has so many wonderful, free public spaces and a heck of a lot of large parks!
#2 MacRitchie Trail
And talking off those free green spaces, here's another beauty that's an absolute no brainer when it comes to the best free places to visit in Singapore.
Yes, while the Botanical Gardens are beautiful, they are certainly manicured and much more like a park, which means if you're looking to get a bit of tropical jungle into your trip, then I'd head for the MacRitchie Trail instead.
The MacRitchie Trail is, as the name suggests, a hiking route, so strap on your walking shoes and get out here!
If you're up for a long stroll, then this trail will eventually bring you to the acclaimed TreeTop walk and this is your chance to get a canopy view of the beautiful landscape around.
The MacRitchie Trailhead is not connected to the Singapore MRT system yet, but several regular buses run there including the 980.
It's great that reserves like this exist to protect stretches of wild, natural beauty… and it's even better that they're free to enter.
#3 Bukit Timah Reserve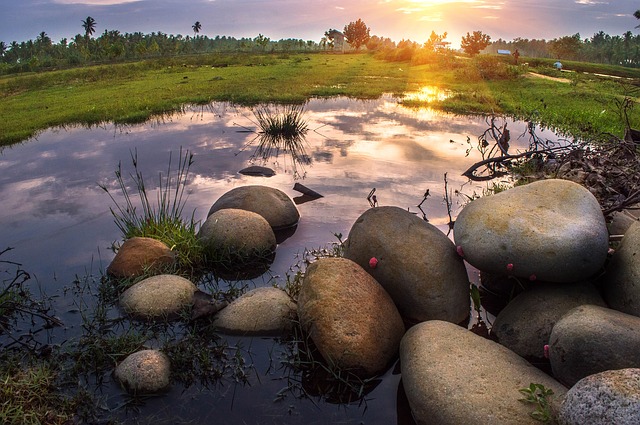 And sticking with the green theme, another wild and jungly green space that is certainly one of the best places to visit in Singapore for free is Bukit Timah Nature Reserve.
Not far from the MacRitchie Trail, Bukit Timah is less popular however, meaning less crowds, which is largely due to the fact it's not well connected on public transport.
From the closest bus stop or MRT station it's around a 20 minute walk to the reserve entrance, so you may find getting a Grab here the best option.
A large swath of natural rainforest is being preserved by this reserve and there's a good number of walking trails too.
Expect to see monkeys here, as well as lots of birds and insects, so don't bring food with you in your bag unless you want to attract a lot of new friends!
#4 Fort Canning Park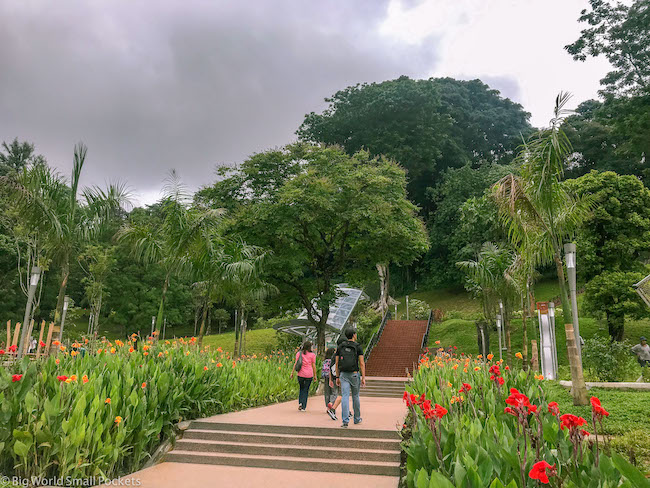 Ok and last up on the green spaces (look there's just so many good ones ok!) is Fort Canning Park.
Another of the top places to visit in Singapore for free, this one is a winner with families, as it is well-connected by public transport (Fort Canning MRT station is part of the Downtown Line) and has a wealth of activities on offer, including an extensive concert and exhibition schedule.
There's several good walking trails within the park, as well as playgrounds and historical landmarks too.
Fort Canning Park is hilly though, so do come here ready for a bit of a climb!
#5 East Coast Park
Ok I lied, but this is the last green space on this list, I promise!
After all, I couldn't write a piece about the top free places to visit in Singapore and not mention the local favourite of East Coast Park.
I only stumbled across this gem, because I went to meet up with friend's who actually live in this area and being a sunny Saturday, was amazed to see that this is definitely where the Singapore locals come to hang out and relax at the weekend.
With a white, sandy beach, as well as skate park, cafes, water sports and gorgeous sunset views, this is another one for the whole family.
No MRT stations nearby I'm afraid, so your best option for getting to East Coast Park is either a Grab or a bus if you're up for a bit of a walk!
#6 Koon Seng Road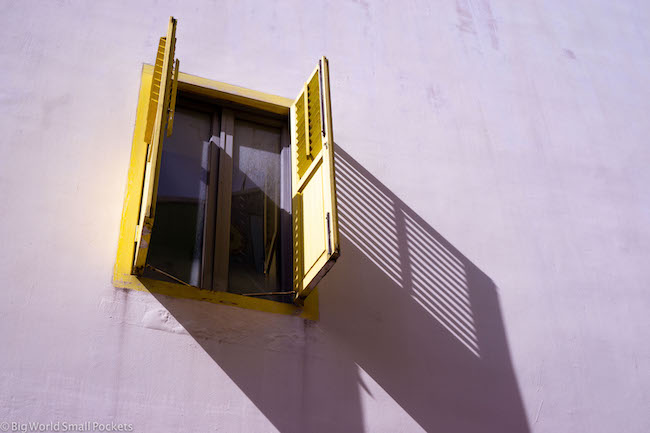 And right near East Coast Park is one of the best places to visit in Singapore that you simply won't find on many recommendation lists for this city.
And that's because it's in a completely residential area – I only stumbled across it by accident, because the friends I mentioned before live right near here!
And what a joy that I did, because this street is home some of the prettiest houses I've seen ever.
Yes built and maintained in the classic Peranakan style that is typical to Singapore and Malaysia, this road has some of the best examples ever and a quick stroll down here with your camera is definitely one of the best free things to do in Singapore.
#7 Emerald Hill
And another great place to spot beautiful Peranakan style houses in Singapore, which may be a more convenient location for you, is Emerald Hill.
This spot is more well-known and definitely more frequented by the Instagram crowd, but that doesn't detract from the fact it's one of my fav places to visit in Singapore.
The MRT stations of Orchard and Somerset are just a short walk away and many of the homes, which are still occupied, are located on a more pedestrian-friendly street, which makes them great for snapping!
#8 Raffles Hotel
And if it's historical sights you're after in this country, then you'd be hard pushed to find a more impressive icon than Raffles Hotel.
With something of a legendary status in these here parts, even a sneaky peek from the outside of this grand colonial masterpiece is well worth it.
Admittedly where I'm going to be staying in Singapore when it's big world, big pockets… until that time however, the Raffles Hotel is definitely one of the best places to visit in Singapore from beyond the gates!
#9 Little India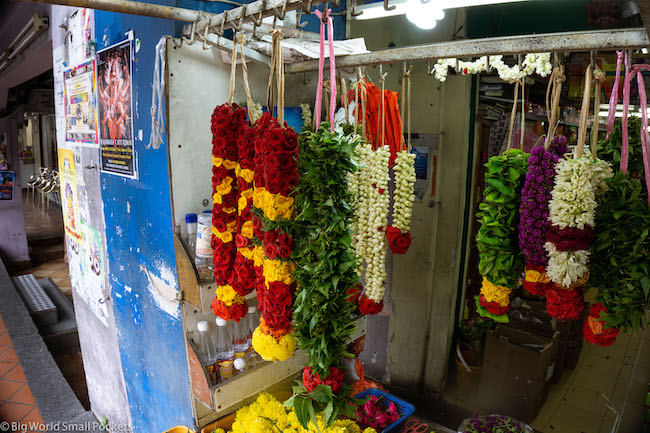 But moving away from the colonial history and onto another element of Singapore's very diverse heritage and population, there's no question that Little India is one of the best places to visit in Singapore.
From the delicious food on offer to the street markets, this is a culturally vibrant area, where you'll immediately feel transported to another part of the world.
Wandering the streets here is a great activity in and of itself, but try to make sure your route takes you past the Sri Veeramakaliamman Temple – an iconic Hindu place of worship that was built in 1881.
And, if you can time your visit here with one of the 4 daily prayer sessions, even better!
The MRT station of Little India is perfect for accessing this area and my advice is to visit either at lunch or dinner time so that your taste buds can be fully satisfied by the end of your trip!
#10 Sultan Mosque
And just down the road from Little India is Arab Street, so no points for guessing the type of culture you can find here!
Yes wandering past all the delicious Middle Eastern restaurants and carpet shops had me very happy, especially when it meant I could get my fill of hummus!
I also stayed in this area too (that's how much I love hummus… joking, not joking!) and loved the quieter, chilled vibe of Arab Street as well as the fun restaurants / cafés / bars vibes on neighbouring Haji Lane.
And just around the corner off Muscat Street is the Sultan Mosque, a beautiful architectural structure and the largest mosque in Singapore, originally built in 1825.
#11 China Town
Ok so we've touched on Little India and Arab Street, so now it's time to head to Chinatown – are you getting a flavour for just how diverse Singapore is yet?!
Chinatown sits on the edge of CBD, so you'll definitely notice it's a little more busy around here.
That said, you can get away from the hustle and bustle up at Ann Siang Hill and the surrounding streets which are all filled with lovely cafes and shops.
Just nearby, the historic street art site known as the Thian Hock Keng Mural is also worth checking out and you can't miss the Sri Mariamman Temple (yes a Hindu temple in the heart of Chinatown) as well as the Buddha Tooth Relic Temple, which is one of the most beautiful examples of a Buddhist Temple I've ever seen.
Situated in the heart of the city, there's loads of transport options for getting to and from Chinatown, so heading there from just about anywhere in Singapore couldn't be easier!
#12 NUS Museum & Gillman Barracks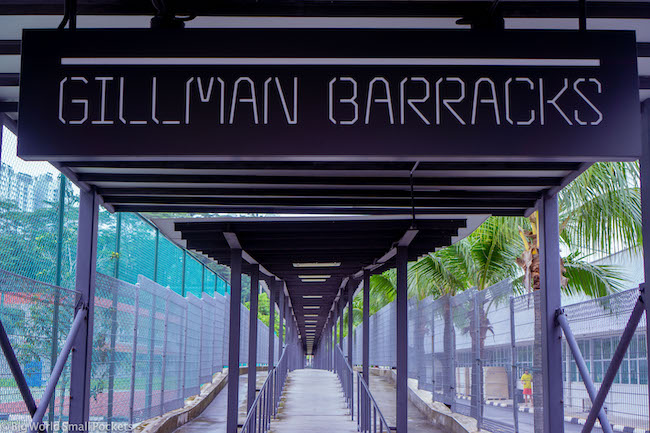 And if it's art you're after, then the 2 best free places to visit in Singapore are the NUS Museum (which is housed within the University) and Gillman Barracks, which is a space dedicated to contemporary art.
Both of these options are quite off the beaten travel track in Singapore, so taking time to visit either of them will have you heading to some very non-touristy areas that are all part of the experience.
#13 The Jewel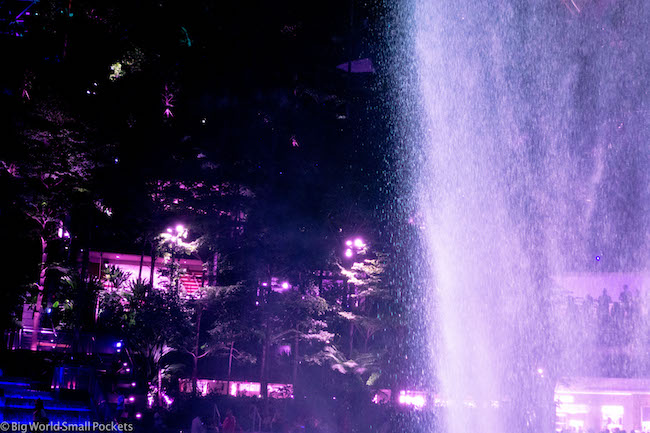 And of course, we can't talk about the most amazing places to visit in Singapore and not mention the new jewel in the crown… see what I did there!
Yes, The Jewel only opened this year (2019) but has already become an Instagram sensation, which is why you probably think that it's been around for ages.
In fact, this is the new kid on the block and, billed as the world's largest indoor waterfall, it's quite the impressive kid!
And what's even more amazing, in a kinda weird and wonderful way, is that The Jewel is actually located in Singapore's Changi Airport.
Just outside of Terminal 1, but accessible from all terminals, this huge, free marvel can be seen as you head out of arrivals to get your Grab taxi into the city – bonkers!
Yep, you really can start ticking off those bucket list sights before you've even left the airport in Singapore – that's just how amazingly efficient they are around here!
#14 Gardens By the Bay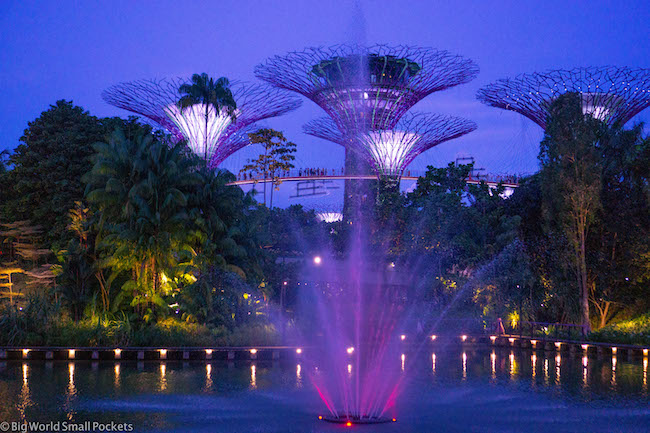 And finally on this list of the 14 best places to visit in Singapore for free, I couldn't finish without mentioning the big daddy of them all, Gardens By The Bay!
This was actually the grand finale to my time in Singapore and it's so seriously impressive, that I couldn't resist including it as the finale in this article too.
A huge public area, filled with those famous Supertree structures, you can stroll all the bridges and walkways here for free during the day, but the real treat is to visit at night, when the free light show takes place at 7:45pm and 8:45pm daily.
Get there at least 15 minutes early to bag yourself a spot as you lie back with all the other families, locals, tourists and travellers to enjoy a feel-good 20-minute show amidst the tropical evening heat and one of the most recognisable views on earth!
And if you want to visit Singapore's popular Flower Dome and Cloud Forest, which are part of the Gardens by the Bay, I suggest buying your e-ticket in advance to save yourself time and hassle.
PIN IT PINTEREST!
And there you have it folks, my list of the 14 best places to visit in Singapore for free!
Do you have any to add to this list?
Are you a lover or a hater of this Southeast Asian surprise country?
Do tell me all in the comments below…