In my opinion it doesn't get much more diverse than Malaysia.
Yes this Southeast Asian country really is the king of multiculturalism in just about every single way.
From the food to the people, the landscape to the architecture, Malaysia is one giant jigsaw, a collection of societies layered on top of, and into, one another in a fascinating blend.
And what makes Malaysia even more fascinating is the fact that it's quite a small country, meaning its diversity is crammed into tight space.
For travellers, of course, this is a dream come true, especially for those on a tight timeframe or a tight budget!
And to show you exactly why, here's my top Malaysia itinerary that will have you seeing, smelling and soaking in as much of this dazzling country as possible.
---
Related Posts
---
This page contains affiliate links meaning Big World Small Pockets may receive a small commission on any purchases at no extra cost to you.
---
Beginning Your Malaysia Itinerary
If you're looking to grab a long distance flight into Malaysia, then the excellent airport in Kuala Lumpur provides easy access.
A huge, international hub airport, check out Skyscanner if you're looking for the best flights details.
Otherwise, you may well find a cheaper flight to Singapore and then either take a short flight to Kuala Lumpur or an easy coach service across the border.
I've done the later of these 2 journeys and found it very simple and straightforward.
Coaches take around 6-7 hours between the 2 cities and should be booked a few days in advance via 12Go – an excellent, secure website I always use to book my overland travel in Southeast Asia.
Alternatively, you may also be arriving into the north of Malaysia, especially if you are coming from either Thailand or Myanmar.
Personally I arrived into Penang in the north of the country from Bangkok in Thailand via an inexpensive AirAsia flight I booked through Skyscanner – that is one reason why this Malaysia itinerary begins in the north of the country.
Otherwise, if you are enjoying some Thailand island times, there are some simple boat / bus border crossings from coastal towns and islands across to Malaysia. Again, I advise booking these buses in advance via 12Go or check out Bookaway who have some of the best rates going.
If you want to learn more about how much a 2 week trip to Malaysia might cost you, hop across to this budget breakdown post I wrote, which follows exactly what I spent.
Organising Your Malaysia Itinerary
The country of Malaysia is split into 2 main sections – the mainland part and the Borneo section.
Because this Malaysia itinerary covers only 2 weeks – which is not enough to span both sections – and because I'm budget travel-focused, this itinerary sticks to the mainland section of the country.
Much as I would love to travel to the Borneo part of Malaysia, especially to see the Orangutans, doing so would have significantly hiked up the price of my trip.
Not only is Borneo more remote and more sparsely populated (both factors that can rise the price of travel) but actually getting there requires an arduous journey involving at least 1 flight, and therefore taking up time and money.
It's for this reason that my Malaysia itinerary sticks to the mainland section of the country… as do most travellers visiting here too.
Given this, and the fact that mainland Malaysia is a geographically long country, I highly advise travelling in one direction (either north to south or visa versa) to ensure you make the most out of your 2 week trip.
Personally, I'd begin in the north of the country and make my way south, as it's likely you'll be departing out of Kuala Lumpur either to Singapore or further afield.
In addition to this, it's also very easy to get to Penang in the north from either Kuala Lumpur, Singapore or Thailand via short flight and begin your Malaysia fun there.
Days 1-3: Georgetown, Penang
Budget Accommodation Pick: House of Journeys
I've explained why above, but I recommend beginning your Malaysia itinerary in Penang.
This large island is situated in the northwest of the country and boasts good boat, bus and plane connections.
The capital of Penang is Georgetown, a UNESCO World Heritage City famous for its food, architecture and street art.
A colonial trading post, Malay, Chinese, Indian and European people have mixed here for centuries and the result is a fascinating blend of heritage and history.
This is brought to life in the different areas of the city (from Chinatown to Little India) and the accompanying sights, sounds and smells.
Day 1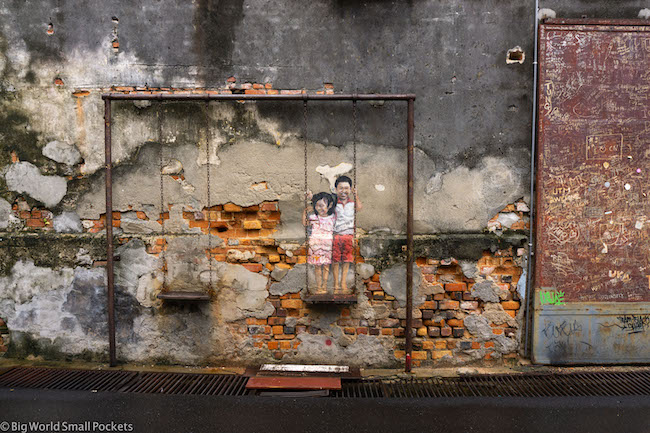 I'd recommend allowing at least one full day to discover Georgetown properly as strolling the many different parts of this city makes for a fascinating adventure.
3 times a week there's a free walking tour led by the tourism agency. Places are limited and offered on a first-come, first serve basis, so it's a good idea to get here at least half an hour before the tour departs at 10am.
Otherwise, if you miss the tour like me (oops!) then grab a map and create your own tour taking in the famous street art, beautiful jetties, bustling markets, various temples and colonial waterfront area of Georgetown, along with its many great cafes and eateries.
The free shuttle bus around the city makes travelling super easy here too if your legs get tired!
Day 2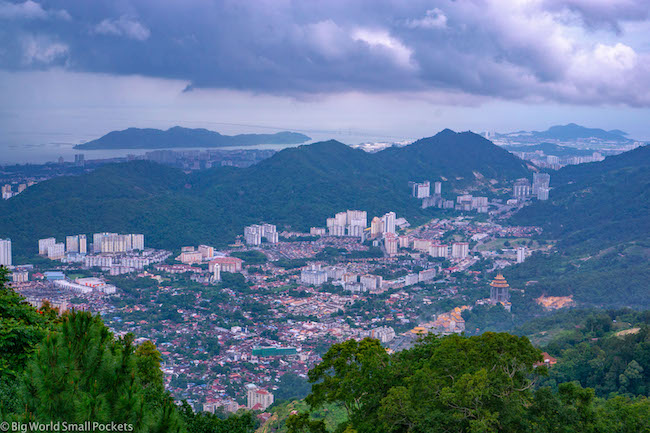 On your second day, I'd head to Penang Hill for some time outside the city and some incredible views.
You can catch bus 204 from outside the Container Hotel in central Georgetown, which runs every half an hour and costs 2 Ringitt (FYI. You need exact change!)
Take this bus to the lower Penang Hill station, stopping at the famous Kek Lok Si Temple on the way if you fancy.
From the lower station you can then catch the funicular up to the top of the hill (or climb if you're feeling energetic) for spectacular views.
There's cafes and a whole heap of other attractions up here if you want to get involved too.
Day 3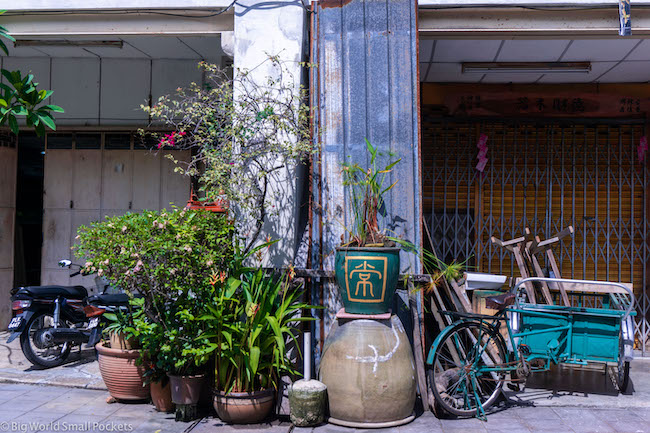 On day 3, why not head out in a different direction from Georgetown to explore another area of Penang, this time the beautiful Monkey Beach and Penang National Park.
Again, you can use the excellent local bus service to get out here, otherwise, hire a driver for the day so you can explore at your leisure.
Getting a group of people together to split the costs can make this quite an attractive option, especially if you use the ride-sharing app Grab to price out your itinerary and bargain with your driver accordingly!
Days 4-6: Tanah Rata, Cameron Highlands
Budget Accommodation Pick: Father's Guesthouse
From Georgetown in Penang, it's time to head inland to the gorgeous area of the Cameron Highlands.
Situated up at altitude, this gorgeous spot was definitely one of the highlights of my Malaysia Itinerary and I ended up spending 5 nights here.
If you're on a tight timeframe however 3 nights would be enough for you to enjoy the cool, fresh air and gorgeous hiking of this highland area, as well as the amazing tea plantations that pepper this landscape.
Learn more in my ultimate travel guide to Malaysia's Cameron Highlands.
Day 4
Hopping on a bus from Georgetown to Cameron Highlands can either be down directly from the city or from the main bus terminus in the neighbouring town of Butterworth via 12Go.
I'd start early in the morning because this journey is likely to take all day. You'll pass through the town of Ipoh before slowly starting to ascend the twisting and turning roads that characterise you're arrival into the highlands.
Stay on the bus until you reach the town of Tanah Rata – normally the last stop – then walk from the bus station to the excellent Father's Guesthouse where I advise basing yourself during your time here.
It really is a great spot with private and dorm rooms, cosy sitting areas and some lovely roof terraces.
For dinner head to Singh Chapati early so you can grab one of the tables at this busy family restaurant which only opens for dinner and only stays open until the food runs out… which is not often very long!
Day 5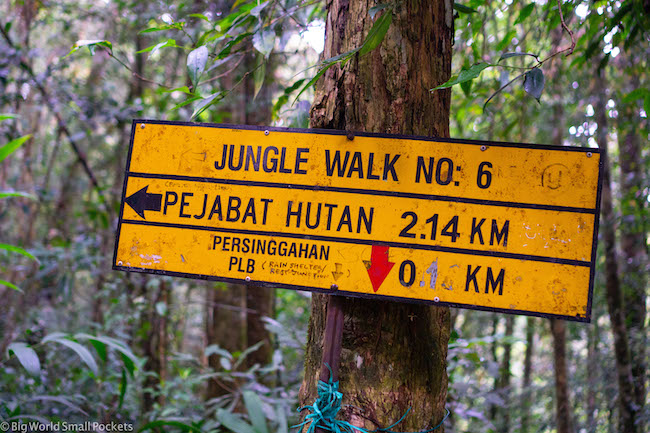 During 5 day it's time to get out and explore the beautiful natural landscape of the Cameron Highlands.
One of the best free things do to in this area is discover the local hiking trails which range in both difficulty and length.
Most last just a few hours, but can be joined together to create full day treks.
Speaking to the helpful staff at Father's Guesthouse is a great way to get the latest info on which paths have been washed out by rain and which have been recently maintained, as this information can change rapidly.
It's also a good idea to download the relevant maps.me in case the paths are less clear and well-marked than you hoped!
While you can hike these paths by yourself, for general security purposes, I'd advise teaming up with some fellow travellers to enjoy a day walking out together just in case!
That said, you certainly don't need a guide, which makes this a great cheap day on your Malaysia itinerary!
Day 6
Today is your second day to explore the Cameron Highlands, in particular, to check out the amazing tea plantations that dot this countryside and to learn about the process of making this wonderful drink.
You can take numerous day trips from Tanah Rata to the plantations around, which will generally include a tour of a tea farm and lots on information, as well as some great photo opps.
Alternatively, you can take a taxi to either of the 2 most famous tea plantations to snap the views and enjoy a cuppa or 3.
South of Tanah Rata is Cameron Valley Tea, which is closest to the town and therefore the cheapest one to travel to.
Otherwise, north of Tanah Rata is BOH tea plantation, the most famous in the region. This is the one most of the organised excursions take you too and on the way there are some stunning scenes of undulating plantations which you can snap to your heart's content.
Days 7-10: Coral Bay, Perhentian Islands
Budget Accommodation Pick: Ombak Dive Resort
Day 7
On leaving the Cameron Highlands it's time to continue your journey across Malaysia to visit the islands that lie off its easterly coast.
While Kapas Island may be easier to get to, I'd head for the remote Perhentian Islands if I were you as they are more than worth the trouble!
It will likely take you the best part of the day to reach them as the journey involves a bus ride to Kuala Besut and from here, a boat ride to the Perhentian bay of your choice, so make sure you buy a ticket that involves both forms of transport.
Again these can be bought online via 12Go or via your guesthouse in Tanah Rata.
Then, the only thing left to do is decide which island you want to visit and which beach within that!
If you're a backpacker like me, then it's likely you'll want to head to the smaller island Kecil as this is where the bigger budget travel scene lies – the larger island of Besar is mostly geared towards families and couples.
And within Pulau Perhentian Kecil, there are 2 main beaches to stay on.
Long Beach is much more developed with more choice when it comes to hotels / eateries etc. The beach is also a longer strip of sand with some beautiful clear waters lapping against it.
Coral Bay is much smaller and while the beach isn't perhaps quite as nice, it's still pretty blissful and the crystal-clear water to die for! There's few good accommodation choices here too and while things tend to be a little bit less heeled this side of the island, there's an undeniably more intimate, close and personal feel.
In this way, Coral Bay reminded me a bit of M'Pai Bay on Koh Rong Sanloem island in Cambodia.
Perhaps no prizes for guessing which beach I stayed on then as part of my Malaysia itinerary!
But don't feel you have to decide until the last minute however, as long as you get on / off the boat at the right spot, everything else is the same!
Day 8 & 9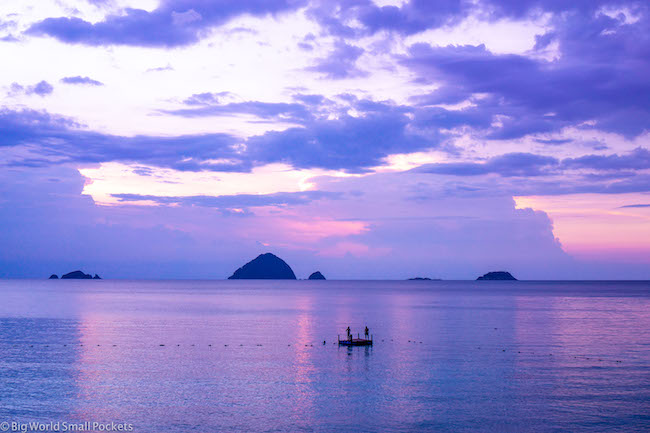 With limited electricity, wifi and general connection with the outside world, time in the Perhentian Islands is all about chilling the F out during your Malaysia itinerary!
Hoorah!
It's also the perfect surrounds to do just this, as these tropical islands are a feast for the eyes with their beautiful beaches, lush jungle interiors and warm, wonderful water.
Unsurprisingly then, snorkelling and scuba diving here are 2 popular activities, as is just chilling the heck out, swimming in the ocean or enjoying a jungle walk across parts of the islands.
Aside from that, it's all about bringing a book, pulling up a chair and relaxing!
So on your marks, get set, go do nothing!
Day 10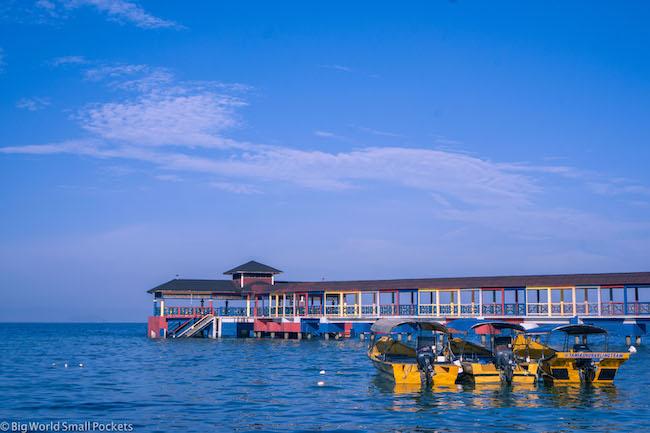 If you're a beachy person, then I'd spend one more day relaxing in the Perhentian Islands before getting the night bus to Kuala Lumpur.
This is perfect as you won't have to leave the islands until around 4pm, when you'll be transferred by boat back to the mainland, before taking a taxi to the Kuala Besut bus terminal and from here hopping on a night service to Kuala Lumpur.
Just make sure to book this bus at least the day before and to ensure your transfer boat will be running at the time you require too.
Take a blanket and pillow for the bus as these aren't provided and they have a tendency to crank the aircon something chronic!
Day 11-12: Malacca
Budget Accommodation Pick: Nomaps
Day 11 & 12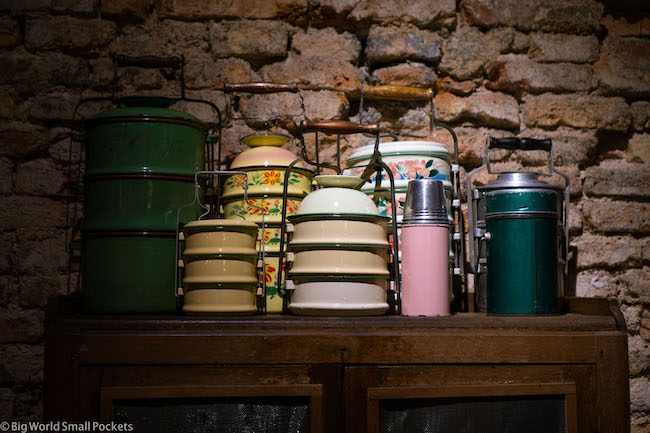 You'll arrive into Kuala Lumpur early in the morning on day 11, and I recommend then heading straight out for another 2 hours on a bus to the charming colonial city of Malacca.
Here you can spend a relaxing time exploring the history, culture and cuisine of this pretty town, which is similar to Georgetown in Penang, but a little less hectic and a little more charming and pretty around the edges.
Checking out the temples, architecture, street art and spaces is a key thing to do in this city, as is strolling along the lovely riverside or scaling the famous tower.
I've actually written a post all about the best things to do in Malacca on a budget, so check that out for some more ideas.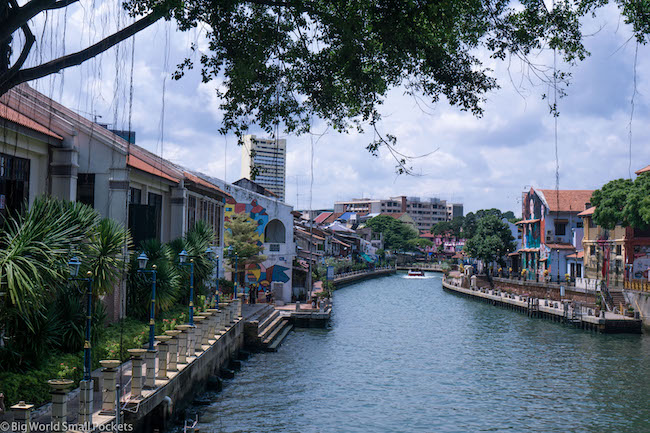 Otherwise, I recommend spending 2 nights in this city as part of your Malaysia itinerary.
#1 because you'll likely be exhausted from the overnight bus ride and
#2 because Nomaps, which is the best budget accommodation choice here, is such a great place to stay with its kitchen, relaxed vibes and super central location.
Day 13-14: Kuala Lumpur
Budget Accommodation Pick: Birdnest Guesthouse


Day 13 & 14
And finally, the last destination on your Malaysia itinerary is the capital of this country, Kuala Lumpur itself.
I recommend hitting this spot last because it's likely your international flight will leave from here and therefore it makes a convenient endpoint to your adventure.
Otherwise, if you're carrying onto Singapore after your Malaysia travels, you may actually want to visit Kuala Lumpur directly after the Perhentian Islands and save Malacca until last (essentially swapping days 11&12 and days 13&14 around).
This is because, from Malacca, you can get buses straight across the border to Singapore rather than having to journey back to KL first.
Anyway, working on the assumption you are flying out of Kuala Lumpur and will save seeing the city until last, you'll find here such a wealth things to do on a budget that you can certainly fill at least 2 days of your time in the capital.
As I've written in my article about the 21 best things to do in Kuala Lumpur on a budget, I feel this city gets an unfair rap from travellers, many of whom label it as boring and sterile.
Nothing could be further from the truth however and I strongly urge you to check out many of the great attractions in this city over the course of the 2 days you have here.
My highlights included:
Batu Caves
Petronas Towers & KLCC Park
KL Forest Eco Park
Thean Hou Temple
Little India
Ilham Gallery
Getting to any of these attractions is also easy with public transport in Kuala Lumpur, which is all cheap, easy and plentiful.
With a simple, clear Metro service that runs very frequently across several different lines, Grab and Uber also operate across the city, and there's even a free shuttle bus that runs around the capital on a 4-coloured loop system.
English-speaking staff can be found at all stations and there's helpful signs, as well as ticket machines instructions in English too – winning!
Extra Time for Your Malaysia Itinerary
If you have longer than 2 weeks for your Malaysia itinerary then first you should feel very lucky!
Secondly, you should check out the following destinations, which also come highly recommended as other places in Malaysia to explore:
Langkawi – An island near Penang in the Northeast of Malaysia. Allow at least 2-3 nights for this destination.
Ipoh – A city situated between Penang & the Cameron Highlands. Allow 1 night.
Taman Negara – Rainforest area close to the Cameron Highlands that is great for hiking and wildlife spotting. Allow 1-3 nights or check out this shared day trip from Kuala Lumpur.
Kapas Island – Off the beaten track island off the east coast of Malaysia.
Tioman Island – Island off the Southeast coast of Malaysia known for its great diving.
PIN IT TO PINTEREST!
And there you have it, my top Malaysia itinerary for 2 weeks in this fab country.
Are you planning on heading there soon?
Or perhaps you've already been and loved it?
Let me know all in the comments box below…