Is it Asia, is it Europe?
The Middle East?
The Near East?
A country that defies definition in so many ways, Armenia is rapidly gaining a reputation as a hot travel favourite.
And is it any surprise?
Sandwiched between Iran and Turkey, Georgia and Azerbaijan, Armenia sits in the Caucasus region and boasts not only the friendliness, affordability and fantastic cuisine of its eastern influences, but also the stunning scenery and superb hiking of its northern neighbours!
What a combination!
But best of all, it's still really only those intrepid nomads, with a strong sense of adventure, who are travelling to Armenia at the moment, which means the whole country definitely retains an unspoilt, uncommercialised and very authentic atmosphere.
As a small nation with a good international airport and visa-free options for many nationalities, Armenia is definitely accessible and incredibly safe, meaning even a trip for a few days is worthwhile!
You may not be surprised to learn therefore that I can HIGHLY recommend heading to Armenia and, to get you considering it further, here's 5 trip schedules to help you plan your perfect Armenia itinerary – be it for 2 days or 2 weeks!
---
Related Posts
---
This page contains affiliate links meaning Big World Small Pockets may receive a small commission on any purchases at no extra cost to you.
---
2 DAY ARMENIA ITINERARY
Day 1
With just 2 days in Armenia, you're cutting things seriously short, but still have the time to glimpse a little of this warm, wonderful country
At the very least, it will have you preparing to come back and explore more I'm sure!
I'm including a 2 day itinerary here, because I know many people head down to Armenia for a short time at the end of their trip to Georgia.
Therefore, whether you're arriving from Tbilisi (either via an overnight train or day time minivan ride) or flying into Armenia, you're going to be arriving into the country's capital – Yerevan.
As such, the best idea if you have just 2 days for your Armenia itinerary is to spend 1 day exploring the capital and the other heading out on a day trip.
MGA Hostel is a great budget accommodation option in Yerevan. With both private rooms and dorms, they are centrally located (meaning it's easy to explore the city from their doorstep) and they also organise day tours (which means it's easy to get your second day lined up in Armenia without too much hassle).
Yerevan is not a city with a lot of sights, so if you're looking to run around ticking big hits off your bucket list, you're going to be disappointed.
But if you want to spend a relaxed day soaking up the ambience of this very chilled capital, enjoying its parks and squares, as well as its markets and cafes, you're onto a winner.
Check out my list of the 21 best things to do in Yerevan for more ideas, otherwise just make sure you don't miss the Genocide Memorial Complex, the Cascade area or Republic Square.
In the evening, sample delicious local wine at In Vino, craft beer at Darghett and yummy food at Tabloueh!
Day 2
There's a ton of good day trips you could pick to enjoy on your second day in Armenia and while you could venture out an independent excursion, if you're short on time and wanting to see as much as possible in this country, I'd honestly recommend an organised excursion, because it will save you the hours and hassle of trying to work it out and wait for the local minivans.
That said, you don't want to go too far out of Yerevan on your trip (so you don't spend all day just driving) which means that best single-day excursions I'd recommend are either:
Garni Temple, Symphony of Stones, Geghard Monastery & Lavosh Baking
Lake Seven, Sevanavank Monastery, Dilijan National Park, Haghartsin Monastery & Getap
The more people you can get together in a car (max of 4 normally) the cheaper the per person price will be, so try to rope in some others at the hostel too!
The other option is to check out the tours run by Envoy Hostel. They have a couple of day trip options too (they keep a sign-up sheet running for those interested) and if you stay with them you get a discounted rate.
Either pop into their Yerevan hostel on Pushkin Street or give them a call on +374 10 530 369.
Failing that, you could head to Republic Square too, where lots of small tour operators hang out looking to fill up their vehicles or check out GetYourGuide for some good options too.
HOW TO GET TO ARMENIA
The capital of Armenia, Yerevan has a small, but well-appointed international airport that is an easy taxi ride from the city centre.
The cheapest flights generally arrive here from Dubai and Istanbul, so check out FlyDubai and Pegasus Airlines via Skyscanner if you're looking to score a well-priced ticket.
Otherwise, many people take a budget flight to Katasi in Georgia, and from there head to Tbilisi and cross overland to Yerevan. This is easily and cheaply done by either overnight train or a local minivan (marshrutka) ride, which takes around 6-7 hours.
5 DAY ARMENIA ITINERARY
Day 1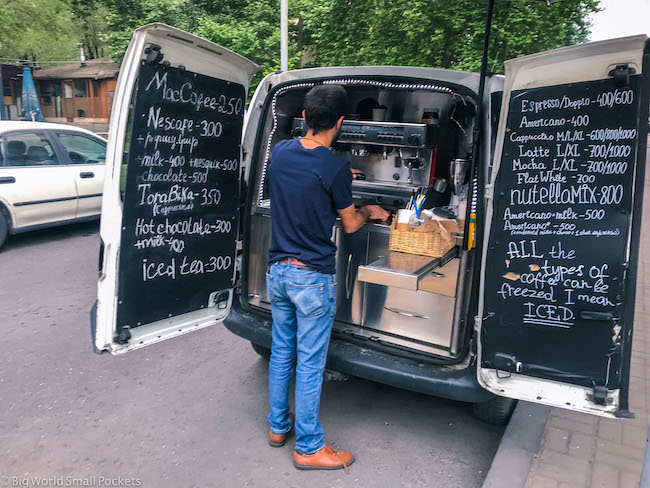 With 5 days for your Armenia itinerary, you have a little bit more time to play with and to venture a little further afield into the rural beauty of this country.
I'd recommend following my 2 day Armenia itinerary as above, taking your first day to explore Yerevan, including its historic sights, its many green spaces and its great culinary offerings care of its cafes, coffee carts and local markets, as well as great restaurants and wine bars!
Day 2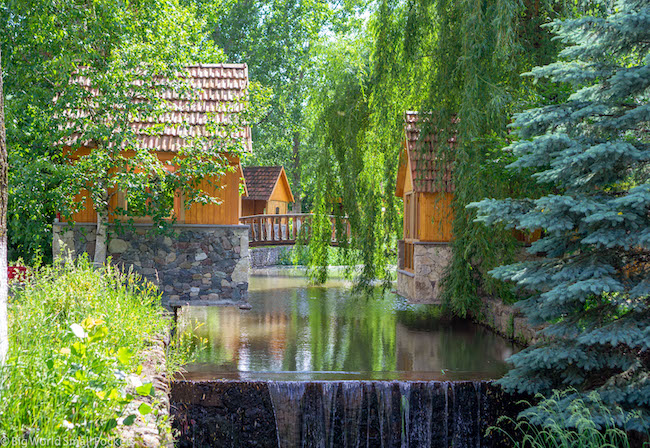 On Day 2, take a day trip out to Lake Sevan and Sevanavank Monastery and onto Dilijan where you can view the old part of town, as well as Haghartsin Monastery in the nearby National Park.
If time, the cable car at Tsaghkadzor is also worth a ride!
And don't forget a meal or some drinks at Getap, which has a beautiful riverside setting just outside Dilijan.
In the evening, you could then either stay in the old historic quarter of Dilijan at Old Dili, or head to either Granby Hostel or Art Guest House.
Alternatively, you can return to Yerevan.
Day 3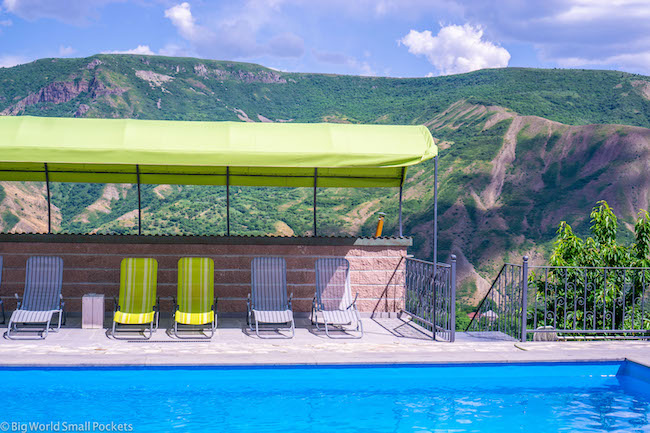 On Day 3, it's time to head south out of Yerevan to the nearby town of Goght where you should stay at 3G's camping and guesthouse.
Sitting in between the wonderful attractions of Garni Temple and the UNESCO-listed Geghard Monastery, you can get to Goght by taking minivan 5, 9, 23, 30 or 44 from France Square bus stop near the Opera House in central Yerevan to Gai Bus Station.
From Gai Bus Station, you then need to walk down the side of the Mercedes dealership to get minivan 264, 265, 266, 284 or 285.
These all go to Goght where the great 3G's camping and guesthouse is located.
Spend the afternoon relaxing by the pool here and taking in the amazing view and beauty of this spot.
Or, if you have time, you could even head out on a hike in the surrounding countryside.
Read my full travel guide to visiting Goght, Garni and Geghard for more info.
Day 4
On Day 4, it's time to explore those historic sites around!
3G's camping and guesthouse is perfectly placed between both Geghard Monastery & Garni Temple so you can easily hitchhike, walk or hop on a marshrutka to them.
Don't forget to check out the traditional lavosh bread baking that takes place along the road near Geghard Monastery or the Symphony of Stones, which is an interesting rock formation located near Garni Temple.
If you don't have internet data in Armenia, then I recommend downloading maps.me which you can use offline to help navigate this area.
Stay the night at 3G's camping and guesthouse.
Day 5
And on day 5, it's time for you to head back to Yerevan, or if you have time, to squeeze a quick hike in too.
The best one, which starts right from the door of 3G's camping and guesthouse is to the abandoned Monastery and will take you 5-6 hours.
Just ask Sandra, the lovely owner of 3G's, for more info once you are there… and don't forget maps.me!
THE BEST TRAVEL INSURANCE FOR ARMENIA
I would never travel to a destination like Armenia without proper coverage and always recommend travel insurance from World Nomads, which I've used during my time in this country and beyond.
I love World Nomads great protection for outdoor activities like hiking – essential in a place like Armenia – as well their easy claims process and the ability to buy or extend coverage with them when you're already overseas.
Learn more in this post I wrote about the 18 things to know before you travel Armenia.
Alternatively, if you're looking for travel insurance with Covid-19 cover, then look no further than Safetywing's great Nomad Insurance policies.
These guys will cover you at some seriously great prices, including if you have to quarantine!
1 WEEK ITINERARY
If you've got 7 days to spend in Armenia, then congrats, because you're definitely going to get a good flavour for this country!
Follow my 5 day Armenia itinerary above, spending nights 1 & 2 at MGA Hostel in Yerevan, followed by nights 3, 4 & 5 at 3G's camping and guesthouse.
With all of this, you'll already have explored the capital, Lake Sevan, Dilijan, Garni, Geghard and got to enjoy some hiking too!
Day 6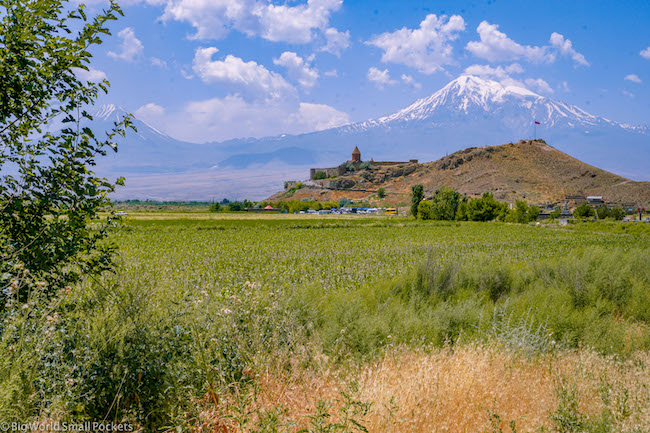 On day 6 therefore, it's then time to leave Goght and continue south down to visit Khor Virab, Areni and Noravank Monastery.
1 of the most famous destinations in the country, these can all be combined into one day if you get an early start!
Khor Virap is one of the most famous monasteries in Armenia and, perched on a hill, with snow-capped Mount Ararat in the background, it has become the flagship tourist image of this country too.
Getting here is easiest and quickest from Goght by taxi, otherwise, head back to Yerevan via a marshrutka and from there head out again on another minivan going to Areni.
These minivans will drive along the main road, so just get out at the turn-off to Khor Virab and grab one of the waiting taxis from there.
After you've snapped Khor Virab to your heart's content, head back to the main road to grab a marshrutka (or hitch) to Areni.
Famous for its winemaking, take a wine tour in Areni, before finding a place to stay for the night here.
Day 7
Then on your last night in Armenia, before you head to Yerevan, take a short detour to Noravank.
Again one of the most famous monasteries in Armenia, you can't come as far as Areni and not visit this famous place.
A return taxi trip there from Areni won't cost much and then you can hop on a marshrutka back to Yerevan in no time!
5 PACKING ESSENTIALS FOR ARMENIA
#1 Caucasus Lonely Planet – Still my go-to when it comes to guidebooks, the Caucasus Lonely Planet packs in a huge amount of information about travelling in Armenia, Georgia & Azerbaijan and will likely save you the cost of a guide in many of this country's fabulous historical attractions.
#2 Good Camera – From the mountain landscapes to the village life, you'll want a good travel camera to capture the best of Armenia and the Sony A6000 mirrorlessSony A6000 mirrorless ticks my box every time!
#3 Headscarf – If you're heading to see any monasteries in Armenia, ladies will need to come prepared with a headscarf to enter, as well as a long skirt or pair of pants and long-sleeved top.
#4 Hiking Shoes – No trip to Armenia would be complete without spending at least a day or two hiking in this country's untouched rural landscape. Coming prepared with a pair of good walking shoes is essential therefore and Keen Targhee's II always get my vote!
#5 Rain Jacket – I visited Armenia in June, technically the start of summer and the high season, but was amazed how storms suddenly blew in across this high altitude country. Having my North Face lightweight, windproof and waterproof jacket therefore saved my life!
Learn more in my complete packing list for Georgia and Armenia here.
10 DAY ITINERARY
With 10 whole days to explore Armenia, you really are going to get to see a huge swath of this country, including some of its most southerly provinces.
Day 8
For my 10 day itinerary I recommend following the 1 week schedule above, but instead of heading back to Yerevan on day 8, continue south to the town of Goris via local minivan or hitchhiking!
Spend the night in Goris at Yeghevnut Hotel – a great little guesthouse for budget travellers that has really friendly (and English-speaking) hosts.
Day 9
On day 9 of your Armenia itinerary, it's time to explore around Goris, including the famous Tatev Monastery, which has the longest cable car ride in the world!
Armenia… who knew?!!
If you get there early in the morning, you'll also have time to discover the Medieval cave dwellings around Goris, which reminded me of Cappadocia in Turkey, and make for a fascinating afternoon, as well as a great way to stretch those legs.
The complex starts about 30 minutes drive away from Goris and includes a 2-3km walk, part of which is over a suspension bridge!
The nearby waterfall at Shaki is also stunning if you have time.
Spend another night in Goris.
Day 10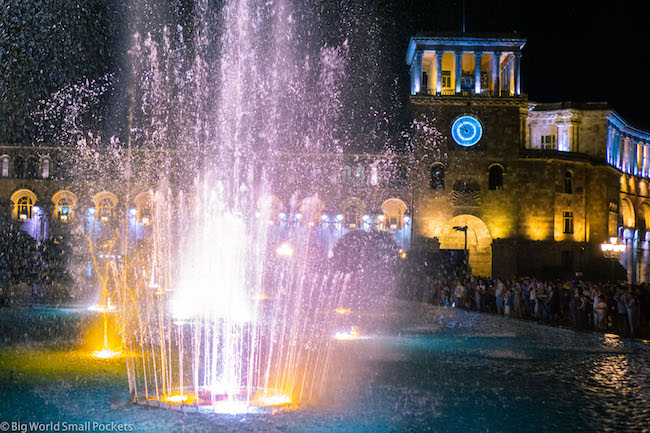 Now it's time to head back to Yerevan, as this is likely to take you most of the day from Goris.
If you do happen to get back to the capital earlier than planned, then darting out quickly to check out the Zvartnots Cathedral is a nice way to spend an hour in the late afternoon.
Oh and how could forget the light and fountain show in Republic Square, which happens throughout the summer months at 9pm… and is totally free!
WHEN TO VISIT ARMENIA
Winters in Armenia can be fiercely cold with snow and freezing temperatures not uncommon across the country, especially in the mountainous areas. At this time, many roads become impassable and travelling difficult.
As such, I would definitely visit Armenia during their summer months, when the climate is wonderfully warm and the skies are almost always blue.
The summer season here runs roughly from May to September, however July & August can be super hot (like 40 degrees hot), so do bear this in mind if you're not a fan of the heat and want to enjoy some hiking.
I visited Armenia in June and the weather was perfect – very warm and clear days, with loads of wildflowers around and perfect hiking conditions.
Based on this, I would suggest the shoulder season months of May, June and September as the ideal times to visit this country when the weather is good enough to enjoy getting outdoors and sightseeing, but not too hot that you'll worry about burning and dehydrating!
2 WEEK ITINERARY
And finally, with 2 weeks for your Armenia Itinerary, you can really get to explore the length and breadth of this country… which is fantastic news!
Go ahead and check out the 10 day Armenia itinerary I've written about above and follow that, heading back to Yerevan on Day 10 too.
Day 11
On day 11, I would take more time to explore the capital, as there are a lot of hidden gems to discover here once you start to get under the skin of this place, including delightful carpet shops, hidden wine bars and fresh produce markets.
Day 12

On day 12, a trip out to Zvartnots Cathedral and the fabulous Saint Gayane church nearby makes for a great excursion you can easily (and cheaply) arrange.
The nearby Holy Etchmiadzin church is also good to visit – it's actually the flagship place of worship in the country for Armenian Orthodox people and therefore well worth checking out.
Obviously it's also UNESCO-listed!
Day 13
Today, it's time to change direction and head north out of Yerevan towards the famous monasteries around the town of Alaverdi.
Again UNESCO-listed, the Sanahin Monastery Complex is particularly stunning.
You can either visit it as part of an organised trip or as part of a shuttle service care of Envoy Hostel, who run trips to this destination every Friday en route to Georgia.
Day 14
From here, you can easily continue onto Georgia with either Envoy Hostel's tour or via a local marshrutka.
The Georgia – Armenia border actually lies just north of Alaverdi and can easily be reached by a marshrutka, which then will shuttle you onto Tbilisi.
This border crossing is actually one of the easiest I've ever made, so it will likely be a quick and simple process.
Alternatively, if you're not continuing the adventure north, return to Yerevan to catch your flight home.
EXPLORING ARMENIA FROM YEREVAN
Due to a lack of tourist infrastructure and some poor road conditions in parts, getting around Armenia can be a little tricky.
Public minivans, known as marshrutkas, are the cheapest way to go, but they only ply main roads and generally operate only to and from the capital.
To make matters a little more complicated, there are 6 marshrutka stations across Yerevan and finding out which buses leave from which stations is an adventure in itself!
Check out this useful website, which had the most current info I found online, otherwise ask where you're staying for the latest details, as the often buses often change stations!
To combat the confusing minivan situation however, the good news is that hitchhiking is easy and commonplace across rural Armenia – often you'll be picked up on the street without even having to stick your thumb out!
Failing all of the above, guided day trips or private taxis will happily shuttle you to most major tourist sites around the country. If you can get a group together this can be a surprisingly cost-effective option.
PIN IT TO PINTEREST!
So there you have it, my top 5 ideas for your Armenia itinerary.
Is this country on your list yet?
Are you thinking of travelling there soon?
Don't hesitate to let me know any questions you may have in the comments box below and I'll do my best to answer!