If there's anywhere in Turkey that you've seen or heard about on Instagram, Facebook or the internet at large, it's probably Cappadocia.
Am I right, or am I right?
Yes this geographically striking, visually spellbinding and utterly unique spot in Turkey's central highlands is just so picturesque, it's no wonder it's as famous as it is!
But outside of seeing the hot air balloon pics splashed across my social media feeds, I have to admit, I really didn't know what else there was to get up to in Cappadocia when I arrived there.
And perhaps this is why, rather stupidly, I only gave myself 3 days to explore this sensational region.
Rookie error!
Honestly you could use at least 5 days in this epic wonderland and here, to prove it, is a budget-friendly list of the best things to do in Cappadocia, Turkey.
---
Related Posts
---
This page contains affiliate links meaning Big World Small Pockets may receive a small commission on any purchases at no extra cost to you.
My stay at Cave Hotel Saksagan and ride with Cappadocia Balloon Flights was kindly sponsored, but, as always, all views are my own.
---
If You Have No Money
Wonderfully, there's a ton of amazing free things to do in Cappadocia, perfect for us budget wanderers travelling on less than a shoestring.
Here's my pick of the bunch…
#1 Hike Love Valley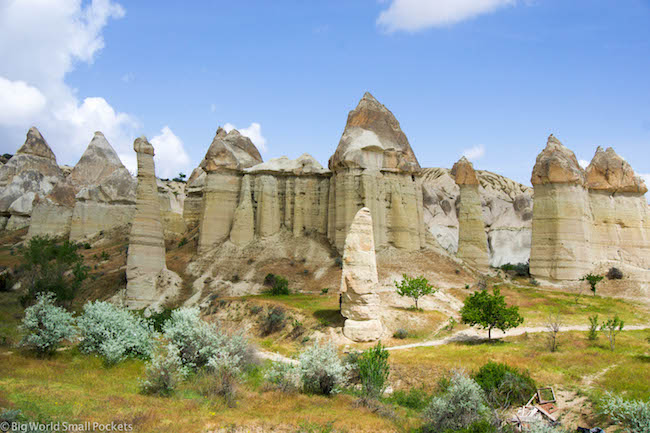 This had to be my favourite hike in the Cappadocia area and it didn't cost a penny.
Situated just outside the town of Goreme (which is the best place to stay in Cappadocia if you're on a budget), it's easy to hitch to the start of this trail, stroll the fabulous landscape for an hour or 2 and then hitch back.
And oh my goodness the views you'll be rewarded with really are next level.
There's some scrambling at the start of the trail as you descend into the valley, so do bring shoes with good grip, but after this it's plain sailing – although Google Maps always does come in handy for those points when the trail looks a bit vague!
I'll leave it to you to workout how this place got its colloquial name (it's official one is Bagildere), but I'm sure you can come up with some wonderful creative snaps for your friends!
#2 Walk to Sunset Point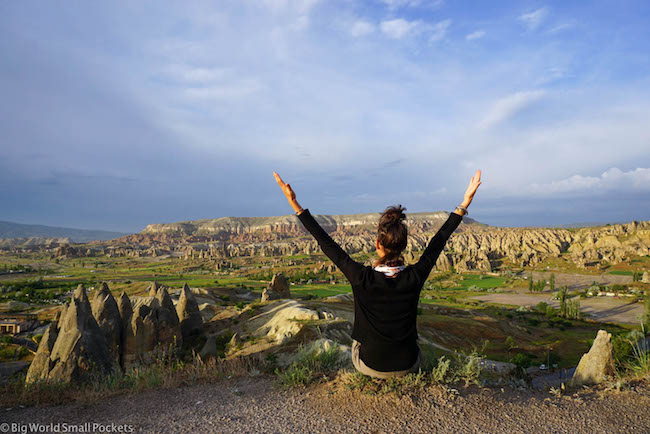 Marked by a huge Turkish flag, this high point above the town of Goreme can be a little confusing to reach as cobbled back streets lead you, twisting and winding, up the side of the hill.
Once you get here however, every ounce of sweat and swearing will be worth it, as you'll be treated to the most epic views of the landscape below you.
DO NOT forget your camera!
Of course, this another one of those amazing free things to do in Cappadocia and, as the name suggests, it really is best visited at either sunset or sunrise.
#3 Snap the Balloons at Sunrise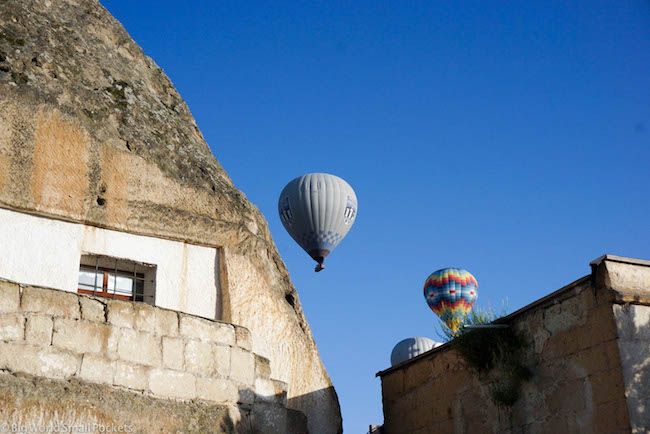 And the reason you're likely to head to Sunset Point at sunrise instead of sunset is to snap those most famous hot air balloons, which ascend into the sky (almost) each and every morning from the town of Goreme.
Heading up to this high point will give you some awesome balloon action shots as the vastness of landscape spreads before you.
However, it will mean an early start – think you'll have to be at the top of the hill by 6am – so if you're not feeling that energetic that early, why not pick somewhere to stay that will give you an awesome view of the balloons without having to walk anywhere!
Can I get a "Yes Please"!
My budget accommodation pick, Cave Hotel Saksagan, was perfect for this as I could literally spot and snap the balloons from the roof terrace right outside of my bedroom window.
A much more reasonable option for 6am methinks!
#4 Get Lost Amidst the Lamps, Leather and Carpets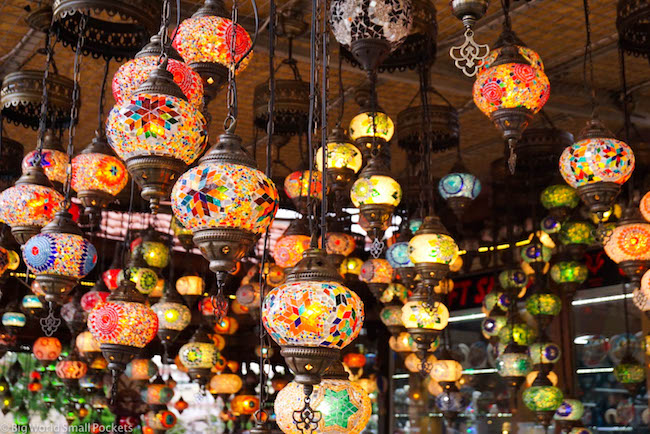 The town of Goreme is ideal for budget travellers heading to Cappadocia, because everything you need is there and you can easily walk everywhere.
From restaurants to cafes and balloons, you are in the heart of the action here and actually in the heart of the UNESCO park too.
The other thing that Goreme boasts is some incredible shops, and strolling past their windows, and maybe even wandering in for a closer look, is definitely one of the best free things to do in Cappadocia.
From amazing carpets to stunning lamps and wonderful leather goods, these places are Instagram heaven, just keep your wallet safely tucked away if you can't afford to be tempted!
#5 Walk Red Valley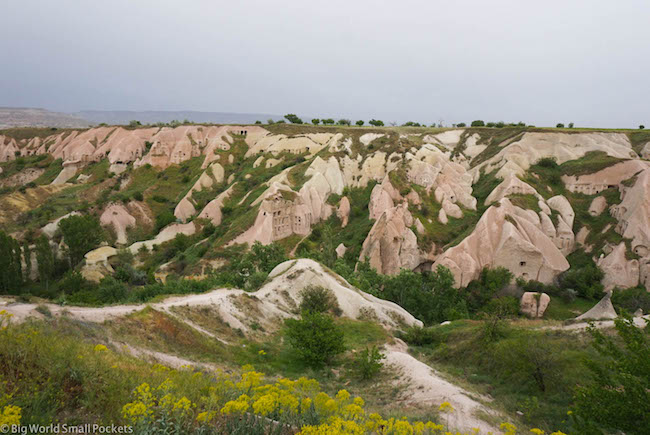 Also readily accessible from Goreme are several other walks that are well worth hiking if you have the time.
The most popular is probably the Red Valley Trail, which starts from the Goreme Open-Air Museum and is well-signposted, taking in the amazing rock churches and views of the beautifully-coloured sandstone formations.
#6 Hitch to the Panoramic View Point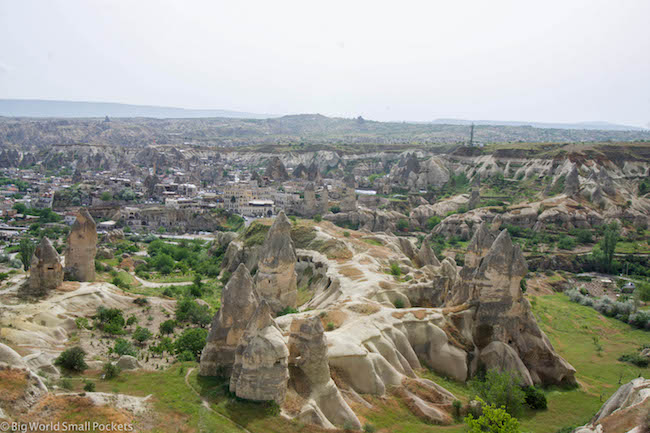 The otherside of Goreme to Sunset Point, is the panoramic viewpoint.
It's super easy to hitch here from town and then you can enjoy amazing views across the valley and beyond at any time of the day.
#7 Flit to Fairy Chimney Heaven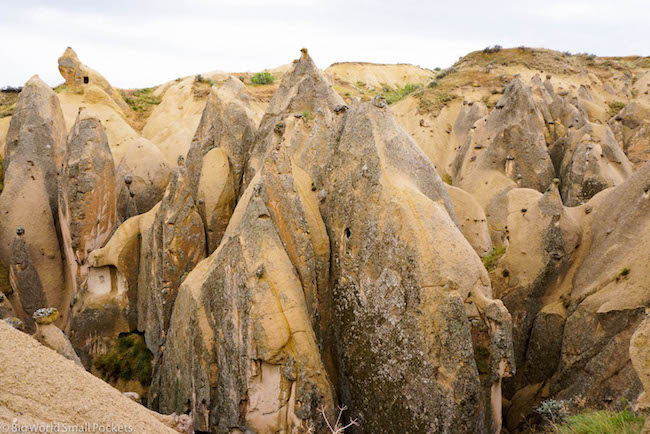 I could honestly go on and on about the free hikes and views to explore in Cappadocia, but because most of us don't have all the time in the world, I'm sticking to just the highlights.
And so, the last highlight has to be Pasabag, otherwise known as Monks Valley.
Again a short, hitchable distance or bus ride from Goreme, this spot is most famous for its fairy chimney landscape features.
Slightly more child-friendly than Love Valley, it's another one of the must-see things to do in Cappadocia.
LEARN MORE: The Only Turkey Itinerary You'll Need on a Budget
READ MORE: 10 Awesome Things to Do in Turkey
If You Have a Small Budget
#8 Visit the Goreme Open-Air Museum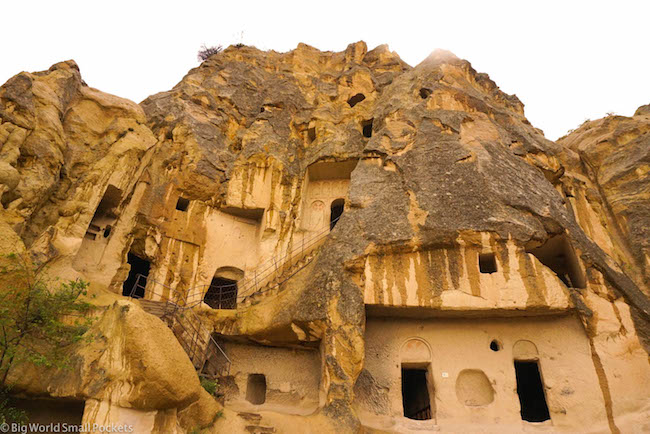 The Goreme Open-Air Museum is a beautiful place to visit that will only take an hour or 2 of your time and will cost just ₺30 TL (Turkish Lira).
Stroll up the hill from town and enjoy walking into and around some of the earliest churches on the planet.
Much like the rock-hewn churches I saw in Lalibela, Ethiopia, those in Cappadocia are also filled with beautiful artwork.
There's also the Zelve Open-Air Museum, a small distance away, which can be combined with the Pasabag / Monks Valley hike and costs slightly less than the one in Goreme.
#9 Sleep in a Cave Hotel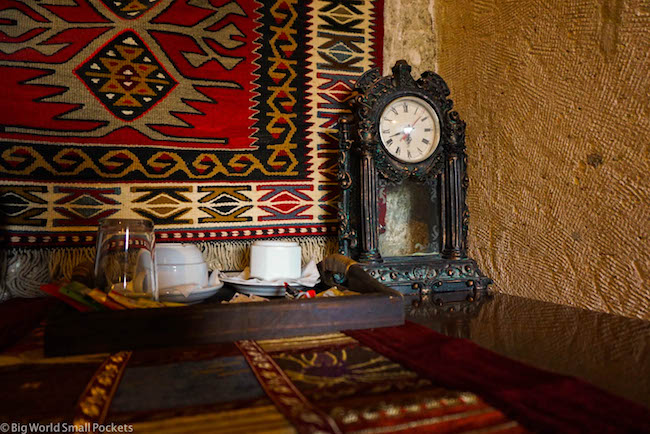 It's amazing to know that even with a small budget, you can still sleep in one of Cappadocia's famous cave hotels.
This absolutely completes the experience of visiting this bizarre, beautiful landscape and is surprisingly comfortable.
My choice, Cave Hotel Saksagan, has amazing views with beautiful, traditionally furnished rooms that offer a great level of modern comfort for a super price.
With free wifi, free breakfast and super friendly staff, I honestly felt like I'd stepped into a storybook upon my arrival here.
The picturesque, peaceful courtyard and epic balloon views at dawn only added to the perfect experience I had.
#10 Eat in a Cave
Sticking with the theme, eating in a cave restaurant is also one of the best things to do in Cappadocia, even on a budget.
And my pick of the bunch has to be the great Top Deck Restaurant.
Located in the winding, cobbled backstreets of Goreme, follow the signs to get to this hidden treat and also make sure you book ahead!
The low, floor tables with their comfy cushions are the top spot in the house (aka. room) I reckon!
#11 Marvel at the View from Uchisar Castle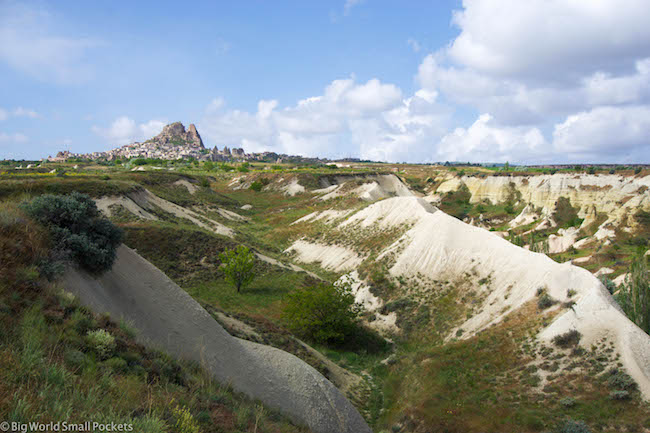 The highest point in Cappadocia, Uchisar Castle occupies an enviable spot that you can easily catch the bus to from Goreme.
You can also hike here by way of the Love Valley and Pigeon Valley trails.
Once at the castle, take in the amazing views here and enjoy a coffee in the café which has one of the most enviable backdrops in the world!
Entrance to the castle is just ₺3 TL!
#12 Relax in a Café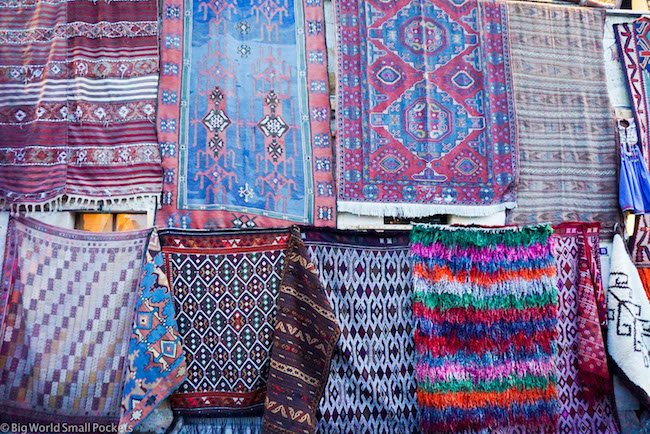 And talking of cafés, literally no time in any Turkish destination would be complete without a small amount of daily café time and back in Goreme, my pick of the bunch is the lovely Café Safak.
Owned by an Australia / Turkish guy, this spot does the best flat whites around and offers a great lunch and dinner menu for some really reasonable prices.
#13 Take the Green Cappadocia Tour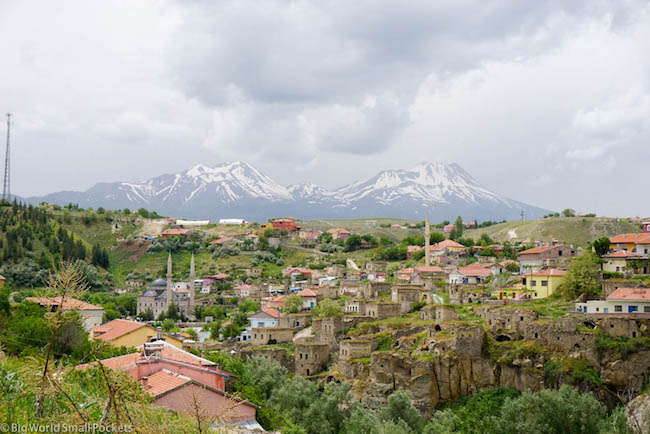 If you want to get out of Goreme on a budget (and therefore you probably don't have your own rental car) a great idea is to hop aboard the Green Cappacdocia Tour.
A full day trip costing less than $50 USD, this one really packs in the sights, including a trip to Cappadocia's most famous and largest underground city – the UNESCO-recognised Derinkuyu Underground City.
Afterwards, you'll head out to the beautiful Ihlara Valley, supposedly the second tallest canyon in the world, and enjoy a pleasant stroll alongside the river that flows through here.
After a lovely local lunch and spotting the snow-capped volcanoes that loom out of the otherwise hot, dry landscape, you'll head to the ancient Selime Monastery, perhaps unsurprisingly built into the rocky landscape, before stopping to snap the lovely Nar Golu crater lake on your way home.
Running from 9:30am until 6:30pm, the Green Cappadocia Tour is an amazing way to see a lot of places in this huge area and is great value for money and very little effort.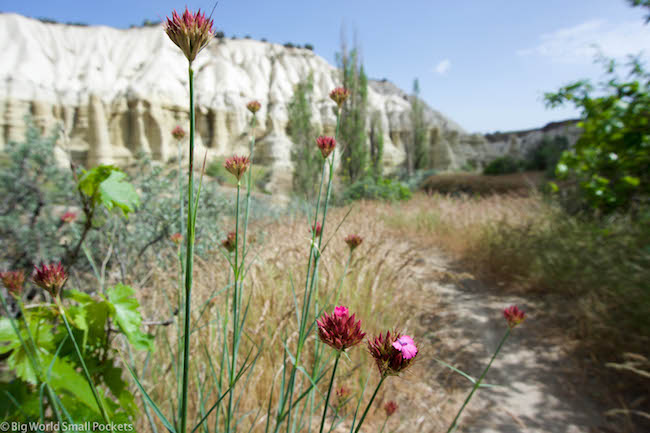 5 ESSENTIALS TO PACK FOR TURKEY
#1 Turkey Lonely Planet – Still my go-to when it comes to guidebooks, the Turkey Lonely Planet packs in a huge amount of information and will likely save you the cost of a guide in many of this country's fabulous historical attractions and rich cultural cities.
#2 Good Camera – From the lunar landscape of Cappadocia to the azure turquoise waters of the Mediterranean, the bustling bazaars of Istanbul and ancient ruins of Ephesus, you'll need a good travel camera for Turkey and the Sony A6000 mirrorless ticks my box everytime!
#3 Headscarf – If you're heading to see any mosques in Turkey, ladies will need to come prepared with a headscarf to enter, as well as a long skirt or pair of pants and a long-sleeved top.
#4 Beach Gear – A lovely bikini and gorgeous sun hat are essential for looking the part on Turkey's Mediterranean coastline.
#5 Rain Jacket – I visited Turkey in May, technically the start of summer and the high season, but was amazed how chilly and wet it was in some parts of the country like Istanbul and Cappadocia. Having my North Face lightweight, windproof and waterproof jacket therefore saved my life!
If You Can Afford 1 Splurge
#14 Cappadocia Turkey Hot Air Balloon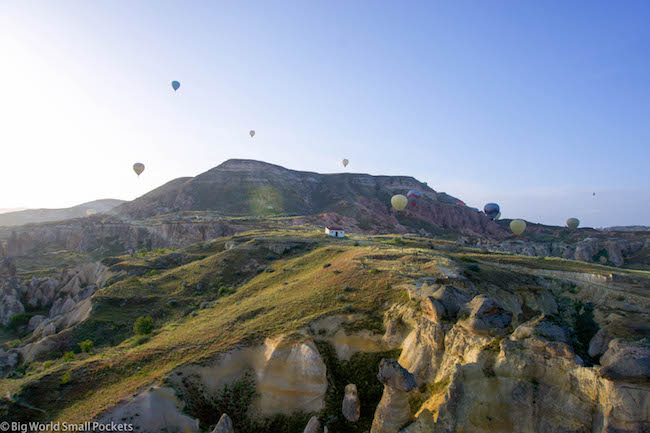 And so, if you can possibly, maybe, definitely afford just one splurge on your budget trip to Cappadocia, it has to be for a hot air balloon ride above this sensational part of the country.
Honestly, this was one of the most amazing things I have done anywhere in the world and immediately catapulted itself into my top 10 travel moments EVER!
Thanks to the wonderfully professional and safety-conscious Cappadocia Balloon Flights, I finally got to tick this epic experience off my list – although it did take me 3 tries due to bad weather cancelling flights on the proceeding 2 days (you have been warned people, this can happen!)
3rd time lucky however, the beautiful sunrise fell away into a perfect blue sky as I sailed gracefully up, up and away to a height of 6000 feet with only a wicker basket between my toes and the endless vastness of Cappadocia's breathtaking landscape.
It really was the biggest buzz and simultaneous intake of beauty I've perhaps ever had without any additional substances!
Please, treat yourself and do it. You will never, ever regret it!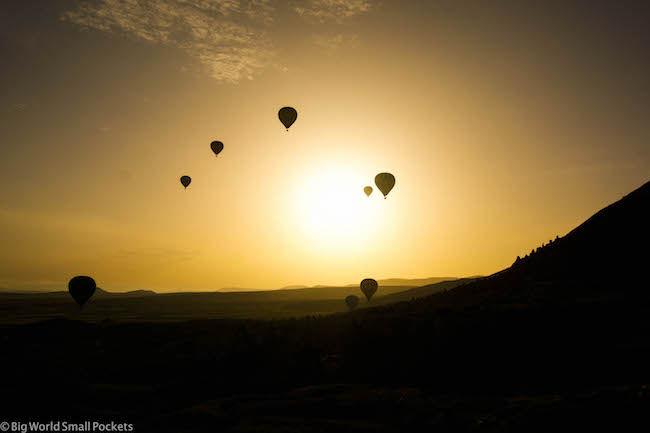 Your Perfect Cappadocia Budget Itinerary
But how to fit all these amazing things to do in Cappadocia into a limited timeframe?
Fear not people, I've composed the best Cappadocia budget itinerary for you:
Day 1
Arrive at the Cave Hotel Saksagan, drop your bags and set out to explore the beautiful town of Goreme.
First up is the Open-Air Museum, followed by El Nazar Church and a hike in the Red Valley.
Lunch at Café Safak and then wander the beautiful shops and streets of Goreme.
Finish your day with the views from Sunset Point and dinner at Top Deck Restaurant.
Day 2
Get up early to watch the balloons at sunrise, then get the bus to Uchisar Castle to take in the amazing landscape from this lookout.
Head back to Goreme via a hike through Pigeon Valley, which leads into the hike through Love Valley / Bagildere and then get an early night!
Day 3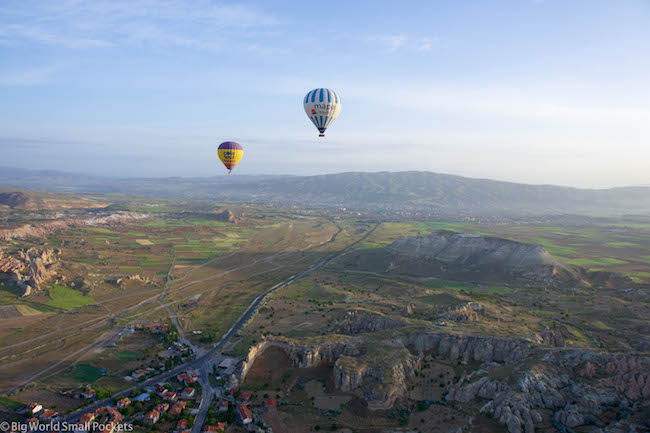 Get up at 4am to make your hot air balloon ride above the dramatic landscape of Goreme and the surrounding area with Cappadocia Balloon Flights.
In the afternoon, after a snooze, head out to Pasabag / Monks Valley to snap the Fairy Chimneys and visit the Zelve Open-Air Museum.
Day 4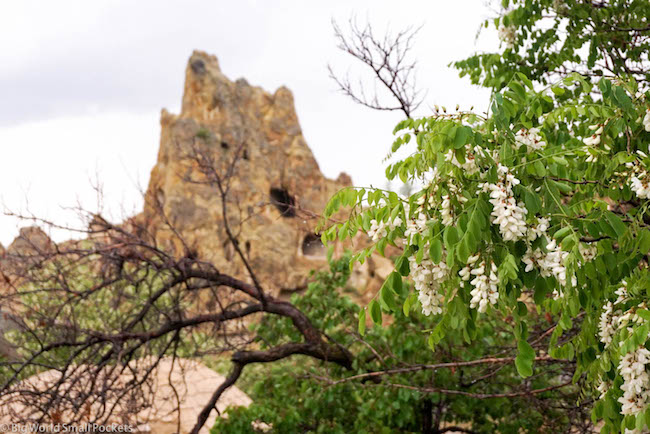 Today it's time to get out of the Goreme area and unless you've got your own rental car, the Green Cappadocia Tour is the best way to do this.
Offered by many travel agencies across the region, this is a full day excursion which takes in the famous Panoramic Lookout above Goreme, Derinkuyu Underground City, Ihlara Valley, Selime Monastery Cathedral and the lovely Nar Golu crater lake.
Day 5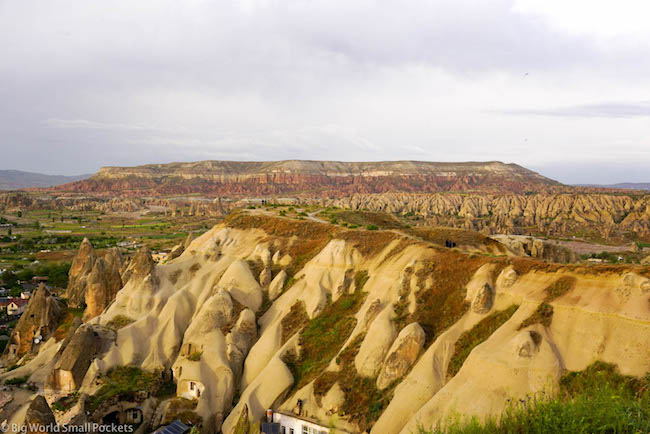 With one last day in Cappadocia, I'd recommend a horse riding or cycling tour as yet another way to get amongst this gorgeous scenery.
Most popular is riding through the Rose Valley, which offers even more jaw-dropping scenery!
Hopefully this will get you to saturation point and you'll feel ready to leave this gorgeous part of Turkey without too much heartache!
PIN IT TO PINTEREST!
So there you have it my list of the most unbelievable things to do in Cappadocia if you're travelling on a budget.
Please do let me know if I missed any of your favourites out…