Looks like you might be thinking of travelling to Malaysia?
Wanting to do it on a budget?
Well you're in the right place!
I travelled Malaysia on a shoestring and am delighted to say that not only is this totally possible, but it's very easy too.
And you don't have to scrimp much on the places you go or things you do either!
Which is brilliant news, because the diversity of Malaysia means this country has a LOT to offer the excited traveller!
So, if you want to soak up the best of this fantastic southeast Asian nation, but don't want to exhaust your small pockets, no problem!
Just read on to learn all the details of my Malaysia travel budget as I breakdown exactly how much a trip here will cost you…
---
Related Posts
---
This budget is based on the trip I made to Malaysia, with all prices and currency conversions correct at this time.
This page contains affiliate links meaning Big World Small Pockets may receive a small commission on any purchases at no extra cost to you.
---
Intro to this Malaysia Travel Budget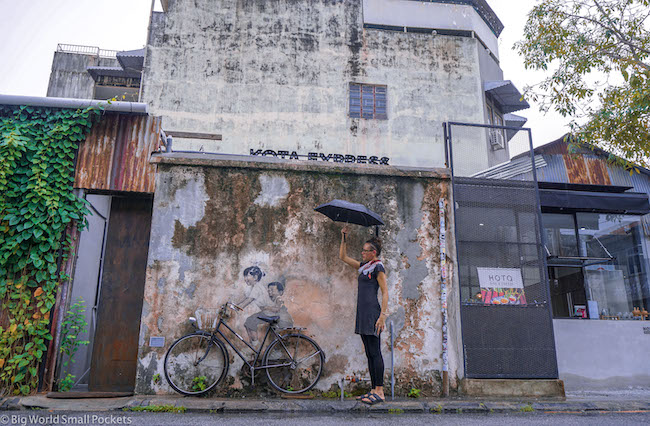 This budget is based exactly on my travels in this amazing country in May 2019, so you can trust it's entirely authentic.
But let's be clear about something – this budget involves travelling in Malaysia as a backpacker i.e. eating in cheap, local restaurants and staying at cheap, local hostels.
It involves using local public transport and keeps entrances fee, tours and guides services to a minimum.
This is because, as a budget travel blogger, I'm looking to do things as cost-effectively as possible while still having a good time and the odd treat!
That said, if you want to live it up in Malaysia too, you certainly can – boutique hotel stays (especially in the cities), organised tours, private guides and drivers, as well as top restaurants are all available, but don't expect your budget to be the same as mine!
And with that out the way, the next to know is that this article is broken down into different travel categories, including accommodation, transport, food, tours etc, so that if you have a bit more / less cash, you can do your own workings about how much your trip to Malaysia is likely to set you back.
The pricings are based exactly on my trip and actually follow my 2 week Malaysia itinerary, so you can replicate it exactly!
And I make this even easier at the end of the post, where I conclude with overall costs of what my 2 week trip to Malaysia set me back.
This budget won't include the cost of any visas (although for Malaysia you probably won't need one), nor the cost of international flights, (I always use Skyscanner to find the best deals) so don't forget to factor those in as well.
The budget also doesn't include prepping any gear you might need for your trip or taking out travel insurance.
World Nomads offers simple and flexible travel insurance. Buy at home or while travelling and claim online from anywhere in the world.
Alternatively, if you're a long-term traveller, digital nomad or frequent remote worker seeking travel health cover, check out Safetywing's Nomad Insurance policies.
And finally (!) I just want to point out that because this is an expenses guide for budget travellers, and it covers just 2 weeks in the country, I don't really factor in travelling to Malaysian Borneo.
Instead, like many budget travellers, I stick solely to exploring Peninsular Malaysia to help save time and money!
And with that preamble out the way, let's get on with bringing you my Malaysia travel budget…
#1 Accommodation
With Malaysia now well and truly on the traveller map, there really is every bracket of accommodation available here – from dorm beds in huge hostels to ritzy luxury hotels, especially in the capital Kuala Lumpur and nearby popular tourist destination – Malacca.
And as a budget traveller however, there's no prizes for guessing which end of the scale I inhabited!
Yup, I'm delighted to report that if your pockets are small too, that there are plenty of great dorm beds and private rooms in hostels you can find across the country.
But they aren't super cheap.
If you're hoping for a $3 bed for the night, then you might be out of luck, with tourist accommodation in Malaysia, even at the budget end, a little more expensive than I anticipated.
In fact, accommodation accounted for over 40% of my total spend in the country (and yes I use a very geeky, but helpful app called Travel Spend to track this stuff!)
To be fair, most of that was in private rooms (coz y'know I'm over 30 now!) but these were still largely in independent hostels, so hardly to be considered luxury!
What really pushed the budget up when it came to accommodation in Malaysia, was the time I spent in the islands, where a lack of competition can mean a hefty price tag for not much.
As an example, I paid $17 USD for a private hostel room in the Cameron Highlands, but more than double that for a private room in a budget beachside spot in the Perhentian Islands.
Penang, where I stayed in a private room in a hostel in Georgetown was similarly priced to the Cameron Highlands, but both of these included shared bathrooms.
To enjoy a private room with a private bathroom in a hostel, I paid around $25 USD in Kuala Lumpur.
In general, hostel prices do include breakfast, so that's one less meal and coffee to have to factor in!
Standards also tend to be very good in Malaysia, and almost all the backpacker hostels I stayed in were extremely clean with good wifi and relaxing communal areas.
They also often include kitchens in Malaysia, which makes grabbing street food to enjoy back at the hostel or market goods for lunch, super easy.
Across the whole country, you can benchmark a dorm bed at between $5-15 USD and a budget private room at $15-$30 USD.
To work out your overall accommodation costs therefore, you simply multiply one of the figures above by the number of nights you plan to spend in Malaysia and you've got your rough accommodation budget mapped out!
#2 Transport
The thing we have to remember about transport, especially when we're talking in terms of a Malaysia travel budget, is how big this country is!
And, as discussed, I'm not even covering Malaysian Borneo here, simply the Peninsula part of the country.
But even getting around here, especially if you move from the north to the south and the west coast to the east coast as I did, can take a long time.
It goes without saying, therefore, that the cheapest option for longer distance travel i.e. between cities, are night buses.
These will save you the cost of a night's accommodation too and they run across the country between all major destinations.
They are clean, safe and very comfortable – just make sure you take a good travel pillow, like this one, and a nice eye mask, like this one, so you can get some sleep!
I also find my Sholdit travel wrap very handy on night buses, as I can slip all my important documents into the security pocket and rest with peace of mind that they are safe.
Otherwise, if you'd rather not travel at night, or you're not going huge distances, day buses are also available.
Either way, the good news for your Malaysia travel budget is that buses in this country are extremely cheap.
Especially when you consider how nice they generally are.
As an example, a night bus from Kuala Besut (the mainland port where ferries depart to the Perhentian Islands) to Kuala Lumpur only cost me $10 USD.
The day bus I took from Kuala Lumpur to Malacca cost me just $4 USD (takes a couple hours) and another one I took from Georgetown in Penang to the Cameron Highlands (all day journey) cost me just $14 USD.
So yes, cheap!
Buses can be booked online in advance in Malaysia – in fact, I highly recommend this and always use the excellent website 12Go to compare services and prices.
You can also use Bookaway who offer some of the best deals going.
Bus stations in Malaysia are clean, centralised and easy to navigate.
To get between them and your accommodation (or any short distance in Southeast Asia) I always use Grab – an amazing and cheap rideshare app that is really common in Malaysia.
Check out Grab here or learn more about why I think ridesharing apps are great for travellers here.
In Kuala Lumpur, there's also an incredibly affordable metro you can use, as well as a free shuttle bus.
Domestic flights can also be used to travel between most major cities in Malaysia.
Taking a flight will bump up your budget, with the cheapest options usually coming care of budget airline Air Asia.
Domestic flights will also bump up your carbon footprint and aren't really necessary in my opinion, but if you do want to check out rates, I advice using Skyscanner who list budget airlines within their flight options, so normally get you the best fares.
As I didn't use flights and walked around a lot in cities, transport accounted for under 13% of my total budget in Malaysia.
#3 Tours & Activities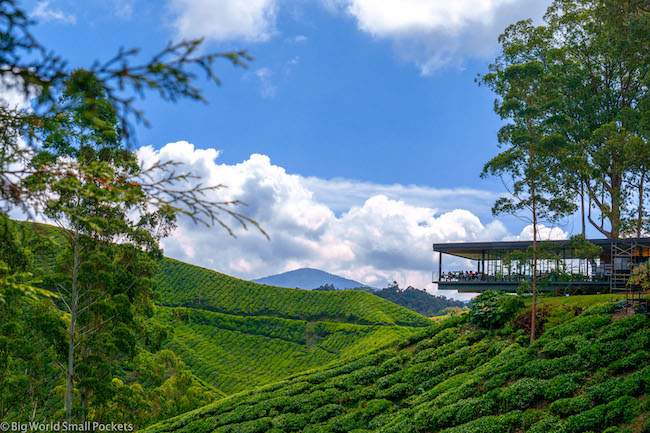 As always, it's tours and activities that can be the make or break of your budget when it comes to travel, and Malaysia is no different.
So my suggestion, if you want to keep the costs of travelling in this country down, is limit the amount of tour and activities you do.
Honestly, there's so much free stuff to check out in this country and the cities are so amazing to wander around AND you don't really need to take tours because the tourism infrastructure is so good, that pre-organised trips just aren't really necessary.
Outside of some diving and snorkelling, I didn't really get involved in any – there just wasn't any need to.
However, if you would rather travel with the safety of a tour, then check out these good options which all get rave reviews:
#4 Entrance Fees & Guides
Like tours and activities, entrance fees and guides accounted for a very small amount of my budget.
Because there are so many free attractions, food markets and street art in Malaysia, plus so much life happening on the street in this country, paying for entrance fees just isn't really necessary.
The exceptions I make would be for the…
Both of these are situated in or near to Kuala Lumpur.
#5 Food & Drink
For those not in the know, I've got good news!
Malaysia is a foodie paradise and eating all the local goodness here is a huge part of your travel experience to come!
And likely, your expenses too!
I'm not a massive foodie and I'm a vegetarian, but I just couldn't help getting heavily involved in all the amazing food on offer in this country, especially in Penang, where I had some of the most delicious Indian food in my life!
As such, and perhaps not surprisingly, food accounted for a large section of my Malaysia travel budget.
In fact, it was only second behind accommodation in terms of expenses and, if you include all the coffees and groceries in my food budget, it amounted to over 35% of my total spend.
Yum!
If you eat locally in Malaysia, especially from night markets, which you definitely should, then food here is very affordable.
It's just the quantity you're likely to eat, because it's so delicious!
That's where prices start going up!
It's also very probable that at least a few times you'll want to treat yourself at a nicer restaurant, of which there are many to choose from and of course this will push up your budget too.
And yes, ok, I spend a lot of coffee, because I'm worth it!
In fact, I spent an average of over $4 a day on coffee in Malaysia and between $10-$20 on food!
And yes, vegetarians are catered for well in this country, especially in Indian restaurants.
As a country with a large Muslim population, drinking alcohol is not as common in Malaysia as it is in some other Southeast Asian countries.
Personally, I drunk very little when I was here (maybe nothing outside of a couple beers in Kuala Lumpur if I remember correctly!) which helped keep my budget low.
If you do plan on enjoying a few drinks however, then you may be interested to know Malaysia has the third highest tax on alcohol in the world – around 15% – so drinking a lot of the stuff here is highly likely to send your spending soaring.
There's also bottles of drinking water to factor into your Malaysia travel costs as tap water isn't generally potable.
Although if you take a Lifestraw Go Water Filter Bottle as I did – this will reduce this cost to zero, thanks to the handy technology it employs that allows you to drink the tap water safely no matter where in the world you are.
A winner for the environment and your wallet.
#6 Other Expenses
And finally when it comes to Malaysia travel costs, you've got to factor in all those other incidental expenses like laundry (once a week should do it) and possibly a SIM and data package too.
Luckily, both these things are very cheap and readily available!
An average laundry load cost me around $4 USD and getting a tourist SIM with loads of data is possible for around $8 USD.
And don't forget a bit of extra money for souvenir buying or discount mall shopping.
This is Southeast Asia after all!
How Much Does it Cost to Travel in Malaysia?
And with all that in mind, there's no question Malaysia comes in as a pretty cheap country to visit, especially if you avoid domestic flights and keep trips and tours to a minimum.
Similar to what I spent in Thailand and Laos, my daily budget in Malaysia was under $50 USD per day.
And it could have been a lot cheaper.
Especially If I'd slept in dorms rooms instead of private hostel rooms, I could probably have reduced this to under $40 USD a day.
To explain more, I wanted to give an example budget based on my suggested 2 week Malaysia itinerary, which I think allows you to see some of the best parts of this huge country in a limited time frame.
Here's what a 2 week example budget might look like…
Total Accommodation in Private Hostel Room x 14 nights = $320 USD
Total Transport Spend = $60 USD inc. taxi rides & long distance bus rides
Total Tours and Activities = $40 USD
Total Entrance Fees & Guides = $10 USD
Total Food and Drink = $220 USD
Other Expenses = $40 USD
The rough amount you can therefore expect to spend in Malaysia over a fortnight is around $690 USD.
This is roughly $49 USD per day, which is in the region of £40 GBP or €45 per day .
Please remember this is based on a budget traveller and will vary wildly depending how many activities you do, whether you stay in dorms or private rooms and how much you eat and drink!
You could cut this further by avoiding all tours and shopping … although whether you'll want to is another matter!

Travel Money in Malaysia
When it comes to paying for things in Malaysia, you want to ensure you're not being charged overseas transaction fees or getting poor exchange rates when using your card abroad, which is why I always take my Wise card away with me wherever I travel.
The easy way to spend abroad with real exchange rates, no markups and no sneaky transaction fees, you can use your Wise card just like a debit card here… and it links easily with Google and Apple pay – sold! Grab yours here.
PIN IT TO PINTEREST!
And there it is folks, the full breakdown of my Malaysia travel budget and what it really costs to enjoy a trip in this country.
Do you think the I amount I spent is cheap or a lot?
Let me know your thoughts in the comments below…