I've probably said it a million times before, but I'll say it again now (why not!) Malaysia is a seriously diverse country.
In fact, the sheer volume of different landscapes, terrains, cultures and cuisines this nation combines is actually amazing and certainly makes for a rich travel experience.
And perhaps never was this made clearer to me than when I travelled from the street art and foodie capital of Georgetown on the west coast of the country to the remote, tropical Perhentian Islands off the east coast, stopping at the lush, green Cameron Highlands on the way.
Having been passing through busy, humid (and let's be honest, polluted) Southeast Asian destinations for a while when I got to these highlands, I was instantly delighted to find myself in their quiet, clean, cool surroundings.
As such, the Cameron Highlands instantly worked their way into my heart and I ended up spending way longer here than I planned (surprise surprise) to enjoy great hiking, tea drinking and striking views.
So read on to learn more about the Cameron Highlands and why this Malaysian spot definitely needs to be part of your itinerary…
---
Related Posts
---
This page contains affiliate links meaning Big World Small Pockets may receive a small commission on any purchases at no extra cost to you.
---
Why Visit the Cameron Highlands?
There's lots of reasons to visit the Cameron Highlands, but I suppose the overarching one is because if offers you the opportunity to slow down, cool down, switch off and inhale huge, deep lung-fulls of clean, crisp air!
Yes situated at altitude, the Cameron Highlands feel far away from much of the rest of Southeast Asia we know and, as you wind your way up here (as part of twisting-turning bus ride), you'll instantly feel the air distill and the landscape around you grow lush and green.
Due to these pleasant conditions, the Cameron Highlands is a huge agricultural area – actually the vast majority of vegetables eaten across Malaysia and Singapore are grown here – and king of the crops is tea!
Yes this is the tea growing capital of Malaysia! Hoorah!
This is closely followed by strawberries… double hoorah!
As a rural farming area, it's no surprise that the Cameron Highlands are also quiet, calm and relaxing.
Free from big city noise, pollution and entertainment, it's all about getting back to the nature out here.
Key activities include hiking, staring at the views and drinking a lot of tea so if, like me, you're into any or all of the above, this is a great reason to strongly consider visiting the Cameron Highlands.
Where Are the Cameron Highlands?
The Cameron Highlands are situated in the central belt of mainland Malaysia, north of Kuala Lumpur, at an elevation of between 1300 and 1800m above sea level.
The term Cameron Highlands refers to a rather indiscriminate area and is generally used to talk about this whole altitude zone.
As such, when you book a bus or are looking for somewhere to stay here, then I suggest you search for Tanah Rata.
This is the main town in the area (it's still a small one-street strip) but is where the majority of tourists services are and where most people stay.
The Cameron Highlands area was named after British explorer Sir William Cameron who mapped the region back in 1885 and, with all the tea and strawberry growing still going on here, has retained something of a British colonial feel.
That said, Tanah Rata is as diverse as the rest of Malaysia with a huge variety of cultures and cuisines on display.
What is the Climate Like?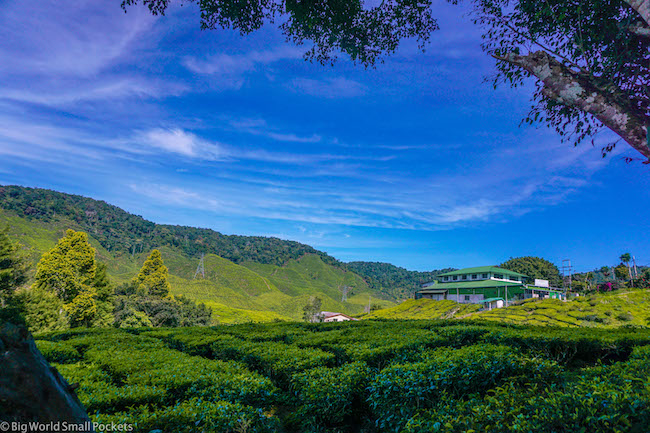 So yes, if you didn't get the picture already, the Cameron Highlands is cool year round with temperatures rarely getting above the high 20's due to the elevation.
This means it can provide a delightful respite from the heat in the steamy Malaysian summer, but can get chilly at night.
It also rains a lot up here, which is great for beautiful, green scenery and the farming, but does mean things can often be a bit muddy underfoot.
For ideas about what to take for a trip to the Cameron Highlands, check out the packing section at the end of this article.
How to Get There?
So you want to aim for the town of Tanah Rata when heading to the Cameron Highlands.
Normally this is the last stop on the bus, as most coaches will terminate here.
I travelled from Georgetown to Tanah Rata and was able to hop on a direct bus that took around 7 hours.
When leaving Tanah Rata, I travelled onto the Perhentian Islands, booking a combination bus and boat ticket (it was actually more of a minibus that involved one change) to do so.
You can also book direct buses from Kuala Lumpur to Tanah Rata, which take around 5 hours.
The great news is that all travel within Malaysia is pretty easy, well organised and cheap – the magic trio for budget travellers everywhere!
The best idea is to check bus schedules, prices and book tickets online a few days in advance via the website 12Go.
You can also find excellent rates on Malaysian buses at the great travel website, Bookaway.
I've used this site throughout my time in Malaysia and Southeast Asia and love it's simple and straightforward process, as well as secure online payment facilities.
Buses arrive into a central station in Tanah Rata, which is located just behind the main street, a short work from most hostels / hotels.
How to Get Around the Cameron Highlands?
Being a rural and sparsely populated area, there isn't really any public transport to speak of within the Cameron Highlands and even ride-sharing apps like Grab don't have a presence here.
As such, the only real options for getting around are using a local taxi, taking a tour, renting a scooter or using your own 2 feet.
Factors such as, what you want to do in the area and your budget, will largely determine your transport choices.
For those of you travelling solo, like I was, hiking + some tours might prove the most cost-effective method of getting around here. I also used a taxi on one occasion when I wanted to go and take some good photographs (read. for the 'gram) at one of the tea plantations.
Taxis can easily be haggled with at the local rank and rental scooters can be arranged through agencies in town too.
Information on hiking and tours can be sourced via the many travel agencies in town or through your accommodation.
Alternatively, you can check out Get Your Guide for an excellent and well-priced day tour direct from Kuala Lumpur that you can book in advance – a great idea if you're on a tight schedule in Malaysia.
How Long to Spend There?
As a rural area, I recommend a stay of 3 – 4 nights in the Cameron Highlands.
This will give you plenty of time to take in all the sights, try all the produce, do some hikes and visit some tearooms!
Weekends are best avoided as loads of locals come here from around the country at this time, especially in the steamy summer months when the altitude of this area provides them with a welcome respite from the heat.
There are a few small groceries / pharmacies in the Cameron Highlands, but generally, I'd advise coming with everything you need, as prices a little higher here and the selection smaller.
Top Things to Do in the Cameron Highlands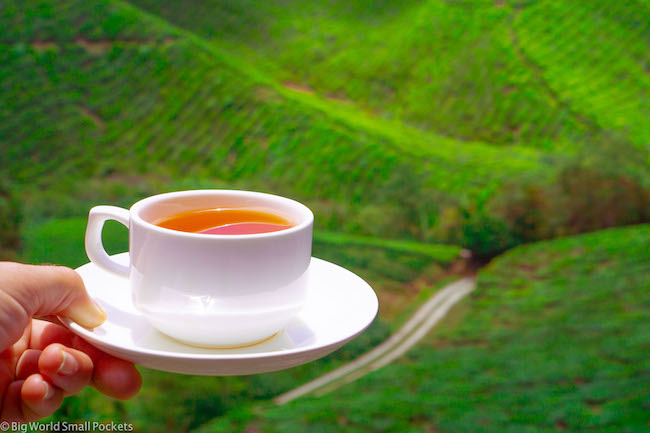 And now onto the important stuff, what is there to do in the Cameron Highlands?
Farm Visits
Well, I think you've already got a pretty good idea that farming features pretty heavily here and many farms across the area are open to visitors.
You can go and see how they produce their various crops, and also get the chance to buy and sample them.
Understandably, lots of people love the strawberry farms, but the butterfly farm is another big hit.
Tea Plantations
And sort of still on the farm vibe, but with a little twist, you can also visit some of the tea plantations in the Cameron Highlands.
Around Tanah Rata, the main ones are the Cameron Valley Tea House and the BOH Tea Farm.
The BOH Tea Farm is actually the main plantation in the area, in fact it's the largest across Malaysia and boasts some beautiful panoramic views, as well as a tearoom and tea tour, where you can see parts of the factory and tea-making process.
If you take a tour that includes a visit to a tea plantation during your time in the Cameron Highlands, this is the farm you'll likely visit.
The other main tea plantation, the Cameron Valley Tea House, is smaller than BOH, but still has some great plantation views and a tearoom that overlooks them. This farm is closer to Tanah Rata, which means a taxi ride here and back is cheaper.
And finally, on the tea-front, there's the Jim Thompson Tea Rooms. A rather swanky affair, but probably worth the splurge, this is where you want to come for the British colonial high tea experience, cucumber sandwiches and all!
Hiking
After the farm visits and the tea drinking, it's all about hiking in the beautiful natural surrounds of the Cameron Highlands.
There's many guided walking tours you can take, which range from half day casual strolls (Mossy Forest tends to be a favourite for these) all the way up to challenging full day hikes.
The advantage of a hiking tour is that you can be assured of not getting lost and of learning a lot about the flora and fauna you are seeing from your local guide.
Otherwise, there are lots of numbered and marked hiking trails in and around Tanah Rata which you can enjoy without a guide.
Personally, I wouldn't suggest hiking them alone, just in case something happens and you're without signal and lost in the rainforest (not to sound all gloomy, but yeah it happens), however a group of us from the hostel went together and enjoyed a fab hike by combining a few of the trails to make a good day's walk.
Before you do set out, I'd highly advise seeking the advice of Father's Guesthouse, who have lots of up-to-date and trusted info about the state of the trails, the conditions of which can change rapidly dependent on recent rainfall.
I'd also suggest downloading the relevant maps.me before you set out, in case the trail does become a bit confusing as it often can.
And finally, I recommend setting out as early in the day as possible, because conditions up at this altitude mean afternoon rains can quickly blow in (even if the morning sky is totally blue) and you do not want to still be out on a trail after dark and / or in a storm.
It's also worth seeing the packing list at the end of this article for ideas about what to take, but water, good shoes, a rain jacket, insect repellent, a hat and sunscreen are a minimum.
Where to Stay in the Cameron Highlands?
I stayed at the fabulous Father's Guesthouse during my whole time in the Cameron Highlands and couldn't rate it highly enough.
Not only do they have fab info about all the hiking trails, tours and transport options into and out of the area, but this place also has a wonderfully, friendly vibe with staff that genuinely care.
Dorms or private rooms are available, there's a small kitchenette for guest use, great free wifi and best of all, lots of sunny balconies and common area to chill out / socialise in.
The location is great – just off the main street – and it's walkable from the bus station.
Overall the place is clean, relaxed and quiet.
Where to Eat?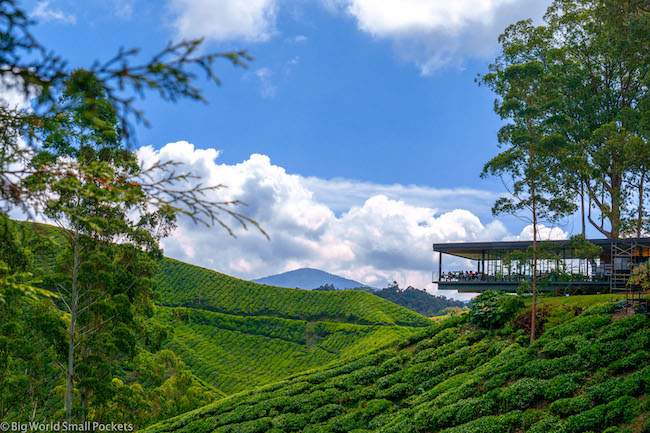 As I've said, heading to the tearooms is a key thing to do in the Cameron Highlands, meaning you can tuck into all the scones, strawberries and high tea sandwiches you like there!
Otherwise, when it comes to main meals, the great family restaurant Singh Chapati is a firm traveller favourite, which offers great value, delicious Indian cuisine. It's only open for dinner and you need to get there early, because they only remain open until the food runs out… which is generally quickly! This place is a 4 minute walk from Father's Guesthouse.
If you need your coffee fix there is, unbelievably, a Starbucks in Tanah Rata… just saying!
What to Pack?
Hiking Footwear
Activewear
Cap / Hiking Hat
Sunglasses
Sunscreen
Insect Repellent
Thicker Layers for the Evening
Phone with Maps.me access
Learn more in my recommended South East Asia packing list.
Safety in the Cameron Highlands
As was the case across Malaysia, I felt very safe travelling as a solo woman in this region.
If possible, I might add that I felt even more safe in the Cameron Highlands than elsewhere, because of the chilled, remote and small nature of its towns.
That said, I wouldn't advise wandering too far off the main street after dark by yourself and also would not advise taking unnecessary risks when hiking, such as going out alone / after dark / in bad weather.
Outside of this, I think safety in the Cameron Highlands is good and it's a nice, easy and relaxed place to adventure as a group, in a couple or by yourself.
World Nomads offers simple and flexible travel insurance. Buy at home or while travelling and claim online from anywhere in the world.
Alternatively, if you're a long-term traveller, digital nomad or frequent remote worker seeking travel health cover, check out Safetywing's Nomad Insurance policies.
PIN IT TO PINTEREST!
And there you have it, my ultimate guide to Malaysia's Cameron Highlands.
Have you been to this gorgeous area?
Did you love it as much as me?
What was your fav thing to do there?