If you're looking to spot some amazing wildlife in Africa, then you'd be hard pushed to find a better destination than Botswana.
Located in Southern Africa and sparsely populated, this huge country boasts some incredible national parks and a huge array of wildlife, from elephants to lions, hippos to giraffes.
Being both a stable and safe country politically, Botswana's economy is doing pretty well thanks to its natural resource industry and, as such, national parks here are well established and regulated, making them easy to access and enjoy.
From one of the world's most impressive delta systems, to incredible desert landscapes and African bushlands, Botswana's topography is as varied as it is vast.
In fact, the words "incredible" and "impressive" don't even cut it when looking to describe the experience of travelling here.
So to get you all inspired and booking your trip to this country asap, here's the best things to do in Botswana…
---
Related Posts
---
This page contains affiliate links meaning Big World Small Pockets may receive a small commission on any purchases at no extra cost to you.
---
Grab Your Copy of How to Travel Africa for Less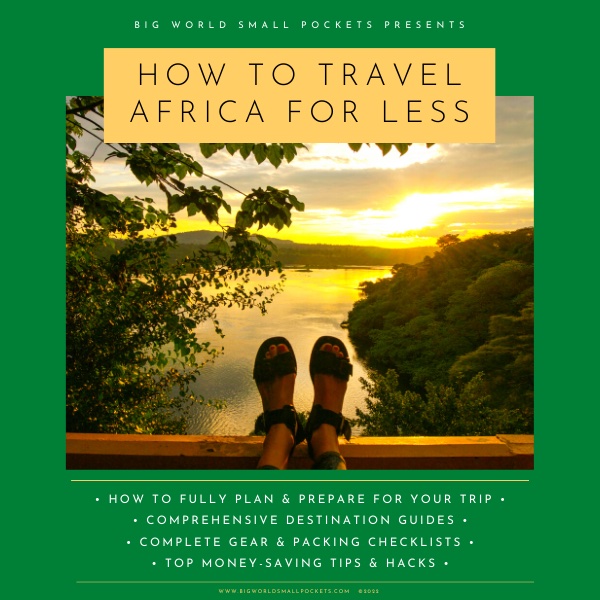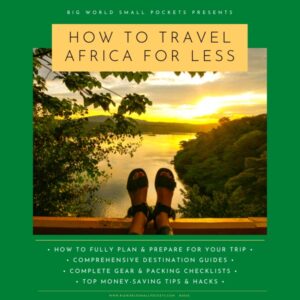 My ultimate guide to travelling Africa on a budget is now available, meaning you can finally get ALL my top tips for adventuring around all, or parts, of this amazing continent in one handy eBook, including…
Full Planning & Preparation Guides
Detailed Destination Info
Complete Packing & Gear Lists
Top Money-Saving Tips & Hacks
So, What Are The Best Things to Do in Botswana?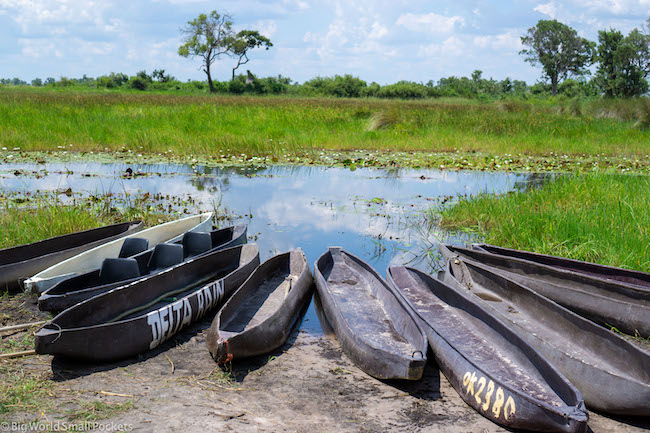 It may come as no surprise to you given my intro that the best things to do in Botswana are almost entirely based around wildlife and the natural landscape.
Rather than having lots of smaller parks, Botswana has small number of huge national parks which form the backbone of this list.
This means the number of top things to do in Botswana appears limited, but is actually full of potential!
2 of the most incredible places to visit in Botswana are Chobe River National Park and the Okavango Delta, both of which span huge swaths of this wild country.
Also on this list of the best things to do in this country are the Makgadikgadi Pans, as well as the Kalahari desert.
But outside of these big-ticket items, just travelling through Botswana is honestly one of the most amazing things to do.
Huge natural landscapes greet you at every turn and road tripping across this vast country will likely allow you to see a lot of wildlife without even having to enter a national park!
This is because many of the reserves in this country are joined together, meaning they provide some incredible wildlife corridors.
And it pays off; the amount of animals you can see almost anywhere in Botswana is astounding.
So it goes without saying, that road tripping is definitely one of the best things to do in Botswana – even making your way between destinations in this country is all part of the epic travel experience.
As such, for the purpose of this article, I'm going to focus on my 2 favourite destinations in Botswana (which also happen to be the most 2 popular) namely the Okavango Delta and Chobe River National Park.
Where Are These Located?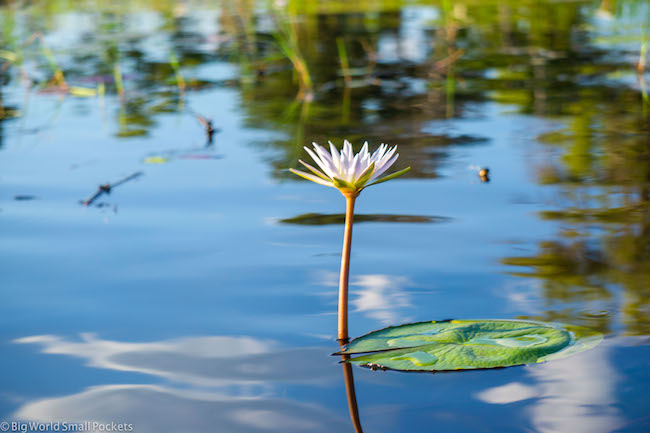 Both Chobe River National Park and the Okavango Delta are situated in the north of Botswana, which means visiting them both during your time in this country is highly possible.
Driving from one to the other sees you travelling through exactly one of those amazing wildlife corridors too, which means together they provide an all-round incredible experience.
The Makgadikgadi Pans are also not too far away and can possibly be combined to make a longer trip if you're up for some serious driving.
However, the Kalahari Desert is miles away!
Tucked down in the southwest corner of the country, this is a huge area that's far less accessible and easy to reach.
Making up part of the massive Kgalagadi Transfrontier Park, which actually stretches into neighbouring South Africa too, visiting the Kalahari Desert, and the indigenous communities that live here, is often enough of an adventure all by itself.
THE BEST TRAVEL INSURANCE FOR BOTSWANA
I would never think of travelling to Botswana without proper coverage and always recommend travel insurance from World Nomads who I've used during my time in this country and throughout Africa.
I love their great coverage of safari activities – crucial for a country like Botswana – as well as their excellent customer service and ability to claim online, which is very handy if you're travelling in remote places for a long time.
Getting to the Best Places in Botswana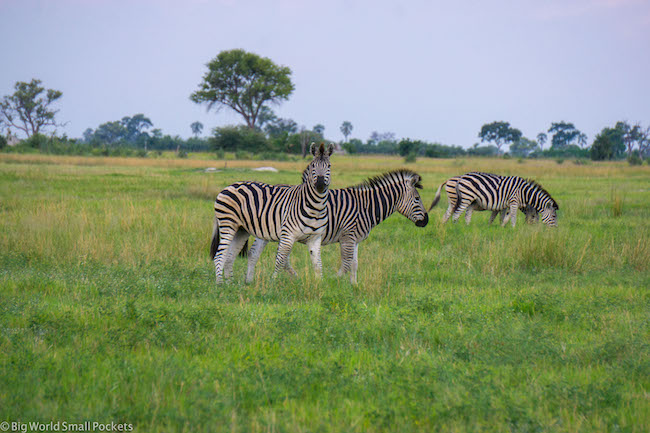 As I said above, I'm focusing this article on the best things to do in Botswana around Chobe River National Park and the Okavango Delta, because these 2 places are located near each other, are easily accessible, wildly popular and utterly amazing.
If you're looking to self-drive in Botswana, many people hit up both these biggies as part of a longer road trip across from Victoria Falls on the Zimbabwe / Zambia border to Namibia, skirting the north of Botswana enroute.
Because both Chobe and the Okavango are situated in the north, along that wildlife corridor, they are great destinations to visit as part of this journey.
They have good road connections, ample accommodation options and are easy to access.
For these reasons too, many African overland tours that cover countries in Southern Africa over a period of weeks, also take a similar route through Botswana, which is why these 2 huge national reserves really are the focus of tourism in the country.
Alternatively, if you're looking for a smaller safari adventure then, given the proximity of Botswana to South Africa, many 5 – 7 day adventures from Cape Town or Johannesburg also head out to the Okavango and Chobe, looping through the Makgadikgadi Pans on the way there or back.
If you want to get to the Kalahari Desert you are best to take a standalone trip, many of which can again be picked up from Cape Town in South Africa.
Due to the more complicated access and remote nature of this area, trips to the Kgalagadi Transfrontier Park tend to be a little more pricy.
If you're interested in an unforgettable, well-priced tour in Botswana with guides you can trust, then email me at [email protected] and I'll send you my top recommendations – simple!
Alternatively, I'm currently offering my readers an exclusive discount on all Absolute Africa tours (who I've travelled to Botswana with twice), meaning you can now enjoy even more in this amazing continent for even less!
Simply send this top African overland tour company an email to [email protected], quoting the discount code BWSP, and start planning your incredible trip with them today!
So now I'm moving forward to concentrate on what I would list as the 2 best things to do in Botswana.
More about Chobe River National Park…
Chobe River National Park is a fabulous introduction to safari experiences in Botswana and, as such, often forms many visitors first taste of it all.
Set along a huge body of flowing water, the Chobe River (no surprises there!), this national park is located near the town of Kasane, just an hour or so drive from the Zambia / Zimbabwe / Botswana border.
Another reason, why so many people head here after Victoria Falls!
Chobe River National Park is most famous for its elephant populations which are huge, so if you're dying to see some of these big guys, this is one of the best places to head in the whole African continent – no surprise therefore that it's on my list of the best things to do in Botswana!
Besides elephants, you'll also get the opportunity to see lions, giraffes, warthogs, hippos, buffalo, zebras and a huge range of antelopes and birds.
In fact Chobe has one of the greatest concentrations of wildlife in Africa.
Botswana's first national park and its third largest, most people spend 1-2 nights in Chobe Park, taking advantage of the different safari opportunities it has.
Most popular are morning game drives, where the possibility of seeing the big cats after their night of hunting is highest.
Theses safari usually start around dawn, so you can see animals before they take cover during the heat of the day, and last until late morning.
The tours are usually conducted in small group numbers riding in open-sided safari vehicles.
They can be booked with the park either on arrival, or better, in advance during high season.
In addition, sunset river cruises are a great way to spot wildlife in and around Chobe River and provide a wonderfully different sort of wildlife experience.
Camping is available in a range of sites around the edge of the park, as well as in the town of Kasane, and there's more luxurious safari accommodation available in many places too.
To learn more, check out my article about Chobe River National Park.
More About the Okavango Delta…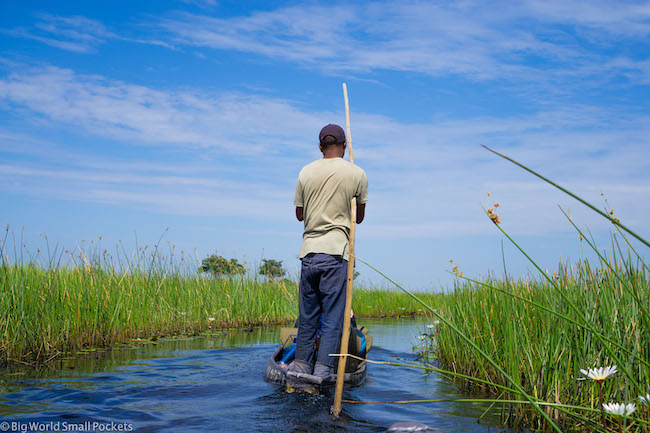 Moving west from Chobe River National Park towards Namibia, you'll then encounter the mighty magnificence of the Okavango Delta, undoubtedly one of the best things to do in Botswana, if not the whole continent!
This huge floodplain provides a totally different safari experience to Chobe River National Park, which is another reason why they make a great travel combination.
Located near the town of Maun, this large wetland area is usually best enjoyed as a 2 day remote excursion, which will seeing you departing Maun to camp within the Delta itself with local people.
Maun is well set up for travellers, so you can find accommodation, supplies, food, fuel and much more here. If you have a vehicle, you can leave it in Maun and then head out on your delta experience.
Likewise, if you're travelling with a tour or an overland company, the main vehicle will stay in Maun and you'll just take the bare necessities for a few days out in the wild!
A key part of any time in the delta is experiencing the amazing local polers and traditional mokoro canoes, which are still used as the main mode of transport here.
Local people know how to move quickly and safely through the reeds and they also know the changing landscape too, as the shifts in geography here are extreme and quick dependent on the season and water levels.
To give you some idea of the scale, Wikipedia states that "each year, about 11 cubic kilometres (2.6 cu mi) of water spread over the 6,000–15,000 km2 (2,300–5,800 sq mi) area" which means this landscape can look vastly different depending on what time of year you visit it.
Regardless, any trip to the Delta usually involves a few days camping out on its islands within the watery plains right among the wildlife.
Hearing the sounds of hippos grunting from your tent in the morning is not usual and walking safaris conducted with local guides around the campsite will bring you into contact with a whole heap of amazing wildlife, as well as plants and birds.
Scenic flights from Maun are also a great way to experience the Okavango Delta and will truly convince you this is one of the best things to do in Botswana.
Although a bit of a splurge, it's only from the height of an aircraft that you can truly comprehend the size of this enormous landscape.
To learn more about this place take a look at my article dedicated to the Okavango Delta.
6 PACKING ESSENTIALS FOR THE BOTSWANA
#1 Headtorch – Required for your camping overnight excursion in the Delta as there is no electricity, I love my Black Diamond Storm, which served me perfectly here.
#2 Botswana Lonely Planet – A great travel aide to this country with tons of historical info, maps and top tips, the Botswana Lonely Planet will help you get the best from your time in the Okavango Delta and beyond.
#3 Good Camera – Botswana is one of those ultimate bucket list destinations and travelling here with a good camera will help you preserve the memories. I highly recommend the mirrorless Sony A6000. Light, compact and robust, it's been perfect for my Africa travel adventures.
#4 Sun Hat – Botswana is hot year round, with some crazy strong UV rays. When you're in a mokoro or enjoying a walking safari in the Delta, you'll be exposed to the sun for long periods of time, so making sure you pack a sunhat for adequate protection is key. I love this one from Hello Sunshine.
#5 Insect Repellent – Malaria is a huge risk in Botswana, so cover up at night and use at least a 30% DEET repellent.
#6 Sarong – Whether it's for shielding your shoulders from the sun, using as a sheet when camping or as a towel after your Delta swim, a sarong is a great multi-purpose travel item to bring here. I love these ones from One World Sarongs.
When to Visit Okavango Delta and Chobe River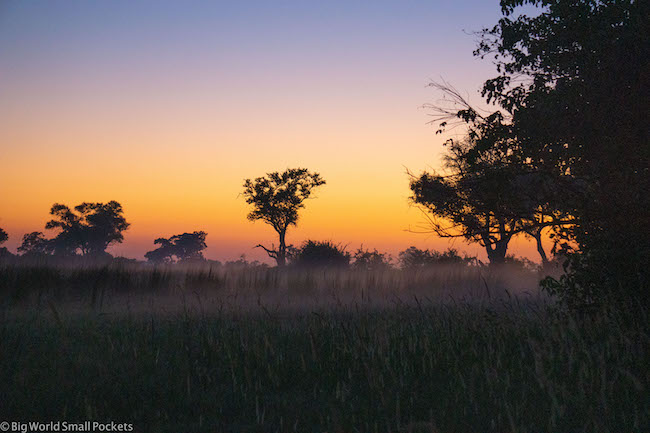 So, as you will have guessed from my info about the Delta at least, visiting Botswana during different times of the year can lead to wildly different experiences.
Probably the best time to visit the Okavango Delta is during the months of March through May.
This is when the summer rainy season has ended, meaning you won't get soaked, but the water levels are not yet at their highest, meaning you'll still get to see the lush green scenery and plenty of wildlife.
In addition to this, during these months the sweltering heat of the high summer months has passed.
March, April and May are also good times to visit Chobe River National Park (it's essentially winter there then too) again because temperatures are more reasonable and it's dry, meaning less humidity!
However, this park has a longer peak season, which extends into September and October, to coincide with the high Southern Africa safari season in general.
Things can start to get a bit dusty once you hit September and October as the rains are long gone and the temperature hotting up, but being set along a body of water, it's easy to spot animals in Chobe at almost any time.
PIN IT TO PINTEREST!
And that's my guide to the best things to do in Botswana.
Have I convinced you to book a trip to this amazing country yet?