If you're looking for a brilliant Botswana adventure, then both the Okavango Delta and Chobe River National Park are 2 must-see destinations in this country you can't miss off your itinerary.
But which is better?!
After all, both are epic UNESCO-listed places, offering totally unique and utterly spellbinding landscapes and safari experiences!
Known as the elephant hotspot of sub-Saharan Africa, Chobe River National Park has one of the hugest concentrations of these grey giants across the whole continent, so if spotting these beauties (along with the rest of the Big 5 and a huge plethora of other creatures) is high on your list, Chobe (as it's colloquially known) is a must.
Equally, the mind-blowing expanse of the Okavango Delta shouldn't be underestimated. Wildlife can be spotted here year-round (as this significant water source never completely dries out) and the chance to see the abundant lush environment spring into life, as the water flows into this huge watery world from the Angolan plains, is like nothing else on earth!
Both sound like amazing destinations right?
But what if you have the hard decision of choosing between them?
Then this helpful article is going to break down all you need to know about visiting Okavango Delta and Chobe River National Park to ensure you make the ideal choice for the best Botswana safari possible…
---
Related Posts
---
This page contains affiliate links meaning Big World Small Pockets may receive a small commission on any purchases at no extra cost to you.
---
Time of Year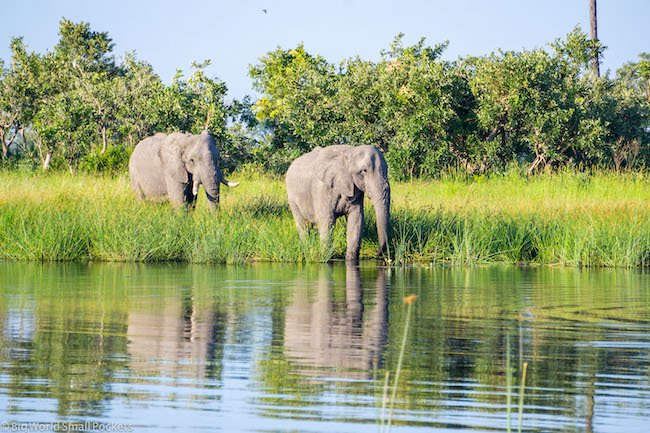 One of the first things to consider when deciding whether to visit the Okavango Delta or Chobe River National Park is what time of year you are travelling to Botswana.
And that's because certain times of the year will offer different opportunities in each of these destinations.
May through October is the dry season in Chobe River National Park, which means you'll have full access to the area, as well as the opportunity to enjoy a camping safari.
And, because the Chobe River never dries out, there's also likely to be a high concentration of animals in the park at this time, as many will come to seek out water at the sources that still exist in the dry season.
Learn more in this article I wrote about the best time to visit Chobe River National Park.
When it comes to the Okavango Delta, it's the latter part of the year which tends to be the best time to visit.
August through October is the ideal season here, as you'll generally get the best animal spotting opps and, because the water levels are at their highest at this time too, the best mokoro experiences as well.
Again, you can learn more in this article I wrote about the best time to visit the Okavango Delta.
July to October is the high season across all of Botswana and this definitely results in higher prices and more people in the parks.
Within this period, both Chobe River National Park and the Okavango Delta do get busy, especially in July and August when the North American and European school holidays fall.
If you're looking to enjoy a safari for less therefire, then I'd avoid these months, as the peak season brings both crowds and peak prices!
Transport and Access
Another thing to consider when deciding whether you should visit the Okavango Delta or Chobe River National Park is access.
It pays to know that safari tours to Chobe River National Park either depart from the northern Botswanan town of Maun or Victoria Falls on the Zimbabwe / Zambia border.
This makes Chobe River National Park pretty easy to get to year-round, as both Maun and Vic Falls boast international airports and good road access if you're renting your own car.
To get the best rates on flights, I highly recommend using Skyscanner, for car rentals, check out Discover Cars.
On the other hand, the Okavango Delta is accessed from either Maun, or via road from northern Namibia.
If you're coming from Maun (either via a rental car or as part of a safari or overland tour), you'll usually access the Delta by a short drive from Maun, followed by a mokoro ride.
These peaceful rides in traditional canoes take you through the shallow waterways of this unique ecosystem, allowing you to get up close and personal with the wildlife.
Wildlife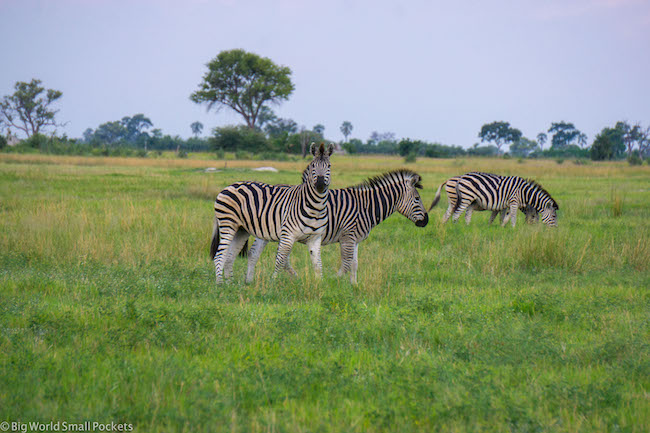 Which leads us on nicely to talking about the animals you can expect to see in both the Okavango Delta and Chobe River National Park.
Both spots offer a huge array of incredible creature sightings, but some large water animals (such as hippos and crocodiles) are more easily seen in the Delta.
The Okavango also offers the opportunity to enjoy walking safaris to spot some of the incredible birdlife and mammals that call this place home, including wildebeest, giraffe, hyena, kudu, antelope, zebra, warthog and most amazingly, black rhinos.
On the other hand, Chobe River National Park (as I mentioned in the introduction) is home to one of the greatest elephant concentrations in Africa – sightings are almost guaranteed and the chance to spot these grey giants splashing around and showering themselves with water in the river is quite something!
It's also possible to spot giraffes, zebras, elephants, buffalo, antelopes, hyenas, warthogs, baboons and wildebeest in Chobe River – quite the list!
Types of Safari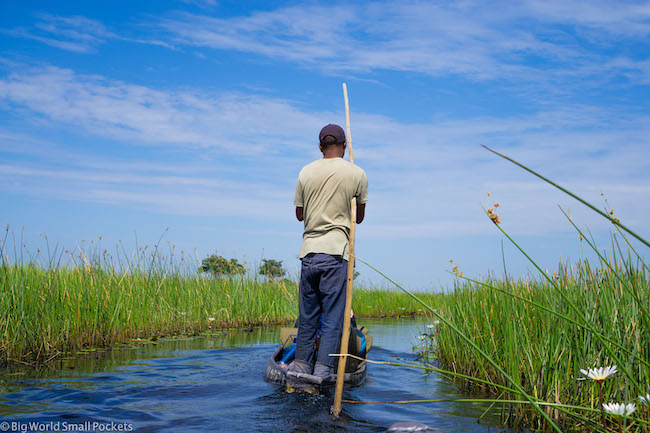 The chance to enjoy traditional canoe rides and learn how local communities have sustained themselves for generations in this fluctuating watery world is a key facet of visiting the Okavango Delta.
As one of the world's largest inland deltas, which swells to almost 3 times its size during the peak, this is a totally unique landscape, where life has had to adapt. Learning about this is a fascinating cultural experience.
You can also enjoy guided walking safaris in this amazing destination along with remote camping experiences deep in the Delta, which allow you to fully immerse yourself in this unique ecosystem.
In Chobe River National Park, on the other hand, the highlight has to be the river cruises that take you, usually at sunset, along this famous waterway to spot wildlife at close range.
These are usually accompanied by traditional game drives that generally take place at either sunrise or sunset, when wildlife is most active and you can avoid the heat that beats down during the main part of the day.
Accommodation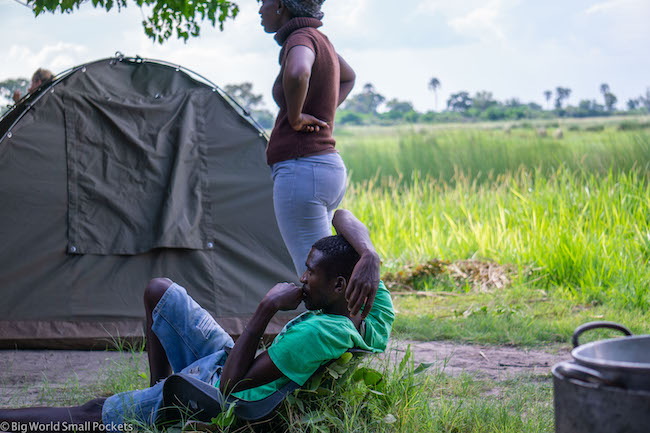 Both Chobe River National Park and the Okavango Delta offer a full spectrum of accommodation options, from high-end lodges to camping under the stars.
In the Delta, camping usually occurs on one of the many islands here, where back-to-basic sites allow you to immerse yourself in this remote watery world for a night or two.
Camping is also possible in Chobe – many nearby lodges offer facilities and there are campsites found within the park itself too.
In and around Chobe you'll be more connected than at the Delta, with access to at least a few services… such as a bar!
Usually, if you visit either the Delta or Chobe as part of a safari or overland adventure, your accommodation will be included in the tour price, so make sure you check the sort of accommodation offered if you're not that keen on camping!
Botswana is actually one of the most comfortable Subsaharan African countries to adventure in, with world class luxury lodges, so if you're looking for quality, this country is a great choice!
Botswana is also safe and politically stable with good infrastructure and access to services. This makes it a great option if it's your first foray into the southern Africa region.
Best Tour Itineraries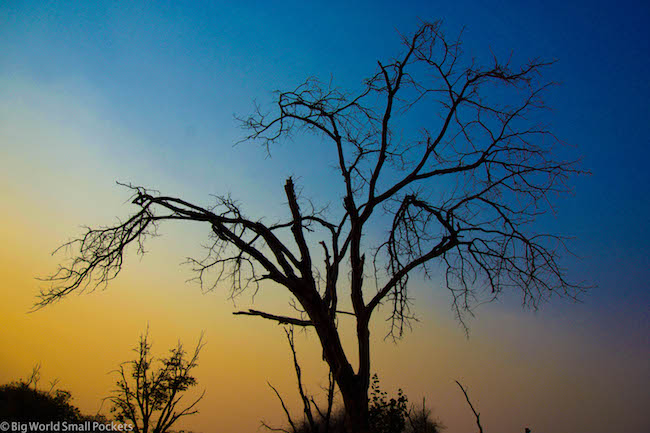 Hopefully, this article has helped you decide whether to opt for a Botswana safari in the Okavango Delta or Chobe River National Park.
If you still haven't made up your mind however, why not consider both?
Many fantastic safari options here include visits to the Okavango Delta and Chobe River National Park and can even be tied with to safaris to Etosha National Park in Namibia, as well as Victoria Falls on the Zimbabwe / Zambia border.
I've visited Botswana a couple of times, and on both occasions, I travelled here as part of an amazing adventure with Absolute Africa who I highly recommend for their excellent prices, great customer service, wonderful itineraries and amazing overall experience.
And you can now get an exclusive reader discount on your Absolute Africa safari when you email them at [email protected] and quote the code BWSP.
For other Botswana tour choices, including those with a more comfortable travel style check out these top options.
Mini Travel Guide to Botswana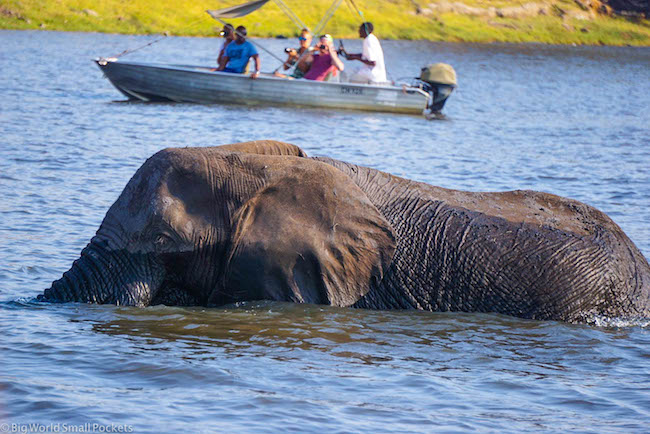 How Long to Spend in Botswana?
I'd suggest at least 5 days in Botswana to ensure you have the chance to visit both Chobe River National Park and the Okavango Delta.
Ideally, you'll spend 2 nights in both, with a night in Maun in between, but if you're pushed on time, you can probably get away with visiting Chobe for just 1 night.
Remember this country is big and travelling between destinations takes a lot of time, which you'll need to factor in as well.
Travel Insurance for Botswana

World Nomads offers simple and flexible travel insurance. Buy at home or while travelling and claim online from anywhere in the world.
Alternatively, if you're a long-term traveller, digital nomad or frequent remote worker seeking travel health cover, check out Safetywing's Nomad Insurance policies.
Top 5 Packing Items for Botswana
#1 Good Camera – Don't even think about coming to Botswana without a good travel camera to capture the best of this country. The Sony A6000 mirrorless ticks my box every time!
#2 Walking Shoes / Boots – These are highly recommended for walking safaris in the Okavango Delta and for early morning or evening game drives in Chobe, when the temperatures can really drop. Keen Targhee's II always get my vote!
#3 Birkenstocks – And talking of footwear, a good pair of sandals are king in Botswana. I love my Arizona Birkenstocks which were perfect for keeping my feet cool and supported at the same time. Literally wore them every day in this country!
#4 Waterproof Windproof Jacket – I visited Botswana in the dry season, but was amazed how cold it sometimes got at night, especially when camping. Having my North Face lightweight, windproof and waterproof jacket saved me!
#5 South African Power Adapters – Botswana primarily uses the format of South African power outlets, which are pretty unique, so make sure you come prepared with a suitable Skross adapter.
Travel Money in Botswana
When it comes to paying for things in Botswana, it's great to know that accommodation and tours can generally be paid for by card.
ATMs are also available in most major towns.
Whether you use ATMs or pay by card however, you'll want to ensure you're not being charged overseas transaction fees or getting poor exchange rates, which is why I always take my Wise card away with me wherever I travel.
The easy way to spend abroad with real exchange rates, no markups and no sneaky transaction fees, you can use your Wise card just like a debit card in Botswana… and it links easily with Google and Apple pay – sold! Get yours here.
PIN IT TO PINTEREST!
So there you have it, my answer to whether you should visit Chobe River National Park or the Okavango Delta.
In reality, I definitely think you should visit both if you can!
Have any more questions about these 2 top safari spots?
Just drop them into the comments box below and I'll get straight back to you!