One of Botswana's premier safari destinations, there's no question Chobe River National Park needs to be on your African wildlife hit list.
Boasting one of the highest concentrations of elephants across the whole continent, not to mention the other plethora of wildlife that call this reserve home, this epic destination boasts game drive opportunities, as well as amazing river cruises that are the perfect place to take animals at close range.
Featuring a large variety of stunning southern African landscapes too, including both river wetlands and dry savannah, Chobe River National Park is vast (it's actually about the size of Northern Ireland!) and well worth a few days of your time in Botswana.
But when to visit?
If you're considering a trip to this stunning wildlife haven, then read on to discover the best time to visit Chobe River National Park, no matter whether its mammal spotting, bird-watching, cheap trips or combining this reserve with other top spots in southern Africa, here's all the info you need to know…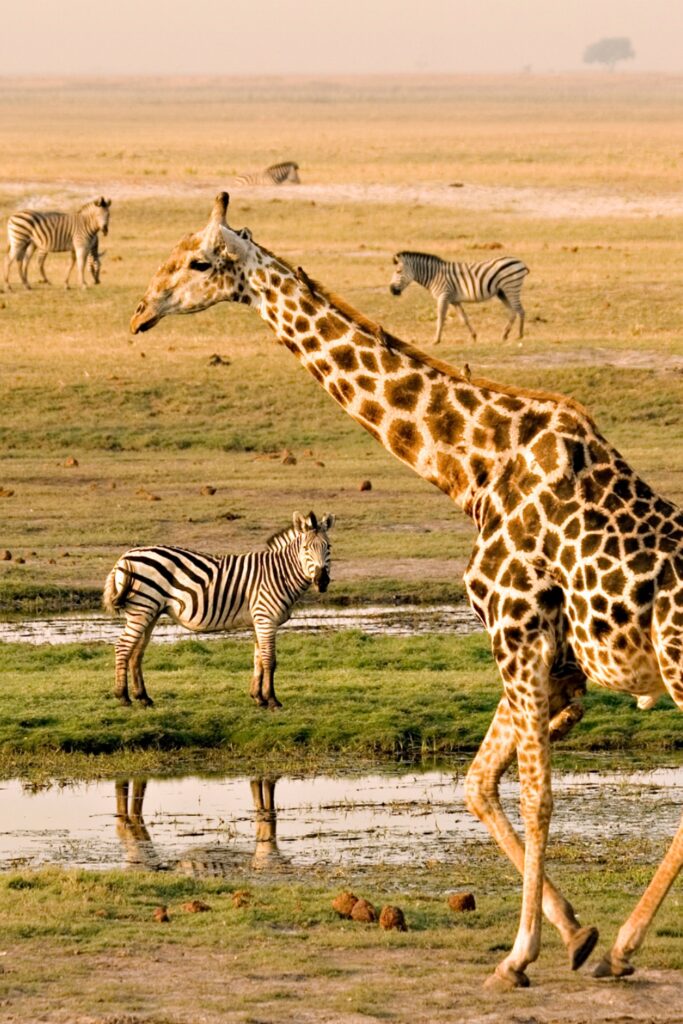 ---
Related Posts
---
This page contains affiliate links meaning Big World Small Pockets may receive a small commission on any purchases at no extra cost to you.
---
Overall Best Time to Visit Chobe River
To be honest, one of the great things about Chobe River National Park is that you can enjoy a brilliant safari here all year round.
Much of the wonderful local wildlife can be spotted across all 12 months of the year, making Chobe a terrific safari destination whatever the season.
That said, there are certain times of the year when the conditions and climate in this region may make a safari in Chobe more enjoyable.
In general, it's useful to know that Botswana has two main seasons – a wet, hot summer and a cooler, dry winter.
And in my opinion, that time is during the dry season, which in this part of Botswana runs between the months of May and October.
During these months the cooler temperatures make for a more pleasant experience and the lack of rainfall and blue skies also means access and camping safaris are more enjoyable too.
In addition, the paired-back vegetation means it's easier to spot wildlife and, because the Chobe River never dries out – in that it remains an important water source even during the drier months – the concentration of animals in the park at this time is super high.
That said, even within the dry season, there are a few nuances when it comes to the best time to visit Chobe River National Park and, in this article, I break them down for you…
Best Season: May & June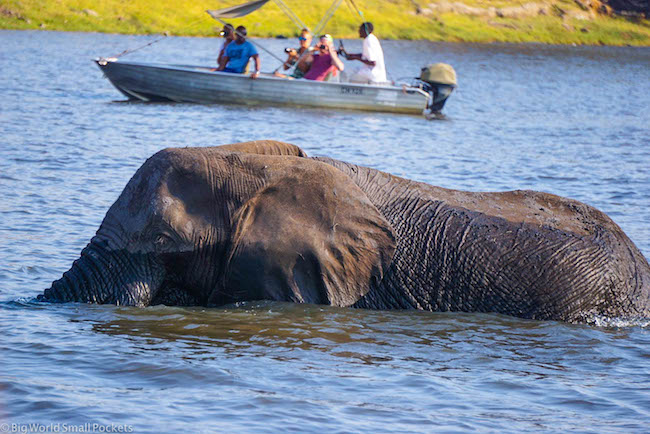 An optimal time to visit Chobe River in my opinion, the months of May and June herald the start of the dry season in Botswana and this reserve.
With lots of green vegetation still on display, this is a prime time to enjoy the natural beauty of this southern African destination, without the access issues and afternoon downpours of the wet season.
Temperatures are also good during these months and the crowds aren't too bad either.
As a result, you won't be fighting loads of other vehicles for those best game drive shots and you won't be paying the highest prices for lodges and tours either.
May and June is also a great time to visit the Okavango Delta (learn more in this article I wrote), so if you're looking to combine these 2 top Botswana safari spots, these months are ideal!
Busy Season: July & August
These months are also key dry seasons times to visit Chobe River National Park, with pleasant temperatures, lack of rainfall and great wildlife spotting all pretty much guaranteed.
The only downfall is that these 2 months are some of the busiest in Botswana.
Thanks to the North American and European ended school holidays falling in July and August, crowds reach their maximum in the safari spots of Botswana during these months and, as such, prices and numbers in the park swell.
If you're looking for a cheaper safari and to avoid the crowds, you may be best to select alternative dry season months to visit Chobe.
Hot Season: September & October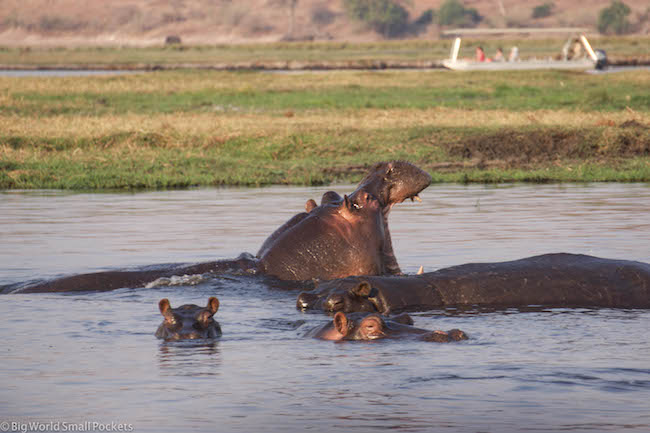 Although still technically part of the dry season, it's certainly worth bearing in mind that in September and October temperatures in Chobe River National Park start to rise.
Along with this, the humidity increases too, as the wet season and prolonged rains draw closer.
This can certainly make for a less comfortable experience, especially if you're not good in the heat, because these are the hottest months in Botswana and the mercury can reach up to 35 degrees!
If you're safaring on a budget therefore, and perhaps camping in Botswana, do be aware you'll have to cope with nights that, although cooler than the day, will still require sleep without a fan or aircon!
Green Season: November – March
If you're looking for a bargain-priced safari in Botswana, then the best time to visit Chobe River National Park is certainly during the green season.
In reality, this is the time that the rains come to the country, but often there are blue sky days around the afternoon downpours.
Visitor numbers and prices are lower at this time of year, and the scenery pops with verdant foliage while animals give birth to their young.
In addition, if bird spotting (rather than game spotting) is your priority, the months of November through March are also a great time to visit Chobe.
A world-renowned birding destination, with over 450 species recorded (including the iconic African fish eagle), twitchers flock here during the winter to enjoy birding boat trips and incredible photography opportunities.
This is particularly true of the summer wet months in Botswana when many hundreds of bird species arrive back in Chobe after their migration from further north in the dry season.
Safaris are certainly cheapest in the wet season too, and although at this time you may experience access issues in the Okavango Delta (especially in the wettest months of December through February), this isn't usually an issue in Chobe.
In addition, the wet season is also the best time to visit nearby Victoria Falls, which many adventurers combine with their time in Botswana.
With the large volumes of water falling from the sky, Vic Falls are at their most powerful here and the spectacular is even more breathtaking!
Just a few hours' drive from Chobe, you can find this incredible natural spectacular on the border of Zimbabwe and Zambia, so if you do visit during Chobe River in the wet season, I strongly suggest building a trip to Victoria Falls into your itinerary too.
It's also worth pointing out that I visited Chobe River National Park during the green, wet season and actually found it really enjoyable.
Although it was meant to rain heavily, I actually experienced fairly dry weather and any showers I did get certainly didn't put me off this incredible safari experience. And yes, I still saw loads of animals!
So there you have it, my take on the best time to visit Chobe River National Park.
Mini Travel Guide to Chobe River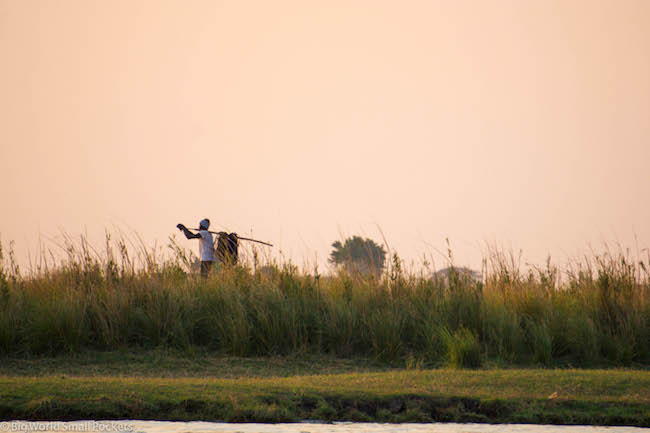 How Long to Spend There?
I'd suggest at least 2 days in Chobe River to ensure you have the chance to tick most of the major wildlife and activities – including a boat cruise on the river and a couple of fab game drives.
Best Chobe River Tours
I travelled through Botswana as part of an amazing adventure with Absolute Africa who I highly recommend for their excellent prices, great customer service, wonderful itineraries and amazing overall experience.
And you can now get an exclusive discount on your Absolute Africa safari when you email them at [email protected] and quote the code BWSP.
For other Botswana tour choices, including those with a more comfortable travel style, check out these top options.
Travel Insurance for Botswana
World Nomads offers simple and flexible travel insurance. Buy at home or while travelling and claim online from anywhere in the world.
Alternatively, if you're a long-term traveller, digital nomad or frequent remote worker seeking travel health cover, check out Safetywing's Nomad Insurance policies.
Travel Money in Botswana
When it comes to paying for things in Botswana, it's great to know that accommodation and tours can generally be paid for by card.
ATMs are also available in most major towns.
Whether you use ATMs or pay by card however, you'll want to ensure you're not being charged overseas transaction fees or getting poor exchange rates, which is why I always take my Wise card away with me wherever I travel.
The easy way to spend abroad with real exchange rates, no markups and no sneaky transaction fees, you can use your Wise card just like a debit card here, and it links easily with Google and Apple pay. Get yours here.
PIN IT TO PINTEREST!
Have you planned your trip to this top Botswana safari spot?
When are you planning to go to Chobe River?
Have any more questions about this national park?
Then don't hesitate to drop them into the comments box below…