Planning a Botswana safari and wondering where to start? Then you've come to the right place!
Here's 10 incredible tips that condense all the key info you'll need to plan and prep your trip of a lifetime.
Located in Southern Africa, bordering Namibia, Zimbabwe and South Africa, Botswana has become one of the top safari destinations across the continent, with even Hollywood stars and English royalty paying a visit to this special place.
And it's easy to see why!
With remarkable national parks famed for their unique ecosystems and rich concentrations of wildlife, a Botswana safari really is the adventure of a lifetime.
Safaris here can be enjoyed independently, in the form of self-drive options, or as part of a tour and, whichever option you go for, it pays to know that Botswana safaris can be some of the most affordable in Africa.
Add to this the fact that Botswana is both a safe and stable African country and you've got yourself a winner!
So here's all you need to know when it comes to planning your amazing Botswana safari experience…
---
Related Posts
---
This page contains affiliate links meaning Big World Small Pockets may receive a small commission on any purchases at no extra cost to you.
---
#1 Where to Safari in Botswana?
There's 2 main spots in Botswana that most visitors, looking to experience the safari of a lifetime, head for in this country.
The first is Chobe River National Park.
Located in the north east of the country, very near the Zimbabwe border, Chobe River is known for its impressive elephant population, meaning sightings of these grey giants here are basically guaranteed.
You can also enjoy boat safaris on the river in Chobe – an ideal sundowner option!
The other main place most safari seekers in Botswana head to is the Okavango Delta.
Also located in the north of the country – which means it's not too far to travel to or from Chobe – this famous delta is UNESCO world heritage listed and was named one of the 7 wonders of Africa in 2013.
Seasonal flooding here brings a huge plethora of animals and birds to this watery world and safari trips amidst the Okavango often involve riding in local dugout canoes, known as mokoro, to visit some of the delta's islands, as well as get up close and personal with some amazing wildlife.
If you need to choose between these 2 destinations, check out this article I wrote that compares them.
#2 When to Safari in Botswana?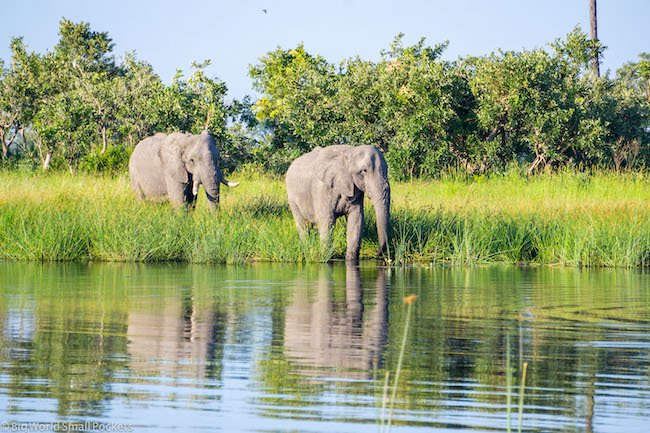 One of the first things you need to consider when planning a safari trip to Botswana is what time of year to visit.
While Botswana has two seasons, the great thing about safaring in this country is that you can enjoy a brilliant adventure there all year round.
If it's guaranteed game spotting and safari big hitters you're after on your trip, then the dry season would be the best choice for your visit to Botswana.
Although the country's parks are known for excellent game spotting all year round, you are likely to tick more iconic African wildlife off your bucket list if you visit during Botswana's winter months from April to October.
This is because, unlike many water sources in Southern Africa, Botswana's prolific Chobe River and Okavango Delta do not dry up during the winter season.
As such, huge numbers of animals are drawn to these precious sources seeking much-needed water at this arid time of year.
That said, it's worth bearing in mind that the main parks in this country can get very busy during peak safari season (which runs from July to October), so if you'd like to have a quieter, more intimate experience, visiting outside of these months is advisable.
The other point to consider is that it also gets very hot in August and September, so you may want to skip visiting during those months too if you struggle with humidity.
After all, one of the brilliant things about a safari in Botswana is that, even outside of peak season, you are still likely to see a lot of local wildlife during your trip.
If you're a keen twitcher and it's the country's amazing birdlife you really want to see, then it's actually best to visit during Botswana's summer months.
Many of this region's bird species are migratory, making the warmer, wetter months (namely December through March) the best time of year for bird watching here.
This is particularly true in the Okavango Delta, when the seasonal floods turn this spot into a birder's heaven!
Getting clear on your safari priorities will help ensure you visit this country at the right time of year and get everything you want from your Botswana safari experience.
Learn more in these posts I wrote about the best time to visit the Okavango Delta and the best time to visit Chobe River National Park.
#3 How Long to Spend in Chobe & Okavango Delta?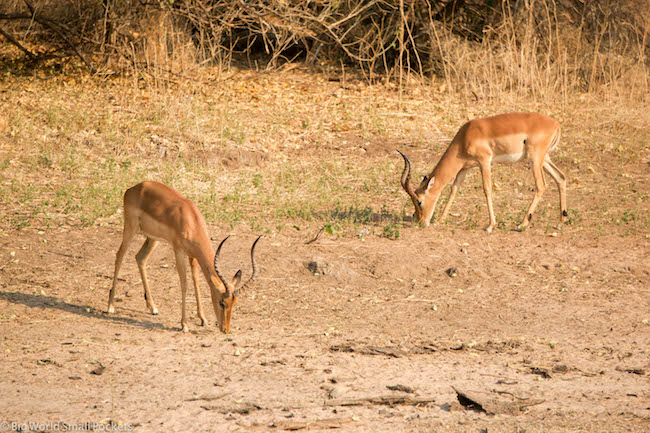 With so much to see, you'll want to spend at least a few days in both the Okavango Delta and Chobe National Park.
The prime game viewing times here are during the early morning and late afternoon, so you'll need to spend at least a night or two in, or near, the parks to catch these game drive slots.
Then you'll also have to fit in a sunset river boat cruise and a mokoro trip too!
Don't miss the riverside area of Chobe and the opportunity to take a boat safari on the water to see the serene sights of the Serondela, which consists of lush floodplains and dense forests that attract huge numbers of elephant and buffalo.
Then, if you have time, you'll also want to see the Savuti area of this park too.
This area is considered by many safari experts to be Botswana's 'predator capital', meaning that if you want to see the infamous African big cats in action, you'll want at least one day here.
Across in the Okavango Delta, it's popular to leave the main settlement of Maun and head out to spend a night or 2 camping in the Delta itself.
This will give you a unique insight into the wildlife here, including a walking safari, as well as how local people have lived alongside the ever-changing landscape for thousands of years.
#4 How to Get There?
When it comes to travelling to Botswana, it's useful to know that Kasane International Airport is less than a 10-minute drive from the gates of Chobe River National Park, making it one of the easiest ways to access your safari here.
Kasane International Airport is easy to reach from Johannesburg in South Africa, with daily flights connecting the two destinations, meaning you can fly to Kasane from anywhere that allows a Johannesburg connection.
As always, I use Skyscanner to find the best prices.
Alternatively, you can also fly to Victoria Falls Airport to reach Chobe National Park.
Just 2 hours by road from Chobe, arriving at Victoria Falls will also allow you to make an epic stop at the world's largest waterfall on your way to Botswana.
Given Vic Falls' breathtaking and iconic status, many people opt for a safari package that starts in Victoria Falls and ends at Kasane – an easy and affordable way to wrap both these magical places into one epic Southern African trip.
For those that want to travel to the Okavango Delta, you can either drive the 200km ish distance from Chobe River National Park, or else enter Botswana from Namibia – the perfect solution if you've been visiting Etosha National Park in this country.
#5 What Safari Activities Can You Enjoy in Botswana?
One of the reasons Botswana makes the perfect choice for an epic safari adventure is because there's so much to do there!
From epic morning game drives as the sun rises and the country comes to life, to savouring sundowners from the deck of your sunset river boat safari, as you watch the world glide by, the national parks in this country offer it all.
Walking safaris and traditional canoe rides can also be enjoyed in the Okavango as you glide (safely) past hippos and spot elephants in the distance!
The keen birders among you can also enjoy special birdwatching tours in Chobe and the Delta, and specialised wildlife photography safaris are also available to those keen to capture the park's amazing creatures on film.
#6 What Animals Can You See on a Botswana Safari?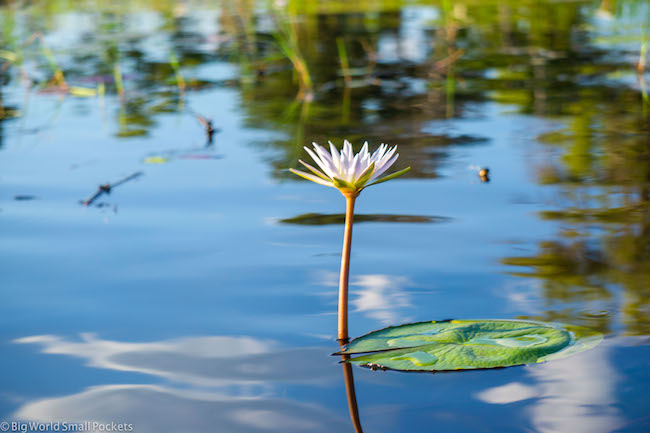 Spotting animals will not be a challenge on a Botswana safari!
Thankfully there are a wide range of animals in this national park and, when it comes to safari bucket lists, this place has it all!
With the highest concentration of elephants in Africa, Botswana is also one of the best places to see the continent's iconic big cats, with lions, cheetahs and even the elusive leopard, regularly being spotted.
You can also get up close with drinking water buffalo, bathing hippos and crocs (from the safety of a boat!) and seeing giraffe, wildebeest, warthog, zebra, impala, baboon and hyenas is also common.
Sadly, like most places, the rhino population in Botswana has been in sharp decline in recent years.
However, the good news is these amazing animals are being successfully reintroduced into some private areas of national parks, so it's hoped their numbers will soon be on the rise again.
#7 Where to Stay?
Where to stay during your Botswana safari largely depends on the level of comfort you're seeking and your budget.
Botswana is famed for its luxury lodges and, as a result, this country is one of the most exclusive safari destinations in Africa.
If you want to splash out on a high-end experience, there are many options available.
Of course, not everyone has the budget for a luxury lodge however, so many Botswana safari parks include a wide variety of accommodation options that are tailored to a range of budgets and are situated both within and close to the park, including camping.
#8 Is a Botswana Safari Safe?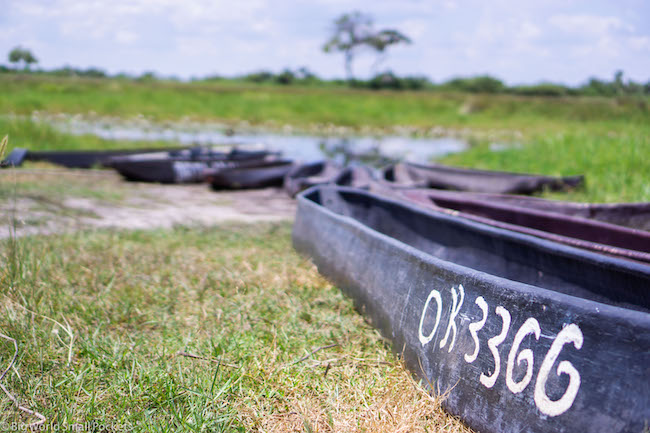 Botswana is considered one of the safest nations in Africa to travel to and has a strong economy and stable government.
As a result, tourism is well-established and welcomed here.
However, as always with travel to Southern Africa, do make sure you consult the most up-to-date travel advice before arriving.
Chobe lies in a high-risk malaria zone, so it is advisable to consider taking antimalarial medication.
Insect repellent and covering up in the evening are also strongly advised.
Always speak to your health practitioner before planning your Botswana safari trip.
When it comes to insurance World Nomads offers simple and flexible travel insurance. Buy at home or while travelling and claim online from anywhere in the world.
Alternatively, if you're a long-term traveller, digital nomad or frequent remote worker seeking travel health cover, check out Safetywing's Nomad Insurance policies.
#9 What to Pack for an Epic Botswana Safari?
In terms of what to wear on a Botswana safari, you'll want light loose cool clothing that can protect you from the heat of the sun.
Leave your brightly coloured garments at home and choose muted colours instead, so you don't scare off the animals you're trying to spot.
Shorts are fine to wear in the bush, but it's more socially acceptable to wear long trousers when in local villages.
Bring warm layers for the cooler evenings, and if you're travelling in the wet season, you'll also want a light waterproof.
It's good to note that laundry facilities are often included in Botswana lodge stays, so you can pack light and wash along the way.
Other things you won't want to forget are a good camera (to get those snaps of a lifetime!), binoculars for birding, a sun hat and sunscreen (the sun is strong!) and some insect repellent (bugs are plentiful in the bush, especially around water sources).
Learn more in this complete Botswana packing list I put together.
#10 Best Botswanan Safari Tours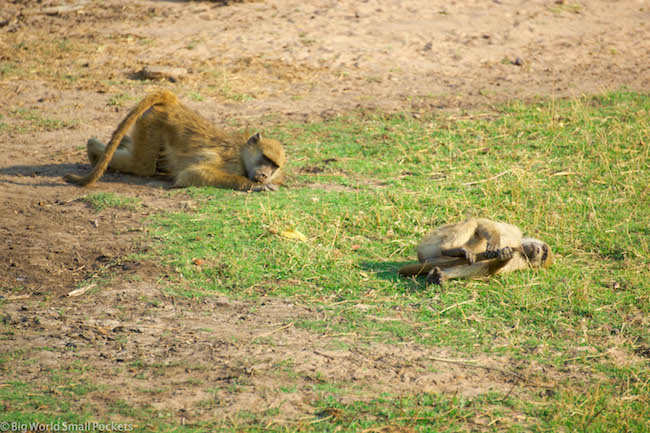 While many people choose to self-drive in Botswana, there's also a number of great tours that include both Chobe River National Park as well as the Okavango Delta and often include Victoria Falls too.
Many safaris also include travel onto Namibia – and combining these 2 countries makes for one of the best safari trips imaginable!
Tours are perfect for solo travellers especially (they can often work out cheaper and you'll meet like-minded people), as well as for those that don't feel confident renting or driving a vehicle in Botswana.
Tours also take the hassle out of planning a trip, including national park bookings, accommodation research and any visa requirements.
Check out these great Botswana safari tours if you're looking for more options.
Otherwise, why not reach out to African Budget Safaris, who can help you with self-drive options in Botswana.
Just mention my name and they're sure to look after you!
Mini Travel Guide to Botswana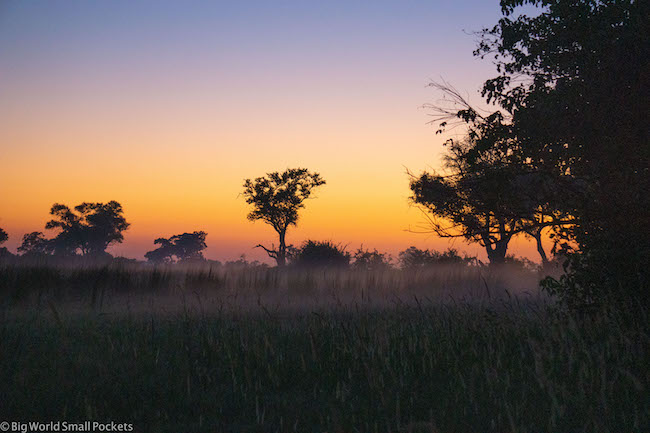 How Long to Spend There?
I'd suggest at least 5 days in Botswana to ensure you have the chance to visit both Chobe River National Park and the Okavango Delta.
Ideally, you'll spend 2 nights in both, with a night in Maun in between, but if you're pushed on time, you can probably get away with visiting Chobe for just 1 night.
Remember this country is big and travelling between destinations takes a lot of time, which you'll need to factor in as well.
Top 5 Packing Items for Botswana
#1 Good Camera – Don't even think about coming to Botswana without a good travel camera to capture the best of this country. The Sony A6000 mirrorless ticks my box every time!
#2 Walking Shoes / Boots – These are highly recommended for walking safaris in the Okavango Delta and for early morning or evening game drives in Chobe, when the temperatures can really drop. Keen Targhee's II always get my vote!
#3 Birkenstocks – And talking of footwear, a good pair of sandals are king in Botswana. I love my Arizona Birkenstocks which were perfect for keeping my feet cool and supported at the same time. Literally wore them every day in this country!
#4 Waterproof Windproof Jacket – I visited Botswana in the dry season, but was amazed how cold it got at night, especially when camping. Having my North Face lightweight, windproof and waterproof jacket saved me!
#5 South African Power Adapters – Botswana primarily uses South African power outlets, which are pretty unique, so make sure you come prepared with a suitable Skross adapter.
Travel Insurance for Botswana
World Nomads offers simple and flexible travel insurance. Buy at home or while travelling and claim online from anywhere in the world.
Alternatively, if you're a long-term traveller, digital nomad or frequent remote worker seeking travel health cover, check out Safetywing's Nomad Insurance policies.
Travel Money in Botswana
When it comes to paying for things in Botswana, it's great to know that accommodation and tours can generally be paid for by card.
ATMs are also available in most major towns.
Whether you use ATMs or pay by card however, you'll want to ensure you're not being charged overseas transaction fees or getting poor exchange rates, which is why I always take my Wise card away with me wherever I travel.
The easy way to spend abroad with real exchange rates, no markups and no sneaky transaction fees, you can use your Wise card just like a debit card here, and it links easily with Google and Apple pay. Get yours here.
SAVE THIS TO PINTEREST!
So there's the lowdown on one of Africa's top spots and all you need to know for an epic Botswana safari experience!
If you're considering a trip here and have any more questions, then don't hesitate to drop them into the comments box below. I'd love to hear from you…