Wondering when the best time to visit the Okavango Delta in Botswana is?
Then read on to get the full lowdown about when to head to this incredible place!
Because my oh my, the Okavango Delta in Botswana was every bit as amazing as I imagined it to be.
Yes, it took me 5 trips to Africa and 2 visits to Botswana to finally get to the Delta, but when I did eventually make it, it was worth every cent and inch of effort to achieve it!
And that's largely to due the fact that I visited this amazing watery wildlife wonderland at the right time of year.
After all, seasonal variations here are a major factor to consider – at some times of the year, parts of the Delta are even inaccessible!
So if you're thinking of hitting up this African UNESCO gem, but still have some questions about when to do it, then read on to discover all you need to know about the best time to visit the Okavango Delta and ensure your trip here is an amazing one to remember too…
---
Related Posts
---
This page contains affiliate links meaning Big World Small Pockets may receive a small commission on any purchases at no extra cost to you.
My trip to the Okavango Delta was kindly sponsored by Absolute Africa, but, as always, all views are my own.
---
Grab Your Copy of How to Travel Africa for Less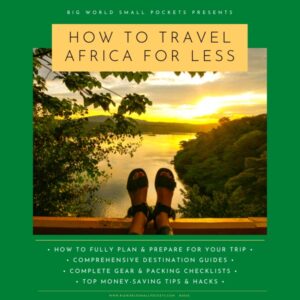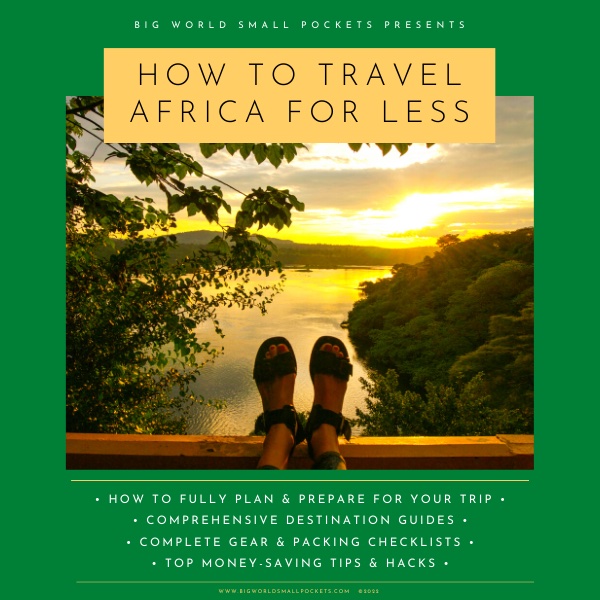 My ultimate guide to travelling Africa on a budget is now available, meaning you can finally get ALL my top tips for adventuring around all, or parts, of this amazing continent in one handy eBook, including…
Full Planning & Preparation Guides
Detailed Destination Info
Complete Packing & Gear Lists
Top Money-Saving Tips & Hacks
Overall Best Time to Visit the Okavango Delta: April – June
While Botswana can be visited at any time of the year, the best time to visit the Okavango Delta is during the months of April, May and June.
This is due to water levels in the Delta, rainfall and temperatures, wildlife spotting, the number of other tourists around and, very importantly, price.
March to May provides the perfect balance between all these factors, ensuring the optimal all-round experience in the Delta.
To start with April, May and June fall outside the peak visitor months of July and August – when North American and European summer holidays are.
Avoiding these peak months in the Delta means there will be fewer other tourists about, and not only will this provide for a more peaceful experience, it will also mean slightly lower prices too!
In addition, April, May and June also provide some of the best weather for trips to the Okavango Delta, with cooler temperatures and little to no rainfall.
These conditions certainly make for a more comfortable experience.
And finally, the months of March, April and May are the best time to visit the Okavango Delta because the water levels are high enough to enjoy the landscapes, but low enough to see the animals at their best.
That said, there are areas of permanent wetlands and abundant resident wildlife all year round in the Delta, so if you visit at any time and you will still be awestruck!
Keep reading to learn more…
Understanding the Water Patterns of the Okavango Delta
The best time for a safari trip in the Okavango Delta is when the water levels are reasonably high here.
And that's because one of the most unique things about this place are the endless reed-lined waterways, which can be peacefully explored by mokoro – a type of local canoe – that allow you to reach isolated islands and beautiful, untouched habitats deep within the Delta.
Since life and travel in the Delta is so heavily water-based, it's important to visit when the water levels are right.
After all, some camps only offer mokoro excursions when water levels are high, so it definitely makes sense to visit then!
And when it comes to understanding the water patterns in the Okavango Delta, there's a few key things to know…
First and most importantly, is that the water levels in the Delta do not follow the pattern of the seasonal rains in Botswana.
This is because the annual water flow arriving in the Okavango Delta actually follows the rainy summer season. Read. it takes a few months from when the rains fall north in the country of Angola to reach the Delta in Botswana.
So the most simple rule of thumb, is that the water levels in the Delta are actually at their highest point in the dry winter season here!
The water generally starts flowing into the Delta around April, reaching its peak in July.
By the end of August, most of the water has passed through the Delta, and then continues its journey onto the Kalahari Desert.
From September onwards therefore, water levels begin to drop.
In essence therefore, the best time to visit the Okavango Delta is from April to June – this is when the water is high enough for you to see the scenery at its greenest and most spectacular, and to enjoy a mokoro ride, but also low enough for you to still see abundant wildlife, which stays close to the more scarce and precious sources of H2O.
Learn more top tips here for planning an epic safari in the Okavango Delta.
Peak Season in the Okavango: July and August
As I mentioned earlier in this article, the most popular season to visit the Delta is actually in July and August.
This is when water levels are at their highest and mokoro rides to areas set deep within the Delta are possible.
While this is certainly an advantage and, while there's an abundance of wildlife at this time too, it's worth bearing in mind that crowds and prices are also at their highest.
And although the volume of water in the Delta during these months attracts many animals, it can also be harder to spot wildlife in July and August.
This is due not only to the lush vegetation at this time of year, which can obscure animal viewings, but also because the large volumes of water means animals spread out more, resulting in lower concentration densities.
However the weather is cooler and dry during July and August, which absolutely makes it an attractive option.
And if you're looking to explore other safari spots in Botswana, such as Chobe River or the Kalahair, then July and August are great all round months to visit this country.
Learn more here.
Hottest Months in The Delta: September and October
The hottest months in the Okavango Delta fall at the end of the dry season, as the humidity builds in preparation for the oncoming rains.
While water levels are good during September and October, meaning mokoro access is possible and there's a lot of wildlife to spot, the temperatures can reach a sweltering 35 degrees celsius, which can make things pretty unbearable.
Rainfall is low and prices, as well as crowds, while high, start to thin out.
Cheapest Months in the Okavango Delta: November – March
November to March essentially signify the rainy season in Botswana, which can certainly make for a less pleasant safari experience due to torrential afternoon downpours.
Temperatures also remain high and things can be very humid.
All of which keeps many tourists away!
Although the rain falls heaviest during these months, the water levels in the Delta are actually at their lowest (see above for an explanation as to why) and this means mokoro rides may be impossible and many parts of the Delta are rendered inaccessible.
Indeed in January, February and March, which are the least popular times to visit the Okavango Delta, some lodges and campsites even close their doors.
That said, if you're looking for a cheap trip to the Delta, this is probably the time to come, as prices reach their lowest levels.
There's also an abundance of birdlife at this time, as many species migrate from Europe to escape the cold there.
If you're a keen twitcher then, November through March is a fantastic time to visit.
There's also a lot of wildlife to be spotted during these months, as animals concentrate around parts of The Delta that haven't dried out.
November to March is also mating and birthing season for many creatures here, so if you visit during these months, you'll also have the chance to spot plenty of baby animals.
Indeed, I visited the Delta in late January and I definitely saw a lot of wildlife and got to enjoy a mokoro ride too.
There wasn't even that much rain to dampen the experience, although it was sweltering hot!
Thankfully I don't mind the heat, and the nights were cool, but do be aware temperatures rose to over 35 degrees celsius during the day and, of course, you have to get by here without even a fan, let alone aircon!
Best Time to Combine the Okavango Delta with Other Botswana Safaris
In general, the best time to visit Botswana is during the dry, cooler winter season between May and October, so if you want to combine the Delta with some other safari destinations in the country, such as the Kalahari Desert, or Chobe River National Park, I'd again opt for the months of May and June.
This will allow you to dodge the crowds and prices of peak season, escape the hottest months of September and October, but still see The Delta at its best, along with plenty of other wildlife in some of the country's other top safari spots.
Mini Travel Guide to the Okavango Delta
How Long to Spend There?
I'd suggest at least 2 days in the Okavango Delta to ensure you have the chance to tick most of the major wildlife and activities – including a mokoro ride, a scenic flight and even a walking safari.
Best Okavango Tours
I travelled through Botswana as part of an amazing adventure with Absolute Africa who I highly recommend for their excellent prices, great customer service, wonderful itineraries and amazing overall experience.
And you can now get an exclusive discount on your Absolute Africa safari when you email them at [email protected] and quote the code BWSP.
For other Botswana tour choices, including those with a more comfortable travel style check out these top options.
Travel Insurance for Botswana
World Nomads offers simple and flexible travel insurance. Buy at home or while travelling and claim online from anywhere in the world.
Alternatively, if you're a long-term traveller, digital nomad or frequent remote worker seeking travel health cover, check out Safetywing's Nomad Insurance policies.
Travel Money in Botswana
When it comes to paying for things in Botswana, it's great to know that accommodation and tours can generally be paid for by card.
ATMs are also available in most major towns.
Whether you use ATMs or pay by card however, you'll want to ensure you're not being charged overseas transaction fees or getting poor exchange rates, which is why I always take my Wise card away with me wherever I travel.
The easy way to spend abroad with real exchange rates, no markups and no sneaky transaction fees, you can use your Wise card just like a debit card here, and it links easily with Google and Apple pay. Get yours here.
Top 5 Packing Items for Botswana
#1 Good Camera – Don't even think about coming to Botswana without a good travel camera to capture the best of this country. The Sony A6000 mirrorless ticks my box every time!
#2 Walking Shoes / Boots – These are highly recommended for walking safaris in the Okavango Delta and for early morning or evening game drives in Chobe, when the temperatures can really drop. Keen Targhee's II always get my vote!
#3 Birkenstocks – And talking of footwear, a good pair of sandals are king in Botswana. I love my Arizona Birkenstocks which were perfect for keeping my feet cool and supported at the same time. Literally wore them every day in this country!
#4 Waterproof Windproof Jacket – I visited Botswana in the dry season, but was amazed how cold it got at night, especially when camping. Having my North Face lightweight, windproof and waterproof jacket saved me!
#5 South African Power Adapters – Botswana primarily uses South African power outlets, which are pretty unique, so make sure you come prepared with a suitable Skross adapter.
SAVE THIS TO PINTEREST!
And that's my complete guide for the best time to visit the Okavango Delta in Botswana
When are you planning to visit?
Have any more questions?
Then don't hesitate to drop them into the comments box below and I'll get back to you…