No denying London is one of my fav cities for waking and green spaces.
It helps that I lived there for 3 years of course, but honestly, I think I've fallen more in love with this city now that I don't live there and I get to visit like a tourist as well as catch up with great friends – the perfect combination!
And while there's a stack of free museums, exciting galleries, countless cute cafes, pubs, clubs, bars, great shopping, exhibitions, famous landmarks and iconic structures, it's perhaps the green spaces of London that I love just as much.
This fact has been reinforced to me especially after I lived in Beirut for a few months – an amazing city full of life and vibrancy and excitement, but which sadly lacked almost any free, community outdoor, green spaces.
London, on the other hand, is awash with them and most provide the perfect anecdote to the city madness – a precious chance for space, peace and quiet.
So despite the weather of this city, which doesn't ostensibly lend itself to a good walk; when you're in England you need to adopt the English state of mind – namely that, whether it's sunny or not, today is a perfect day for a stroll!
So here they are, 15 of the best London walks to inspire you to get out there…
---
Related Posts
---
This page contains affiliate links meaning Big World Small Pockets may receive a small commission on any purchases at no extra cost to you.
---
#1 Hyde Park & Kensington Gardens
One of London's flagship parks, Hyde Park is massive and a gorgeous place for a stroll.
With some great people-watching opps, including lots of awesome rollerblading and skaters, the massive Serpentine Lake makes for a great walking backdrop… or spot for a pedalo if you fancy it!
Connecting with Hyde Park, Kensington Gardens add a Royal flavour to this walk and the famous Diana Memorial Playground is here too, making this an excellent one for kids as well.
For the adults, an accompanying visit to Kensington Palace, or a longer walk from Green Park (where you can also take in views of Buckingham Palace) makes this a superb west London walk with iconic sights a go-go!
Best Transport Stops: Green Park, Hyde Park Corner, Marble Arch, Lancaster Gate and Queensway
#2 Victoria Park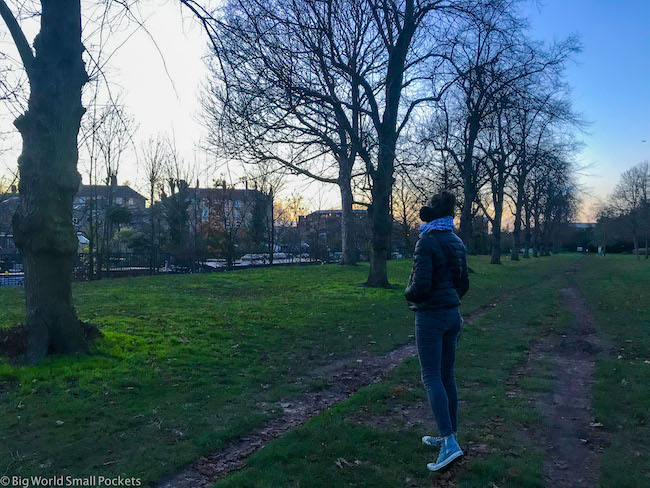 Moving over to east London now, Victoria Park remains a favourite of the young and hip in London, probably because of its location in the borough of Hackney.
Actually, the park also spans the borough of Tower Hamlets too, but either way, it's trendy east London and the clientele in the fun pubs on the park's outskirts are testimony to this!
Inside, Victoria Park is huge with walking pathways, cafes, cycling tracks, decorative gardens, a lake and fountains, a pagoda, tennis courts and even a weekend farmer's market too.
Set alongside the canal, it's easy to extend this walk as well, which means it's undoubtedly one of my favourite places for a stroll in London.
Best Transport Stops: Bethnal Green, Cambridge Heath or Hackney Wick
#3 Regents Canal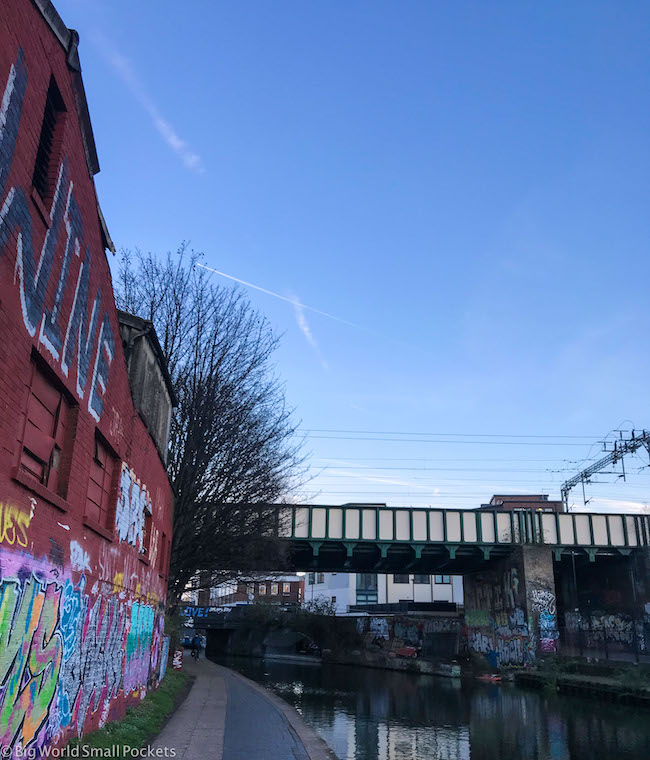 And coming in at number 3 on this list of the best places in London for a stroll, it's a walkway that leads directly into a part of Victoria Park… if you want it to!
Yes, Regents Canal is long and huge, meaning you can really enjoy as much or as little of this riverside stretch as you want.
Offering some real urban feels, with graffiti, disused industrial buildings and brick tunnels a frequent sight, this is nevertheless a great place for a stroll because it allows you to see a different side to things.
There's also some nice houseboats to check out as you go!
Just make sure you watch out for the bikes and listen out for their bells!
For trendy vibes try the stretch from Angel to Victoria Park, passing Broadway Market for a coffee or lunch stop on the way.
Otherwise, the section from Camden to Little Venice is a treat that really shows off the diversity of London 🙂
Best Transport Stops: Haggerston, Angel, Cambridge Heath or Mile End
#4 Walthamstow Wetlands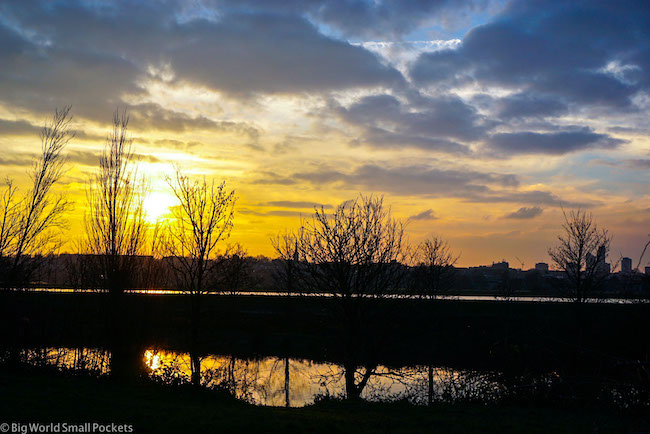 Errr hello, do you know about Walthamstow Wetlands yet?
If not, listen up!
This massive public open space, opened in 2017, is actually the largest urban wetlands in Europe and offers a conservation hot spot for many birds and insects just a stone's throw from Central London – gosh this is an epic city!
With some historic buildings thrown in too, such as the Engine House which now houses a lovely café and gift shop, you can stroll the expansive paths of this wetland wildness and take in the unbelievable sense of solitude it offers.
Visiting at sunset time is particularly spectacular, with an elevated position meaning the reflection of London's skyline is splashed in golden colours on the multiple reflections of the wetland pools.
Best Transport Stop: Tottenham Hale
#5 Hampstead Heath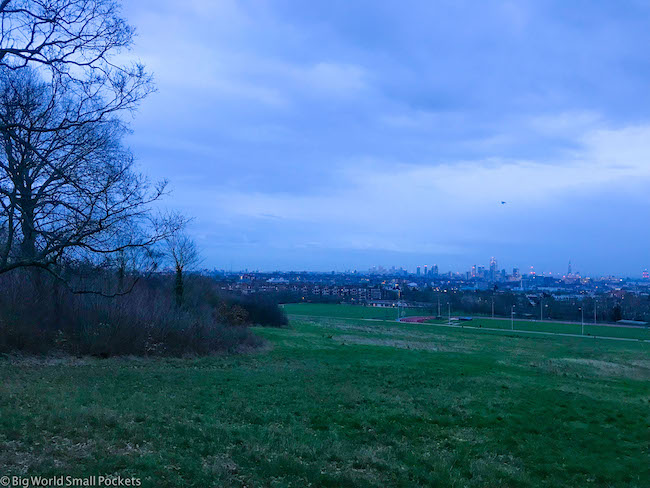 Another elevated spot great for a London stroll, one adored by locals, is Hampstead Heath in the borough of Camden in north London.
With a real sense of community focused around this wild and wonderful open space, the Heath boasts a weekly Farmers Market, Lido and, who could forget, the wonderful public bathing ponds too.
Climb to the top of Parliament Hill for a wonderful lookout over London that stretches all the way to the Southbank, or head on to one of the great surrounding areas like Belsize Park for independent shops, character-filled pubs and cute cafes.
Best Transport Stops: Gospel Oak or Hampstead
#6 Alexandra Palace
And sticking with the north London vibes, there's no question Alexandra Palace deserves a mention on this list of my 15 favourite places for a walk in London.
Ally Pally, as it's affectionately known, isn't brilliantly connected in terms of public transport, but it's well worth the hike to get here for the awesome exhibition / performance space, the palace's historical story and the great surrounding park that is perfect for a good breath of fresh air.
Walking here from Highgate is a lovely uphill stroll as you can pass through Highgate Cemetry (to see Karl Marx's grave), Highgate Woods and Muswell Hill on your way.
Once at the Palace, marvel at the expansive views of London spread before you – they are particularly amazing at sunset!
Best Transport Stops: Alexandra Palace, Highgate or Wood Green
#7 Richmond Park
Locals and tourists alike love a good bit of Richmond Park… and why wouldn't they?!
This huge Royal National Park, which covers 2500 acres, has so much going on, you could easily stroll around here for a day and still not see it all!
The deer herds are a classic favourite, as is the beautiful lake, but the nearby river strolls beyond this park, plus the beauty of Ham Gardens, Ham House, Twickenham and Eel Pie Island nearby, all make this a great spot for a jampacked London day out.
Best Transport Stops: Richmond
#8 Greenwich Park & Blackheath Common
And keeping on with the south London vibes, next on my list of the best places locals in this city head for a stroll is Greenwich Park and Blackheath Common.
A very well-heeled area in southeast London, Blackheath feels more like a village and the common, which spreads between Montpelier Row and Tranquil Vale, has a lovely local community feel to it, with people of all ages out enjoying the views as well as the shops and cafes around.
There's also an amazing firework display here every Bonfire Night in November, which you should def check out if your visit coincides with it.
And just across the way, strolling onto Greenwich Park from Blackheath makes for the perfect longer walk, thanks to this stunning green space and its beautiful riverside views.
While you're here, why not check out the National Maritime Museum, the Royal Observatory or the Famous Cutty Sark?
You can also straddle the meridian line here too, before walking into Greenwich village for a delicious meal or drink at one of the many lovely eateries or weekend market stalls.
Best Transport Stop: Blackheath, Greenwich or Maze Hill
#9 Bushey Park
Now we move towards the outskirts of London and the amazing green space that is Bushey Park.
Well connected by London Overground services, this huge London park even has its own deer herd, which means this can be a great place to head for with kids.
Bushey Park is actually the second largest of London's Royal Parks and also home to some amazing birdlife, plus water gardens and woodlands.
If you're looking to get your historical fix, then Hampton Court Palace is set on the outskirts here and also makes a great start or end to your lovely walk in this part of southwest London.
Best Transport Stops: Bushey, Hampton Court, Hampton Wick or Teddington
#10 Epping Forest
A former Royal Forest, this huge woodland situated just beyond east London is an amazingly vast space where you can wander, bike ride or horse ride through a leafy land that feels miles away from central London, but is really only a hop, skip or a jump away.
With paved walkways, lakes and muddy tree-lined trails, plus historical sites (like Queen Elizabeth's Hunting Lodge) and lovely cafes to unwind in after your outdoor time, this is a super spot for families and friends and a great place for those blue sky weekend wanders.
Best Transport Stops: Chingford
#11 Kew Gardens
The Royal Botanic Gardens at Kew are always a firm family favourite, as they really offer something for everyone.
Just up the road from Richmond, this beautiful place isn't the cheapest day out, but it is an amazing space to stroll and take in the numerous areas and attractions that make this spot world-class.
With over 50,000 living plants, plus regular exhibitions and events, Kew Gardens is actually UNESCO-listed and the many activities that take place here mean that, even if you've been before, you can always go again and see something different!
Best Transport Stops: Kew Gardens, Kew Bridge or Richmond
#12 Lea Valley
A canal-side walk which covers an area in northeast London, you can follow this trail in either direction, by starting outside the city in leafy Enfield and finishing with a more urban background, or visa versa.
At almost 25km in total, you may struggle to complete this top London walk one in a day, but it's broken down into handy sections to help you get through it in stages!
The first section from Waltham Abbey to Ponders End is definitely my favourite, but later this walk takes in Canary Wharf too, which is always an impressive sight to behold!
Best Transport Stops: Cheshunt or Limehouse
#13 Jubilee Greenway & Walkway
2 lovely London walks set up to commemorate the Queen's Jubilee, both these routes are also split into sections, making them easier to conquer over a number of different days.
The Jubilee Walkway is the shorter of the two – but at 15 miles long, it still manages to take in many of London's most iconic monuments, including St Paul's Cathedral, the Tower of London, the Tate Modern and the Houses of Parliament.
The Jubilee Greenway is longer at 60 miles and was completed in 2021, the year London hosted the Olympic Games.
Taking walkers from Buckingham Palace through to Limehouse Basin, there's 10 sections to this walk, which edge towards east London as they cover all the major Games sites.
Best Transport Stops: Various
#14 Forest Hill & Dulwich
There's lots to see in this part of southeast London, which has undergone massive regeneration in recent years and is now a beautiful place to take in the many parks and vibrant areas of these leafy neighbourhood areas.
Forest Hill, with its superb Horinmum Museum and Gardens, is a good place to start and from here, you can link into Dulwich Woods and Dulwich Park too.
This makes for a great weekend option when you can also enjoy a lovely coffee pitstop in some of the great cafes in this part of town as well!
If you're after something a bit more lively, then Peckham Common and Peckham Rye aren't too far away either with their fun rooftop bars and great arty scene.
Otherwise, the enormous Crystal Palace Park, with its bizarre giant dinosaurs, could be the finale you've been looking for!
#15 Capital Ring
And last, but not least, this is certainly the big daddy of London walks, because at 78 miles (126km) long, there's no way you can complete this all in a day!
You can, however, take one of the 15 sections and work towards completing the whole thing from there! I'm making it a new mission of mine!
This mammoth route, which as the name suggests, circles the capital, builds in many of the other attractions and walks higher up this list, so if you do have a bit of time on your hands, this could be the one to try and conquer!
Best Transport Stops: Various
Budget Travel Tips for London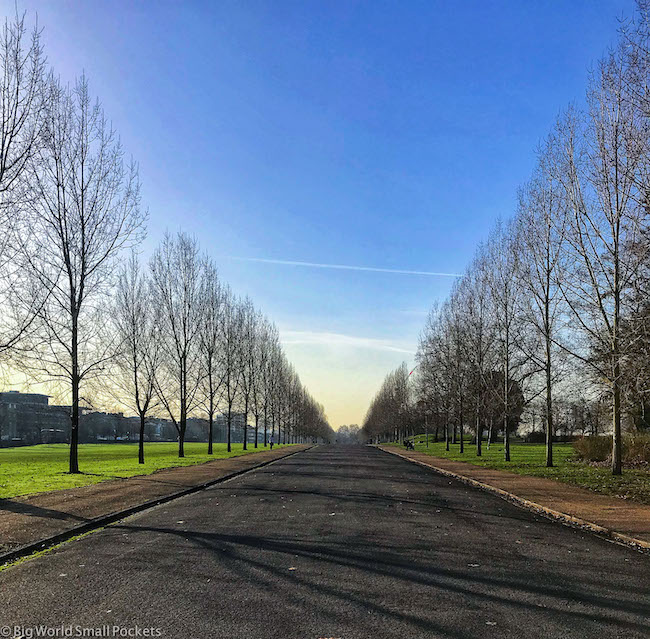 Where to Stay?
Premier Inn and Travelodge offer excellent budget hotel accommodation within London and regularly run special deals.
Otherwise, when it comes to hostel accommodation, you can't go wrong with the amazingly named Barmy Badger Backpackers!
How to Get There?
Getting to London from elsewhere in UK is cheapest via the Megabus.
Otherwise, budget airlines EasyJet and Ryanair offer cheap European air connections.
Look for flights to cheap London airports such as Southend, Luton or Stanstead and then use public transport to get to the city centre.
How to Eat Cheap in London
Buy cheap snacks at supermarkets such as Sainburys for lunch or peruse the local markets at places like Brixton or Dalston.
For dinner head to Brick Lane for delicious, cheap Indian food or to Kingsland Road for well-priced and excellent Vietnamese fare.
How to Sightsee in London For Less
If you want to bucket list a lot of stuff in London in a short amount of time, then a great money-saving option is to invest in a London Pass.
This offers discounted entry at stacks of attractions around the city as well as fast track entry!
Well worth it in my opinion!
Travel Insurance for London
World Nomads offers simple and flexible travel insurance. Buy at home or while travelling and claim online from anywhere in the world.
Alternatively, if you're a long-term traveller, digital nomad or frequent remote worker seeking travel health cover, check out Safetywing's Nomad Insurance policies.
PIN IT TO PINTEREST!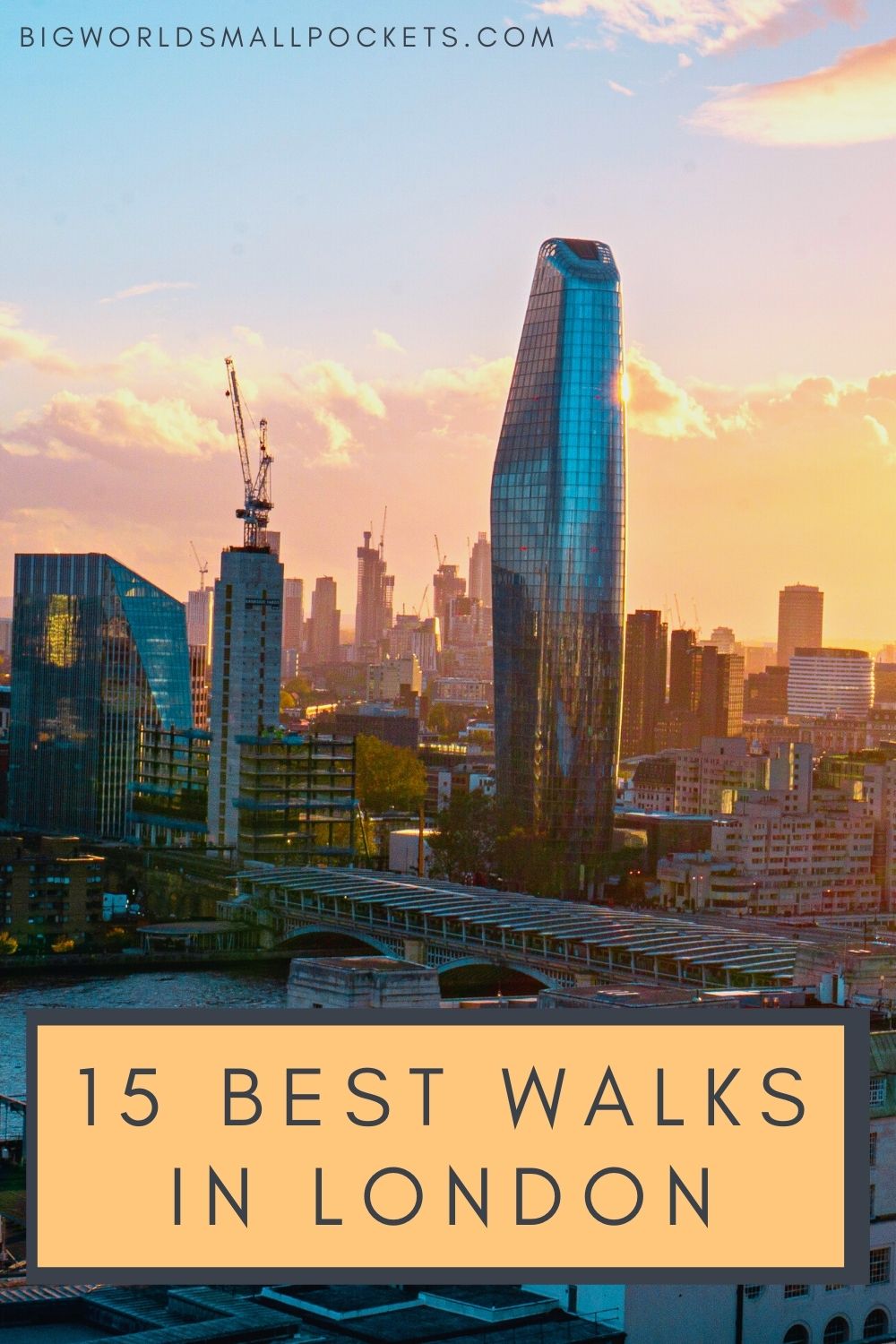 So there you have it, my list of the 15 favourite walks in London where locals love to head out for some fresh air and a stroll… whatever the weather!
Have you visited any of these spots?
Which was your top pick?
Do let me know in the comments box below…