One of the absolute must-visit places in Georgia, Kazbegi has to be a key part of any itinerary to this country.
Even if you only come to Georgia for a few days, you seriously need to make sure you get to Kazbegi.
Prioritise it people! You will not regret it!
An area in the high Caucasus mountains, Kazbegi is actually named after the largest mountain here – Mount Kazbeg – and the gorgeous highland scenery of this area's namesake can't fail to move you.
Trust me, this is Georgia at its most impressive, its most charming and its most accessible – just 3 reasons why you NEED to visit this country and this region.
Want to know more?
Then keep reading to discover my full travel guide with all you need to know about visiting this amazing part of the Caucasus…
---
Related Posts
---
This page contains affiliate links meaning Big World Small Pockets may receive a small commission on any purchases at no extra cost to you.
---
Why Visit Kazbegi?
Kazbegi offers travellers some of Georgia's most beautiful scenery, so if you're interested in landscape, hiking, mountains, or all of the above, then heading to this area is a must.
And the star in the crown is the famous Gergeti Trinity Church, which sits on top of a hill directly in front of the great Mount Kazbeg itself.
This is the postcard emblem of Georgia and seeing it in real life, or even better, walking up to it, is a truly amazing experience.
In addition to this, tons of other accessible walking trails, stunning valleys and horse riding opportunities also make Kazbegi a traveller favourite.
Add to this the traditional village life, sense of isolation, as well as peace and quiet that can be found here, and Kazbegi makes the perfect place to relax and unwind.
There's no question that visiting Kazbegi is one of my top things to do in Georgia and should not be missed during your time in this country either!
Where is Kazbegi?
Kazbegi is located in Georgia – a country that sits on the fringes of both Europe and Asia, in an area known as the Caucasus.
Kazbegi is situated in the north of Georgia, at a high elevation in the so-called Caucasus Mountains.
The height of this range varies from 1500m above sea level to 5000m at its peak… so, as you can imagine, the climate alters wildly depending on where in the Caucasus Mountain you are!
Kazbegi is a municipality, which in turn is part of the Mtskheta-Mtianeti region, and renowned for its stunning mountainous landscapes, rich grazing lands and rural feel.
The main town in the region is Stepantsminda, which is where most of the accommodation and tourist facilities are.
This town is also near to the famous Gergeti Church – essentially the icon of Kazbegi and the image you're likely to have seen in any photos!
Stepantsminda is around a 3 hour drive from the capital of Georgia, Tbilisi in one direction and is only about an hour from the Russian border in the other.
It's also worth knowing that the drive to get to Kazbegi from Tbilisi takes you along the Georgian Military Highway, which is one of the most stunning roads in the whole of Georgia – quite a claim for this country I can tell you!
As such, enjoying the scenery on the way to and from Kazbegi is also a huge part of the travel experience here.
How to Get to Kazbegi?
Most people will be travelling to Kazbegi from Tbilisi.
In the capital, shared minivans (called marshrutkas) for Kazbegi leave from Didube Station and this is the easiest, cheapest and quickest way to get there.
You can easily get to the Didube Station via the metro system in Tbilisi as it's on the main red line.
Simply come out of the metro station and you're likely to hear people yelling "Kazbegi" and trying to fill up their vehicles, so follow those cries!
In general, a marshrutka to Kazbegi from Tbilisi takes anywhere between 3.5 – 5.5 hours.
Otherwise, tourist shuttles sometimes operate on an ad-hoc basis from Didube station too.
These are exactly the same as shared minivans, except they take less passengers and stop at some of the beautiful sights and views along the way.
As a result, they cost a little bit more, but do allow you to explore some lovely spots enroute such as Zhinvali Reservoir, Ananuri Fort, Jvari Pass and the town of Gudauri.
I went for this sort of make-shift tour option because, in my opinion, getting to see these places and being able to stop, walk around and take some snaps was well worth the extra few Lari!
Shared minivans then arrive into the centre of Stepantsminda, in Kazbegi.
This is a tiny town and thankfully almost all accommodation here is within easy walking distance.
Unless you've got really heavy bags therefore, ignore the taxi touts when you arrive in Stepantsminda and simply use Google Maps or Maps.me to find your bed for the night.
On the way back from Kazbegi to Tbilisi, shared minivans leave from the same central area and cost 10 Lari.
Again, they depart when they are full, so do factor this in when planning your schedule i.e. they can take a while to fill you so do allow extra time for this!
When to Visit Kazbegi?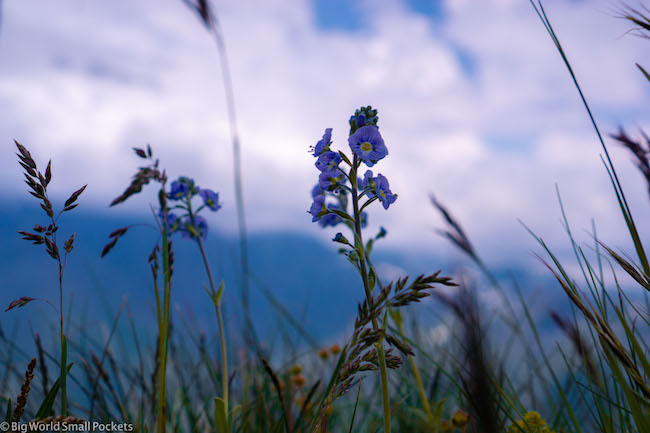 Winters in Georgia can be fiercely cold with snow and freezing temperatures not uncommon across the country, especially in mountainous areas such as Kazbegi.
At this time, many roads become impassable, travelling is difficult and hiking, quite frankly, impossible! So I would not advise visiting at this time!
Instead, I would definitely visit Georgia during the country's summer months, when the climate is wonderfully warm and the skies are almost always blue.
The summer season here runs roughly from May to September.
While July and August can be super hot in low-lying areas such as Tbilisi (like 40 degrees hot – you have been warned), up in Kazbegi, where the elevation starts at 1500m, things can be wonderfully fresh, making travel at any time during the warmer months possible and pleasant.
I visited Kazbegi in June and the weather was perfect – very warm and clear days, with loads of wildflowers around and perfect hiking conditions.
Indeed, I would suggest the shoulder season months of May, June and September as the ideal times to visit Kazbegi, just remember that other tourists will have similar thoughts!
As such, visiting at all during the summer season can involve seeing a lot more other travellers than perhaps you'd bargained for!
And I'd advise booking your accommodation in advance to make sure you can saty somewhere decent – recommendations coming up later in this article!
How Long to Spend in Kazbegi?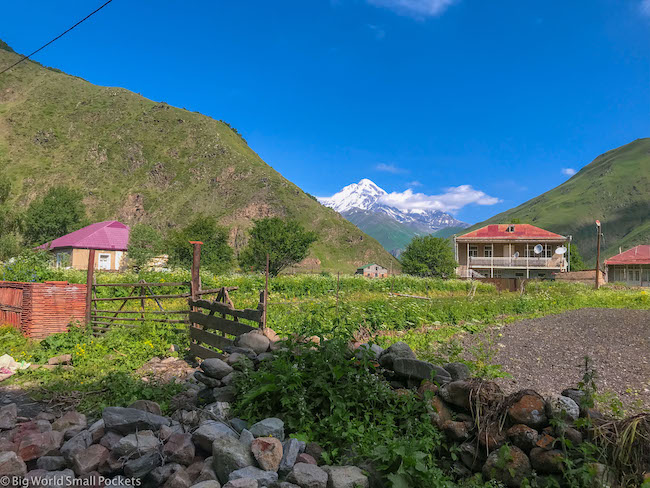 If you are the sort of person who loves spending time in nature, away from the hustle and bustle, or you like mountains, or you like hiking, or you like all of the above, then you are going to love Kazbegi!
As such, the amount of time you spend there will largely be capped by how long you have in Georgia full stop, rather than because you feel it's time to move on!
As a starter, I'd allow at least 2-3 nights up in Kazbegi, because the journey to get here is quite long and because there's so many beautiful areas to see around you'll probably not want to leave!
If you just stay 1 night, you'll basically make your way there, rush a hike and then return the next day, which really doesn't do the area justice.
As such, 2-4 nights will allow you to enjoy at least a couple of different hikes and to explore the villages and valleys around.
For more ideas, check out the Kazbegi itinerary I've compiled in the penultimate section of this article.
Otherwise, if you're on a really tight timeframe, it is possible to enjoy a day trip from Tbilisi to Kazbegi.
Needless to say, this will be a long day, but if it's all you have time for, I still recommend it.
All Kazbegi day trips follow similar patterns as follows: early departure from accommodation in the capital, private tour transfer to Stepantsminda, hike to Gergeti Church, hike down again, eat lunch and set off back to Tbilisi.
While you get to tick off the most famous site this way, you can't explore beyond this and so, if possible, I do advise you stay longer in Kazbegi.
Get more information about how to divide up your time in Georgia with my best 2 week itinerary, which is perfect for planning your adventure here!
Best Accommodation in Kazbegi?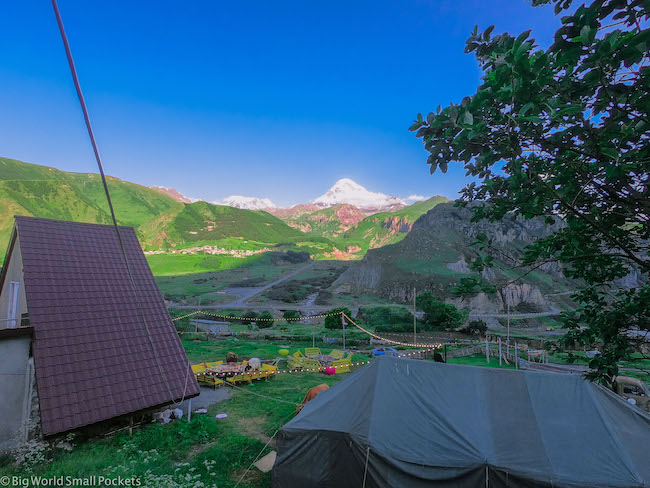 If you do get the opportunity to spend the night in Kazbegi, then look no further than Camp Kuro, definitely the best place to stay out here on a budget.
Located just a short walk out of Stepantsminda's centre, this place is a winner for its location, views and vibe.
Very relaxed dorms and camping are available here, as well as one private cabin, that sits on a slightly raised area and has direct views over to the Gergeti Church and Mount Kazbek.
Honestly, I could go on and on about how mind-blowing this view is, considering what you pay, but I won't!
Instead, I'll just say that if you want to enjoy a relaxed, social and very chilled place to stay and don't mind a bit of rough around the edges in exchange for an amazing view and a local Georgian experience, Camp Kuro is the spot for you!
To get here, it's just a 10 minute walk from the centre of town and, where the road forks, take the uphill path until you see the pretty gate, fire pit and colourful Tibetan-style flags.
For other more comfortable accommodation options in Kazbegi, check out this list.
Top Things to Do in Kazbegi
So as I've already conveyed, the main things to do in Kazbegi are relax, chill and enjoy the mountain air and view!
Hiking and horse riding are both popular here too, as are seeing the historic churches and soaking in the rural Georgian villages vibes.
If you're looking for things to do in a particular area of Kazbegi, check out my top picks below…
In and Around Stepantsminda
Top of many people's list is seeing the Gergeti Church and this can be combined with a longer hike up to the Ortsveri Glacier.
Both walks start from the main village of Stepantsminda where you're likely to be staying.
You can see the mountain (home to the glacier) and the church from just about anywhere in town, so it's hard to get lost and if you have maps.me downloaded there's no need to take a guide.
Try to set out early to avoid the coach / day trip crowd if you can and so you have enough time to make the full hike before the risk of any afternoon storms blow in, as they often do.
Gergeti Chruch dates back to the 14th century and glaciers aren't everything you see every day, so this is a pretty remarkable thing to do in Kazbegi!
Even if you only make it as far as the church, it's still worth it for the beautiful views.
Take warm clothing and waterproof layers, plus water and snacks as there are no facilities up here.
Oh and tell people of your plans please!
In and Around Truso & Juto Valley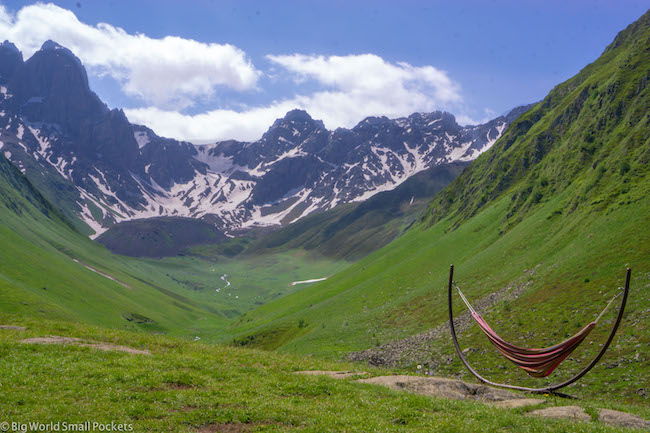 Truso and or Juto Valley also provide more gorgeous hiking and scenery and are located to the southwest and southeast of Stepantsminda respectively.
The traditional village life that persists in this area is clearly visible in both these locations and Truso Valley is also home to the interesting Abano mineral lake.
As you will be close to the South Ossetia border in Truso, you should bring your passport as you may be stopped by military officials.
Otherwise, Juto Valley is possibly better for a short, albeit uphill, hike as you can simply head to the Fifth Season café, which takes around 40 mins, grab a cup of something and enjoy the stellar view.
If you're feeling more energetic, then a hike onto the Chaukhi Pass can also be made from here, although you'll have to be properly prepared and plan to camp out for the night if you want to go this far.
The wonderful Zeta Camp is a great place to stay in Juta if the much more touristy town of Stepantsminda gets too much.
In and Around Dariali Gorge
You can also head north from Stepantsminda to the Kazbegi National Park and Dariali Gorge.
This is getting very near the Russian territory, so do bring passports if you plan to head out this far too.
Private transfer, rented vehicles or organised tours can take you out to the gorge and provide a day of more relaxed sightseeing, including stops at some other waterfalls and monasteries.
I sadly didn't get the time to make this trip, but would absolutely have loved to, so def recommend it if you have the time and / or are looking for a more sedate activity than a huge hike!
3 Day Kazbegi Itinerary
I'm basing this itinerary on 3 days in Kazbegi as that is a reasonable amount of time most travellers seem to be able to give to this area.
It's also a decent enough amount of time to get a feel for the place and enjoy a couple of different areas there.
So let's get stuck in…
Day 1
Leave Tbilisi in the morning and grab a shared minivan up to Kazbegi – preferably one of the tourist services that leave from Didube Station, so you can enjoy the sights of the stunning Georgian Military Road on the way.
Allow 4-5 hours for this journey and you should arrive into Stepantsminda early afternoon and be able to check into your accommodation.
Either chill in and around town, taking in the view and preparing for a big hike tomorrow or grab a taxi out to Juta Valley and enjoy a short walk up to the Fifth Season where you can enjoy some food / drink with an epic view.
If you want a taxi driver to take you to Juta, wait 2 hours and then bring you back, the price should be around 100 Lari from Stepantsminda.
Day 2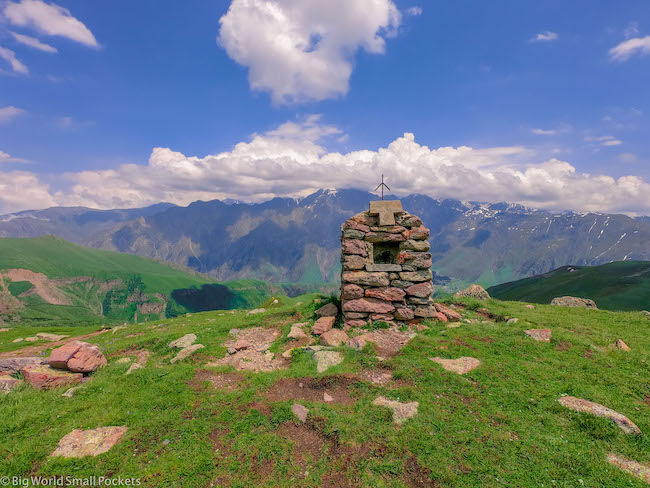 On day 2 in Kazbegi, it's all about tackling the famous Gergeti Church and Glacier.
I suggest starting this hike early to avoid the day-tripper crowds and so you have enough time to hike as far as you want and return before an afternoon storm swings in, as they regularly do.
From Stepantsminda, take the left, lower path as the road forks on the way north out of town and then head to Geghadri Village.
Once in the village, take the left at the Arcade Sign, which leads to a rough track.
This track makes for a nicer walk up to the church compared to the road path (which you can always walk on the way back down to save time).
After a stone monument, which has an impressive river lookout, take the trail that veers off to the right and heads onto the famous Church.
It's not far, but it is steep and will likely take you around 1.5 hours.
I'd then allow an hour to explore the church and take in the view.
You must be properly dressed to enter this place of worship, but requisite items of clothing, such as headscarves, are available at the door free of charge if you need them.
Once you've caught your breath, it's then time to continue.
Make your way up the ridge behind the church towards the pass.
Again climbing steeply uphill, it will take you around 3 hours to reach the pass from where you can see the Ortsveri Glacier.
Along the way are stunning, interrupted views.
If you want to continue on further, it's then around another 1.5 hours to the glacier itself, although do remember you'll need to get back down to Stepantsminda in time before the weather changes or dark comes in.
Once you reach the pass, you're at an elevation of over 3000m, so come prepared with suitable clothing too.
Also you will need to carry all water and food with you for the entire day, plus sunscreen etc.
If you do get stuck, there is a camp near the glacier where you can spend the night, otherwise retrace your steps back to Stepantsminda.
Day 3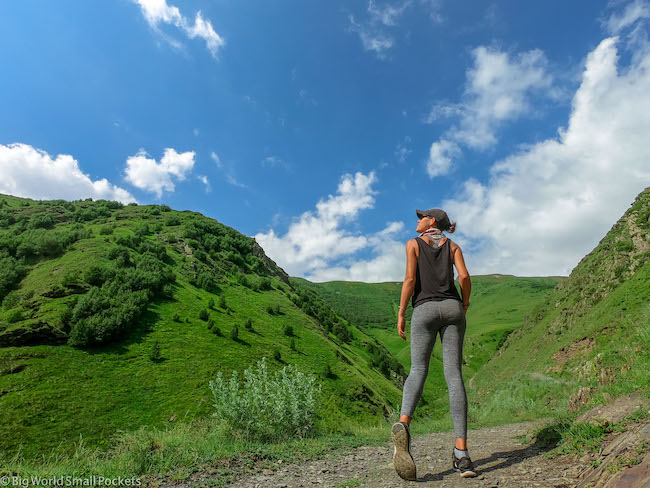 On day 3, it's likely you may want a more sedate day after all that uphill work, in which case, trekking to Truso Valley is a gentle and flat 22km return excursion.
If you go for this, just beware of the dogs which protect the sheep out here, and bring your passport as this valley is near the disputed South Ossetia region.
Mountain Freaks – a great company based in Stepantsminda – provide daily transport buses to both Truso and Juta Valley, which leave twice daily from their office in the centre of town.
The first bus leaves around 8:45am and returns around 4:15pm, while the second bus leaves at 11:15am and returns at 6:30pm.
Places must be booked at least a day in advance as they quickly sell out in high season.
The shuttle transport drops you at the respective trailhead of either Truso or Jute Valley and you must then be back at the same place to catch your return journey at the stated time.
It's likely after trekking Truso Valley, you'll have to / want to stay another night in Kazbegi before hopping on a marshrutka back to Tbilisi early the next day.
Otherwise, if you want something even more sedate, Mountain Freaks also run a daily tour to Dariali Gorge.
This is more of a sightseeing tour, rather than a hiking trip, and leaves daily at 12:30pm, returning at 3:30pm, from their offices.
This tour takes you close to the Russian border (so bring your passport) and takes in waterfalls and monasteries as well as the gorge.
If you have to get back to Tbilisi on day 3, this might be the option for you as you can then catch a marshrutka at around 4pm, getting to the city around 8pm
Things to Know about Travel in Kazbegi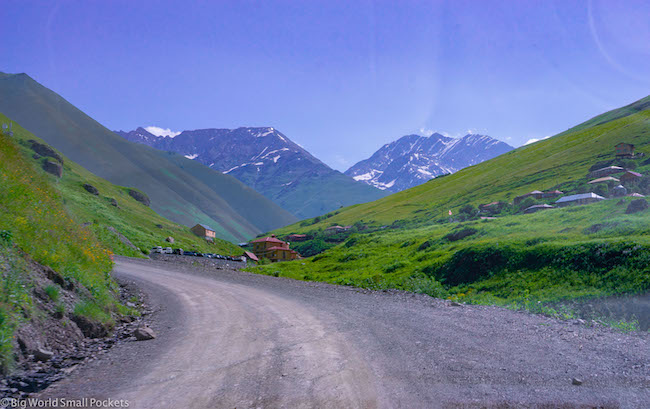 And finally, this section is all about the practicalities of visiting Kazbegi in terms of services and supplies.
As I've said before, Stepantsminda is the main town in Kazbegi region and has the greatest range of services including accommodation, cafes, restaurants, bars, supermarkets, bakeries etc.
You can easily buy picnic food here, as well as groceries and some toiletries – otherwise, bakeries provide cheap eats and there's several cafes / coffee carts around town where you can get your caffeine fix in the morning.
You'll be pleased to know there are some ATM facilities in Stepantsminda, but they are limited, so I do advise bringing all the cash you may need with you.
Equally, you may be able to pay on card in some places here, but not everywhere.
Like most places in Georgia, Kazbegi tap water is drinkable as it comes straight from the mountain streams – it is likely to be freezing cold though – so bring your refillable water bottle.
You may also want to bring some warm clothing for the evening and night in Kazbegi (especially if you are camping, along with a travel cutlery set for picnics and a headlamp and portable charger in case of power failure.
Wifi can be patchy out here, so ensure your phone is loaded with data credit too in case you need to use it or make a phone call. Generally, the coverage is quite good across the region.
Mini Travel Guide to Georgia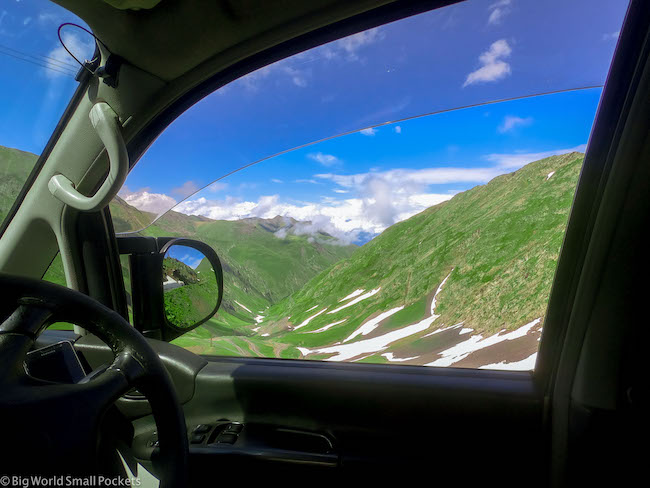 When to Visit Georgia?
I would definitely visit Georgia during the summer months, from May to September, when the climate is wonderfully warm and the skies are almost always blue.
Learn more in the post about the 21 things you need to know before you travel Georgia.
How Long to Spend There?
I'd suggest at least 2 weeks in Georgia to ensure you have the chance to tick most of the major sights off your list.
How to Get There?
The capital of Georgia, Tbilisi has a small, but well-appointed international airport that is an easy taxi or bus ride from the city centre.
The cheapest flights generally arrive here from across Europe including Paris, Istanbul & Lativa, otherwise, many people take a budget flight to Katasi in Georgia, and from there head to Tbilisi via a local bus.
Check out Skyscanner for the best deals.
Recommended Tours in Georgia
Check out these fantastic tours of Georgia, which will help you see the best of this country.
5 Packing Essentials for Georgia
#1 Caucasus Lonely Planet – Still my go-to when it comes to guidebooks, the Caucasus Lonely Planet packs in a huge amount of information about travelling in Georgia and will likely save you the cost of a guide in many of this country's fabulous historical attractions.
#2 Good Camera – From the mountain landscapes to the village life, you'll want a good travel camera to capture the best of Georgia and the Sony A6000 mirrorless ticks my box every time!
#3 Headscarf – If you're heading to see any monasteries in Georgia, ladies will need to come prepared with a headscarf to enter, as well as a long skirt or pair of pants and a long-sleeved top.
#4 Hiking Shoes – No trip to Georgia would be complete without spending at least a day or two hiking in this country's untouched rural landscape. Coming prepared with a pair of good walking shoes is essential therefore and Keen Targhee's II always get my vote!
#5 Rain Jacket – I visited Georgia in June, technically the start of summer and the high season, but was amazed how storms suddenly blew in across this high altitude country. Having my North Face lightweight, windproof and waterproof jacket therefore saved my life!
Learn more in this complete packing guide to Georgia I wrote.
Travel Insurance for Georgia
World Nomads offers simple and flexible travel insurance. Buy at home or while travelling and claim online from anywhere in the world.
Alternatively, if you're a long-term traveller, digital nomad or frequent remote worker seeking travel health cover, check out Safetywing's Nomad Insurance policies.
Travel Money in Georgia
When it comes to paying for things in Georgia, it's great to know that accommodation and tours can generally be paid for by card.
ATMs are also available in most major towns.
Whether you use ATMs or pay by card however, you'll want to ensure you're not being charged overseas transaction fees or getting poor exchange rates, which is why I always take my Wise card away with me wherever I travel.
The easy way to spend abroad with real exchange rates, no markups and no sneaky transaction fees, you can use your Wise card just like a debit card here, and it links easily with Google and Apple pay. Get yours here.
PIN IT TO PINTEREST!
So there you have it, why you should visit Kazbegi in Georgia.
Is this place on your list yet?
Are you thinking of travelling to Georgia soon?
Don't hesitate to let me know any questions you may have in the comments below and I'll do my best to answer!