Oh Georgia (the country!), you really do have it all.
Beautiful beaches, crazy cities, amazing architecture, magnificent mountains, fabulous food, wonderful wine … the list really does go on and on (as does my penchant for alliteration!)
Safe to say, I often describe Georgia as the whole world in one because, well, pretty much it is!
And on top of all that diversity, Georgia is also super cheap and super exciting – perfect for us budget travellers looking to explore somewhere a bit different.
So if you're thinking of heading off to this fab country soon, here's the 21 things to know before you travel Georgia…
---
Related Posts
---
This page contains affiliate links meaning Big World Small Pockets may receive a small commission on any purchases at no extra cost to you.
---
#1 How to Travel to Georgia?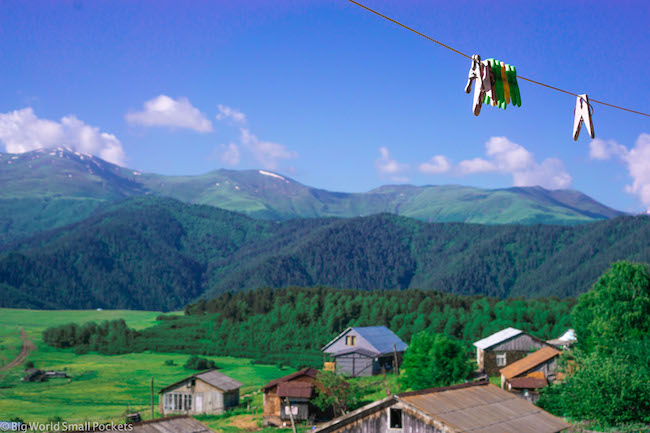 The capital of Georgia, Tbilisi has a small, but well-appointed international airport that is an easy taxi from the city centre.
The cheapest flights generally arrive here from Paris, Istanbul & Latvia, so check out Turkish Air, Air France and Baltic Air via Skyscanner if you're looking to score a well-priced ticket.
Otherwise, many people take a budget flight to Kutaisi in Georgia, and from there head to Tbilisi via a local bus. Wizz Air flies to Kutaisi from across Europe offering some great deals.
The super Dingo Hostel is the best place to stay if you need to spend the night in Kutaisi.
Alternatively, if you're arriving into Georgia overland from Azerbaijan or Armenia, like I was, then you'll be pleased to know tons of local bus services can shuttle you over the border and straight into Tbilisi quickly and easily… sometimes a little too quickly!
#2 Travel Insurance for Georgia
World Nomads offers simple and flexible travel insurance. Buy at home or while travelling and claim online from anywhere in the world.
Alternatively, if you're a long-term traveller, digital nomad or frequent remote worker seeking travel health cover, check out Safetywing's Nomad Insurance policies.
#3 When to Visit Georgia?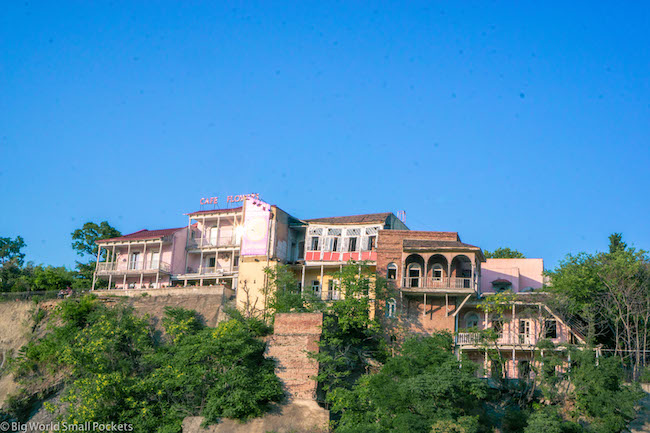 Winters in Georgia can be fiercely cold with snow and freezing temperatures common across the country, especially in the mountainous areas such as Tusheti. At this time, many roads become impassable and travelling difficult.
As such, I would definitely advise visiting Georgia during their summer months, when the climate is wonderfully warm and the skies are almost always blue.
The summer season here runs roughly from May to September, however July & August can be super hot in Tbilisi (like 40 degrees hot), so do bear this in mind if you're not a fan of the heat and want to enjoy some hiking.
I visited Georgia in June and the weather was perfect – very warm and clear days, with loads of wildflowers around and perfect hiking conditions.
#4 Climate in Georgia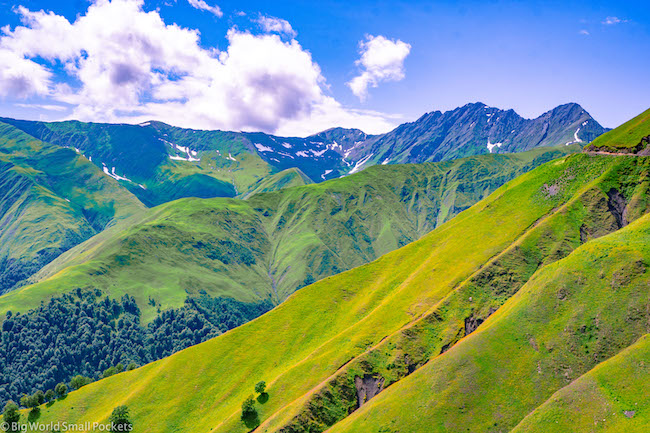 So yes, as you can see from the above details, Georgia's climate is really extreme.
Basically, super hot summers and super cold winters.
This is further complicated by the diverse topography of the country – from deserts in the south to mountains in the north and coastline in the west.
What I'm essentially saying is that Georgia's climate is a bit all over the place (no doubt made more so by global warming).
As such, it will pay to think a little bit about when and where exactly you want to visit in the country.
#5 What to Pack for Travels in Georgia?
And the above point is particularly pertinent when it comes to packing for your Georgian travel adventure.
If you're heading there in the summer, then it's definitely shorts and t-shirts for Tbilisi or the coast, plus a sun hat, sunscreen and sandals.
As you know, my Birkenstock Arizonas are the only sandals I'd ever travel with.
If you're heading to the mountain areas of Tusheti, Svaneti or Kazbegi, then you'll likely be wanting to do some hiking, so pack some active gear including walking shoes, leggings and a good day backpack, like this one.
It also gets chilly up in the mountains at night, even in the summer, so bringing a thermal fleece or jumper, plus a good waterproof / windproof jacket is a must.
In winter, it's going to be freezing, so I'd advise merino everything.. and a lot of it!
You might also want to pack the Caucasus Lonely Planet. Still my go-to when it comes to guidebooks, these guys crams in a huge amount of information about travelling in Armenia, Georgia & Azerbaijan and will likely save you the cost of a guide in many of this region's fabulous historical attractions.
You also can't come to Georgia without a good camera. From the mountain landscapes to the village life, you'll want a super snapper to capture the best of Georgia and the Sony A6000 mirrorless ticks my box every time!
And finally, if you're heading to see any monasteries in Georgia, ladies will need to come prepared with a headscarf to enter, as well as a long skirt (or pair of pants) and a long-sleeved top.
Learn more in this article I wrote about what to pack for an amazing trip in Georgia and Armenia.
#6 Visas for Georgia
I think Georgia is the country in the world that requires visas for the least number of nationalities (if it's not the front runner here, it's definitely up there!)
What this means is that the chances of you requiring a visa for travelling to Georgia are incredibly slim.
Those from Europe, North America, Australia / NZ, as well as many Middle East and Central Asian countries don't require a visa and will simply be given an entry stamp on arrival.
However, as always, do check your individual requirements with your foreign office in advance of your trip to be sure.
#7 How Long to Spend in Georgia?
With generous visitor time allowances, most people won't be restricted by any visa rules about how long they can spend in Georgia.
Neither will they be restricted by a lack of things to do here or costs!
As such, the amount of time you'll spend in Georgia will most likely be restricted by you and your travel plans.
As a guideline, I'd allow at least a fortnight to get a good flavour of Georgia – here's my ideal 2 week Georgia itinerary to give you some ideas.
That said, I think you could easily spend a month in this country… or longer.
I def want to head back again soon to explore more.
#8 Where to Visit in Georgia?
The above itinerary gives you a great idea of the highlights of this country, but here's a shortlist of the top spots I recommend visiting in order to condense it down for you:
#9 How to Get Around Georgia?
But how to move between these destinations within Georgia I hear you cry?
Well, the short answer to that is the marshrutka – the main form of public transport in this country.
Essentially minivans that hurtle around Georgia, these guys cost next to nothing and provide quite the hair-raising experience!
Leaving from central depots whenever they are full, marshrutka routes cover most of the country, but generally route through Tbilisi, which means between destinations you'll usually have to go via the capital.
Some parts of Georgia are also serviced by shared taxis (literally a 4 person vehicle that takes less time to fill than a marshrutka and therefore costs slightly more), shared 4wds (in mountain areas like Tusheti) and ride-sharing app taxis in cities like Tbilisi (Yandex is the most common one).
You can also hire cars to travel around Georgia – this is a very affordable option if there's a group of you but, do beware, the Georgians drive like maniacs!
Like, really.
And within Tbilisi, an excellent and cheap metro system, which operates via a top-up card system is the perfect budget solution for exploring the city on a shoestring.
#10 Costs of Travelling Georgia
As you may have guessed from what I've already said about this country (i.e. the repeated claims this is a CHEAP travel destination), it's good to know travelling Georgia is extremely affordable.
You can learn a lot more about the expenses of a trip here in this post I wrote specifically about how much it costs to travel to Georgia.
Suffice to say, my budget was under £30 per day when I was there… and it could have been less!
#11 Currency and ATMs
And while we're on the subject of costs, let's talk a bit about money and accessing it in Georgia.
The currency in Georgia is the Lari (GEL).
There are notes in denominations of 5, 10, 20, 50, 100 and 200, and coins that cover 1 and 2 Lari, as well as 1, 2, 5, 10, 20 and 50 Tetri (the equivalent of cents / pence).
ATMs are prolific across towns and cities and accept both Visa and Mastercard.
In rural places however, they may not be any ATM or card facilities, so I highly advise beginning all the cash with you might need.
When it comes to paying for things in Georgia, you want to ensure you're not being charged overseas transaction fees or getting poor exchange rates when using your card abroad, which is why I always take my Wise card away with me wherever I travel.
The easy way to spend abroad with real exchange rates, no markups and no sneaky transaction fees, you can use your Wise card just like a debit card here, and it links easily with Google and Apple pay. Grab yours here.
#12 Hospitality and Language
Georgian people are extremely friendly and welcoming.
Having long been at situated at an international crossroads between Europe and Asia, and along the silk route, Georgians are extremely welcoming to strangers.
In the major cities and tourist industries, everyone speaks English and people are very happy to help.
Outside of major towns, especially among older people, English is likely to be limited and Russian is more likely to be helpful if your Georgian isn't up to scratch.
Because, let's be honest, whose Georgian is up to scratch?
Unlike any other language in the world (legit it has no living etymological relatives), Georgian also uses its own unique alphabet.
Basically, forget it!
Or forget it besides a few basics like "thank you" that I did manage to pick up!
#13 Drinking
And in line with the hospitality of the Georgian people is the fact that these guys love a drink!
A famous, historic and excellent producer of wine, raising a glass with friends (or strangers for that matter) is a key part of Georgian culture and no matter where you go in the country, you're likely to be invited to join in at your host's expense.
Which is a great thing, because the wine here is excellent.
Do beware of the chacha though – a locally produced strong, clear spirit coming from grapes too, this stuff is dangerous and has been the downfall of more than one Georgian traveller, trust me!
It goes without saying at this point, that the Georgians love a party!
#14 Eating
Eating in Georgia is a hearty affair – they need it to soak up all that booze!
Bread, cheese and meat feature heavily and if you don't eat one of these 3, you're likely to eat a lot of the other 2!
As such, life isn't hard for vegetarians in Georgia, it's just heavy!
Gluten-free-ers are likely to struggle a bit more.
Food is crazy cheap though and, despite being simple, is normally delicious thanks to the use of so many locally grown, non-chemical sprayed products.
The national dish is Khachapuri, a stuffed, open sandwich-type construction somewhere between a cheesy pie, pizza and toastie.
Some are made with pastry, others with freshly baked bread, Some have an egg, some meat, some spinach and others just cheese.
All are served hot and are delicious in a kind of greasy, hearty way.
Perfect hangover food! Ha!
#15 Tap Water
Tap water is drinkable across Georgia and delicious, as most of it filters down straight from the mountains' snowy melts.
Hoorah for budget travellers and the environment as no need to buy tons of plastic bottles here.
Instead, bring your reusable metal water bottle when you travel Georgia and refill for free from every tap going!
#16 Markets
When it comes to buying food, there are some larger supermarket chains like Carrefour in Tbilisi, otherwise tons of smaller independent stores dot every street.
However the best place to buy anything in Georgia – food or otherwise – are the markets!
There's so many across the country that discovering at least one on your travels here should be easy.
Not only can you pick up fresh, delicious and brilliantly-priced produce at them, but they also provide an amazing cultural experience.
The huge Deserter Market in Tbilisi is one of the best, and the largest I've ever seen.
No surprise therefore, that it's definitely one of my top 21 things to do in the capital.
#17 Tbilisi Day Trips
And while we're talking about Tbilisi, if you only have a short time to spend travelling Georgia, then I advise basing yourself in the capital and simply taking day trips from her.
This can be a great way to see a lot of this country quickly and easily.
My top Tbilisi day trips include…
David Gareja – amazing monastery complex on the edge of the desert near the Azerbaijani border
Telavi / Sighnaghi – head out to the winelands on this top tasting day tour
Kazbegi – amazing mountain trip to one of Georgia's most iconic locations
Uplistsikhe, Mtskheta, Jvari Monastery, Gori – a top history tour that includes 4 important destinations to the west of Tbilisi
#18 Religion in Georgia
Orthodox Christianity is a cornerstone and ancient part of Georgian culture.
Even as secularism increases, especially among younger urban populations, the Christian Church is still hugely important in Georgian life.
Churches can be found across the country and many major attractions here involve ancient monasteries.
Most are beautifully located, with amazing views as well as architecture, and all are free to enter – hoorah!
As I've mentioned before, everyone must cover up knees and shoulders before they enter a church in Georgia (and women must cover their heads).
Usually outside church doors however, there are free boxes of clothes you can use for your visit if you aren't dressed modestly enough – handy stuff!
#19 Safety & Solo Female Travel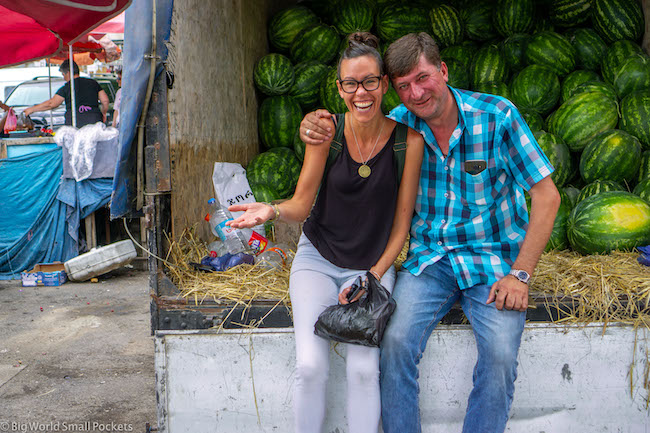 Happy to say I found Georgia an incredibly safe country to travel… maybe aside from the driving!
Otherwise, the friendliness, openness and rural roots of this country make it a lovely and easy destination to travel.
Solo female travellers will find this too, with close to no hassle or cause for concern.
Learn more in my article that talks directly about my experience of travelling in Georgia as a solo female and whether it's safe.
#20 Telecommunications
When you're exploring Georgia, it'll be handy to have a local data connection to browse Google Maps for directions, or trail apps for hiking inspo.
I recommend prepaid eSIM data from aloSIM.
#21 Accommodation
Great news for those travelling Georgia ona budget – this country has many cheap accommodation options.
In the major cities and towns you can easily find some great hostels, while in more rural areas, there's a ton of small, independent guesthouses.
Here's my pick of the top places to stay in Georgia on a budget…
Tbilisi: Pushkin 10 Hostel
Kutaisi: Dingo Hostel
Kazbegi: Camp Kuro
Telavi: Eto Guesthouse
Tusheti: Hostel Tishe
PIN IT TO PINTEREST!
So there you have it, my list of the 21 things you know before you travel Georgia.
Have you been to this amazing country too?
Do you have any more tips to add to the list?
If so, please pop them into the comments below and help your fellow travellers out…