Tusheti?
Yup, it's one of my favourite places on earth.
No joke.
And honestly, I don't know if it gets much better than that accolade!
But that's how good this undiscovered spot in Georiga is.
Already a country that boasts a lot of magical places, this one tops the list for me, quite simply because it still feels so wonderfully authentic and undiscovered.
So read on to learn why I loved the Tusheti area in Georgia so much, why you will too and why you have to go there asap!
---
Related Posts
---
This page contains affiliate links meaning Big World Small Pockets may receive a small commission on any purchases at no extra cost to you.
---
Why Should You Visit Tusheti?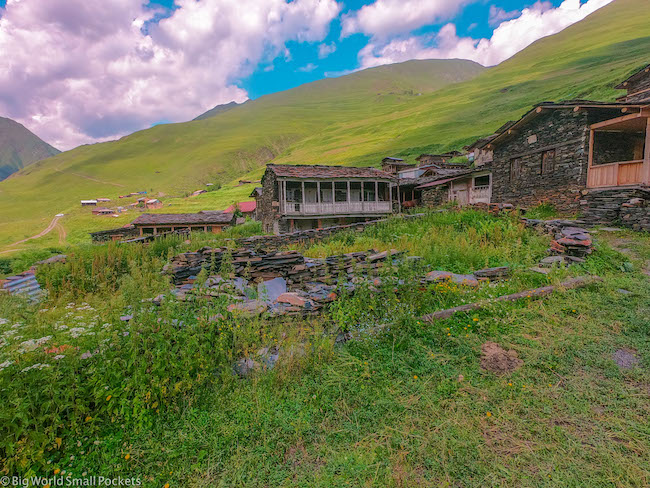 Tusheti feels like the land time forgot… and in the best way possible!
One of the last hidden corners of Europe, this remote area in the northeast of Georgia, on the eastern fringes of both the country and the continent, really is pretty special.
A mountainous area, largely situated over 2000m, this is a place that has been used for herding and grazing animals by the Tush people for centuries.
Now a national park and a protected area of natural beauty, Tusheti is still very much a wild land – a place full of green mountain views, snow-capped peaks, running rivers, rough tracks and with a community that still live in ways similar to how their ancestors have for generations.
Ditch the technology here, time in Tusheti is all about simple, wholesome living on the sort of relaxed timeframe we rarely find in the west anymore.
Accommodation is almost exclusively in local peoples' homes, which have been converted into rustic guesthouses.
And the biggest activities on the agenda here are walking and view-staring!
Coupled with the pristine natural world you'll find here, Tusheti makes for the most incredible travel discovery and was my favourite place in Georgia… which really is quite a title!
And if you're into hiking, horse-riding, disconnecting, chilling out and getting off the beaten track, then I'm sure you'll love this spot too.
It's about as remote and authentically traditional as things still get in Europe and making the effort to explore Tusheti is absolutely one of the best things to do in Georgia!
When to Visit Tusheti?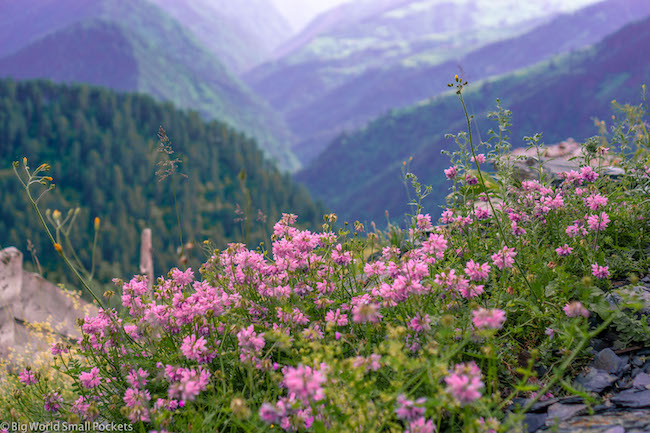 Sealed off from the outside world due to heavy snowfall between the months of the October and May, there's no question the best time to visit Tusheti is during the Georgian summer months.
In fact, it's only from mid-May to early-October that you can actually visit the region.
The Abano Pass, which is situated at 2,900m and which you have to cross to get to Tusheti, becomes blocked due to the winter weather each year and so it's only from June to September that you can "comfortably" get in and out of the region.
This also means the local Tush people must decide around September each year if they want to spend the winter in complete isolation at home or retreat further down out of the mountains to stay in lower-lying places, such as the towns of Alvani and Telavi, which are not subject to such extreme weather.
What you have, therefore, is a place accessible for a maximum of 5 months a year and a community who are either overjoyed at connecting with the outside world again during this time or overjoyed at returning to their spiritual and ancestral farming lands.
And this joy is infectious!
This community are so incredibly welcoming to strangers, and take such a deep pride in their homeland, that they honestly seem to relish the opportunity to show it off!
What a win-win!
How to Get There?
So not only is Tusheti considered remote and off the beaten track because it's only accessible for 5 months, but also because getting there, when the area is technically open, is still quite the adventure!
With no paved road into the area, the only option to get there and away is via a rough, unpaved, one-way 4wd track that twists and turns its way up through the mountains.
And it's known as one of the most dangerous roads in the world!
The journey can only be made in a 4wd and then, only be experienced drivers i.e. locals, due to the difficult and changing conditions.
Even when I travelled there in June, the road was still suddenly blocked in places due to snow melts and we had to wait to be dug out!
You'll also cross fast-flowing rivers, hairpin bends, oncoming traffic and icy patches, so you need to know what you're doing.
It's not short drive either and you should allow at least 4 hours for the adventure, and harness your nerves of steel, as the thin track skirts the edge of the high mountain slopes.
Most 4WDs heading to Tusheti leave either from the towns of Alvani or Telavi in Georgia and getting to either of these places takes a few hours from Tbilisi on public transport too.
What this means therefore, is that it essentially takes a whole day to get to Tusheti from Georgia's capital and transport hub, but boy is it worth it!
From Alaverdi you need to wait at the crossroads, just outside of town, which essentially acts as a bus station – you'll see lots of people hanging around there.
Arrive before 12pm if you want to stand the best chance of grabbing a 4wd.
The 4wds are generally shared rides and, if the vehicle is full, you can expect to pay around 50-60 GEL (around $20 USD) per person.
For more information about what it costs to travel in Georgia, check out my full budget breakdown post here.
The other alternative, especially if you want to enjoy some of Georgia's best vineyards before heading to Tusheti, is to travel to Telavi from Tbilisi the morning before – this journey took me 2.5 hours in a shared taxi and cost 15 GEL.
Spend the afternoon in Telavi enjoying a wine tour, then stay the night there (Eto Guesthouse is my pick) and leave to Tusheti the following morning.
Usually, your guesthouse in Telavi can arrange 4wd shared transport to Tusheti for you, so ask them, as a first port of call, the day before you want to depart.
Where to Stay?
There's a few different towns in Tusheti and depending how remote you want to be, there's a couple of options.
Personally, as a solo traveller on a budget, I opted for the main town of Omalo.
When I say main town, I mean the largest collection of rustic houses spread across an open-air stretch of green, pastoral land, rather than any sort of built-up civilisation!
Essentially, it's a village.
As Omalo is the main access point in the Tusheti region too, this is the easiest and cheapest place to get 4wd rides to and from, and also the place where there's the most services i.e. a few shops, 1 or 2 places to eat and a few guesthouses.
There's also the greatest number of other travellers here (read this is still very few!) so if you're a solo traveller, Omalo provides the best place to meet others and to crew up for different excursions such as hiking etc, which generally makes things cheaper and more fun.
Omalo has 2 parts – Lower Omalo where there's cheaper accommodation and Upper Omalo, which is closer to the church and has better views.
I stayed a few nights in the wonderful Tishe Guesthouse in Lower Omalo and loved it.
The friendly local owners here are the nicest, there's an amazing roof terrace with epic views, plus they have dorms and private rooms at great rates.
There's also hot water and wifi, which in this very rural area is certainly not a given.
Although basic, this place quickly feels very homely and the onsite shop, café and bar mean you can also buy basic supplies here, which makes life easier.
Honestly, I loved it!
Other "popular" tourist towns in the Tusheti region where you can stay include Diklo and Dartlo, where there are also popular hikes and some accommodation options, but in general things are much quieter.
What to Do in Tusheti?
Well, as you've probably grasped by the now, the best thing to do in Tusheti is chill the heck out!
Seriously, who doesn't need to disconnect for a few days in this day and age, take time to do nothing and revel in the beauty of utterly unspoiled natural surrounds.
Yup, the travel dream!
Outside of that, there are tons of day hikes you can enjoy around Tusheti, as well as horse riding and 4wd opportunities.
You can also eat delicious, local Georgian food all day every day, home-cooked and fresh as can be, plus learn about the unique culture of the Tush people – their customs, traditional houses, lives and the ways in which these both are and aren't being modernised.
One of the most distinctive features of the Tusheti area are the stone structures that look like chimneys – you'll see them dotted around, especially on high ground.
These are called Koshkebi and were traditionally used as a way to communicate between villages and as a means of defence.
Learning more about them, and other features of Tush heritage is fascinating.
When it comes to activities, nothing needs to be booked in advance for Tusheti – aside from your accommodation and maybe your transport the day before – and there's so many walks and trails, it's impossible to list them all here.
The best idea is to get to your accommodation in Tusheti and ask them for guidance.
Generally there are walks you can take that lead straight out of the gate!
There's also a tourism office in Omalo which has maps and lots handy info.
One of my favourite walks, from the village of Dartlo, was the short hike up the hill to the hamlet of Kvavlo, where we discovered abandoned buildings, stunning views, great photo opps and a lovely place to stop for a coffee!
As with many of the smaller hamlets and villages in Tusheti, Kvavlo is only accessible by 2 feet or 2 hooves.
There are no roads here and perhaps only 1 or 2 families leaving quiet lives herding animals, but the place is surrounded by pristine mountain views and wild, flowing rivers.
It really is something else.
How Long to Spend There?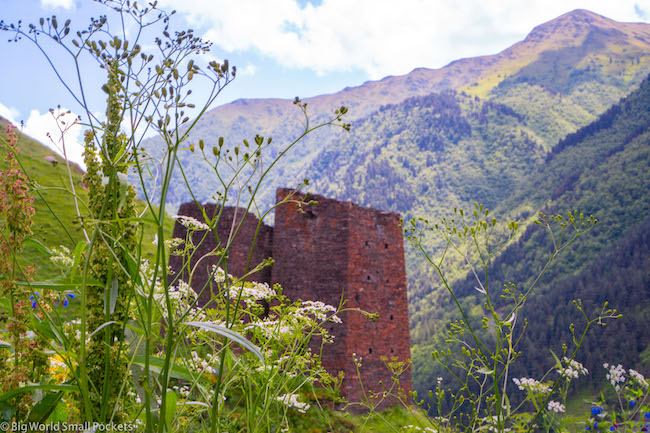 This really depends on how much you love getting off the beaten track and disconnecting, but as a minimum, I would allow 3 nights for Tusheti.
And I'll bet you'll want to spend more time there once you start to unwind!
Given that it essentially takes a day to get to the region, your first night will likely follow a long travel journey.
On day 2, you may wish to explore Omalo (both Upper and Lower) including the fortress, head to the Tourism Office for some maps + info and generally settle in.
On day 3, you could check out Dartlo and enjoy some horse riding or mountain biking.
And on day 4, you could head over to Diklo, which you can hike to from Omalo via Shenako… if you've got the energy!
Of course, this is just a guide, there's much more to explore or, conversely, a lot less to do if you just wanna chill as well!
My one advice would be to leave Tusheti until last on your Georgia itinerary.
That way you won't have to rush off to see anything else – because saving the best until last is always a good idea!
Eating and Drinking
In keeping with the remote and rustic theme, eating and drinking in Tusheti follows very traditional patterns too.
The cheese produced in this region is famous and needless to say you'll enjoy a lot of it, along with the usual hearty Georgian fare of bread, eggs and meat.
Drinking is commonplace with local beer and wine in abundance.
While guesthouses in Tusheti do provide meals and there a few little shops, you need to bear in mind food here is basic.
It can also be a little pricier than the rest of Georgia given the remote location.
For this reason, and because I'm a vegetarian, I took some food with me to Tusheti so that I could have picnic lunches and not worry if everything had meat in it.
But I needn't have worried.
If you explain you don't eat meat, you should be ok and while food is a bit more costly out here, I'm not sure the amount you'll save offsets the hassle of carrying of food with you to be honest.
Tap water is drinkable out here and alcohol is in plentiful supply.
Maybe bringing a few snacks with you would be a good idea.
Packing Items for Tusheti
Because Tusheti is situated at altitude, you need to be prepared for cool evenings here, even in the summer, as well as potentially wet days.
As such, I suggest a black fleece like this one, which is thin and light, would be a good Tusheti travel item.
A thin, light, waterproof jacket might also be a good idea in case of any sudden showers, which can happen at the anytime up here.
As well as this, I suggest bringing some good hiking shoes, a decent daypack as well as some activewear to the region so you can get out and enjoy the beautiful nature at its best.
Because you can drink the tap water here, a metal refillable water bottle is a good idea too and, of course, you'll want a good camera to capture the amazingness of this place as well.
For this, I highly recommend the GoPro Hero 7 Black, which was perfect for my rough and ready, outdoor adventurous time here!
Given the unreliable electricity in Tusheti, I'd also advise bringing a good headlamp (my Black Diamond Storm one is brilliant) and a fully charged power bank too (I never go anywhere without my Anker Powercore).
World Nomads offers simple and flexible travel insurance. Buy at home or while travelling and claim online from anywhere in the world.
Alternatively, if you're a long-term traveller, digital nomad or frequent remote worker seeking travel health cover, check out Safetywing's Nomad Insurance policies.
Other Useful Things to Know Before You Go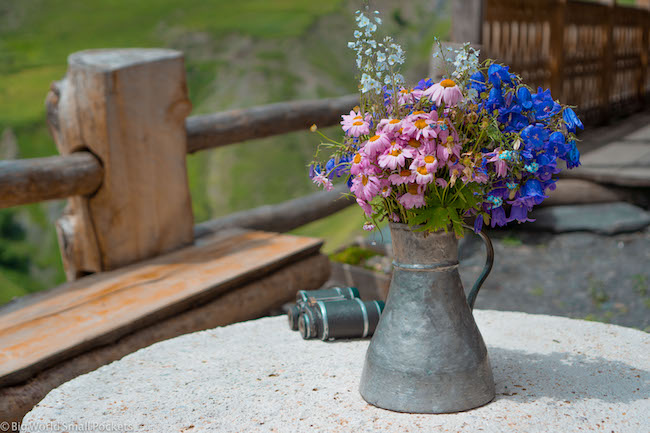 The main things to know before you travel to Tusheti are about the remoteness of this location.
This means it's quite the adventure to get there, and also that you should expect a rural and basic level of accommodation and services when you do.
Don't expect wifi, plentiful supplies or lots of entertainment.
Hot water isn't a given either, so make sure that wherever you choose to stay can promise it, like Tishe Guesthouse.
Cooler in the evenings and potentially rainy in the day, you'll want to come prepared with some warmer and waterproof clothes and shoes too, as well as maybe some snacks so you don't spend so much money on food when you are here.
And talking of money, there are no ATMs or banks in Tusheti, so you'll need to bring all the cash required with you.
I'd bring a bit extra too, because you'll probably stay longer than you thought you would!
You'll also need cash to pay for the 4wd back to Alvani or Telavi from Tusheti.
This will be cheaper if you can find other travellers to share the ride with you.
Either way, arrange your return transport at least a day in advance.
If you want to get back to Tbilisi in one day from Tusheti, then the quickest option is to try and time it so you can catch the 2pm bus that leaves from Alvani back to the capital.
And finally, you may have issues charging your electronics in Tushtei too, as electricity is scarce and unreliable.
As such, my advice is to come with everything on full battery, including a good portable charger – this one from Anker gets my vote every time!
PIN IT TO PINTEREST!
And that's it, my ultimate travel guide to Tusheti in Georgia.
I'm already looking forward to heading back to this magical place when I next visit Georgia and wondering if it's on your list yet?