I've said it before and looks like I'm going to say it again… Georgia really is a country that has it all!
As such, my 2 weeks there barely scratched the surface of this beautiful, spirited destination and there's no question that, from the list of countries I want to return to as soon as possible, Georgia occupies one of those much-coveted hotspots!
But, as always, you have to be thankful for what you have seen, even if you still want to experience more, and for my 2 weeks in Georgia I certainly am grateful.
Because from some epic hiking in the high Caucasus Mountains to wandering the character-filled streets of Tbilisi, plus wine-tasting, monastery musing and eating a lot of great food, I managed to fit a huge amount into my amazing fortnight there and felt it was the perfect taster of a country that only wets your appetite for more.
So here it is, my epic 2 week Georgia itinerary, which follows the exact route I took and will show you the best of this incredible nation…
---
Related Posts
---
This page contains affiliate links meaning Big World Small Pockets may receive a small commission on any purchases at no extra cost to you.
---
Arriving into Georgia
If you're travelling by plane from Europe to Georgia, then the cheapest flights are normally those that land in Kutaisi – a city home to the country's parliament – because this is the airport used by most budget airlines.
Indeed, Wizz Air flies to Kutaisi from across Europe offering some great deals.
You'll then have to get yourself from Kutaisi to Tbilisi, the capital, where this itinerary starts, which is simple enough via local bus, but do allow yourself a day of extra time.
The super Dingo Hostel is the best place to stay if you need to spend the night in Kutaisi.
Otherwise, the capital of Georgia, Tbilisi has a small, but well-appointed international airport that is an easy taxi or bus ride from the city centre.
The cheapest flights generally arrive here from across Europe including Paris, Istanbul & Latvia , so check out Turkish Airlines, Air France and Baltic Air via Skyscanner if you're looking to score a well-priced ticket.
If you want to compare flights that land in Kutaisi with those that land in Tbilisi, plus find yourself the best deal overall, I highly recommend you use Skyscanner – my go-to site for finding the cheapest tickets.
Alternatively, if you're arriving into Georgia overland from Azerbaijan or Armenia, like I was, then you'll be pleased to know tons of local bus services can shuttle you over the border and straight into Tbilisi quickly and easily… sometimes a little too quickly!
Day 1 – Tbilisi
Stay: Pushkin 10 Hostel
On the first day of your Georgia itinerary, it's a good idea to take it easy and adjust to travel and life in a new country.
As such, I suggest keeping it low-key and simple in Tbilisi on day 1 by exploring the Rustaveli area of the city – which is the modern part with the Parliament building and many museums.
There's also a great number of cafes and restaurants that line the streets here, as well as plenty of hidden bars that lie down cobbled alleys and, in almost all of them, you can experience your first taste of local Georgian cuisine and quickly learn how important a good local wine is to this culture!
I stayed in the wonderful Marco Polo hostel, in the heart of the Rustaveli district and would highly recommend it, if it hadn't sadly closed.
As such Pushkin 10 hostel, which is located not far away also come highly recommended and continually gets rave reviews from travellers and is my new pick for budget accommodation in Tbilisi.
If you still have time on day 1 of your Georgia itinerary, then why not wander across the river, via the fleamarket on Saarbruecken Bridge which runs from 12pm to 5pm, to explore the other side of this city including the enormous Deserter Market and the picturesque Davit Aghmashenebeli Avenue, which is a nice place to enjoy a coffee.
From here head to the Rike Park, then cross back along the Peace Bridge, before heading up to the Mtatsminda Park for the best sunset views in the city.
Set on a hill behind Rustaveli, with the prominent TV Tower at its helm, this park is the ceiling of the city so take the funicular ride up from Daniel Chonqadze Street and enjoy the views as you quickly ascend this large hill.
Check out my article about the 21 top things to do in Tbilisi, Georgia's buzzing capital for more info, including details about how to use the city's public transport system.
Day 2 – Tbilisi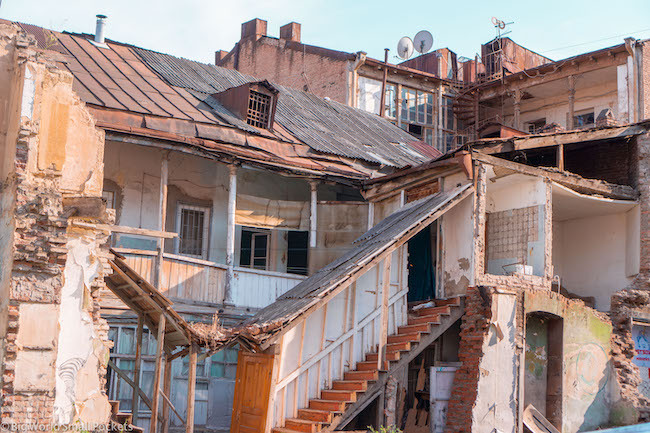 On the second day of your Georgia itinerary, it's time to hit Tbilisi's Old Town and the best intro to this area in my opinion, is care of one of the many free daily walking tours.
Run by the great company Tbilisi Hack, these operate twice daily during the summer months at 12pm and 5pm and last over 3 hours, beginning from Liberty Square.
Must-see sights within the old city include the plethora of religious buildings, the heritage-laden streets, the wealth of galleries and museums, as well as the great restaurants, cafes and bars.
Don't miss the sight of the Wonky Clock either!
In the afternoon, ride the cable car from Rike Park on the other side of the river up to Narikala Fortress on the hill above the Old Town, which offers some seriously stunning views.
Wave at Mother Georgia, who stands proudly up here, wander the 4th Century crumbling fortress and check out both the Botanic Gardens and Leghvtakhevi Waterfall as you make your way down the hill on foot.
Finish off the day by relaxing in one of Tbilisi's fabulous Sulphur Baths.
There are several different bathhouses, as well as rooms to choose from, but one of the cheapest and nicest are the private rooms at Orbeliani Baths because, while men have the option of attending public baths here in Georgia, women most book a private room.
In summer it's advised you book at least a day in advance and costs start from around 50 Lari, plus 20 Lari for an exfoliating body scrub, which is well worth it.
Days 3 to 5 – Kazbegi
Stay: Camp Kuro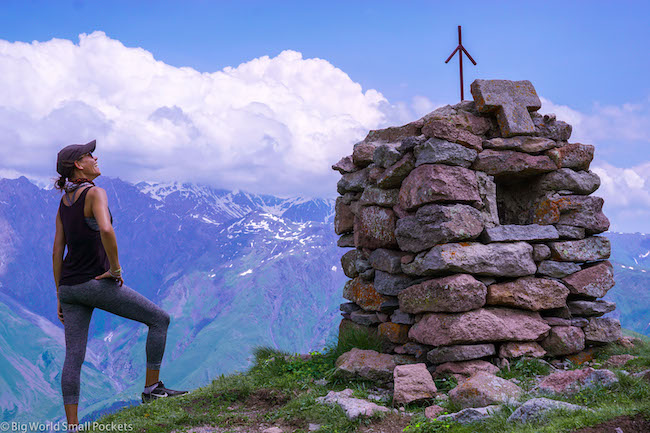 On the third day of your Georgia itinerary, it's then time to get out of the capital to explore some of the country's amazing landscapes.
And first up is Kazbegi – an area in the north, which is easy to access from Tbilisi – and that offers travellers some of Georgia's most beautiful scenery.
If you're interested in hiking, mountains, or both, then heading here is a must and the star in the crown is the famous Gergeti Trinity Church, which sits on top of a hill directly in front of the great Mount Kazbegi itself.
This is the postcard emblem of Georgia, and seeing it in real life, or even better, walking up to it, is a truly amazing experience.
Many visitors only head up to Kazbegi on a day trip, tick the church off their list and return to Tbilisi. However, I strongly believe you're missing out by not allowing yourself a few nights here to discover the tons of other accessible walking trails, stunning valleys and horse riding opportunities that make Kazbegi a traveller favourite.
Add to this the traditional village life, sense of isolation, as well as peace and quiet that can be found here, and Kazbegi makes the perfect place to relax and unwind too.
Check out my complete travel guide to Kazbegi to learn more about this area, where to base yourself and the hikes to do, including a 3 day itinerary that will have you seeing the best of this region in a short timeframe.
Day 6 – Return to Tbilisi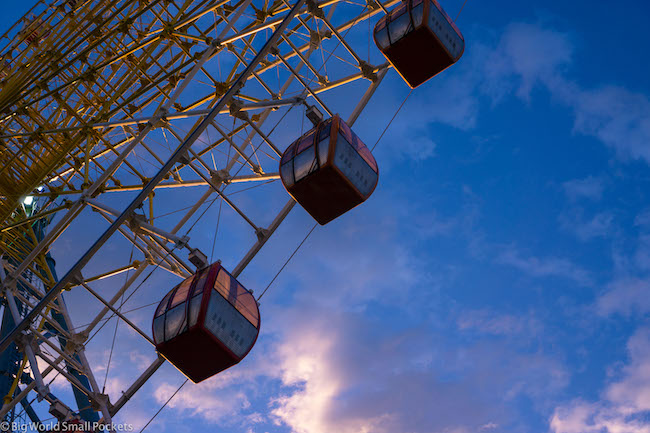 After 3 days out hiking in Kazbegi, you'll likely be glad to return to a bit of city life, warmer temperatures and some time out of your hiking boots.
And with the journey taking around 4 hours, travelling back to Tbilisi from Kazbegi on day 6 of your itinerary can also allow you a lie-in and you'll still reach in the city in the afternoon!
Spend the evening enjoying any parts of the capital you missed on your first 2 days here and getting ready to head out for a full day of sightseeing tomorrow.
Day 7 – Day Trip to Mtskheta, Gori & Uplistsikhe
Being such a large country and having only 2 weeks for your Georgia itinerary means that, if you want to see a lot of this country, you are going to have to cram some stuff into day trips.
And one of the best one is a budget-friendly option that runs from Tbilisi to explore several important sights in the east of the country.
Yup, this great day trip from the capital takes in several key destinations including…
Uplistsikhe – an incredible ancient rock-hewn town
Mtskheta – another of Georgia's former capitals and home to Svetitskhoveli Cathedral
Jvari Monastery
Gori Fortress
Way to tick off that bucket list!
Costing around 90 Lari, this is a full day activity that will have you seeing a lot in a short timeframe, including – bit of a strange one! – the birthplace of the Soviet dictator, Stalin, in Gori.
Top of the list of "attractions" (note the inverted commas) in Gori is the Stalin Museum, where English language tours are available. Go with a critical and discerning approach and it's quite the eye-opener!
I'm not suggesting you take a trip here to honour the man who led millions to their death, but rather because a trip here adds another level to the fascinating historical patchwork puzzle that is Georgia.
Day 8 – Telavi & Wine Tour
Stay: Eto Guesthouse
On day 7, it's another early start as I suggest you again leave Tbilisi first thing and head west out of the city to the wine region and the charming town of Telavi.
Quiet, quaint, small and slow, the journey here will take you a few hours from the capital, meaning you'll likely be able to check-in when you arrive and arrange your transport to Tusheti for day 8.
Eto Guesthouse organised my journey easily and the cute, family feel of this place makes it my top pick for a place to stay.
You'll then have the afternoon free to enjoy a bit of what Telavi is famous for – namely wine!
Yup a wine-tasting tour is a must on your Georgia itinerary and the best place to head for is probably the Shumi Winery.
Don't miss the Alaverdi Cathedral when you are in Telavi either, or the views of the surrounding picturesque countryside.
Days 9 to 11 – Tusheti
Stay: Hostel Tishe
And today will again be an early start as it's likely the 4wd transport you arranged yesterday for your trip to Tusheti will depart in the morning from Telavi.
And that's because it takes a long time!
Yup allow at least 5 hours to make this off the beaten track, 4wd-only drive, mountain "road" up to Georgia's most remote but phenomenal region.
Situated in the high Caucasus Mountains in the northeast of the country, this whole region is only accessible during the months of June through September, after which it gets cut off again by snow and residents must either stay separated from the outside world the whole winter or move down to Telavi away from their homelands
It might not surprise you to know that as soon as I heard about this place I knew I had to go there… and trust me, it really was special as it sounds… you should definitely dedicate at least 3 nights of your Georgia itinerary to it too.
For when you reach this untouched land, where time ceases to exist and the pace of life is like something from a lost era, you won't want to leave.
I'd suggest basing yourself in the main "town" of Omalo when you visit Tusheti, and from here you can enjoy day hikes, epic drives and even horse rides to surrounding villages and ruins.
Hostel Tishe is the cutest family-run place ever – with the best staff, hot water, wifi and a small shop, it's a great place to meet other travellers, plan tours and stay in Omalo.
Learn more in my complete guide to visiting Tusheti here.
Day 12 – Return to Tbilisi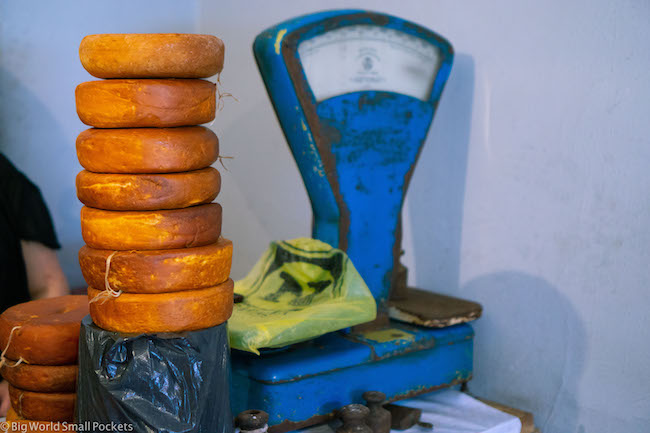 It will probably be a struggle, but on day 12 of your Georgian itinerary, you'll have to pull yourself away from the peace and isolation of Tusheti and head back to Tbilisi!
Again making the 4wd drive back to Telavi, or the nearby village of Alvani will take around 4-5 hours, and then a bus back to Tbilisi another 2-3 hours, meaning when you reach the capital, you'll probably be pretty ready to chill out!
Day 13 – Day Trip to David Gareja
And you can save packing your whole bag again, because on day 13 it's time to take another great day trip from Tbilisi – one that will allow you to see yet another type of landscape within Georgia's border.
Essentially an ancient monastery complex spread over a remote semidesert area close to the Azerbaijani border, monks still inhabit some of the monasteries at David Gareja, which are originally thought to have been constructed in the 6th century by Syrian Christians travelling from the Middle East.
Very affordable, daily tours depart at 11am from Liberty Square in Tbilisi during the summer months and cost just 30 Lari for what is a FULL day tour.
Day 14 – Depart Georgia
Sadly you've come to the end of your 2 week Georgia itinerary and now it's time to return home or continue the adventure elsewhere.
Head to Tbilisi airport or across to Kutaisi today via local bus if your flight leaves from there.
Or why not continue your travels and head into Armenia?
It's another great, affordable and off the beaten track country I really enjoyed.
More Time for Your Georgia Itinerary?
If you have more than 2 weeks for your Georgia itinerary, then don't miss these amazing places too…
Chiatura – the town of quirky cable cars
Tskaltubo – spa town with abandoned Soviet Sanatorium
Batumi – Black Sea resort with a pebbly beach and plenty of party!
Svaneti – a mountain-lovers and hiking paradise
Kutaisi – home to Georgia's parliament & the UNESCO-listed Bagrati Cathedral
Mini Travel Guide to Georgia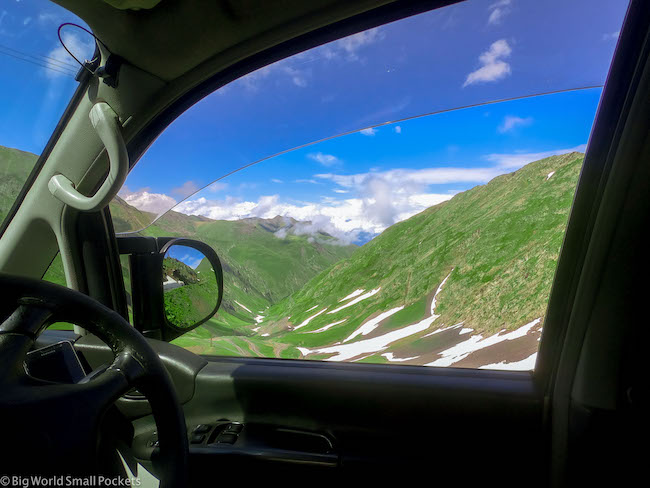 When to Visit Georgia?
Winters in Georgia can be fiercely cold with snow and freezing temperatures not uncommon across the country, especially in the mountainous areas such as Tusheti. At this time, many roads become impassable and travelling difficult.
As such, I would definitely visit Georgia during their summer months, when the climate is wonderfully warm and the skies are almost always blue.
The summer season here runs roughly from May to September, however July and August can be super hot in Tbilisi and other lower areas (like 40 degrees hot), so do bear this in mind if you're not a fan of the heat and want to enjoy some hiking.
I visited Georgia in June and the weather was perfect – very warm and clear days, with loads of wildflowers around and perfect hiking conditions.
Learn more in the post about the 21 things you need to know before you travel Georgia.
How Long to Spend There?
I'd suggest at least 2 weeks in Georgia to ensure you have the chance to tick most of the major sights off your list.
Recommended Tours in Georgia
Check out these fantastic tours of Georgia, which will help you see the best of this country.
5 Packing Essentials for Georgia
#1 Caucasus Lonely Planet – Still my go-to when it comes to guidebooks, the Caucasus Lonely Planet packs in a huge amount of information about travelling in Georgia and will likely save you the cost of a guide in many of this country's fabulous historical attractions.
#2 Good Camera – From the mountain landscapes to the village life, you'll want a good travel camera to capture the best of Georgia and the Sony A6000 mirrorless ticks my box every time!
#3 Headscarf – If you're heading to see any monasteries in Georgia, ladies will need to come prepared with a headscarf to enter, as well as a long skirt or pair of pants and a long-sleeved top.
#4 Hiking Shoes – No trip to Georgia would be complete without spending at least a day or two hiking in this country's untouched rural landscape. Coming prepared with a pair of good walking shoes is essential therefore and Keen Targhee's II always get my vote!
#5 Rain Jacket – I visited Georgia in June, technically the start of summer and the high season, but was amazed how storms suddenly blew in across this high altitude country. Having my North Face lightweight, windproof and waterproof jacket therefore saved my life!
Learn more in this complete packing guide to Georgia I wrote.
Travel Insurance for Georgia
World Nomads offers simple and flexible travel insurance. Buy at home or while travelling and claim online from anywhere in the world.
Alternatively, if you're a long-term traveller, digital nomad or frequent remote worker seeking travel health cover, check out Safetywing's Nomad Insurance policies.
Travel Money in Georgia
When it comes to paying for things in Georgia, it's great to know that accommodation and tours can generally be paid for by card.
ATMs are also available in most major towns.
Whether you use ATMs or pay by card however, you'll want to ensure you're not being charged overseas transaction fees or getting poor exchange rates, which is why I always take my Wise card away with me wherever I travel.
The easy way to spend abroad with real exchange rates, no markups and no sneaky transaction fees, you can use your Wise card just like a debit card here, and it links easily with Google and Apple pay. Get yours here.
PIN IT TO PINTEREST!
And there it is folks, the best 2 week Georgia itinerary, the perfect tool when it comes to planning your time in this amazing country.
Are you looking to travel to Georgia soon?
Let me know any questions you may have in the comments below…