Filter bottles have been around a while now, and are listed and recommended on pretty much every travel, outdoors and hiking website.
I've seen plenty of videos boasting how amazing filter bottles are, how long they last and, unlike their plastic water bottle counterparts, how little they impact our environment.
I'll admit, until I started enjoying walking and hiking more and more, I'd never seriously thought of buying a filter bottle.
I mean how often would I use it?
However since I have decided to buy one of the most popular branded filter bottles, I can safely say that it's one of the best things I've bought in a long time!
And no matter whether you're a traveller, hiker, cyclist or general outdoorsy person, it's likely to be one of the best pieces of kit you buy too, here's why…
---
Related Posts
---
My Water-To-Go Bottle was kindly gifted but, as always, all views are my own.
This page contains affiliate links meaning Big World Small Pockets may receive a small commission on any purchases at no extra cost to you.
---
Common Water-To-Go Bottle Questions
Before buying a filter bottle I had no real clue about what they do or how they work.
Mostly I just had a lot of questions!
Why would you need a filter water bottle?
When would you use one?
Are they safe?
Do you need to buy the filters?
How many filters are required?
Do you need to activate or replace the filters?
What if the filter doesn't work and I have no way of telling?
Which brand do I choose amidst the sea of filter bottles?
See what I mean!
A lot of questions!
If you've got a lot of questions about these bottles too, then read on, because in this article I'm going to answer them as I take you through my own Water-To-Go experience and why I think their filter bottles are worth it…
The Basics You Need to Know…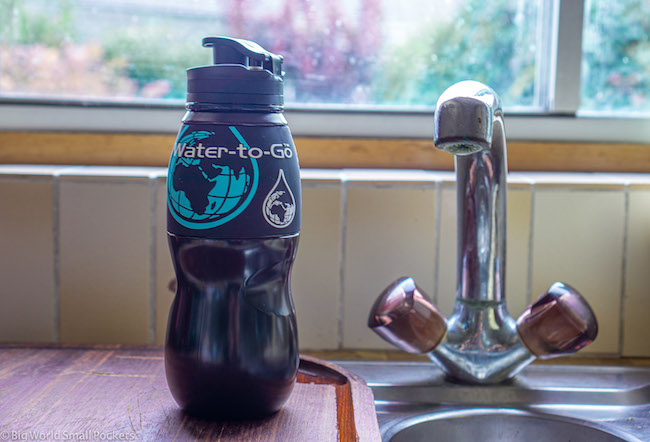 Essentially, all filter bottles work along the same lines.
They filter water to make it potable, safe and taste better.
This is very handy if you are backpacking, hiking, camping and / or travelling in countries where the tap water isn't safe to drink.
Filter water bottles therefore do away with the need to chemically treat or boil non-potable water, which are the old methods of accessing drinking water in remote parts of the world.
These old methods were generally expensive, time-consuming, fiddly, non-sustainable and made the water taste awful.
Filter water bottles are known of the above.
Cost-effective, simple, hassle-free and reusable, these new inventions give you great tasting water every time, by way of a filter that safely traps any nasties.
They can be used with any freshwater source, be that water from the tap or even from a stream or river.
Essentially all filters in all such water bottles work the same way – they process a certain amount of water within a specific time frame using their clever filter technology.
These bottles all require you to suck the water out of them through a fitted, small straw, because it's that action which draws the water up and through the filter, safely purifying it.
After a certain amount of time, or a certain amount of water filtered, you have to replace the filter for these bottles to effectively continue to do their job.
Why Did I Choose Water-To-Go?
With so many different brands of filter bottles on the market, I choose to go for the product I'd seen and heard the most about – Water-To-Go.
Not only did this company offer one of the most cost-effective bottles on the market, they also get great reviews and they are British-owned and based just outside London.
In a climate where I'm trying to buy more products from local and independent businesses, Water-To-Go seemed a great choice.
I loved that there were so many different designs of bottles to choose from within the Water-To-Go range too.
From active bottles designed for cyclists to 75cl bottles perfect for travellers, their products come in a range of colours and sizes, where you can mix and match the lids and filter colours too.
I also love their simple and clear instructions when it comes to activating the filter because, if you're anything like me with an awful habit of breaking things before you've even got them out of the wrapping, good instructions are a godsend!
However, I think the main deciding factor for me was that the Water-To-Go filter bottles come with a tracker that lets you know when it's time to replace the filter.
This is SUPER handy for forgetful people like myself!
The Filters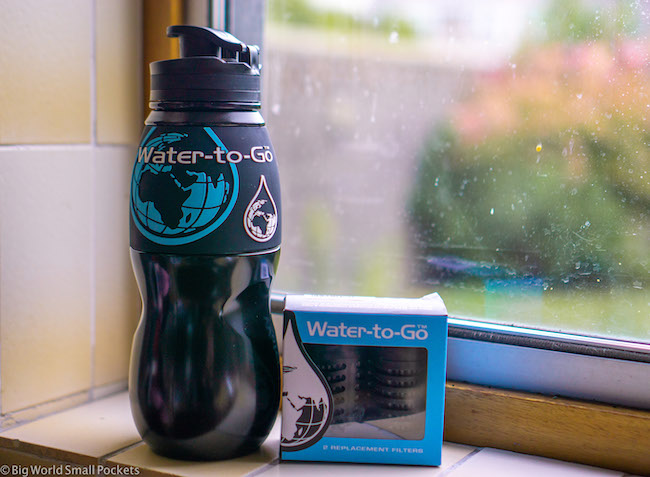 But the main reason I bought a Water-To-Go filter bottle was due to the quality of the filter and the peace of mind this gave me.
After all, I really cannot afford, as a blogger permanently on the move, to drink tap water in some remote region of the world thinking it's been filtered, only to then get sick.
Luckily, the Water-To-Go filter bottles use an incredible 3-in-1 design system that was originally developed by NASA and has been rigorously tested across the globe.
It involves 3 separate technologies – mechanical filtration, electrical and activated carbon – which work in different ways to reduce the volume of contaminants in water by up to 99.9999%, without leaving a horrible taste.
There's no adhesives used in their filters either and, despite the fact they eliminate harmful contaminants from the water, they still allow beneficial minerals such as sodium and magnesium to pass through leaving you with the healthiest, best-tasting water possible.
Learn more about the science of it all on the Water-To-Go website.
Are They Practical?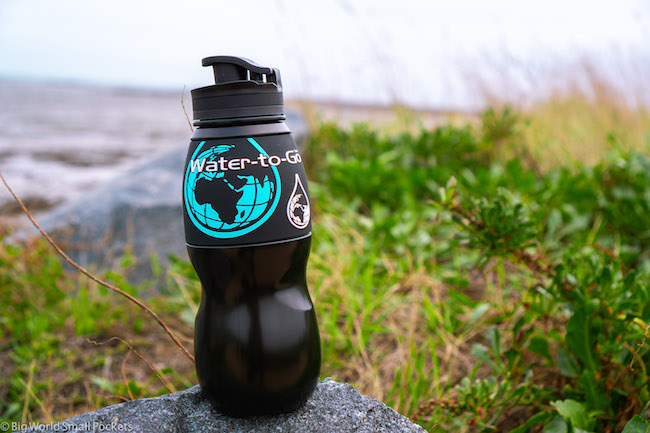 I'll admit that when I first bought my Water-To-Go filter bottle, I did wonder how often I was actually going to use it.
And the answer, I'm delighted to concede is …. all the bloody time!
Yes, I now use my filter bottle on a daily basis.
It's actually become my go-to water bottle, even when I'm not travelling or filling it up from a natural stream or a non-potable drinking source abroad.
The brilliant thing about this bottle is that it's so simple and easy to use, that you forget all about it being a filter bottle!
It's quick to fill it – whether from the tap, a lake or a stream – and incredibly compact.
Yes, one of the more surprising things about the Water-To-Go bottle is how well it actually fits into a bag, or even a coat pocket in my case!
Yet the best thing by far, about the practicality of this filter bottle, is that it means you no longer have to carry big bottles of water on long treks, hikes, walks or day trips.
That sort of inconvenience is now forever a thing of the past … and I couldn't be happier!
All you need to do is carry this one bottle and fill it up from any source of fresh water you find, to be in the knowledge it will instantly make it safe for you to drink and enjoy.
Lifespan of Your Water-To-Go Bottle
How long your filter will last honestly depends on the brand of filter bottle you get, as well as the size.
With Water-To-Go, there are two main sizes: a 50cl bottle or a 75cl bottle.
The smaller bottle filters 130l of water, whilst the bigger bottle filters 200l of water.
As I've mentioned, the timer included with this particular brand lets you know when you need to replace your filter.
For the 50cl bottle this is roughly every two months, and for the larger bottle it's approximately every 3 months.
If you're only going to use your filter bottle for a day trip here and there, then you certainly aren't going to get your money's worth and use out of the filters.
As such, I would suggest using the filter bottle as much as possible – whether you're kick-starting your New Year's Resolutions early in the gym or taking the dog for a quick walk, a Water-To-Go bottle is the perfect accessory!
Environmental Impact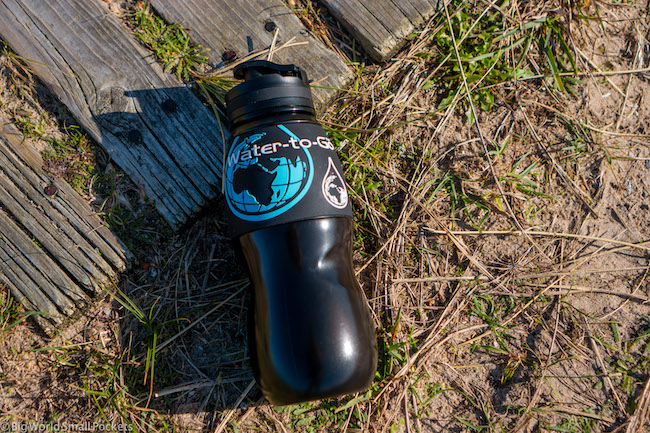 On top of all of this, perhaps one of the most important factors in buying a filter bottle is that it eliminates the need to keep buying disposable bottles of water.
Not only do throwaway bottles of water cost you money (which, depending whereabouts in the world you are, can amount to a fair bit) but they also contribute to the masses of plastic waste accumulated every day.
As we know, a lot of these plastic bottles end up in the ocean and we've all seen those horribly depressing images of islands made entirely from trash floating in our beautiful seas and waterway.
Personally, I can't tell you how many times I've walked down a beach only to find plastic bottles and six-pack beer cans every five steps.
Or how many times I've freaked out when something has wrapped around my ankle whilst I've been swimming and thought that it was finally the moment a deep-sea creature had got me, only to unhook a plastic bag from around my foot.
The best thing about the Water-To-Go filter bottle therefore is that it significantly lowers your contribution to the pollution of our planet.
Instead, buying a Water-To-Go filter bottle actively lessens your impact on the environment!
The only negative side to filter bottles is the wastage from the filter itself.
But even there, the filter membrane is biodegradable and the shrouds are recyclable.
Yet, when you compare this to the amount of waste you'd build up from buying bottled water for two months, the difference is all too obvious.
Why This Product is a Game Changer!
Long story short, the Water-To-Go filter bottles are amazing!
They're durable, small and not only filter the water you drink, but also take away any nasty tastes you might get too.
This is especially helpful if you're filling up your filter bottles from lakes, streams or in countries where the tap water isn't the best.
Filter water bottles are actively saving our planet from plastic waster and by getting yourself one, you could be helping support our precious environment as well.
Conclusion + Discount!
So in answer to my question, are Water-To-Go filter bottles worth it?
My resounding answer is yes!
And to make it an even more resounding yes from you, you can now get 15% off your Water-To-Go bottle by using my exclusive code BWSP15
Just check out the Water-To-Go range here, select the bottle you want, add your filters and then enter your discount code.
So simple, so great and now even cheaper!
So what are you waiting for?
PIN IT TO PINTEREST!
What more could you want?
If you're looking for my recommendation, then yes, Water-To-Go filter bottles are certainly worth it.
I won't be swapping mine for anything!