Hopping into a new blog post today, quite simply to tell you how delighted I am with my new travel accessories!
Yup, it's getting as wild as that round here these days!
Look, I've been carrying around a tatty old pink passport holder for a while now and, after almost 3 years on the road fulltime, it's fair to say it's certainly lost its shine!
And my laptop cover…
Well, that's been everywhere with me too and let's just leave it at the word "filthy" and call it a day.
So, when Harber London reached out to me with their gorgeous new line in travel accessories and said I could pick a couple of items I was over the moon!
Here's my honest review about my choices and their company…
---
Related Posts
---
My passport holder and laptop case were kindly gifted by Harber London but, as always, all views are my own.
This page contains affiliate links meaning Big World Small Pockets may receive a small commission on any purchases at no extra cost to you.
---
Who Are Harber London?
A small London start-up, Harber London are a family business that specialises in high-quality leather accessory products.
With wallets, passport holders, laptop cases, backpacks, organisers and camera straps among their most popular products, there's no question these guys are ideal for travellers and digital nomads alike.
Which is exactly why I'm spreading the word about this brand.
Harber London's designs are sleek, stylish and simple, yet incredibly practical for even the most adventurous travellers.
The durability of their leather offerings, combined with the other high quality and natural materials they use (including wool and felt) means their products blend seamlessly into a traveller life – they both look and feel great!
As an online-only business, you can find Harber London either through social media or their website, where you can view their huge range of products, as well as order them, both easily and simply, for delivery around the world.
Even if you're not heading out anywhere in the world yourself soon (thanks 2020!) then there's no question that any of the products this company produces would make excellent holiday gifts – either for yourself or for any other frustrated travellers you know!
Handcrafted and Environmentally Certified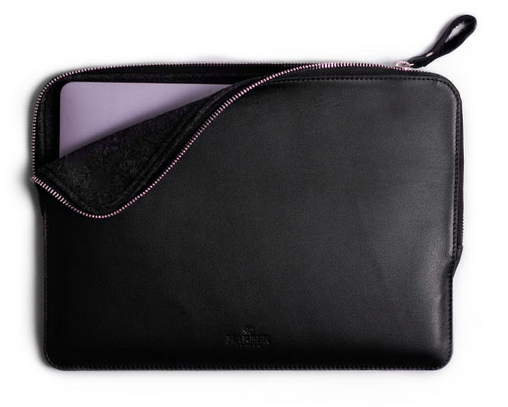 But look, it was not just the beautiful look of Harber London's products that grabbed me.
Yes, I'm a sucker for a leather accessory (you only have to look at the amount of leather bags I own and the number of times I've been to Morocco to work that out), but it was also the product values that drew me to say yes to the kind offer of a free gift from them.
First up, these guys are a small company, family-run, UK-based and fall into the start-up category.
All the ticks so far, as I'm even bigger than normal about supporting the local economy and small business in this pandemic economic climate.
But it's not just that, because their products are also handcrafted and made from environmentally-certified materials.
Yes, I know leather products kinda clashes with my long-standing vegetarian lifestyle, but we've all got our vices and certainly knowing these guys are doing the best they can makes me feel less guilty!
After all, it's full-grain leather they use (which is the premium cut as it were), which means it's both hard-wearing, long-lasting and only gets more beautiful with age!
They also have a good section on their website showing you how to care for your Harber London leather products, including cleaning and drying – not that you really have to do too much of either of these things mind.
The wool they use inside many of the products, such as my passport folder, is also 100% pure and like the leather, comes from farms in Spain.
Another natural fabric, wool doesn't fray, meaning edges can be left raw, creating a look that conveys a distinct sense of handmade craftmanship.
Wool is also moisture and dirt repellent and feels so soft, which is ideal for protecting documents you may keep within your Harber London products.
No question my passport feels safe and snug in its leather and wool casing!
Harber London also uses soft microfibre to line products that are designed to contain electronics, such as my laptop case.
This product looks like the wool they use – it's even the same colour – but feels slightly stiffer and more protective.
And along with these 3 materials, Harber London also uses 100% cotton twill and German microfibre, but that's it – yes those are the only 5 materials you'll find in their products.
Natural, simple, but looking and feeling great – both in terms of aesthetics and quality – this makes for some stunning creations.
Free, Fast Shipping & 1 Year Warranty
And the added bonus with Harber London is that, if you're situated within the UK, these guys also offer free shipping of their products, which trust me, is fast.
I actually ordered my chosen products and they were couriered to me the very next day!
Trackable, fast and free, you can't ask for better shipping than this!
Oh and they can deliver worldwide too – which makes them ideal for overseas gift ideas!
And for that peace of mind, it's good to know all Harber London's products are covered by a 1 year warranty and a 30 days return policy too.
Just check their website for more details.
My Laptop Case
So with the technology and terms / conditions blurb out the way, it's time to get down to the real opinion about how I rate these products and the answer is… high!
I've already travelled with both the new passport holder and laptop case in place and can say I was only delighted by their lightweight and slim designs.
In particular, the laptop case is so slick, it cut down a good few cm either side in my hand luggage and, given that my backpack in question is a Bobby Anti-Theft number, means I know it's already protected from shocks and knocks by the bag.
With this in mind, I loved the slick design of the case and my laptop felt very snug inside it's lining.
The zip is water-resistant, meaning my laptop felt safe and, with the ability to choose a case that suits your model of laptop exactly, there's a guarantee it will be perfectly-fitted.
While I loved the look of the brown laptop case – it's sort of a light tan come camel shade – I actually went for the black – not only because I felt it would go with more stuff I have (almost all my travel gear is black) but because it would hopefully show up the dirt less too!
I feel really happy with my choice 🙂
My Passport Holder
I also went with a black passport holder for the same reason and while I could have selected a travel organiser here, the slim passport holder, with its simple design that can slide easily into a coat pocket, bumbag (my new travel favourite) or small backpack clinched it for me.
The natural outer leather shell is simple and traditional looking, which is emphasised by the wool interior, that keeps the passport tightly in place.
The open top means it's easy to access the passport when you quickly need to show it, but there's no doubt this holder does an excellent job of protecting the passport and keeping it safe – away from prying eyes and hands.
So that's my round-up of my great, new travel accessories.
Check out Harber London today if you're looking for some super seasonal gifts or to treat yourself in preparation for when we all start branching out around the world again.
Then, when you've received your products, simply tag Harber London in your Instagram Story or Feed Post for a further 10% off your next purchase!
Winning 🙂