I know there are some strong contenders, but it has to be said, Fez is my favourite Moroccan city to visit and here's my list of the top things to do there.
Steeped in history, with life largely unchanged for hundreds of years (at least within the walled Medina) Fez's old city is like a living museum – a treasure trove of authentic culture, cuisine and colours.
Now I know everyone raves about Marrakesh's souks, but personally, I don't even know how you'd think they come close to the sensory splendour of Fez's – here the ancient walls of the medina echo with stories from the many thousands of humans who have lived, traded, shopped, haggled and been bewildered by the life inside these walls.
The best piece of advice I can give you about this city is just go… even if that means skipping Marrakesh off your itinerary (ooohhh controversial!)
Yes, just go, prepare to get lost, soak it all in and check out these 17 best things to do in Fez – one of Africa's, if not the world's, most beguiling cities…
Oh and if you're looking for a tour company who offer Fez tours, starting from a range of cities including Marrakech, Casablanca and Tangier, look no further than To Morocco Travel. All their tours are full customisable and small group focused.
---
Related Posts
---
This page contains affiliate links meaning Big World Small Pockets may receive a small commission on any purchases at no extra cost to you.
---
Grab Your Copy of How to Travel Africa for Less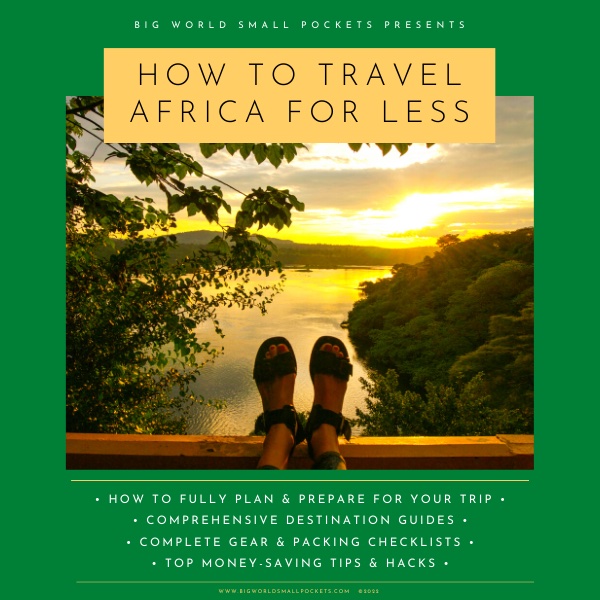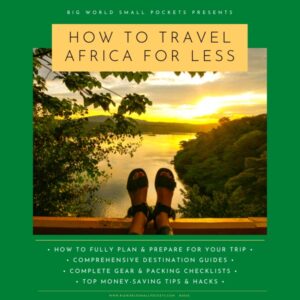 My ultimate guide to travelling Africa on a budget is now available, meaning you can finally get ALL my top tips for adventuring around all, or parts, of this amazing continent in one handy eBook, including…
Full Planning & Preparation Guides
Detailed Destination Info
Complete Packing & Gear Lists
Top Money-Saving Tips & Hacks
#1 Get Lost in the Medina
The number one thing you absolutely have to do in Fez is get lost within the crumbling walls of this city's old medina.
A maze of winding alleys, narrow cobbled streets, tiny stalls squeezed together, donkeys braying past you, wooden carts hurtling around corners and thousands of people bustling about their business, it's a mad sensory experience that is utterly bewildering and utterly mesmerising.
So put down the map, be brave and prepare to get lost in the medina – you won't be the first tourist, or the last, so nothing to feel scared about!
#2 Visit Seffarine Square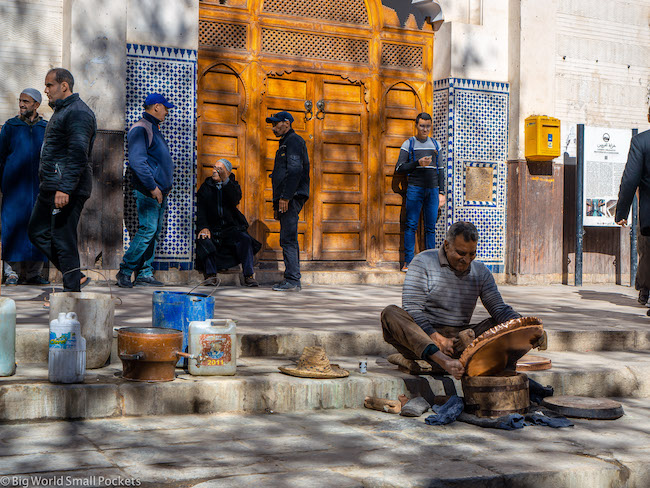 Seffarine Square was one of my favourite parts of the old medina to visit thanks to its unique character, atmosphere and noise!
As you'll soon realise, each part of the Fez medina is dedicated to a certain type of commerce, be it food, leather, electricals or fabrics.
And Seffarine Square (or Place Seffarine as it's sometimes known) is dedicated to metalwork.
From pats and pans to jugs and huge bowls, this place provides a wonderful open square where the workers sit out each morning and bang their metal out… by hand!
Hearing, seeing and feeling how this has been done for generations in this wonderfully traditional part of the medina, is absolutely one of the best things to do in Fez.
#3 Hold Your Nose at the Tanneries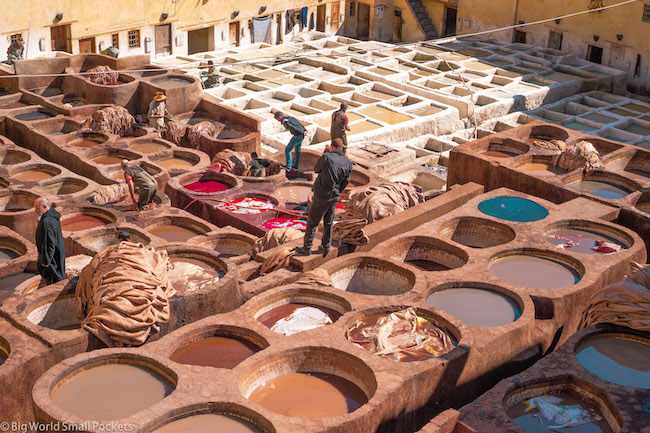 Another iconic part of the Fez medina is the world-famous tanneries, which make up some of the most memorable pictures of this UNESCO-listed city.
The place where the leather is dyed in huge earth-worn pits, by men and their stamping feet, this is another full sensory experience where the smell of the process, and the noises of the shouting and stomping workers, makes for quite the visceral experience!
Many of the surrounding leather shops have balconies overlooking the Chouara Tanneries and they'll try to charge you to go and enjoy the views from there.
However, you can also see the tanneries for free, by finding the correct entrance!
As with anything in Fez, it's basically impossible to describe how to find this entrance, but if you have maps.me, it's listed as Terrace View at #10 along Rue Smmat Laadoul.
Here you can walk in, right alongside the pits, and then get up some stairs to enjoy the views right over the tanneries.
#4 Visit The Zawiya of Moulay Idris II
A Zawiya is an Islamic shrine and a religious complex.
The one in Fez contains the tomb of Moulay Idriss II, who ruled Morocco in the 8th century, and it's considered one of the holiest shrines on the country.
The mosaic work here is beautiful and the place is often thronged with those paying homage to the former ruler and descendent of the Prophet Mohammad.
Checking it out is certainly one of the top things to do in Fez.
#5 Take in the Beauty of Al-Attarine Madrasa
Another awesome spot to take in the beauty of Fez's medina is Al-Attarine Madrasa – famous for its amazing architecture.
A madrasa is an educational institution in Arabic, and the Al-Attarine Madrasa in Fez takes its name from the nearby spice and perfume market.
The tile and woodwork of this building really are something else, making this a must-see spot in the medina.
#6 Spot the Students by the University of al-Qarawiyyin
Originally founded as a mosque in 859, this university in the centre of Fez was once a leading centre of learning in the historic Islamist world.
Now a leading modern university in Morocco, al-Qarawiyyin is thought to be the oldest university, or oldest continually operating higher learning institution, in the world.
As such, seeing it is definitely one of my top-rated things to do in Fez!
#7 Get Henna in the Souk
Another part of the Fez medina is the amazing henna souk.
Filled with stool after stool of women sitting with their backs against the wall, and their henna gear spread out in front of them, this is the perfect place to get some beautiful skin decorations done.
#8 Enjoy Lunch at Clock Café
After all that souk and medina action, it's probably time for some lunch and one of the best places to enjoy a tourist-friendly bite in Fez is Clock Café.
A tall building with an amazing series of levels and layers, head to the rooftop here for epic views over the marketplace and to enjoy a delicious coffee, fresh juice and yummy Moroccan lunch.
These guys cater for vegetarians too – way to go! – which meant eating here for me was absolutely one of my fav things to do in Fez!
#9 Snap the Blue Gate (Bab Abi al-Jounoud)
After you've refuelled, it's then time to get back on the sightseeing trail and the next stop is the famous Blue Gate.
Another of the Fez medina's most famous sights, this is an absolutely beautiful entrance to the old walled city that definitely deserves a snap or 2.
#10 See the Al Nejjarine Fountain
Next on this list of the best things to do in Fez is see the beautiful Al Nejjarine fountain – a public fountain in the heart of the medina, this guy can be found in the central Al-Najjarin Square.
This is a restful place to take a breath from the narrow covered streets and indulge in some people-watching at the fountain too.
#11 Hit the Fresh Produce Stalls by Bab R'Cif
Now we move on to another part of the Fez medina and another of the gates – Bab R'Cif.
Except this time, you're not there to snap the beautiful gate but to enjoy the amazing market stalls here and to pick up some delicious fresh produce.
From oranges and figs to walnuts and baguettes, this is the perfect spot to grab some picnic goodies, local style.
#12 Chill out in Parc Boujloud
And the place to enjoy that picnic is definitely Parc Boujloud.
A gorgeous green space just outside the medina walls, this peaceful park is the perfect place to stroll and enjoy some fresh air.
A million miles away from the crowded and claustrophobic sense that can infiltrate the medina, relaxing here in the afternoon is certainly one of the top things to do in Fez.
#13 Catch Sunset Over the City
And now we come to possibly my favourite thing to do in Fez and the best way to end your day in the city – enjoy a stellar sunset over the medina.
Luckily I was tipped off about this one by the owner of the hostel I stayed in and thank goodness I did, because this is a sunset I'll never forget!
Allow yourself 30-40 minutes for the walk up to the Merenid Tombs, which lie outside and above the walls of the medina.
Once here, you will be treated to some utterly amazing views, not only over Old Fez and the crumbling ruins, but also the new town and the surrounding countryside which eventually ascend into the Middle Atlas mountains.
This is golden hour glory and if you're lucky enough, you'll see the moon rising here too.
#14 Enjoy Dinner with a View
And once the sun is down, it's time to head back to the medina for an amazing Moroccan dinner, after all, one of the top things to do in Fez (like most places in this country!) is eat.
If you're travelling on a budget and what to combine good traditional food with good prices and some good people watching, then you can't go wrong with the restaurants that lie just inside the blue gate.
Offering set menus, which are veggie friendly, a full meal here can cost as little as 70 dirham for a healthy and delicious 3 course treat.
If you want to know more about how much it costs to travel Morocco, check out this post I wrote which gives the full budget breakdown of my trip.
#15 Day Trip to Meknes and Moulay Idriss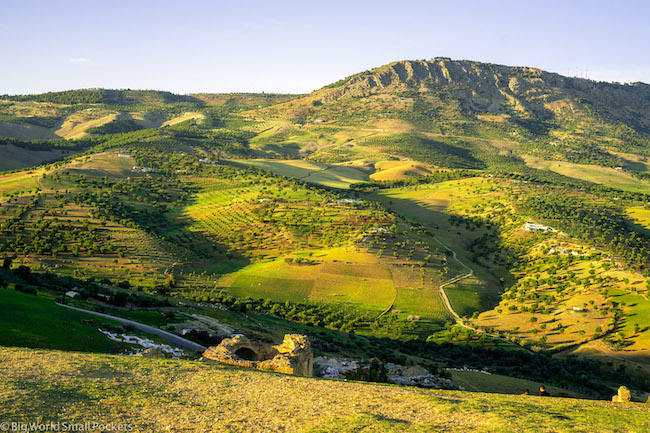 And then, perhaps on your 2nd full day in Fez, it's time to head out beyond the city to explore the neighbouring attractions.
Top of this list is an amazing day trip you can enjoy to 2 UNESCO-listed sights – the ancient city of Meknes and the nearby pilgrimage site of Moulay Idriss – a town which is home to the tomb of Idriss I.
Combining these 2 nearby attractions into 1 tour makes a fantastic day trip option, especially for the history buffs among you.
#16 Marvel at the Volubilis Ruins
And sticking with the day trip theme, another of the best things to do when you're in Fez is to day trip to the UNESCO-listed ruins of Volubilis.
Thought to be the ancient capital of the kingdom of Mauretania, Volubilis is an excavated Roman city a couple of hours' drive from Fez.
With some beautiful standing columns and archways, as well as some preserved mosaic pieces, this is an entry on my list of the best things to do in Morocco, as well as while in Fez!
#17 Take a Trip to the Desert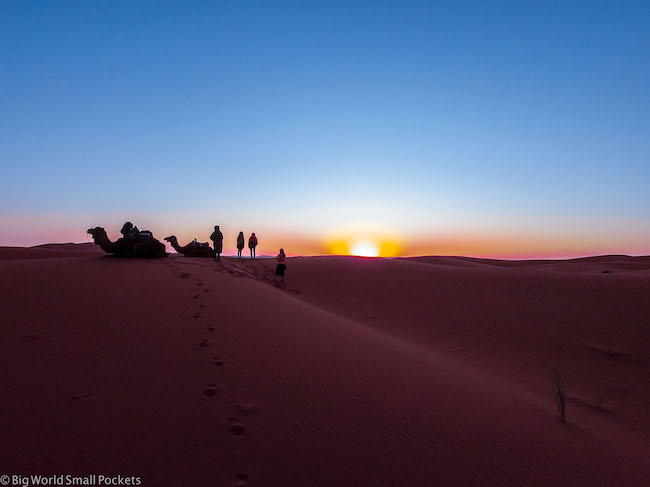 And finally, last of my list of the best things to do in Fez, is take a trip to the desert.
Ok, so this isn't actually going to have you seeing any more of Fez, but it is a popular trip that leaves from the city and generally the next step many travellers make on their Morocco itinerary.
Yes most people travel from Fez to Merzouga (to enjoy a Sahara adventure) before then heading through the High Atlas to Marrakesh.
You can get a great price on these tours in Fez itself if you're happy to be flexible and book last minute, otherwise, check out this top-rated desert tour you can reserve in advance.
And for more information about everything you need to know before you book your Moroccan desert trip, check out this post I wrote all about that!
10 Great Travel Tips for Fez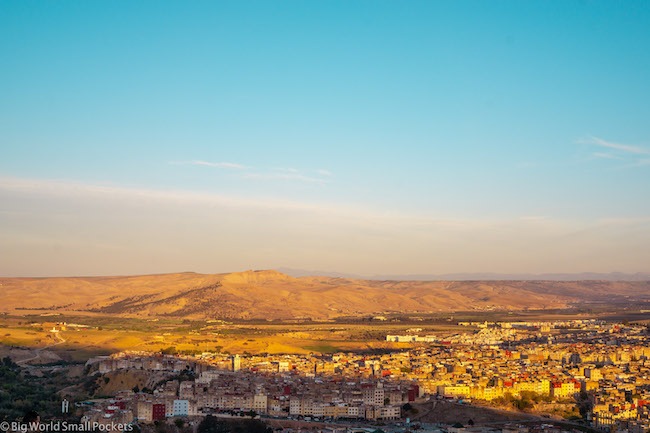 And now it's time to move on to my top Fez travel tips, so here goes…
#1 Don't Visit on Friday
With Morocco being an Islamic country and Friday being a holy day, it's best not to visit Fez on a Friday!
Everything in the medina will be closed on that day and you simply won't get the same feel for how amazing this place is.
#2 Take a Tour of the Medina
If you're feeling apprehensive, you're short on time, or you want to learn more about the historical and cultural elements of the medina, then it definitely pays to take a tour of this place.
Try calling Hamid Lebbar – a professional guide who speaks English, French and Arabic and is full of info! – on +212 605 985 900 or email him at [email protected]
#3 Ditch Google Maps
Otherwise, if you want to just walk yourself through the medina (as I did) it's totally possible and safe to do this.
But take my advice on one thing here – Google maps is useless when you get into the walled city!
It doesn't know where anything is and it's pretty much impossible to locate where you are and where you need to go!
Maps.me works much better, so download it and you stand at least some chance of finding your way in this crazy place!
#4 Get a Maroc Telecom SIM
And in order to download your maps.me copy and for you to call your hostel if you get lost (very possible and common!), I highly recommend getting a Moroccan SIM for your time in Fez.
Maroc Telecom are the best company to go for – they are the only provider who seem to get signal deep inside Fez's souk.
#5 Stay at Riad Verus Hostel
If you're travelling to Morocco on a budget, this is definitely the best place to stay in Fez.
The friendly owners will give you loads of top tips for your time in the city and will also text you arrival directions (that you'll need) via Whatsapp in advance.
There's a kitchen here, breakfast you can enjoy, a roof terrace, good wifi, hot water and both dorms and private rooms.
Get the best rates on your stay at Riad Verus here.
#6 Take a Taxi from New Fez to Medina
If you arrive into Fez by public transport – likely to be either train from Marrakesh or CTM bus from Chefchaouen – then you'll arrive into New Fez.
From here, you'll then need to take a cheap taxi to the Old Town (medina) gate which is nearest your accommodation.
From here, you'll then have to walk to your hostel.
Remember to haggle on the taxi hard and be prepared to carry your bags into and around the medina until you arrive at your accommodation.
The medina in Fez is a no-car zone.
#7 Plan 3 Nights in the City
And finally, I recommend a stay of at least 3 nights in Fez to really take in all this amazing city has to offer.
Day 1 is likely to be a travel day. Try to get to Fez in time to find your accommodation in the daylight, dump your bag and then head out to see the amazing sunset over the city from the Merenid Tombs.
On Day 2 in Fez – your first full day – explore the medina and all the amazing attractions I've listed above. In the evening, you can relax at a hammam.
And then, on Day 3 of your time in this city, it's a good idea to take a day trip.
You can actually combine seeing Moulay Idriss, Meknes and Volubilis into one amazing day trip from Fez, and this makes a superb end to your itinerary in this part of Morocco.
#8 Travel Insurance
World Nomads offers simple and flexible travel insurance. Buy at home or while travelling and claim online from anywhere in the world.
Alternatively, if you're a long-term traveller, digital nomad or frequent remote worker seeking travel health cover, check out Safetywing's Nomad Insurance policies.
#9 Travel Money
The currency across Morocco is Dirham.
ATMs are plentiful across major towns and cities in this country, otherwise lots of accommodation options, bars, restaurants and tour companies accept card payment.
When it comes to using ATMs or paying for things on card in Morocco, you want to ensure you're not being charged overseas transaction fees or getting poor exchange rates, which is why I always take my Wise card away with me wherever I travel.
The easy way to spend abroad with real exchange rates, no markups and no sneaky transaction fees, you can use your Wise card just like a debit card in Morocco… and it links easily with Google and Apple pay – sold! Grab yours here.
#10 How to Get to Fez
You can fly direct into Fez, or travel there from Chefchoeun and Marrakesh.
If you're flying into and around Morocco, then check out Skyscanner for the best.
Otherwise, if you're travelling overland, learn more in these 2 articles…
PIN IT TO PINTEREST!
So there we have it, my list of the 17 best things to do in Fez, plus 7 top tips for travelling in this city.
Have you visited this amazing and ancient medina?
Do you have any tips to add to the list?
If so, please add them into the comments box below…