Well congratulations! You're about to visit one of the best and most affordable countries in Africa!
Signs indicate that if you're reading this post, you're probably thinking about travelling to Morocco and let me just start by saying… you definitely should!
One of the top budget travel destinations going (and definitely one of the cheapest countries to travel in Africa), Morocco still has plenty of undiscovered gems to unearth amidst its dazzling diversity.
And that's not to mention the "on the beaten track" gems you shouldn't miss either!
But you want the best news?
Yup, it gets better!
Because no matter if it's on, or off, the beaten track, Morocco is one of the most affordable countries to travel in… ever!
So, as a dedicated budget traveller, Morocco is music to my ears!
Read on to learn more about how much it costs to travel Morocco and what your trip budget should be if you're planning on visiting soon…
---
Related Posts
---
This budget is based on the trip I made to Morocco in 2020, with all prices and currency conversions correct at this time.
This page contains affiliate links meaning Big World Small Pockets may receive a small commission on any purchases at no extra cost to you.
---
Grab Your Copy of How to Travel Africa for Less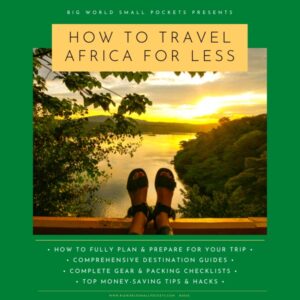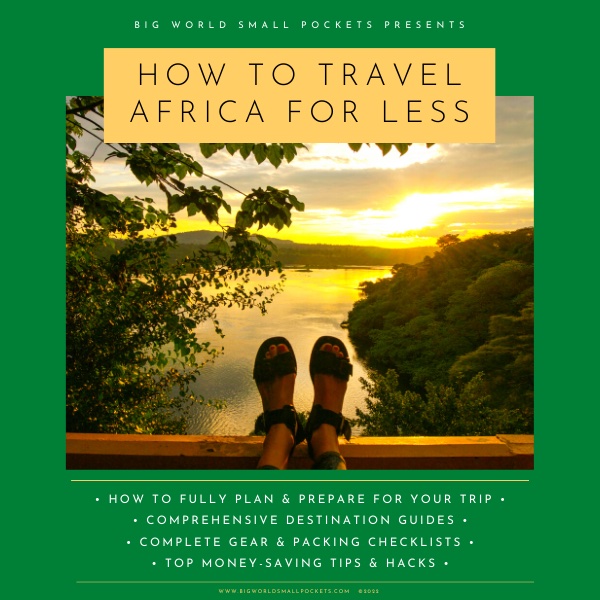 My ultimate guide to travelling Africa on a budget is now available, meaning you can finally get ALL my top tips for adventuring around all, or parts, of this amazing continent in one handy eBook, including…
Full Planning & Preparation Guides
Detailed Destination Info
Complete Packing & Gear Lists
Top Money-Saving Tips & Hacks
A Word On These Morocco Travel Costs
This budget is based exactly on my travels in this amazing country in early 2020, so you can trust it's entirely authentic.
But let's be honest for a moment – this budget involves travelling in Morocco on a budget, i.e. eating in cheap, local restaurants and staying at cheap local hostels.
It also involves using local public transport, and often maps.me, instead of official guides!
This is because, as a budget travel blogger, I'm always looking to do things as cost-effectively as possible and, as such, this article is really about showing you just how cheaply you can travel in Morocco.
However, if you want to splurge in this country, you certainly can too.
Luxury riad stays, professional tours, private guides and organised drivers, as well as top restaurants, are all available – but just don't expect your budget to be the same as mine!
And with that out the way, the next thing I want to let you know is that this article is broken down into different travel categories, namely…
accommodation
transport
food
tours
entrance fees / guides
other expenses
By using this structure, I hope I'll allow those of you with a bit more / less cash, to do your own workings about how much it might cost you to travel in Morocco too.
And then, at the end of the post, we look at the overall costs of what an average 2 week budget trip to Morocco might set you back.
This budget won't include the cost of any visas (although for Morocco you probably won't need one), nor the cost of international flights, (I always use Skyscanner to find the best deals) so don't forget to factor those in as well.
If you want to use a ferry to get to Morocco, as I have, then check out this post I wrote which gives you all the details about travelling from Spain to Morocco by ferry.
The budget doesn't include the costs of any gear you might need for your trip or the costs of travel insurance.
I also recommend you pick up a Wise card before you travel here, to make sure you're getting charged real exchange rates, with no markups or sneaky transaction fees being added.
And with that preamble out the way, let's get on with answering the question about how much it costs to travel Morocco…
#1 Accommodation
With Morocco now well and truly on the traveller map, there really is every bracket of accommodation available here – from dorm beds in huge hostels to ritzy luxury hotels, especially in destinations like Marrakesh and Essaouira.
As a budget traveller however, there's no prizes for guessing which end of the scale I inhabited!
Yup I'm delighted to report that, if your pockets are small too, both dorm beds and private rooms in hostels, as well as local guesthouse / homestay options, are super cheap in Morocco.
In fact, accommodation accounted for under 20% of my total spend in the country (and yes I use a very geeky, but helpful app called TravelSpend to track this stuff!) and most of that was in private rooms.
Accommodation in tourist hot spots such as Fez (where basically everyone passes through) or Chefchaouen (where lots of travellers visit) tend to be higher than those in smaller villages or towns that receive less tourists, but even there, the costs were very good.
As an example, I paid $18 USD for a private hostel room in Chefchaouen (at Casa Amina) and $13 USD for a private room in a hostel in Fez (in Moroccan Dream Hostel) – not bad for a solo traveller, as both rooms featured double beds!
Sharing a bathroom was a small price to pay given that both these accommodation choices were in traditional riads in the heart of their respective historic quarters too.
In rural areas, such as the Todra Gorge in Morocco, I paid even less.
On average I spent around $10 USD a night on a private ensuite room in a private guesthouse… and this generally included breakfast and usually an epic view thrown in too!
Across the whole country, you can benchmark a dorm bed at between $6-10 USD and a budget private room at $10-$20 USD.
If you want to splash out more, then a traditional Moroccon Riad is a great way to go.
Check out these top riads in Marrakesh, which start from $80 USD a night – the perfect way to end your trip in style!
To work out your overall accommodation costs therefore, you simply need to multiply one of the figures above by the number of nights you plan to spend in Morocco and you've got your rough accommodation budget mapped out!
Standards of budget accommodation in Morocco tend to be very good and most backpacker hostels are clean with good wifi, free breakfast and open-air communal areas, either in the centre of the riad, on the roof, or both.
Just be careful of bedbugs, as these can be an issue – eek!
#2 Transport
The thing we have to remember about transport when we're talking about how much it costs to travel in Morocco, is how much style you want to travel in.
It goes without saying that the cheapest options for longer distance travel, i.e. between cities, are 2nd class trains or local buses.
The tier up from this is 1st class train services or luxury coach companies such Supratours or CTM Buses.
The top tier features private taxis, tours or drivers.
The price jump between the bottom and middle tiers here is negligible, which is why I'd suggest that most travellers will feel better with 1st class or better buses.
As many inter-city journeys in Morocco take several hours, a little bit more comfort for a few dollars can go a long way.
And as proof of this value, even though I opted for middle-tier travel options across Morocco, transport in this country still only accounted for 18% of my total budget.
And this also included taxis between bus stations and city centres (although these only amount to a few dollars each if you utilise your bargaining skills!)
As an example of the value of transport in Morocco, a 4 hours bus from Chefchaouen to Fez cost me just $6 USD in a premier service – learn more in this post I wrote about how to get to Chefchaouen.
As another example, a 12 hour bus premier journey from Tinghir to Agadir via Marrakesh cost me just $20 USD. You can learn more about how to get to Fez from Marrakesh here.
The thing to remember with buses in Morocco, is that you have to pay a tiny amount to store your checked luggage underneath the bus.
Although this amounts to very little, it's wise to carry some small change with you for this purpose.
I'd also recommend booking buses and trains a day in advance, especially on popular routes, or in rural locations, where services may be limited.
I use Bookaway, who are great for booking a huge range of bus journeys across Morocco.
Taking overnight buses that run between distant cities will further help your budget by doing away with your need to pay for a night's accommodation.
Domestic flights can also be used to travel between cities in Morocco, with domestic airports in most major cities such as Marrakesh, Tangier, Fez, Casablanca and Agadir.
Taking a flight will bump up your budget, with the cheapest options with budget airline Air Arabia starting from around $50 USD.
They will also bump up your carbon footprint, but if you do want to check out prices, I advise using Skyscanner, who list budget airlines within their flight options, making it easy to compare and find the best deals.
#3 Tours & Activities
As always, it's tours and activities that can be the make or break of your budget when it comes to travel, and Morocco is no different.
As such, if you want to keep the costs of travelling in this country down, I'd highly suggest limiting the number of tours you take.
And really there isn't a need for you to go crazy with the tours in Morocco as the vast majority of destinations can be accessed easily, safely and independently.
Perhaps the only exceptions are for hiking trips to the Atlas Mountains or for desert tours from either Fez or Marrakesh.
Just one of these actually accounted for over 20% of my budget!
Wowsers!
To give you some idea, a private guided morning tour in Agadir cost me $20 USD, while a 2-3 Day desert trip beginning in Fez and ending in Marrakesh set me back $95 USD.
This was by far the biggest single expense during my whole trip, but having heard stories about the most basic tours, I wanted to go one notch up and bag a private tent in the desert at least!
Given the fact this tour included all accommodation, food and transport from Fez to Marrakesh essentially (even though I jumped out early at Tinghir), I didn't think it was too bad – although I could have paid a lot less if I had put in the energy to finding the best bargain and haggling hard.
If you want to book tours in advance (i.e. from home before you travel) you will pay more but you're also be guaranteed a trip without any hassle, which can be great if you have a short travel timeframe.
In this instance, I recommend the following options:
#4 Entrance Fees & Guides
Entrance fees and guides will likely set you back very little in Morocco.
That's because many of the historical sights you'd expect to pay for in other countries are still living and functioning cities aka medinas in Morocco, so they can't charge people to visit!
There's also many free and amazing things to do around these medinas, such as watching the sunset, visiting the souks and getting lost!
What you will pay for are visits to some ruins and museums within the medina, so I'd suggest limiting these to your top picks if your budget is tight.
Plus it's very easy to get history-ed out in Morocco!
The other place you're likely to spend your time in Morocco is amidst the amazing nature of this country and that, of course, is free – hoorah!
Yup, no charge to go to the desert, the beach or the mountains, plus all the hiking and sightseeing you can do there is generally free too (outside of any guides you want to hire).
As such, entrance fees and guides made up the lowest percentage of my Morocco budget – only around 5%.
#5 Food & Drink
For those not in the know, I've got good news!
Morocco is a foodie paradise and eating and drinking all the local goodness here is a huge part of your travel experience to come!
And if you eat local, which you definitely should, then food and drink here is very affordable too.
Most hostels and hotels in Morocco include breakfast in their prices.
If they don't, it's only a few dollars extra usually, so that's that sorted.
When it comes to lunch, a fresh juice plus a sandwich in a local market will set you back just $2-5 USD.
A good mint tea at a café will cost less than $2 USD.
Coffee is cheap too – I spent less than $10 USD on the black gold in over 2 weeks in Morocco – a record for me!
Grocery stores are plentiful in Morocco and offer good value when buying snacks like packets of nuts, seeds and crackers that are good for bus rides or other meals on the go.
They also sell big bottles of water.
The best value here is to buy a 5l bottle and then decant that into a smaller metal water bottle which you carry with you during the day. This saves money and plastic waste.
Or, better still, is to take a Lifestraw Go Water Filter Bottle as I did – this allows you to drink water safely from the tap in Morocco as it filters out 99.9% of bacteria.
Outside of grocery stores, local markets are the place to pick up a ton of fresh fruit and vegetables, as well as baked goods, for just a few dollars.
For dinner, if you eat in local cafes / restaurants you can expect to pay around $5-10 USD for a good, healthy feed – often this will involve a 3 course meal (salad starter, tagine main dish, fruit dessert and include lashings of mint tea.)
Vegetarians are catered for, especially in touristy spots.
#6 Other Expenses
And finally, when it comes to Morocco travel costs, you've got to factor in all those other incidental expenses like laundry (once a week should do it) and possibly a SIM and data package too.
I used a Maroc Telecom SIM cards while in Morocco and paid around $10 USD for 8GB of data and the SIM.
Laundry in Morocco can normally be arranged through local laundromats in larger towns.
In general, you'll pay around $5 USD for an average weekly load to be washed, dried and returned to you in 24 hours.
And don't forget a bit of extra money for souvenir buying!
This is Morocco after all 🙂
How Much Does it Cost to Travel in Morocco?
And with all that in mind, there's no question Morocco comes in as one of the cheapest countries I've ever visited.
Even beating the low cost of travelling in Armenia on the average daily spend!
Yup in Morocco I spent just $29 USD a day, including accommodation.
To explain more, I wanted to give an example of how much it costs to travel in Morocco so you can see, in practical terms, what you might need for a trip.
For this, I've chosen a budget trip for a solo traveller, based on my suggested 2 week Morocco itinerary, which I think allows you to see the best parts of this huge country in a limited time.
Here's what an example budget might look like…
Total Accommodation in Private Hostel Room x 14 nights = $80 USD
Total Transport Spend = $70 USD including several taxi rides & long distance bus rides
Total Tours and Activities = $110 USD including trips to the desert
Total Entrance Fees & Guides = $10 USD
Total Food and Drink = $100 USD
Other Expenses = $35 USD
The rough amount you can therefore expect to spend in Morocco over a fortnight is around $405 USD.
This is roughly $29 USD per day, which is in the region of £25 GBP per day or 27€.
Please remember this is based on a budget traveller and will vary wildly depending how many activities you do, whether you stay in dorms or private rooms and how much you eat and drink!
You could cut this significantly by travelling independently to the desert and avoiding all other tours… although given these were some of my highlights I think carefully about this!
Sometimes you've got to ask yourself what you'll remember more, than a few dollars saved or the amazing time you had!
PIN IT TO PINTEREST!
And there it is guys, the full breakdown of my answer to the question how much does it cost to travel Morocco?
Do you think this is cheap or pricey?
Let me know your thoughts in the comments below…