Correct me if I'm wrong, but I really think that most people have a strong perception that travelling in Africa is cheap.
And I'm guessing this is something to do with the economic disadvantage many of the countries in this continent suffer, coupled with the presumption that places where less tourists go tend to be cheaper.
But sadly, I'm here to bring you the news that it's just not the case. Or at least not always.
Indeed many travellers tend to be shocked by the costs of travelling in Africa, where lack of infrastructure, remote locations, few tourist numbers, a high risk backdrop and let's be honest, often corruption, can all hike the prices.
This isn't to say if you do many things the local way, such as buses and food, you can travel cheaply in Africa.
It's just that if you want to enjoy some of the experiences that are more geared towards tourists – like hotel or lodge stays, safaris or adrenaline sports (which let's be honest most of us do) this can really send your budget soaring.
But fear not!
As you know, I love Africa travel and have adventured across 16 nations in this continent (with more planned of course).
What this means, is that I have a fair idea of the real costs of travelling this continent, and with that experience behind me I'm bringing you this list of the cheapest countries to travel in Africa… so here's my top 9!
---
Related Posts
---
This page contains affiliate links meaning Big World Small Pockets may receive a small commission on any purchases at no extra cost to you.
Prices and currency conversions given in this article are correct at the time of publication.
---
Grab Your Copy of How to Travel Africa for Less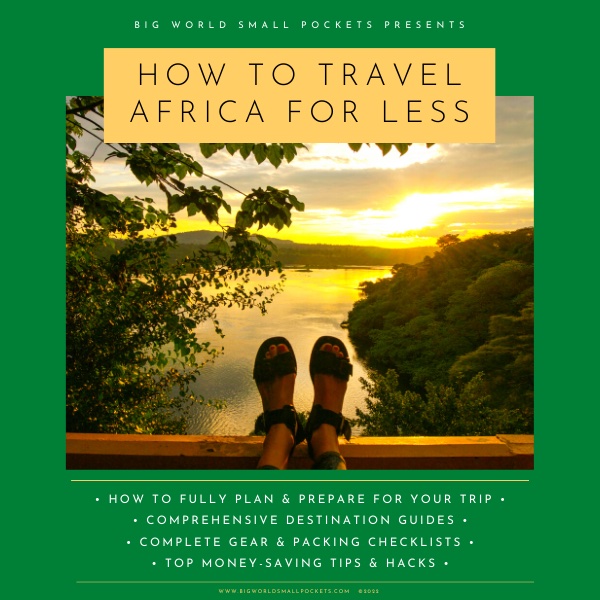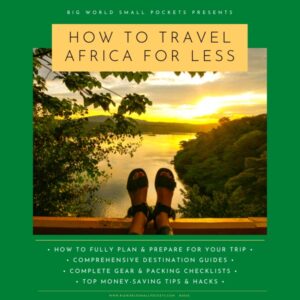 My ultimate guide to travelling Africa on a budget is now available, meaning you can finally get ALL my top tips for adventuring around all, or parts, of this amazing continent in one handy eBook, including…
Full Planning & Preparation Guides
Detailed Destination Info
Complete Packing & Gear Lists
Top Money-Saving Tips & Hacks
#1 Morocco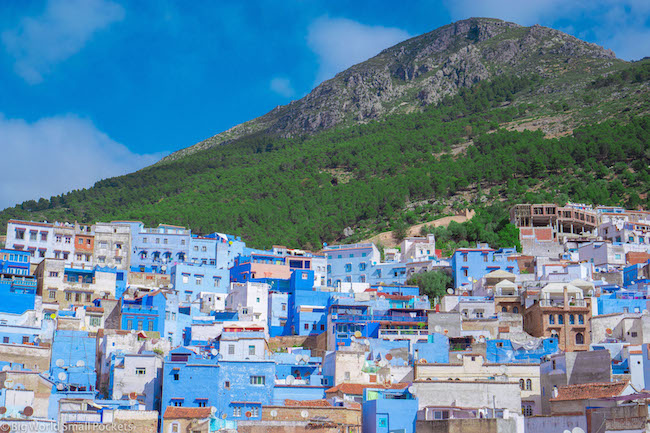 We're going to kick off this list in Northern Africa because, for tourists at least, this can be the cheapest end of the continent.
And straight into number 1, it's that classic budget traveller favourite, Morocco.
Edging the Mediterranean, Morocco is only a short distance from Spain and, as such, is incredibly cheap to get to, either care of a budget flight or a (more ecological) train and boat journey from Europe.
TOP BUDGET TIP: I always use Skyscanner to find the cheapest flights, including via budget airlines, and use Trainline to find the cheapest trains / buses across Europe.
This is the first reason Morocco is on this list.
But the bargains don't end there, because Morocco is also super cheap to travel in once you arrive.
Dorm beds in hostels can be picked up across the country for as little as £5 / $6 USD and usually include a free breakfast.
In addition, local food in restaurants and cafes, such a delicious vegetable tagine, can be found for around 40-80 Dirham, which is about £2 / $3 USD, while a delicious mint tea or coffee will set you back just 5-10 Dirham, aka under a pound / dollar.
Trains and local buses are easy and cheap to use across the country too and even car rental is affordable, which makes exploring the diverse landscape and ancient cities of this country very accessible.
Learning more about Morocco's rich culture is also easy with museum entries and local hammam experiences cost only around 10-20 Dirham – again around a pound or a dollar.
What can start to hike prices in Morocco however are tours, such as those to the Sahara or into the Atlas Mountains. The key here is joining a budget group tour, doing as much as you can via local transport and then haggling as much as you can!
Here's a well priced tour overnight camel tour to Erg Chebbi Dunes that will give you some idea of costs
And the haggling doesn't stop there!
No one can visit Morocco without picking a few souvenirs, so hone those skills well enough and you can pick up some real bargains!
All in all, Morocco is definitely one of the cheapest countries to visit in Africa and here's my list of the 21 best things to do in this fabulously diverse country.
Morocco Estimated Daily Budget for Shoestring Traveller: £30 / $40 USD
#2 Tunisia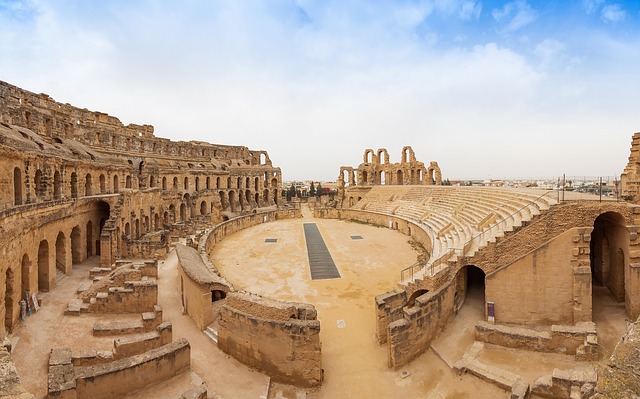 And sticking with the North African theme, although moving slightly east, we come to Tunisia, another definite spot on any list of the cheapest countries to travel in Africa.
Long a preferred package destination for many European travellers, Tunisia has sadly experienced a great amount of civil and political unrest in recent years that seriously put traditional tourists off.
As such the industry near-collapsed and despite peace and stability once again having been largely restored, Tunisia's travel title as a safe destination has not.
While extremely unfortunate, this does mean travel to and within Tunisia is extremely cheap right now and budget travellers can have an amazing time discovering this nation's beautiful landscapes and dazzling deserts.
Cheap airline flights can be picked up from across Europe, or for those looking to cut their carbon footprints, boats to Sicily in Italy are an easy and short ride.
Budget guesthouses in Tunisia can be found for as little as £10 / $12 USD per night per double, while food at local eateries costs around only £1-3 / $2-4 USD.
Visits to some of the historical sights in Tunisia are a bargain, with entrance to El Jem, for example, setting you back just £6 / $5 USD and you can easily take local shared minibuses, known as a louage, around the country for a few dollars.
It's totally possible to avoid more expensive organised tours in Tunisia and you should do this if you want to keep your budget low, because they normally involve a private driver which can cost up to £100 / $130 USD day.
Instead, tour guides for specific attractions can be sought out in local areas for around £15 / $13 USD.
Tunisia Estimated Daily Budget for Shoestring Traveller: £30 / $35 USD
#3 Egypt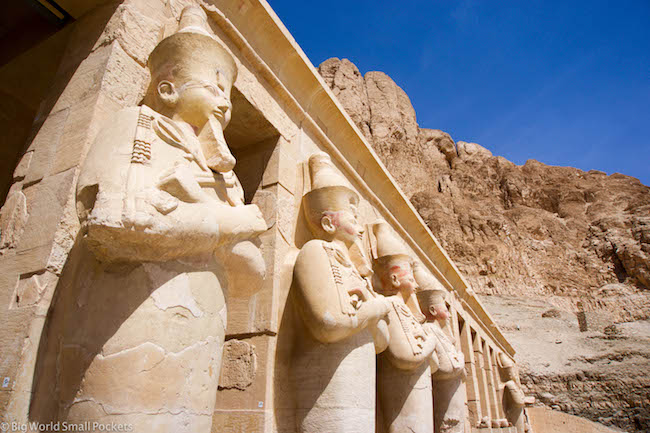 And moving further east still, we come to Egypt, absolutely one of the cheapest countries to travel in Africa, if not the whole world!
Seriously, out of all the places I've been, there's no question Egypt comes in as one of the biggest bargains going.
Even private rooms in hostels and budget guesthouses here can be picked up for as little as £6 / $7 USD and long-distance trains between major cities such as Luxor and Cairo are only £11 / $13 USD in first class!
While I have to admit I didn't find Egyptian cuisine the best, it is certainly cheap and the national favourite of Koshari (essentially a mix of rice, lentils, macaroni and tomato sauce) can be wolfed down for as little as £2 / $3 USD.
Then, of course, there's the sightseeing, because who can come to a country like Egypt and miss out on some of the major historical treasures they have here?!
Seriously when you get to somewhere like the pyramids, where entrance costs just £5 / $6 USD, it's to hard believe you can really access this site for so little!
Another reason Egypt is one of the cheapest countries to travel in Africa is the fact you don't need to take tours or guides to see the sights, sometimes, as in the case of Abu Simbel, they are even included in the ticket price.
But if you do want to take a day tour of the tombs and temples, for example, it's good to know these can be picked up for as little as £13 / £15 USD.
I even scored an amazingly cheap Nile cruise when I was in Egypt – found out how here – and also got to dive the red sea for as little as £20 / $23 USD per dive.
No question therefore, that Egypt is definitely one of the cheapest countries to visit in Africa.
Egypt Estimated Daily Budget for Shoestring Traveller: £25 / $30 USD
#4 Sudan
And now we start on our journey south, as we move from Egypt overland into Sudan!
Yes this is exactly what I did back in 2018 (albeit in the other direction i.e. from Sudan to Egypt) before president Bashir was overthrown, but from what I hear from other travellers, Sudan is just as safe and cheap as ever for travellers.
Seriously rivalling Egypt for the title of the cheapest country to travel in Africa, if not the world, things in Sudan are insanely cheap – a sad reflection of the desperate economic situation that has engulfed the country.
When I was in Sudan, I actually found a guesthouse where the price for a bed was £0.75 / $1 USD and with a limited menu (especially for vegetarians) the national dish of ful – basically beans with bread and peanut oil – also costs less than $1 everywhere you go.
Buses in Sudan are amazingly comfortable and still crazy cheap, setting you back just a few dollars for rides that take several hours. There are also trains in the country, but as they cost much the same and are slower and dirtier, why bother?!
Many people, myself included come to see the amazing Nubian pyramids in Sudan, which are free to enter – lying semi-abandoned in the desert – and there's no need to take a tour.
In fact, I didn't take any tours while in Sudan, saw everything independently and only spent money on food, coffee, water, guesthouses, buses and the odd camel ride.
There's literally nothing else to spend your money on in this country, including alcohol, which is illegal under Sudan's strict Sharia law.
Does it get any cheaper than Sudan? I think not!
Sudan Estimated Daily Budget for Shoestring Traveller:£10-20 / $13-25 USD
#5 Kenya
And now we really begin moving south into one of my favourite African countries, the mighty Kenya.
With so much diversity contained within its borders, Kenya is a feast for those looking to sample this continent for the first time, with hiking mountains, discovering amazing national parks, spotting insane wildlife and strolling along beautiful beaches all easy to experience.
Due to recent political disruption, Kenya tourism has slumped… and so too have the prices.
This is now one of the cheapest countries to safari in and with choices as fabulous as Amboseli National Park, Nakuru National Park and the world-famous Masai Mara – found out why it's my favourite safari destination here – there's no question Kenya is one of the best too.
3 day / 2 night safari trips to some of these big name parks can be found for around £350 / $410 USD and this includes food, safari drives, guides, entrance and accommodation – usually of the budget camping variety!
If you're not camping in Kenya, because you're basing yourself in cities or towns, then dorm beds in this country cost around £8 / $10 USD a night, which is a bargain, especially at the coast, given you'll be nestled among some posh resorts at some beautiful beachy spots like Diani.
Read More: Full Review of Diani Beach Backpackers
Local food on the street or from small shops in Kenya will set you back around £10-15 / $15-20 per day if you're doing it cheaply, and local buses / boats are even less.
Don't forget budget flights can also be snapped up in Kenya – as an example, you can get flights between Nairobi and Mombasa for around £35 / $45 USD – and tuk-tuks or motorbike taxis (called boda-boda) will take you everywhere within small cities or towns for just a few Kenyan shillings.
Yes, Kenya is definitely one of the cheapest countries in Africa and a great option if you are looking to combine safari with the sea!
Kenya Estimated Daily Budget for Shoestring Traveller: £45 / $55 USD – activity dependent
#6 Uganda
And just next door to Kenya, is the equally amazing safari destination of Uganda, which is also one of the cheapest countries to travel in Africa if you want to enjoy the amazing wildlife and landscapes.
With similar pricing to Kenya in terms of accommodation, food and transport, it's once again the case that your budget will massively be determined by how many other activities, tours and adventures you undertake in this country – how long they last and of what travel style they are!
The cheapest way to bag safaris to the most famous national parks in Uganda, such as Queen Elizabeth and Murchison River, is to head to the capital Kampala and arrange them from there… although you need to be flexible on dates for this.
Again, a 3 day / 2 night safari excursion will likely set you back around £300-350 / $430-500 USD.
Otherwise, self-drive safaris in Uganda are possible and another way to keep the budget low.
The other place to organise activities and tours from in this country is Jinja – the adventure sports capital of East Africa.
This town is set on the River Nile (in fact it marks the start of half of it) and offers a host of activities including rafting, horseback riding and quad-biking that can definitely hike up the price of travel in Uganda, costing from £35 / $40 USD an hour up to £110 / $140 USD for a full day.
Check out my article about Jinja, Uganda for more information, otherwise, if you want to makes this one of the cheapest countries to travel in Africa, make sure you do your research and choose your activities carefully!
If fact, you might want to hold back on all activities in lieu of the big daddy in Uganda, which is gorilla trekking.
Yes Uganda is the cheapest place (within the limits of safety) to see these amazing creatures and while it is still a huge ticket item, you can't do it for less anywhere else in the world.
Check out my full guide to gorilla trekking in Uganda, including everything you need to know, pack and expect, here or learn more about some top-rated tours that include gorilla trekking in Uganda here.
Uganda Estimated Daily Budget for Shoestring Traveller: £55 / $70 USD – activity-dependent (and more with gorillas!)
#7 Malawi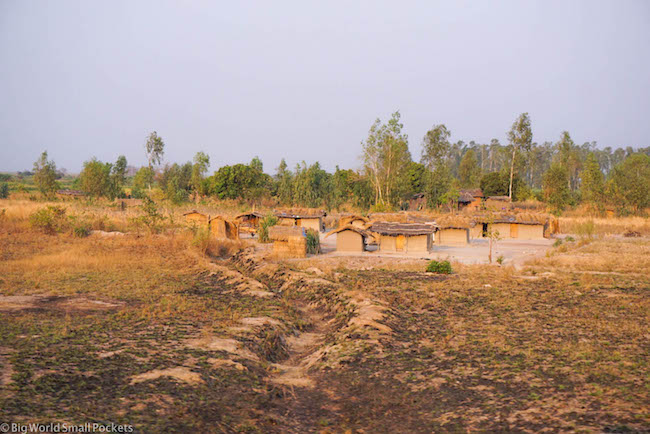 And now we begin to move further south to the country known as the Warm Heart of Africa!
Yes Malawi is a long, thin-shaped country found on the cusp between Southern and East Africa.
Dominated by Lake Malawi – an African Great Lake – this is one of the best countries in the continent for chilling and one of the cheapest countries in Africa too.
Sadly Malawi's economy is not doing the best and you'll immediately see what I mean when you get there.
As the country's accolade attests however, this has nothing to do with the people's level of happiness and the friendly greeting you'll receive.
Local food and buses can be bought for next to nothing in Malawi and accommodation costs here are some of the cheapest in this part of Africa – even at the lake where there are a number of backpacker hostels.
The lake also gives you the chance to scuba dive (around £35 / $45 USD a dive), as well as enjoy boat rides or fishing trips. There's also some nice hiking to do in the mountains around the Lake, but outside of this, the main thing to do is chill!
With few national parks, Malawi isn't really a safari destination here, which means just relaxing and getting into the local swing of things is the best activity around.
With this in mind, Malawi is certainly one of the cheapest countries to travel in Africa as you won't be forking out for a huge number of activities.
Malawi Estimated Daily Budget for Shoestring Traveller: £30 / $35 USD
#8 Mozambique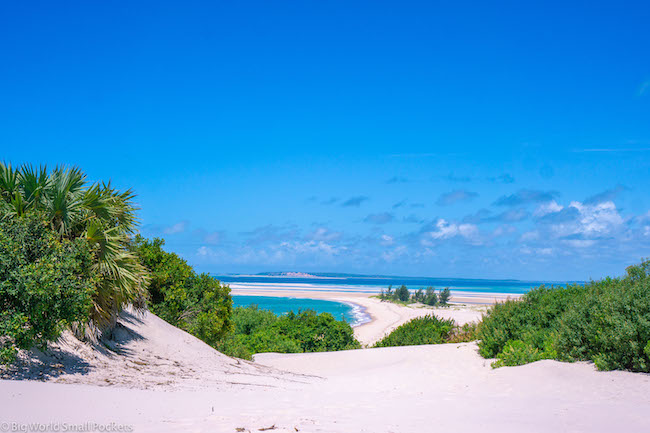 And sticking with the watery theme, we now come to the coastal dream that is Mozambique – absolutely one of the cheapest countries to travel in Africa.
This really is your chance to sample a slice of paradise for next to nothing.
Tragically still suffering from the blight of the civil war that devastated this country for so many years, Mozambique's economy is not in good shape and tourism is still a fledgeling industry.
But for those who do make it here, they will find amazing ocean views, great swimming, snorkelling, scuba diving and even the chance to spot some whale sharks, all for next to nothing.
The main spots to head are on the southern coast, including the backpacker mecca of Tofo.
Here a dorm bed will set you back around £8 / $10 and a meals in local cafés are between £3-7 / $4-9 USD.
Local buses to get to Tofo from the capital Maputo will only cost you around $3 USD and water-based activities start from around £35 / $45 USD.
As such, you can quickly see, Mozambique is certainly one of the cheapest countries to visit in Africa.
Mozambique Estimated Daily Budget for Shoestring Traveller: £30 / $35 USD – activity-dependent
#9 South Africa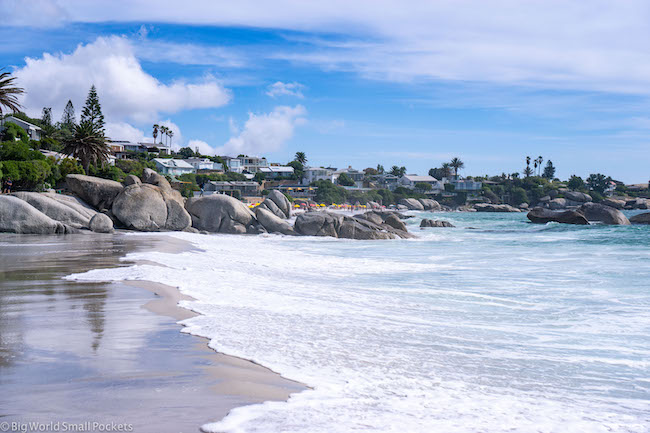 And now we come to the last entry on this list and probably the most famous country to travel in on the continent, and that is the mighty South Africa!
More economically developed than many of the other countries in this part of the world, I'm nevertheless including South Africa as one of the cheapest countries to travel in Africa because of its popularity, ease and brilliance as a backpacking / independent budget travel destination.
Yes tourism infrastructure in this country is well-established and, as such, there's a huge competition over hostels, buses, activities and other tourism services that keep prices low.
Cape Town is probably the priciest city – stunning as it is – but even here a dorm bed is likely to only set you back £12 / $15 USD.
You really can explore this city by yourself, without a guide – check out my Cape Town itinerary for more ideas – and use services like Uber to get around cheaply too.
Greyhound buses and budget airlines can shuffle you around this vast country for very little and if you stick to buying food in supermarkets and cooking yourself, you can get by on a food budget of around £15 / $20 USD per day.
When it comes to tours and activities (especially safari ones, which are wildly popular here) the ability to rent a car and self-drive in many of these destinations keeps them much cheaper.
Check out my post about how to enjoy a Kruger safari on a budget for more ideas.
South Africa Estimated Daily Budget for Shoestring Traveller: £40 / $50 USD
Mini Travel Guide to Africa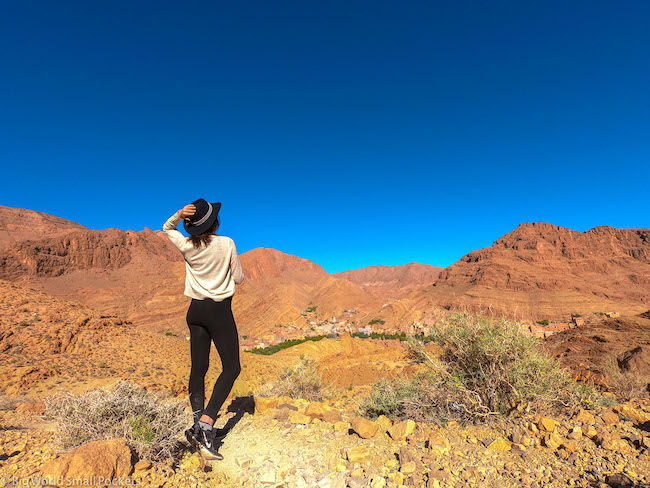 When to Visit?
As a huge continent, it's impossible to give an overall best time to visit Africa, so I've split this question down in sub-regions.
When it comes to North Africa, I highly recommend visiting during the spring and autumn months, ie. April to May and September to October, so that the weather is pleasant enough for sightseeing.
In West Africa, the high season runs from December through February, when the region generally experiences its lowest rainfall and humidity – definitely a good idea to visit at this time!
In East Africa, visiting during the long dry season is a great idea. In general, this runs between the months of July and September and also conveniently aligns with the Great Migration too. the short rainy season in November and December can be another good time to visit this part of the continent.
And finally, we come to Southern Africa.
If you're heading to Cape Town, I'd visit between November and February, but for Namibia and Botswana, the best months are May through October when it's cooler and less humid.
Best Tours in Africa
While travelling solo in Africa is totally possible, if you are looking to include a lot of activities in your adventure, you may well find it cheaper to join a budget overland trip.
These are group tours that generally travel through several Africa countries using a price model that includes many safaris, activities and guides.
The cheapest overland options usually involve camping and, with access to group discounts, can often be the cheapest way to cover a lot of ground in Africa safely and in the company of others.
So, if you're interested in an unforgettable, well-priced tour across Africa, with guides you can trust, or a self-drive trip organised by a great company, then email me at [email protected] and I'll send you my top recommendations – simple!
Alternatively, I'm currently offering my readers an exclusive discount on all Absolute Africa tours, meaning you can now travel even more in the amazing regions of southern and east Africa for even less! Simply send this top African overland tour company an email to [email protected], quoting the discount code BWSP, and start planning your incredible trip with them today!
Otherwise, if it's strictly safari tours you're looking for, check out these top picks.
You can also check out this post I wrote about how much an African safari will cost for lots of information about pricing variables and some top-money saving tips.
Travel Insurance for Africa
World Nomads offers simple and flexible travel insurance. Buy at home or while travelling and claim online from anywhere in the world.
Alternatively, if you're a long-term traveller, digital nomad or frequent remote worker seeking travel health cover, check out Safetywing's Nomad Insurance policies.
6 Packing Essentials for Africa
#1 Swimwear and Sarong – One World Sarongs are always my go to and a must when you hit the beautiful beaches across Africa.
#2 Lonely Planet Guidebook – Their Africa edition is excellent and very helpful when it comes to a broad range of travel tips, maps and recommended itinerary routes.
#3 Insect Repellent and Anti-Malarials – I recommend a 30% DEET repellent for Africa and anti-malarials if you're travelling in at risk countries – although please always consult the advice of a medical professional before any travels to this part of the world.
#4 World Power Adapter – There are at least 3 different types of adapters used across this continent, so make sure you come prepared with a Skross World Adapterat the ready.
#5 Camera and Lens – I love my Sony A6000 mirrorless, and have used it to capture the beauty of this continent and beyond. My GoPro Hero was also amazing for preseving some of the adventure of my Africa travels too!
#6 Good Sandals – You'll live in sandals in most of Africa and I would never travel anywhere now without my trusty pair of Arizona Birkenstocks!
Travel Money in Africa
When it comes to paying for things across this continent, you want to ensure you're not being charged overseas transaction fees or getting poor exchange rates when using your card or an ATM abroad, which is why I always take my Wise card away with me wherever I travel.
The easy way to spend abroad with real exchange rates, no markups and no sneaky transaction fees, you can use your Wise card just like a debit card… and it links easily with Google and Apple pay – sold! Grab yours here.
PIN IT TO PINTEREST!
And there it is, my list of the 9 cheapest countries to travel in Africa!
Which is top of your bucket list?
Tell me all in the comments box below…