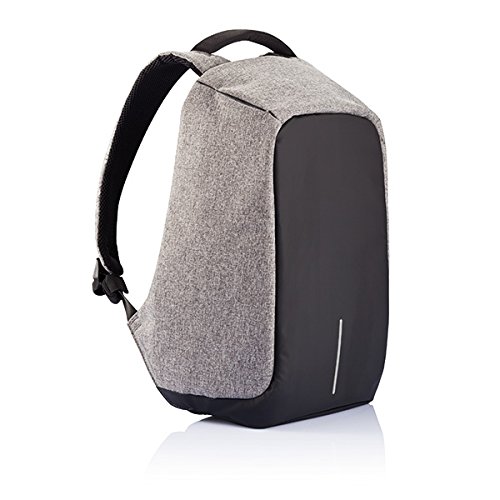 Are you looking for the perfect day bag for your next overseas trip or perhaps the best carry-on for your next long-haul flight?
Do you want to combine this with making sure all your valuables are safe when travelling too?
Well now you don't have to compromise.
Enter the Bobby Backpack!
Yep, the new trend sweeping the backpack world is actually bags that have the technology to help protect your gear from pickpockets and thieves, as well as knocks and drops.
And no, I'm not joking!
This means anti theft backpacks are the new way to go when it comes to choosing your next travel bag.
Whether you're heading to somewhere a little risky like Central America or a European city renowned for its pickpockets, having an anti theft bag is going to save you a whole load of stress and quite potentially a whole load of cash too!
And how do I know all this?
Because I just took the jump and bought an anti theft bag myself just a few months ago … and wow, has it changed my travel life or what?!
---
Related Posts
---
This page contains affiliate links meaning Big World Small Pockets may receive a small commission on any purchases at no extra cost to you.
---
When You Need to Keep Your Technology Safe
Being a blogger, it's a sad fact that I now have to carry more and more technology with me when I travel these days – from laptops to cameras, hard drives to power banks, there's a ton of valuable stuff I just can't set sail without anymore.
And even if you're not a blogger, chances are you're going to be travelling with some pretty expensive kit too right?
Laptop? Phone? Gopro? Kindle?
Yes technology is just a fact of travel life these days and so we've got to move with the times when it comes to our luggage too people!
Indeed, travel luggage experts ZoomLite recommend an anti theft backpack as one of the top 15 ways to outsmart pickpockets… and I happen to agree with them.
Best Anti Theft Bag for under $150
And that's why I invested in the amazing Anti Theft Bobby Backpack.
I mean I say invested, but let's be honest here, we're hardly talking huge amounts!
As a diehard budget traveller, I was hardly going to go and spend the earth on a piece of kit and that's where the Bobby Anti Theft Backpack's $100 price-tag really caught my eye.
Yes, this is one of the cheapest anti-theft bags around and yet it's also one of the best and most reputable.
Bobby Backpack Features
I mean, just take a look at the features …
Anti-Cut
Anti-Theft
Water Repellent
Shock Proof
Hidden YKK Zips
Hidden Quick Access Pocket
Weight Balanced
Advance Storage Design
Integrated USB Storage Port
Adjustable Open Angles
I think we can all agree that's a lot of features to cram into one bag costing less than $150!
In fact, it was so many features, that really convinced me that an Anti Theft Bobby Backpack was what I needed in my travel life.
After all, there's so many other backpacks around for the same price that don't even offer half of what this one does!
Anti Theft Bag Style
The other thing I liked about the Bobby Backpack compared to other bags in both its price range and the anti theft market, was that the Bobby looks good too.
I like its sleek urban design.
I like the textured look of the side grey panels and I like its simplicity.
I mean there's no unnecessary bulk here.
Everything is streamlined and compact, which of course helps with the anti theft properties too.
Straight up, you can see there are no zips or pockets on the front of the bag – the part that's not against your back that is.
That's because this is an easy position for pickpockets to target – clever huh!
So instead, the Bobby Anti Theft Backpack has a reflective strip on the front, which even makes this bag road safe too for all those cyclists among you!
So … Does it Work?
But the question is really whether the Bobby Anti Theft Backpack works.
I mean, is it anti theft?
I bought this backpack purposefully for my summer trip to Europe, because I wanted something I could take as carry-on with my valuables well-padded and protected inside.
I also wanted something that I could walk around European cities wearing, with my valuables again safely stored away from any prying hands!
And finally, I wanted something that was going to last and that I could take backpacking to some further-flung destinations afterwards too.
And I'm delighted to say – the Bobby Anti Theft Backpack ticked all 3 of these boxes!
For a start, all my sacred technology and electrical items stayed safe and damage-free – even those temperamental hard drives during some crazy air turbulence!
For seconds, I didn't get robbed in Paris or London or Amsterdam.
Ok, so maybe this would have been the case anyway (I do put on a mean city face when I travel!) but I think the proof for me was when – at every single security checkpoint I went through (be it Eiffel Tower entry, Amsterdam airport or London's Natural Portrait Gallery) – no one could find the entry to my Bobby Backpack!
Yes even the trained security guards at all of these places could not work out how to get into my bag … and that's while they had it in their hands!
My deduction therefore was, that anyone trying to get into my bag slyly and quickly, would literally have no idea where to begin!
Bingo!
Practical and Comfortable
Being in London also gave me the chance to put the water-repellent feature of the Bobby Backpack to the test (of course!)
And it passed (of course!)
I can also confirm that the Bobby Anti Theft Backpack is extremely comfortable to wear … even after some 12hr sightseeing city days. It's that weight balancing technology you see!
I also love the fact that the Bobby Anti Theft Backpack opens right up, meaning you can easily get to stuff at the bottom of this bag without having to take everything out first – literally a game-changer for me, because I never seem to be able to find what I'm looking for in a backpack!
But perhaps, best of all, are the segmented and padded pockets in the Bobby Backpack, specially designed for your laptop, portable chargers, hard drives and more.
If you're OCD on organisation like me, this is a dream.
Not only do you know where everything is in this bag, you also know that it's protected from knocks and bumps and you know exactly where to find it too!
What I Love About the Anti Theft Bobby Backpack
So to recap, this is what I love about the Bobby Anti Theft Backpack …
Number 1, it's incredibly well-priced
It has a ton of features that are actually useful
It securely protects your important documents and technology while travelling, be it walking around a city or up in the air on a flight
It looks good
It's light, comfortable and well-made
It's water repellent – crucial if you have technology in there
It's easy to pack and find things in
It allows you to be super organised
It creates stress-free travel, knowing your stuff is safe from knocks, bumps, drops, thieves or pickpockets.
Oh yeah, and I forgot, the Bobby Anti Theft Backpack also has an integrated USB charging port in-built, so that you can charge your electricals from right within or outside the bag quickly, simply and easily – genius!
Update 2020 – L
ongevity
And hello from the future!
Because fast-forward 3 years, and I'm still using my Anti Theft Bobby Backpack to travel with fulltime!
Yes, who knew that when I bought this bag in Australia back in 2017, I'd still be using it to traverse the globe as a fulltime blogger after 2.5 years of near-constant travel around our amazing planet.
Now if that doesn't speak to how durable, long-lasting and great value for money the Bobby Backpack is, I'm not sure what does!
I'm still happy as ever with this bag's performance because, despite having travelled the length of Africa, journeyed across the Middle East, backpacked in Southeast Asia and hiked my way across South America in this time, I have not had a single item of gear damaged or stolen from my Bobby Backpack.
In my opinion, this is why it makes the ideal carry on bag and the perfect place to keep your valuables safe… and if that isn't the reason to invest in this great anti theft backpack, I don't know what is!
PIN IT TO PINTEREST!
So the only real question is, what's not to love?
Let me know if you have any answers … otherwise what are you waiting for?
Grab your Bobby Backpack today!