The beautiful World Heritage city of Bath is one of England's top highlights.
Even if only you're travelling in this country for a week or so, then you really can't miss this stunning town situated in the country's southwest corner.
Unbelievably, I hadn't visited this gem in my home country, until this summer – 32 years in!
With a trip to Bristol to see friends booked (read more about the best free things to do in Bristol here), Bath seemed like the perfect accessory, only 15 minutes away by train.
But Bath certainly isn't just a Bristol accessory, it's very much a jewel in its own crown – in fact it's amazing just how close and how different the 2 cities are.
Bath is all glamour, while Bristol is all grit. Both are magnificent, it just depends what you're into.
And FYI: I'm into both!
---
Related Posts
---
This page contains affiliate links meaning Big World Small Pockets may receive a small commission on any purchases at no extra cost to you.
---
London to Bath
The other thing that differentiates the 2 cities is size.
Bath is much smaller, and the centre more easily explored on foot in a shorter amount of time than Bristol.
This makes a quick excursion to Bath really manageable. In fact, Bath is one of the best day trips from London.
If you're looking to see more of England outside of the capital, then I can highly recommend Bath which combines all the necessary factors of history, heritage, finesse and countryside charm.
Visiting Bath on a day trip from London (or Bristol for that matter – you can actually cycle between the 2!) is also one of the most cost-effective ways to see the city.
It's only a 90 minute train ride from Paddington station and, as always, I use Trainline to find the best prices – with a handy journey planning feature and live departure updates, this is my one-stop shop when it comes to organising all my UK train adventures.
Alterantively, if you're really on a budget, you can hop on the Megabus from London Victoria Coach Station to Bath for as little as £5 one way!
Without having to spend money on accommodation and with all the top Bath attractions easy to fit in, a Bath day trip is the way to go if you're on a budget!
Bath Attractions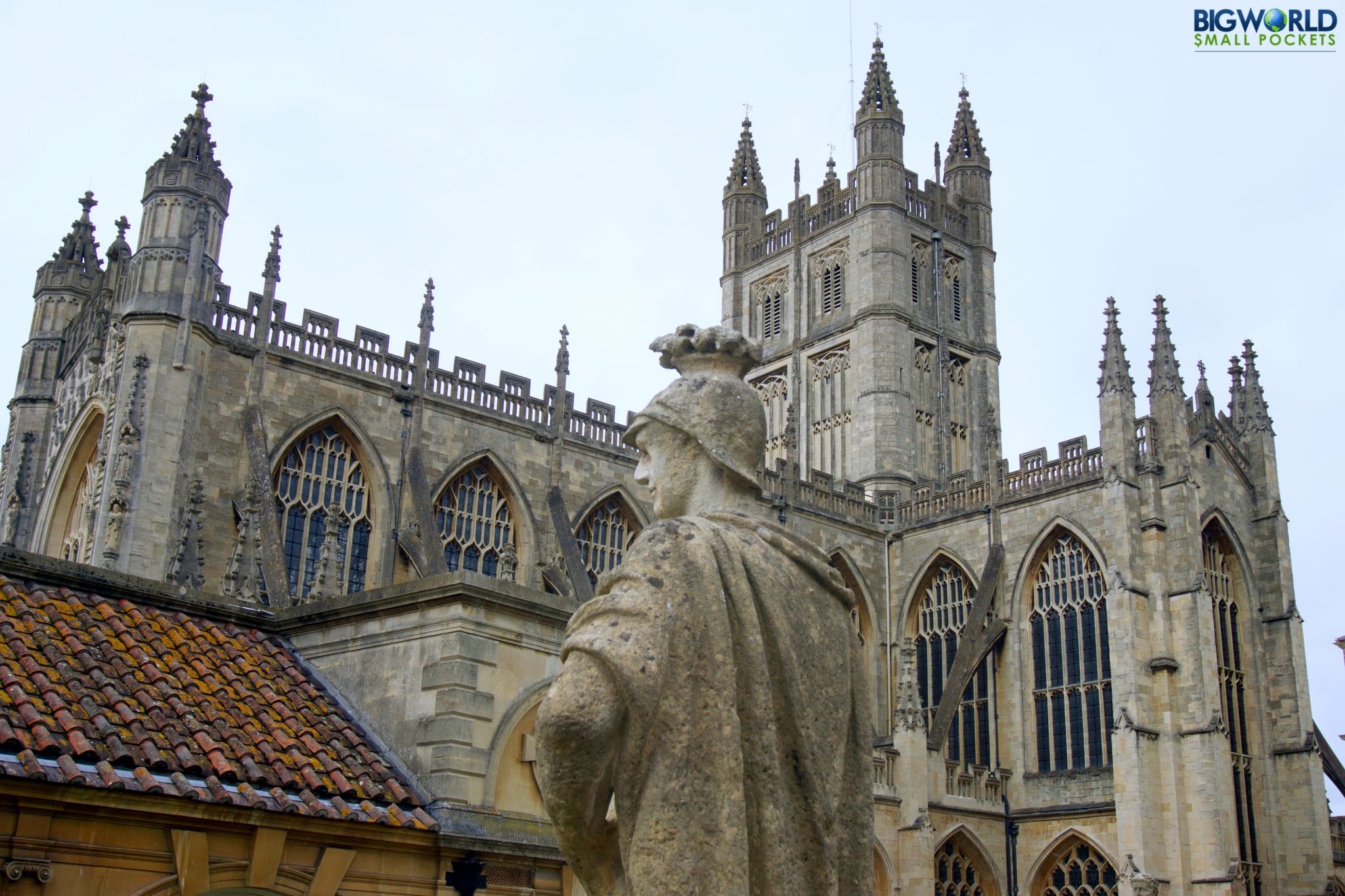 Originally a Roman settlement and later a popular Georgian town, Bath is famous for its history and no few than 13 museums can be found in the compact city centre.
From the Jane Austen Centre to the Fashion Museum, the Holburne Museum to the Museum of Bath Architecture, there's plenty to choose from.
Add into this mix the Bath art scene with its Victoria Art Gallery and Theatre Royal, as well as its burgeoning restaurant scene, and there's more than enough to fit into a Bath day tip.
But the prices here are going to quickly add up, with hardly any of Bath's attractions costing you less than £10 entry.
So, if you're travelling a shoestring like I was, but still want to see this city at its best, check out my perfect Bath day trip itinerary – ideal for those on a budget!
Oh and check out this great guided Bath trip with a blue badge holder to get all the historic lowdown on this amazing city and many of its top attractions for a great price!
Bath Day Trip Itinerary
Breakfast
No day trip to Bath is complete without breakfast at the historic Sally Lunn's cafe.
One of the oldest houses in Bath – dating back to 1483 – this place oozes tradition and has been serving up the same iconic (and delicious) Bath Buns for over 300 hundred years!
Legend has it the recipe for these rich round buns was brought to Bath in 1680 by a Huguenot refugee from France.
The buns are still made by hand, using the same original recipe, today – a recipe closely guarded and only passed on with the deeds of the house!
Choosing from a sweet or savoury Sally Lunn bun is the perfect way to start your day in Bath.
Not only that, but by dining here will also grant you free access to the museum room below.
Perfect for those wishing to see Bath on a budget, this small exhibition brilliantly displays the real age of this house from this Tudor fireplaces to its 11thcenture baker's oven to the Roman and Saxon pottery remains found on site.
Morning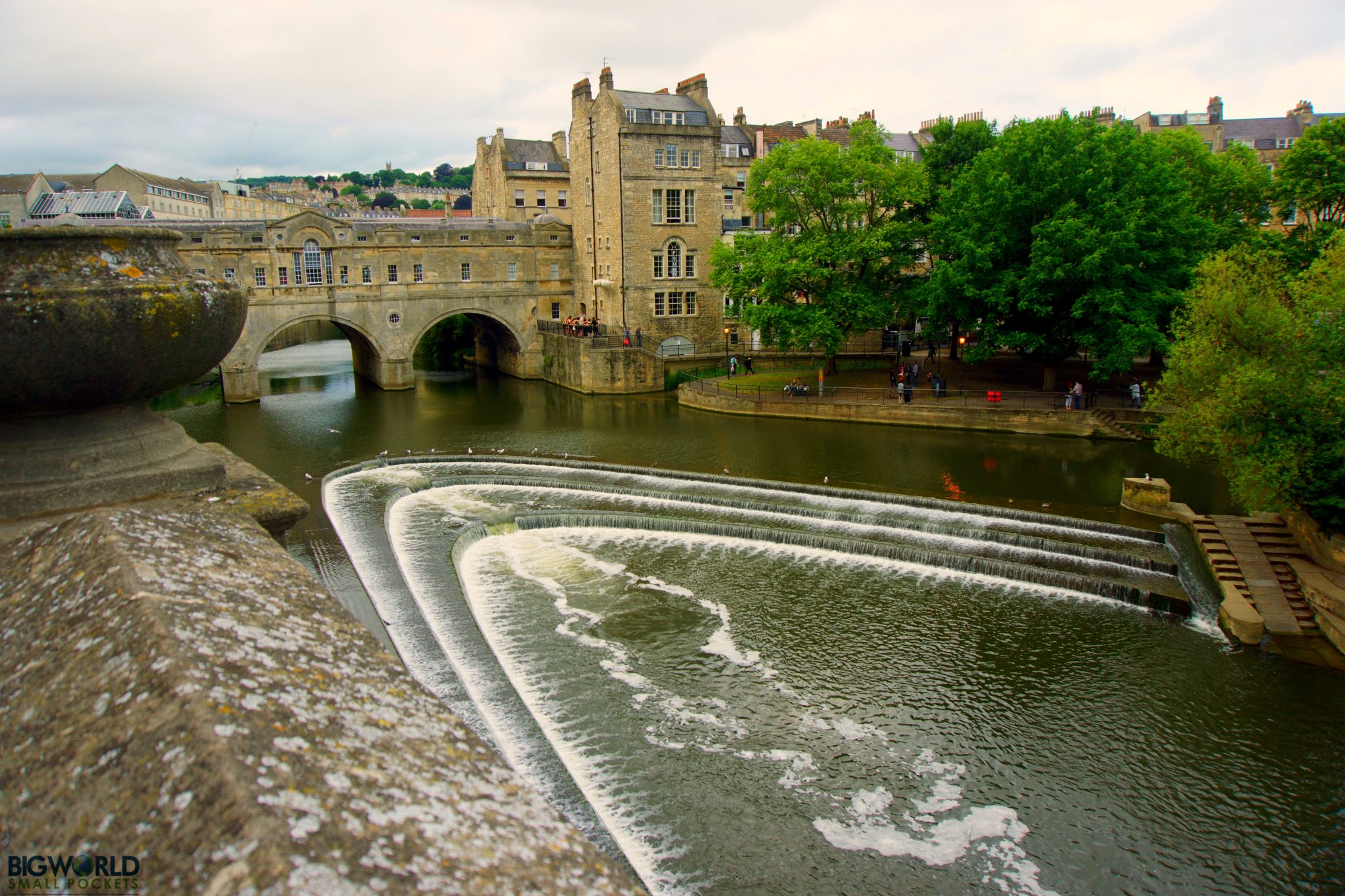 After Sally Lunn's, head to the Bath Weir for some iconic photos of the Pulteney Bridge, before cutting across town to The Circus for some equally attractive photograph opps.
No Bath day trip is complete without a wander up to the Royal Crescent – a fabulous stretch of Georgian houses, set up on a hill and clustered around an attractive green – that exemplifies the high society Bath lifestyle fashionable at the time.
Head back into town, admiring the boutique shop windows and the traditional Bath Stone buildings on the way, before stopping to check out the UNESCO World Heritage Bath Abbey.
A place of worship for more than 1,200 years, the stunning stained-glass windows of the church shed light on some of the world's most impressive vaulted ceilings.
A climb to the top of the Abbey's 212 steps for incredible views across the city is then well worth the small charge of £6.
Otherwise, why not enjoy some fabulous free street entertainment in the square outside with one of the most quintessential English backdrops imaginable.
Lunch
When it comes to lunch in Bath on a budget, I recommend heading to the Bath Guildhall Markets, which are just around the corner from the Abbey.
Stock up here on picnic goods and then head to one of the city's many green spaces to enjoy a delicious picnic lunch.
Afternoon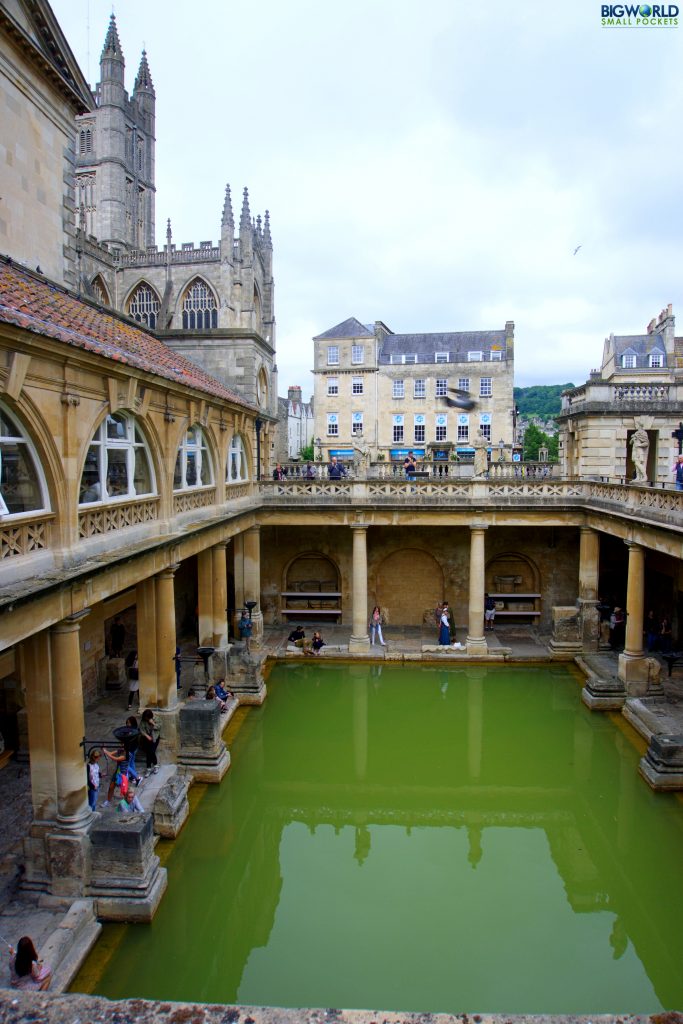 No perfect Bath day trip itinerary would be complete with a visit to the Roman Baths, which really are the foundations of the city.
Even if you are trying to see Bath on a budget, the £15.50 entrance fee to the Roman Baths is well worth it, given the wealth of information imparted via the free audio tour.
You really can spend a good few hours here, imaging what life would have been like thousands of years ago, as the same natural spring continues to pump its healing waters for all to marvel at.
Finish up your afternoon with a classic English ale.
The Huntsman on Bath's North Parade is a wonderful pub for this, featuring local beers on tap amidst a great atmosphere.
Evening
Finally, why not finish your budget day trip to Bath with a stroll along this city's lovely canals.
The walk to nearby Bathampton is very manageable and will also give you a delightful glimpse into the rolling hill countryside that surrounds the city.
If the stroll has made you a bit peckish, then why not stop at one of Bathampton's waterside pubs.
The George is particularly popular and we enjoyed a very well-priced meal here, that would be perfect for those also seeking to explore Bath on a budget.
Sleeping
If you do decide to make a night of it Bath, then there are plenty of places to stay.
Top budget accommodation spots include Bath YMCA and St Christopher's Inn Bath, which are both well-located in the city centre.
Otherwise, the YHA Bath is a little further out of town, but set within a listed Italianate mansion!
PIN IT TO PINTEREST!
So that's my perfect Bath day trip itinerary – ideal for those on a budget!
Have you visited this fantastic English city?
What did you enjoy doing there and what are your top Bath budget tips?