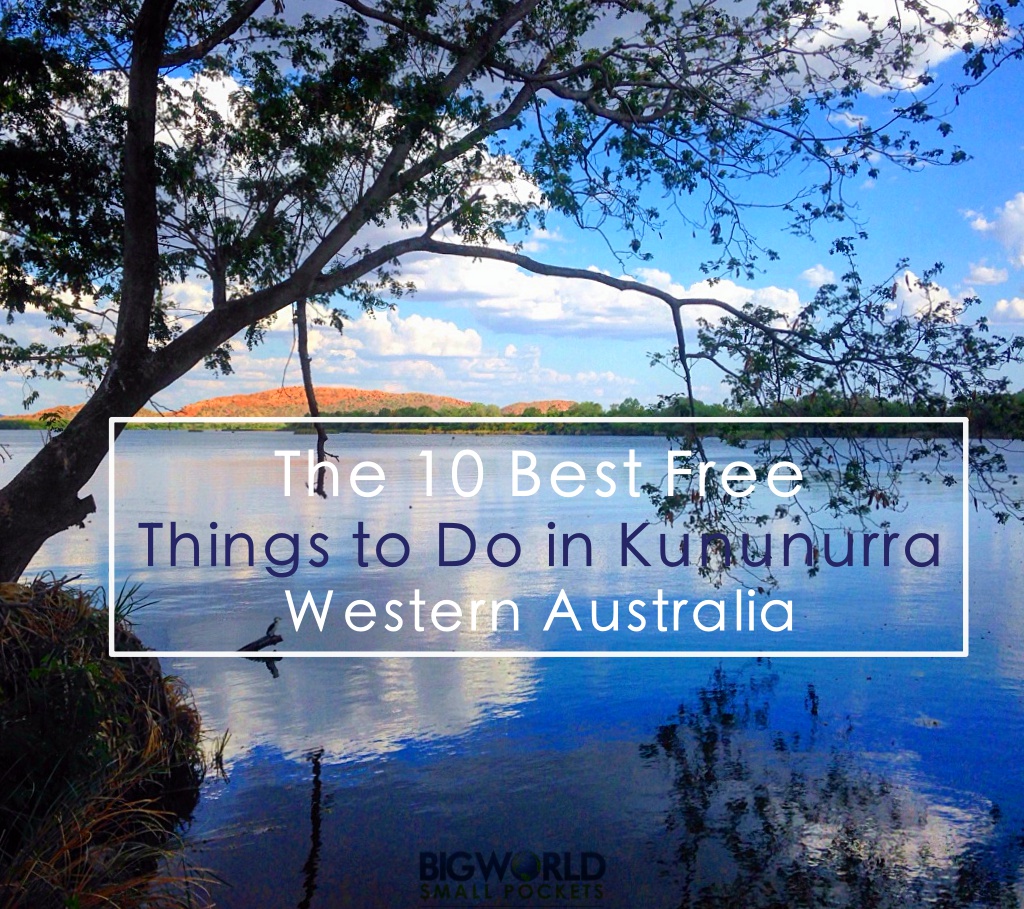 The remote Kimberley region of Australia, really is one of its prettiest.
Sprawling across the vast expanse of northerly Western Australia, here everything is super-sized, cast out into a barren landscape that looks other-worldly in both its magnitude and colourscape.
And I'm a big fan!
As much as I'm attached to the beautiful beaches of Queensland or the fantastic national parks of the Northern Territory, it's the Kimberleys that really gets my heart racing the most.
That's because it offers the sort of landscape that has me hanging out the car window, while we're moving, trying to snap epic scenery all around!
The sort of landscape that takes my breath away even when we're just driving along the highway.
The sort of landscape you really have to see to experience.
So if you're thinking of heading up to Australia's Kimberley region anytime soon, be sure to check out the great town of Kununurra.
A perfect base for exploring all there is to do in the east Kimberley region, here's my list of the top free things to do during your time there.
Grab Your Copy of How to Road Trip Australia on a Budget
My ultimate guide to road tripping Australia on a shoestring is now available, meaning you can finally get ALL my top tips for driving around all, or parts, of this amazing country in one handy eBook, including…
Full Planning & Preparation Guides
Day by Day Itineraries & Routes
Complete Packing & Gear Lists
Top Money-Saving Tips & Hacks
---
Related Posts
---
This page contains affiliate links meaning Big World Small Pockets may receive a small commission on any purchases at no extra cost to you.
---
#1 Snap Sunset over Lake Kununurra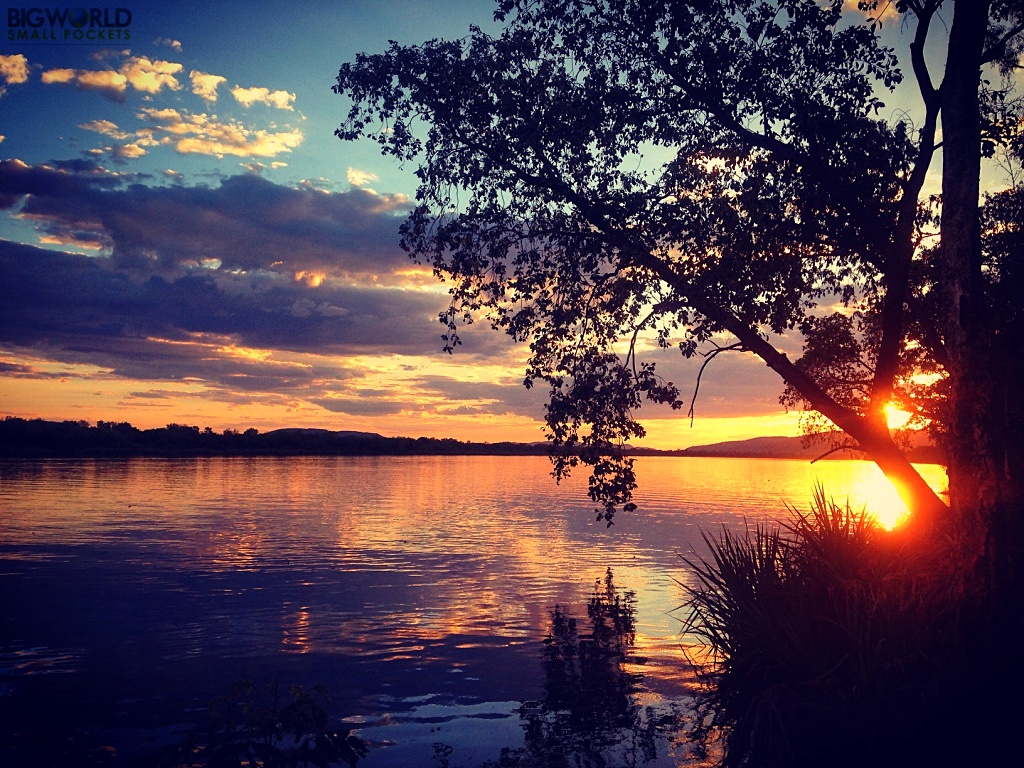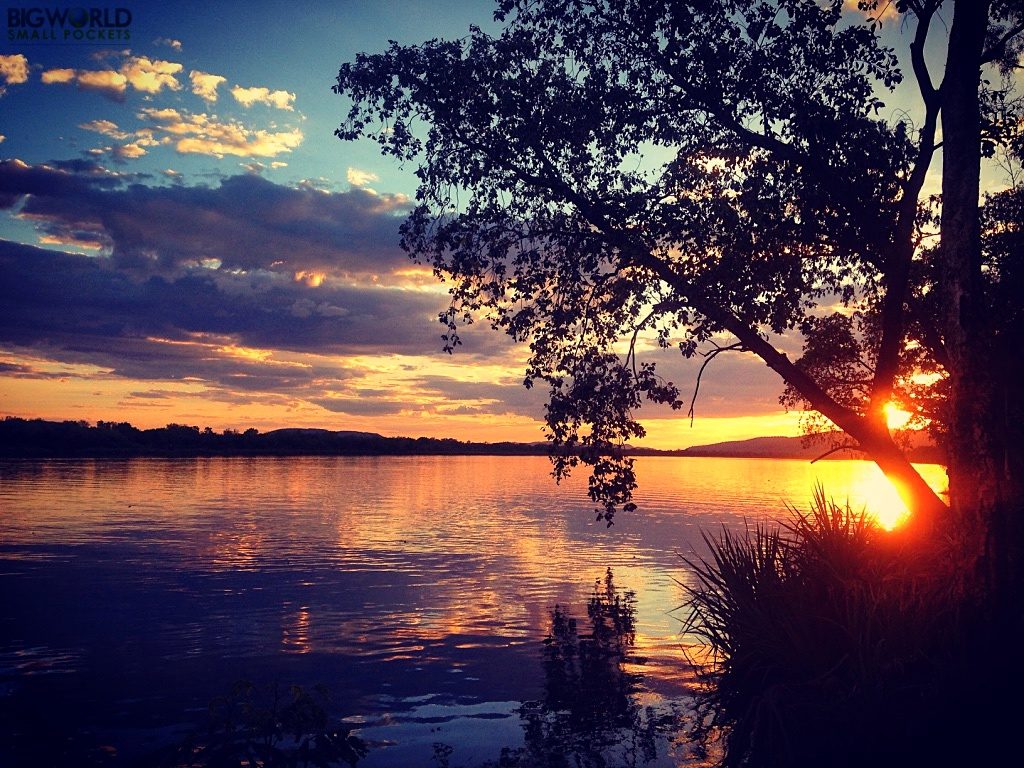 Anyone who has been to the Kimberleys knows that the sunset show in this part of the world is not to be missed!
Casting an incredible glow onto the otherwise red rocks of the landscape, sunset is a magical time of day here.
Believe it or not, the best sunset I saw in the whole Kimberley region was not the iconic one at Cable Beach in Broome that everyone talks about, although this was a close second!
No, the best sunset I saw in the Kimberleys was at Lake Kununurra, just a short drive from the main town.
We actually stayed in a caravan park right on the edge of the lake here, so I can definitely recommend Discovery Parks – Lake Kununurra if you're looking to snap a view like the one above on a nightly basis too!
#2 Cool Down With a Dip at The Grotto
The Grotto is a natural amphitheatre and perfect swimming spot just outside of Kununurra on the way to the town of Wyndham.
Free to enter, this is an ideal place to take in the magnitude of the Kimberley region, marvel at her colours and enjoy the natural wonders she offers.
Located on the Great Northern Highway, a waterfall plunges picturesquely down into The Grotto during rainy season, while 140 steps will take you down to the cool swimming hole below.
#3 Climb to the top of Kellys Knob
Another great sunset watching spot, Kellys Knob lookout, in the heart of Kununurra, is well worth a climb.
In fact, this is one of the best free things to do in Kununurra at any time of the day, not least for the wonderful views it gives you right across town, to the sprawling Outback beyond.
5 ESSENTIAL PACKING ITEMS FOR AUSTRALIA
#1 Good Camera – You will be pretty much snapping non-stop in Australia and will need a good camera to do this gorgeous country justice. I highly recommend the Sony A6000, which I use for all my travels and love, not least because it's light, compact and robust!
#2 Good Walking Shoes – There will be a lot of walking in Australia – from cities to national park! Make sure your feet are comfortable therefore with a pair of New Balance Trainers. Perfect for stylish strollling, I love mine.
#3 Good Guidebook – I'm still a massive fan of the Lonely Planet Guidebooks and do think their Australia edition is well put together.
#4 Good Water Bottle – Travelling in hot old Australia can be thirsty work, so make sure you have a metal water bottle that you can refill as you go, because tap water is drinkable… and free!
#5 Good Sun Hat – And there's no denying you'll need a good sun hat for protection in Australia too. In my opinion you can't go past this Hello Sunshine one, which is both gorgeous and ideal for keeping the rays off your face.
#4 Marvel at the feat of Lake Argyle
A 2000sqkm expanse of freshwater, a trip to Lake Argyle is certainly one of the best free things to do in Kununurra.
Right by the Northern Territory border, Lake Argyle is the biggest manmade lake in Western Australia … and it's huge!
Stroll along the bridge to grab some great snaps, or head down to the water's edge for a refreshing dip!
If you're feeling a bit more flush then kayaking, boat and even helicopter tours are available, so that you can see the full expanse of this controversial and giant irrigation project in all its splendour.
Either way, this place is well worth a visit
#5 Peruse Local Art at the Zebra Rock Gallery
One of the best regional galleries I've visited, Zebra Rock Gallery has some wonderful pieces of contemporary and indigenous art.
Wandering around, marvelling at the colours of the landscape that inspired such artwork, is definitely one of the best free things to do in Kununurra, especially on a very hot day!
Learning about the Zebra Rock itself, is also a unique Kununurra activity you can do here.
#6 Spend the day at Ngamoowalem Conservation Park
The Ngamoowalem Conservation Park is a huge protected expanse of Kimberley nature and wilderness dedicated and preserved for public use.
A short drive from Kununurra this park is delightfully free to enter and makes for a fantastic afternoon excursion or day trip.
Top of the list are the fabulous swimming holes you can find here including Galjiba (Molly Spring), Barndawooba (Valentine Spring), Mayiba (Middle Spring) and Theggyeng (Black Rock Falls).
With some of them holding water year round, these are fantastic spots to cool down in during the hotter months of the year and enjoy a picnic with a view too.
There's also some excellent 4wd tracks here, definitely making this one of the best free things to do in Kununurra.
#7 Find Locally Made Produce at the Sandalwood Factory
Back in town, another place you must check out is the local Sandalwood Factory.
Sandalwood is one of my favourite smells in the whole world and it was hard to drag myself away from here!
With the Ord River Irrigation Area providing tons of fertile of land all around Kununurra and sandalwood is one of the top local products.
Another is locally-produced Kununurra treat is chia seeds – what a result, 2 of my favourite things!
#8 Take in the view at Five Rivers Lookout
If you want to feel like you're on the moon, then heading up to the town of Wyndham, about an hour away from Kununurra, is an absolute must.
This town sits at the confluence of 5 rivers at the Cambridge Gulf and heading to the Five Rivers Lookout at the top of the Bastion Range is an incredible sight to behold.
From up there, the white landscape of the expansive mudflats, spread out in every direction, coupled with the haze of heat makes for a sight like no other.
Add in the fact that the signs here show you're actually closer to Indonesia than the state capital of Perth, and Wyndham is a totally different type of place you have to see.
#9 Visit the Celebrity Tree Park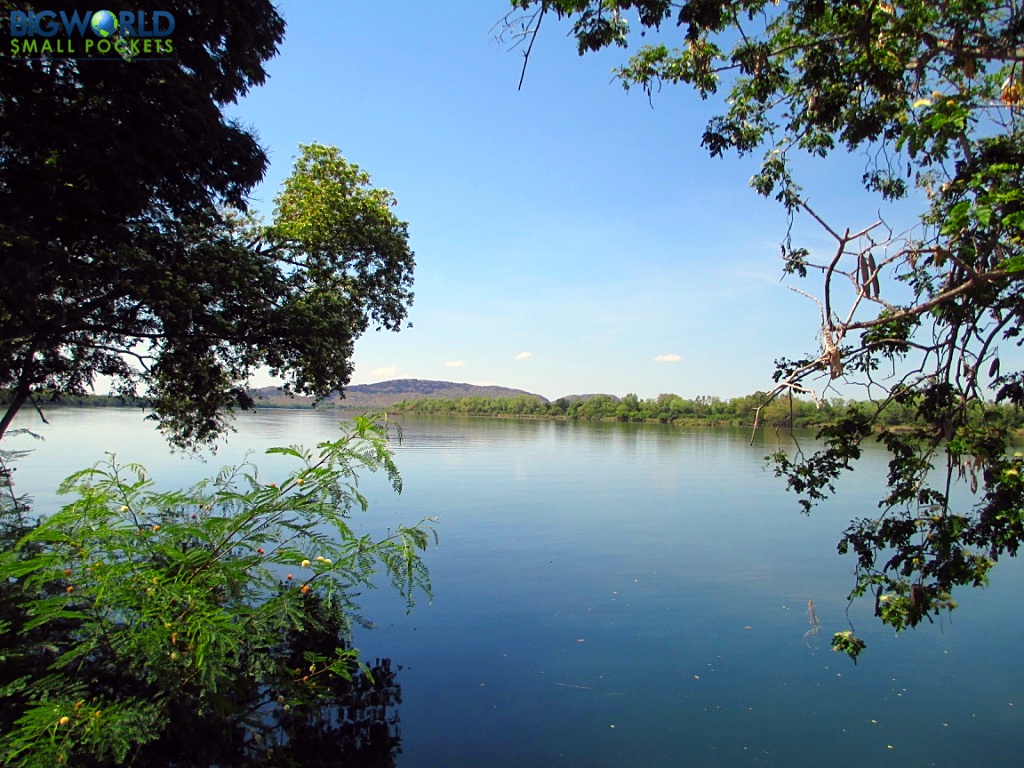 A bit of Kununurra's eccentricity shows itself in the Celebrity Tree Park.
Situated on Lily Creek Lagoon, this is definitely one of the best free things to do in Kununurra if you're looking for a peaceful afternoon.
Opened in 1984, the Celebrity Tree Park displays a variety of tree species planted by famous visitors to Kununurra, including Princess Anne and even Baz Luhrmann.
It's definitely a unique and novel idea, with a beautiful setting that puts Kununurra on the map.
#10 Enjoy a Drive to the Cockburn Ranges
Kununurra sits at the edge of the infamous Gibb River Road – Australia's most renowned 4wd track.
Coming this far and not experiencing a bit of "the Gibb" is a bit like going to Egypt and not visiting the Pyramids.
As such, enjoying a bit of it is top on my list of the free things to do in Kununurra.
Closest to town, is the area of the Gibb River Road that contains the Cockburn Ranges. This is actually the most spectacular part of the whole track in my opinion and is well worth checking out if you have a 4wd.
The sheer size of ranges is incredible and the views the whole are breathtaking.
Either drive towards El Questro Station and Home Valley Station to enjoy the best bits, or if you're feeling really brave then why not check out the Karunjie Stock Route like we did.
You can read all about this adventure in week 13 of our great budget 4wd trip around Australia, but needless to say, it was quite the drive.
Along the way, make sure you stop to check out the Prison Boab Tree – another fascinating historical landmark in these parts.
SAVE IT TO PINTEREST!
So that's it, the 10 best free things to do in Kununurra in Western Australia.
Hopefully they'll have you enjoying this remote Kimberley town as much as we did.