Heading to Penang? Here's the top 12 things to do there.
My first stop in Malaysia and my first sense of what a diverse, dazzling and delicious country this is to travel, Penang is a fantastic destination to explore.
Located in the northwest of the country, I travelled to Penang from Thailand, enroute to Singapore, and couldn't be happier that I'd chosen to make this historic port and foodie capital my first stop in the country.
Technically a state of Malaysia (the second smallest one in the country FYI), most travellers skip the mainland section of the province and head straight for Penang Island.
And why shouldn't they, it is the best part after all, and is chockful of amazing things to do, eat and explore.
As such, I'm basing this list of what to do in Penang entirely around Penang Island, so read on to learn exactly what you should do there, plus several other top travel tips to help you enjoy your time in this region…
---
Related Posts
---
This page contains affiliate links meaning Big World Small Pockets may receive a small commission on any purchases at no extra cost to you.
---
Most Interesting Places to Visit in Penang
As I've said in the intro, I'm going to be keeping this list of what to do in Penang limited to Penang Island and within that, here's a list of the most interesting places that we'll explore in more depth later on in the article.
All these spots lie around Penang Island, outside of the main urban areas and are more relaxed attractions.
The most interesting places in Penang are:
Penang Hill
Kek Lok Si Temple
Penang National Park
The Beaches
Best Place on Penang Island
That said, the best place in Penang is a title I have to give to the island's capital Georgetown.
Named after the British King George III – yes you see the colonial history dripping in already – this small city is located at the northeast side of Penang island and is the centre of life and action here.
I'd highly suggest basing yourself in Georgetown if you plan to visit the island for a few days, like I did, as this is where you can catch public transport or taxis and tours out the other areas I've mentioned above.
If you're travelling on a budget, then the best places to Penang in my opinion are either:
Both offer very affordable accommodation options within heritage-style buildings that really allow you to get into the culture and feel of Penang.
As Georgetown is the best place in Penang, where most of the things to do are located, it's the activities and attractions here that will make up the majority of this list of what you should do in Penang.
But that's enough preamble for now, let's get to it shall we, the 21 top ideas I have for what to do in Penang are…
#1 Climb or Ride Penang Hill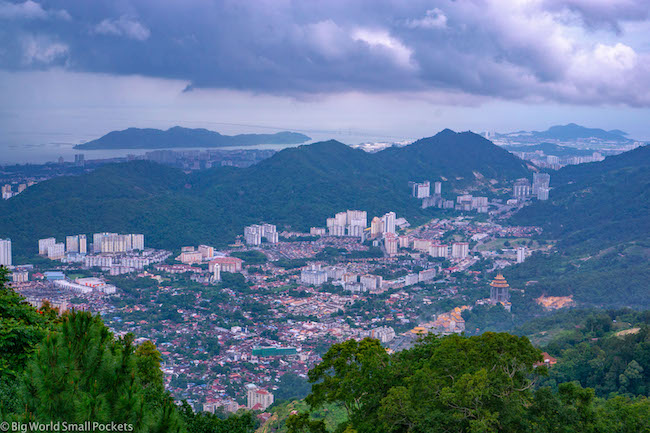 As I mentioned above, the first few points on this list will be based around the area outside of Georgetown, and coming in top of the table of things to do in Penang around the capital is to head up Penang Hill.
Either you can opt for the lazy version, which is to take the funicular at a cost of 30 Ringgit (RM) for a return journey, or you can hike up the hill.
If you read this blog a lot, you'll know I'm all up for a hike, but once the humidity in Penang and the height of the hill hits you, you may reconsider as I did!
However you do achieve it, just make sure you get to the top of Penang Hill to take in the views.
They really are something else and if you time it at a cloud-free moment you can see right across the island to the mainland, which is why this absolutely needs to be on your "what to do in Penang" itinerary.
Aside from the views, it's a bit of kids theme park at the top of the Penang Hill, which I wasn't really into, but the wander along the Skywalk and Nature Walks, as well as the one up to the historic Bel Retiro Gate House, is well worth it for, guess what, more views!
Learn more about visiting Penang Hill here.
#2 Marvel at Kek Lok Si Temple
And as you journey to Penang Hill, you certainly can't miss a stop at the amazing Kek Lok Si Temple on your itinerary of what to do in Penang.
After all, it's on the way.
Yes, if you're travelling on a budget like I was, then the bus you get from Georgetown to lower Penang Hill goes right past Kek Lok Si Temple, so you may as well make a stop.
And in case you were wondering, I caught the 204 bus from outside the Container Hotel in Georgetown.
It goes every half an hour during the day and (err. hello bargain!) costs just RM2 – but you need the exact change, so don't get caught out, like I did!
#3 Visit Penang National Park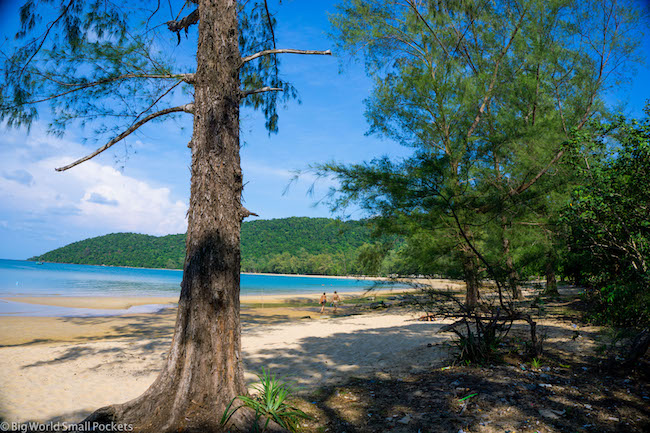 And another place you can get the bus (number 101) to if you're travelling on a budget here, is Penang National Park.
A delightful place for a stroll, this is absolutely one of my top suggestions when it comes to what to do in Penang.
Taking a taxi here is also an option, but whatever way you do it, just make sure you get there, because this is the shining gem in Penang's natural beauty crown.
Enjoy a stroll through beautiful rainforest and sandy beaches even more because the entrance is free!
The only thing you do have to pay for is the canopy walkway activity, but even then it's only RM5 for adults and RM3 for children.
There's also camping available, as well as water sport activities and the turtle conservation centre, as well as taking in the panoramic views from the lighthouse.
Learn more about visiting Penang National Park here.
#4 Relax at Monkey Beach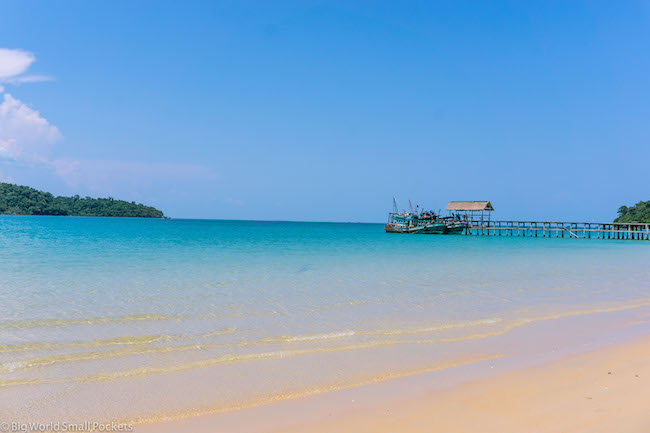 And next on my list of what to do in Penang that's outside Georgetown, it's time to get some sand between those toes as we head for the beach
There's a few gorgeous strips of sand to visit on the island (all of which are distinctly less crowded than those in neighbouring Thailand), but my favourite has to be Monkey Beach.
Actually located within Penang National Park, the white sand here and ideal swimming conditions make it a firm traveller favourite.
Only downside is the effort to get here – which either involves a 4km hike through the rainforest or a RM50 boat ride.
Still, they do say it's the journey that counts and when places are hard to get, they are usually all the more rewarding when you do.
#5 Eat!
Ok, and so now we move onto the Georgetown section of this "what to do in Penang" list.
For there's no question eating is absolutely up there as one of the most amazing aspects of travelling to this part of Malaysia.
Known as the food capital of the country, where the melting points of different cultures that are Malaysia combine their culinary skills, it really is something.
For the best Indian food, cheap and cheerful Kapitan does take some beating… and you can't miss a naan bread here either.
Otherwise for traditional Indian veggie food, Woodlands Vegetarian is a firm favourite.
Yips Sourdough Bakery is a hit when it comes to weekend breakfast and you get to enjoy the lovely smells from the meat and fish market as you pass too!
Bean Sprout Café is also good, and Pinxin Vegan was another fav of mine!
Wholey Wonder Vegan has yummy meat-free treats downstairs and yoga upstairs… so needless to say I spent quite a bit of time there too!
#6 Try a Cooking Class or Food Tour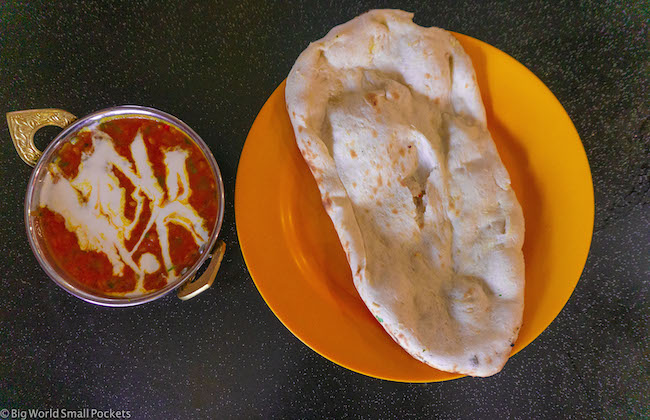 But it's not just eating you should do in Georgetown.
Learning something about what you're eating is also a good option and will likely only help your enjoyment of the whole culinary experience even more.
And when it comes to learning about the food of this fascinating region, then it's hard to get better than a food tour!
Check out this great option if this sounds like something you want to do in Penang.
#7 Wander the Night Markets
Otherwise, another great way to enjoy the food culture in Penang is to head to a Hawker Market which, like in much of Southeast Asia, are at their best after dark.
There's 3 main ones to choose from in Georgetown, so why not vary it up and go to a different one each night.
Just ask wherever you're staying for directions and tips on the best stalls.
My favourite was the Chulia Street Night Market.
#8 Hang with the Hipsters
So we've talked about the food, but as you'll know if you read this blog often, I can't talk about food without discussing the world of coffee too.
And while Penang isn't big on the coffee scene, I did find a few good places to get some of the black gold in me.
Wholey Wonder Vegan, which I've already mentioned, does a mean blend, as do Black Kettle and Mugshot Café.
But the real jewel in the crown here is Bricklin Café Bar, where you can get your hipster fill at the same time!
Don't miss the Sunday market here either, it's a lovely atmosphere.
#9 Do a Street Art Tour
Ok enough of the food and coffee already, now we move onto the real things you go to Penang for, one of which was almost, certainly, definitely the famous street art.
It's been written about a lot, so I'm not going to go hugely into it here, safe to say that the street art pieces around Georgetown are fabulous and it's great this has become such a huge selling point in their tourism arsenal.
My favourite street art pieces were:
Boy on Chair
Brother and Sister on Swing
Kids on Bicycle
But there's so many to see and snap.
Interactive photo possibilities abound, but be prepared to queue.
This definitely isn't a secret when it comes to what to do in Penang!
#10 Snap Heritage Buildings
And part of the reason, these faded street art pictures work so well within the setting of Georgetown is the overall crumbling and atmospheric feel of the place.
A colonial trading post for a long time, the mix of different cultures that have come and put their stamp on Georgetown over the years, makes this a fascinating city to stroll with your camera at the ready.
And right at the top of the list here is the UNESCO-listed historic centre, where beautiful heritage buildings abound and a sense of the past seeps out through the cracks in the walls.
#11 Grab a Free Walking Tour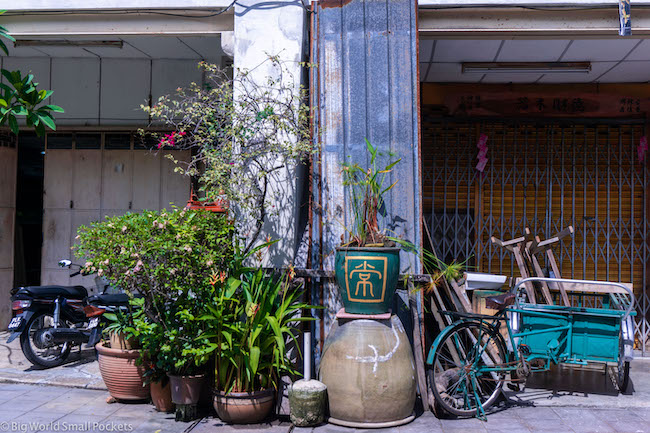 And if you want to learn more about the history of Penang, its famous island and how it came to be what it is today, then there's few better ways to do that than via a free walking tour.
Run by the Tourism Office in Georgetown, this activity takes place 3 times a week in the morning.
Places are limited though, so head down to the office to find out when the next walking tour is and to book your spot.
If you miss out on a place, or want to take a tour on a day it's not operating, then check out this half day city tour instead, which is still very affordable.
#12 Check out the Religious Buildings
And linking with this sense of cultural diversity and heritage, one thing you can't miss off your "what to do in Penang" list is checking out the plethora of religious buildings in this heritage-listed city.
I know we've covered the Kek Lok Si Temple already, because that's out of town, but the amazing structures within Georgetown can't be missed either.
From the Chinese and Buddhist temples to the Christian Churches, Islamic Mosques and Hindu temples, there's so many to spot and explore so close to each other, it's quite wonderful!
#13 People Watch in Armenian Park
And to get a sense of who lives in Penang, you can't beat a good bit of people watching!
And in the heart of busy Georgetown, there's few better options for this activity than Armenian Park if you ask me.
A lovely peaceful, green space, spending a bit of time relaxing on a bench here and taking it all in is definitely one of the best things to do in Georgetown.
#14 Borrow a Bike
Or you can take to the streets and investigate more of everyday life in Penang on 2 wheels.
Link Bike is a bike-sharing scheme operation here and makes a great and effective way to explore further afield.
Simply grab a bike from any link docking station, get half an hour free and then pay just 1RM per hour after that! Bargain!
Learn more here.
#15 Explore the Waterfront
And a great place to explore on 2 wheels is the Georgetown Waterfront, which is really the heart of the heritage port area.
The best things to see here include the Memorial Clock Tower, Fort Cornwallis and Padang Kota Lama.
The nearby Blue Mansion and Western Cemetery also deserve a mention.
#16 Head to a Museum
Also within the waterfront area are a number of museums you may want to put on your list of what to do in Penang.
From the Chocolate and Coffee Museum to the State Art Gallery, the Tunnel Museum and the 3D Trick Museum, there's plenty here for all the family to enjoy.
#17 Stroll the Clan Jetties
Personally, when it's as sunny and warm as it was when I was in Georgetown however, I prefer to be outside rather than head to a museum, and in this vein I definitely chose to stroll the historic jetties as one of the top things to do in Penang.
You can get some absolutely awesome snaps and views here as you learn about these important historical structures, how and why they were constructed, and their significance even to this day.
There's a few jetties to choose from, but all are close together, so it's easy to walk between them.
My favourites for pics were Lee Clan Jetty, Tan Jetty and Chew Jetty.
#18 Get Lost in Little India
And if you want to grab some more fascinating cultural pics, or just get a sense of the joyous diversity of Penang, heading to Little India – a few streets back from the jetties – can't be missed.
Just follow your nose to all the delicious restaurants here, as well as the fascinating array of stalls and shops that line the streets.
You'll really be left wondering which country you're in.
#19 Skywalk at Komtar
And for yet another angle on Georgetown life, you can't miss a trip to Komtar.
Now normally I don't recommend huge, modern shopping centres on my list of things to do for the traveller, but the rooftop views from this place make it absolutely worthwhile.
It's the state's highest building and the 11th highest in all of Malaysia, which really is quite the accolade if you've already been to Kuala Lumpur and seen the height of the buildings there.
But it's for the highest glass skywalk in Malaysia that you really head here.
Launched in 1996, the Rainbow Skywalk on the top level is accompanied by The Gravityz – the world's highest rope course – and this makes the Komtar a very fun place to head indeed.
#20 Kickback with a Trishaw Ride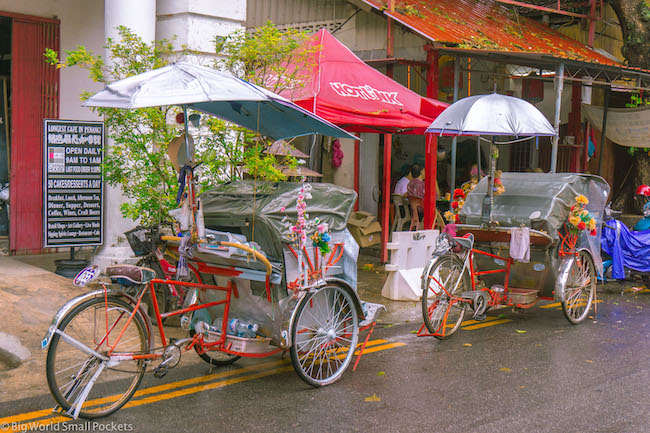 Back on the ground however, if you want to travel between the things to do in Penang in style, there's no question, a lift with a trishaw is the way to go.
A traditional transport method with a bicycle pulling a carriage with a couple of people in it, this is now strictly a tourist activity, but it's a very fun one at that.
Hail one down in the street and negotiate a price and a route – especially handing if it's raining in Georgetown and you need to get around the historic centre – or otherwise, check out this 3 hour heritage tour in Georgetown which is undertaken totally with trishaw transport.
#21 Relish a Night at Love Lane
And last but not least on my list of the 21 things to do in Penang, it's enjoy a night out on Love Lane.
Probably not what you're thinking, this is the fun, young street in Georgetown and is filled with bars and fun cafes – a perfect place to spend an evening and round up your time in this great Malaysian destination.
Mini Travel Guide to Penang, Malaysia
How to Get to Penang?
Penang has both an international airport on the island, as well as a ferry service to Butterworth on the mainland, from where many international bus connections can be made.
As always, I use the great website 12Go to book all my bus travel in Southeast Asia and Skyscanner to find the best flight deals.
Use Grab to get from the airport to Georgetown and once there, regular bus connections make getting around the island easy and cheap.
Plus, there's a free shuttle bus that continually services the town area too.
How Long to Spend in Penang?
With a lot of the main travel fun concentrated around the small area of Georgetown on Penang Island, I recommend a stay of 2-3 nights in this destination.
This will give you plenty of time to take in all the sights I've listed here, as well as some nice chilled time in a café or 3!
Weekends are best avoided as loads of locals come from other parts of Malaysia to enjoy the island at this time and weekday rates in hostels tend to be cheaper as a result.
The best time to visit Penang is during the months of November to February when it's slightly less hot and humid.
Read. slightly!
5 Packing Essentials for Penang
#1 Lonely Planet Guidebook – The Malaysia Lonely Planet is excellent and very helpful for any trip to this part of the world with lots of top tips and useful information, including great eating recommendations.
#2 Birkenstocks – A good pair of sandals are king in Malaysia and I love my Arizona Birkenstocks which are perfect for keeping my feet cool, supported and for kicking on and off easily when you visit temples or hit the beach. Literally wore them all day every day in this country!
#3 British Power Adapters – Malaysia primarily uses the format of British power outlets, so make sure you come prepared with a suitable Skross adapter.
#4 Camera and Lens – I love my Sony A6000 mirrorless, which was ideal for capturing this diverse and delightful country at its best.
#5 Sarong – A great multi-purpose travel item that can be brilliantly used through Malaysia as a beach towel / dress, a pillow / blanket on bus rides and for covering shoulders when you visit temples or your head if you visit any mosques. A good sarong is a Southeast Asia travel must-have in my book.
For more ideas about what to pack for a trip to Southeast Asia, check out this great female checklist I compiled.
Travel Insurance for Penang
World Nomads offers simple and flexible travel insurance. Buy at home or while travelling and claim online from anywhere in the world.
Alternatively, if you're a long-term traveller, digital nomad or frequent remote worker seeking travel health cover, check out Safetywing's Nomad Insurance policies.
Travel Money in Malaysia
When it comes to paying for things in Malacca, you want to ensure you're not being charged overseas transaction fees or getting poor exchange rates when using your card abroad, which is why I always take my Wise card away with me wherever I travel.
The easy way to spend abroad with real exchange rates, no markups and no sneaky transaction fees, you can use your Wise card just like a debit card here… and it links easily with Google and Apple pay – sold! Grab yours here.
PIN IT TO PINTEREST!
And there you have it, my list what to do in Penang– the top 21!
Have you been to this gorgeous part of Malaysia?
Did you love it as much as me?
What was your fav thing to do there?