I must admit I feel a bit sorry for poor, old Kuala Lumpur.
The capital of Malaysia tends to get seriously bagged out by travellers, who frequently label it as bland and boring.
Largely overshadowed by its big-time neighbours – glitzy Singapore and bustling Bangkok – KL just rarely gets a tourist look-in and when it does, it seems to be to poor reviews.
And so it was that I gave myself just 2 nights to explore Kuala Lumpur at the end of my time in Malaysia, thinking I'd snap a couple of temples, find a café or 2 and be outta there!
But how wrong could I be?
Turns out, very, because honestly, I was blown away by the sheer volume of great things to do in Kuala Lumpur and just how buzzing and alive this city is.
Yes there's a load of malls that lack soul, but there's also a heck of a lot of free attractions, loads of delightful public, green spaces, cultural diversity oozing out of every corner and some of the most delicious food in Southeast Asia.
So, if you're passing through Kuala Lumpur in transit, or as part of a longer trip to Malaysia, and you want my advice, give yourself more time than you think in the capital, because this city is wildly underrated.
And to give you some idea, here's my list of 21 great things to do in Kuala Lumpur on a budget, which I've arranged into geographical sectors so you can easily navigate them all – hoorah!
---
Related Posts
---
This page contains affiliate links meaning Big World Small Pockets may receive a small commission on any purchases at no extra cost to you.
My stay in Kuala Lumpur was kindly sponsored by Birdnest, but, as always, all views are my own.
---
CHINATOWN
#1 Visit the Sin Sze Si Ya Temple
Start your time in the heart of KL's Chinatown with a visit to the Sin Sze Si Ya Temple.
Open until 5pm daily, this is the city's oldest Chinese place of worship.
Built in 1864, it's free to enter, definitely making it one of the best things to do in Kuala Lumpur on a budget.
#2 Marvel at the Sri Mahamariammam Temple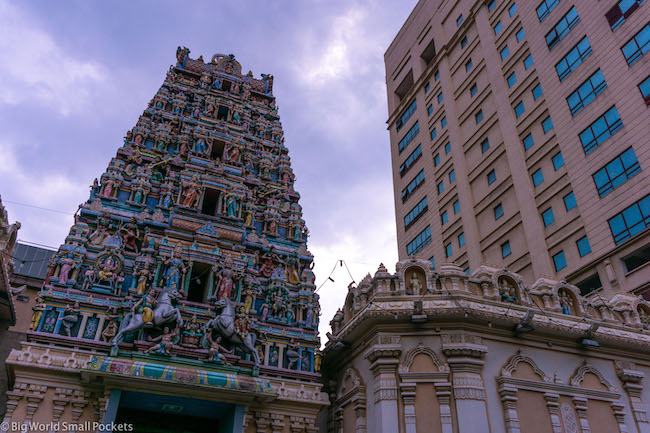 And perfectly exemplifying the cultural diversity of Malaysia's capital, just around the corner from the Chinese Sin Sze Si Ya Temple, is Sri Mahamariammam Temple, a beautifully decorated Hindu place of worship.
Again free to enter, this 23m tall structure was founded in 1873, making it the possibly the oldest Hindu Temple not only in KL, but the whole of Malaysia – boom!
#3 Feast at Madras Lane & Jalan Petaling
And then, just a few steps away from both these temples, are the local street eat paradises of Madras Lane and Jalan Petaling.
The place for a cheap feed in Chinatown, pull up a chair at breakfast or lunch (for Madras Lane) or dinner (for Jalan Petaling) and get ready to scoff yourself silly with plenty locals among these makeshift street stalls.
Certainly one of the best things to do in Kuala Lumpur on a budget, this is a cultural experience and a belly-filler all in one!
#4 Caffeinate at Merchants Lane
Once you've had your fill at either of these street food top spots, you may then want to head for a coffee to complete the showdown, and just down the road, off Jalan Petaling, is one of the best cafes in Kuala Lumpur – Merchant's Lane.
A favourite with the trendy (read. Instagram) crowd, nevertheless these guys do a sterling espresso, which you can enjoy amidst a historic setting – this place is actually a renovated brothel but don't let that put you off!
Hidden away, Merchant's Lane can be tricky to find, so just look for the unsigned, green door situated between the Advance Tertiary College and Sin Chew Daily!
THE HISTORIC TRIANGLE
#5 Witness Masjid Jamek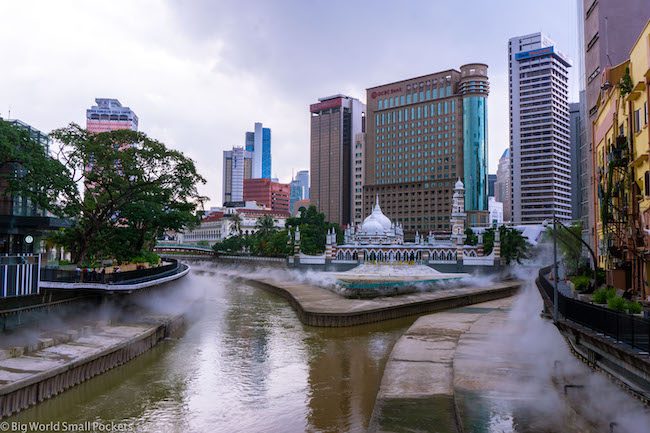 It's simple, no trip to Kuala Lumpur is complete without taking in the mighty Masjid Jamek, a bustling mosque in the heart of the city.
Situated at the confluence of the Gombak and Klang Rivers, displaying some beautiful architecture and oozing with history, this was the first brick Mosque in Malaysia built in 1907.
It's open to non-Muslims daily, except Friday, and is free to enter, just make sure you are dressed appropriately – long trousers, long sleeves and ladies, heads need to be covered.
#6 Take in the River of Life
And right in front of the Masjid Jamek is what has now been called the River of Life.
Beautifully done up, the waterway here, which forms the heart of Kuala Lumpur, has been well landscaped with delightful bridges and some pretty cool steam displays.
And the best place to take it all is definitely from the bridge along Leboh Pasar Besar.
#7 Soak in the Atmosphere at Merdeka Square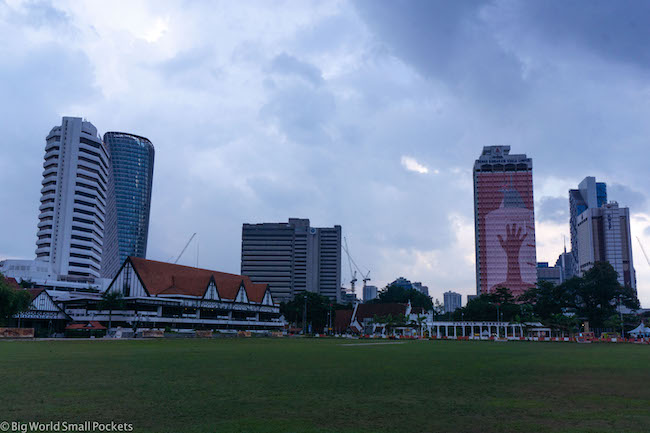 And after you cross over the bridge on Leboh Pasar Besar, you'll soon come to Merdaka Square – the central plaza of Kuala Lumpur where Malaysian independence was actually declared in 1967.
There's a cricket pitch here (British colonial hangover I'm afraid!), as well as a huge flag and a fun water fountain display.
I visited Kuala Lumpur during Ramadan, which meant that, during my trip to Merdeka Square, there was actually a huge market taking place here, with tons of local families meeting up after sunset to break fast together.
#8 Enjoy a Free Heritage Trail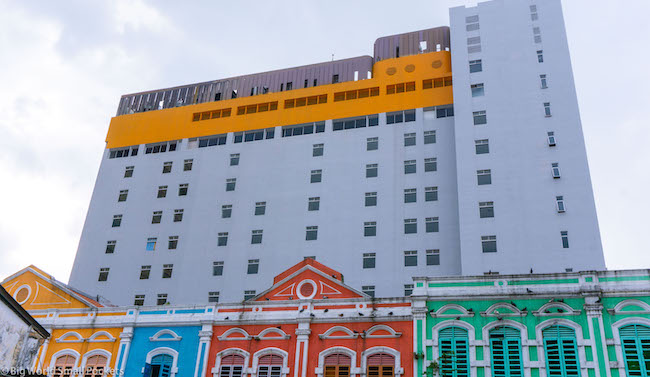 Continuing on with my list of the top things to do in Kuala Lumpur on a budget, next up is a treat for all the history buffs among you.
(Yeah yeah, I know it's not just me!)
The tourism office in KL have brilliantly set up a free heritage trail, that you can undertake in around 3 hours. It covers 11 important sites around Merdaka Square, helping you learn more about the history and culture of this global city.
Find out more here.
#9 Discover the History of Sultan Abdul Samad Building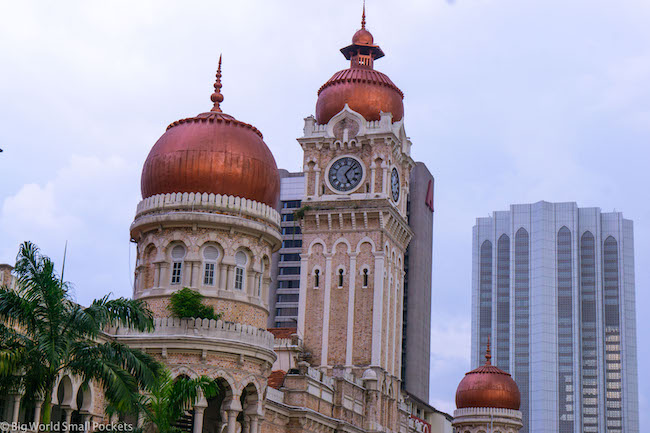 And then, right next to the Merdeka Square, is the quintessentially beautiful Sultan Abdul Samad Building.
One of the most striking historic structures in this city, taking a look and a cheeky snap of this wonder is definitely one of the best things to do in Kuala Lumpur.
LAKE GARDENS & BRICKFIELD
#10 Chill in the Perdana Botanical Gardens
And moving onto yet another area of the city – I told you there was a lot to do in Kuala Lumpur didn't I?! – the Perdana Botanical Gardens are absolutely one of the most delightful public spaces here.
Free to enter, they are the perfect spot if you want some fresh air and take a stroll.
In fact, they were the first public park in the city and there's an amazing collection of flora from Malaysia to see within their boundaries, as well as attractive boardwalks in between.
#11 Check Out the National Monument
And just north of the Botanical Gardens is Malaysia's National Monument – visiting here is another one of the great free things to do in Kuala Lumpur.
In a square surrounded by palm trees, this statue makes a suitably strong statement about national pride, sacrifice and remembrance.
#12 Stroll Through the Islamic Arts Museum
There's a couple of great museums in this city and seeing at least one of them is definitely one of the best things to do in Kuala Lumpur.
If you're in, or near, the Perdana Botanical Gardens, then the obvious choice is the Islamic Arts Museum, which has a beautiful collection, housed in an equally stunning building and costs 14 RM to enter.
#13 See the National Mosque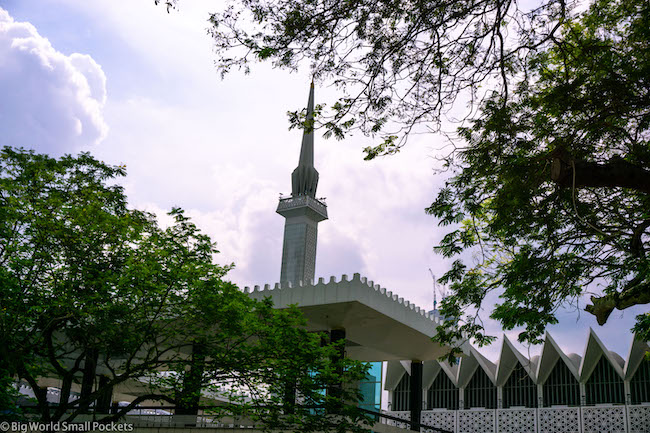 And just down the road from the Islamic Arts Museum (and I mean it's literally a 3 minute walk) is Malaysia's National Mosque, otherwise known as Masjid Negara.
A bustling place, it's open to non-Muslims every day until 6:30, except Friday mornings, and is free to enter.
Just remember to dress appropriately and take your wide-angle lens, because this place is huge and can apparently fit over 15,000 worshippers inside!
#14 Take in the View from the Thean Hou Temple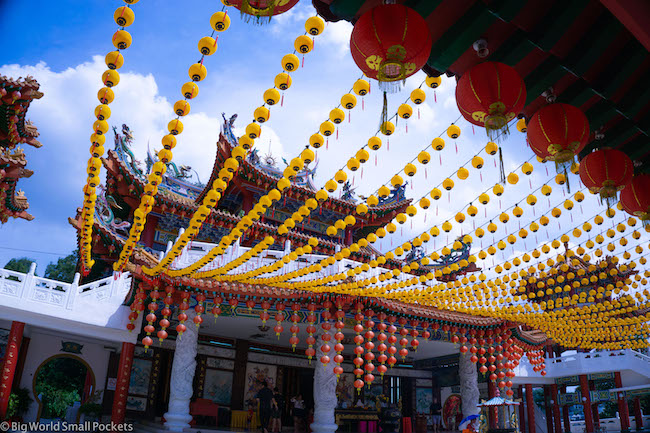 And last but not least in the Lake Gardens and Brickfield area, visiting the Thean Hou Temple is definitely one of the best things to do in Kuala Lumpur on a budget.
Again it's free to enter and if you're partial to a good Instagram shot, then this place is going to rock your socks!
Otherwise, this gorgeous Chinese Temple also makes a lovely stop for its city views and gorgeous hanging lanterns.
BUKIT BINTANG & KLCC
#15 Walk in the Canopy at KL Forest Eco Park
And finally, we move onto the glitzy part of Kuala Lumpur, although not before just a bit more nature time!
Yes right on the edge of the skyscraper epicentre of this capital is the marvel that is KL Forest Eco Park.
A veritable green haven in this otherwise high-rise metropolis, the KL Eco Park is free to enter and open every day from 8am-6pm.
Going for an adventure here is like taking a day trip out of the city and top of the list has to be the fantastic canopy walk, which will have you strolling among the treetops with a smile!
#16 Wander the KLCC Park
Alternatively, the charming KLCC Park is another, yes another, free green space in this city and boasts several lovely walking trails around its lakes and bridges.
This place also has a great view of the Petronas Towers and gets packed of an evening time, when locals and tourists alike descend to enjoy the free Lake Symphony Fountains display and get a snap of the Towers all lit up behind.
#17 Spend an Afternoon at the ILHAM Gallery
But if you want more of a culture fix, then the ILHAM Gallery in the KLCC area shouldn't be missed.
It's free – it's almost getting boring now isn't it?! – and the contemporary art inside is world-class.
#18 Be Impressed by the Petronas Towers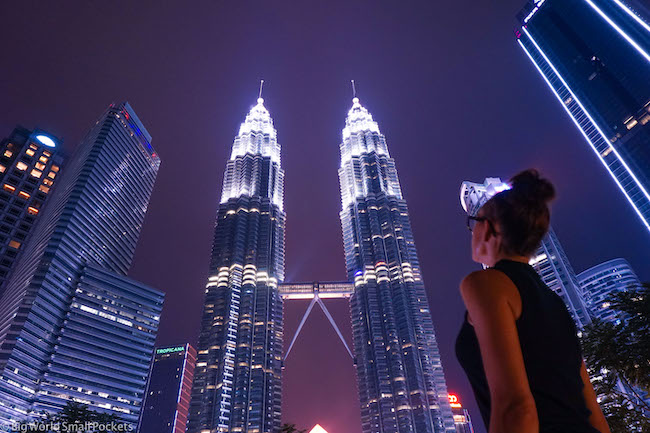 At 60 storeys tall, the IHLAM building is pretty impressive, but it must be said that it's still dwarfed by the incredible Petronas Towers, which are over 80 storeys tall and the tallest twin towers in the world.
Book tickets online in advance to enjoy views from high up the towers, or else settle for snapping them from nearby KLCC Park, which gives great views both day and night.
#19 Head to Traders Hotel for a Drink
And if you are out this way at night, checking out the Towers, then why not head for a classic Southeast Asian rooftop drink afterwards?
Top recommended spot is Traders Hotel SkyBar – an oldie, but a classic!
#20 Amble Kampung Baru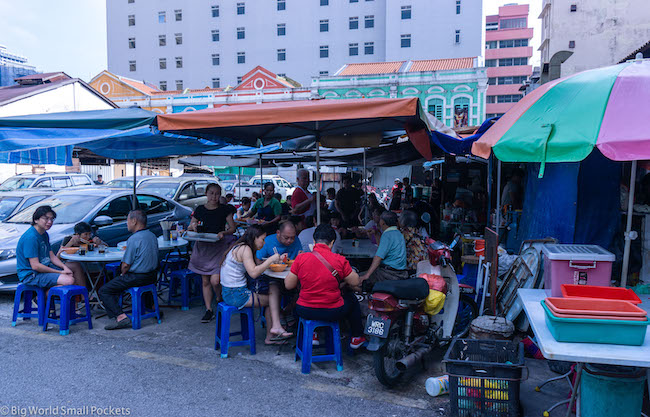 And finally, on my list of great things to do in Kuala Lumpur in the Bukit and KLCC area, you can't miss the historic suburb of Kampung Baru, which actually lies just to the north of the other ones on this list.
Heading here in the day to see the amazing stilt houses – and one of the oldest settlements in KL – is a great idea, but it's really at night that the street market brings this place to life.
NORTH KUALA LUMPUR
#21 Get Your Heart Rate Up at the Batu Caves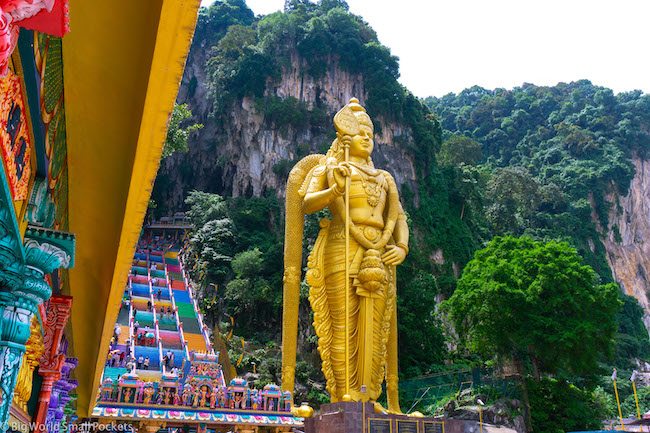 Wow, we've made it to #21.
Told you there was a lot of great things to do in Kuala Lumpur on a budget!
And actually, I might just have saved the best until last, because getting your heart rate up at the Batu Caves was perhaps my favourite one of them all.
This Hindu Shrine, located in some natural caves and famous for the steep, long and colourful steps that lead up there, sees flocks of tourists daily, so do get here early (it opens at 8am) if you want to beat the crowds.
The best way to reach the Batu Caves is either by Grab if you're in a group, or the KTM Komuter train, which leaves KL Sentral at least once an hour, costs less than 4 RM and takes around 45 mins.
From the train station, it's then a 5-minute walk to the bottom of the steps, but how long you take to get up them or how long you spend in the caves is up to you!
Alternatively, you can take a great and affordable half day tour to the Batu Caves, which includes a direct pick up from your accommodation in KL.
PIN IT TO PINTEREST!
And there you have it, my list of the 21 great things to do in Kuala Lumpur on a budget.
Have you been to Malaysia's capital?
Were you underwhelmed or overwhelmed?
Let me know all in the comments box below…