There's no question it's one of the most photogenic countries in the world, with some of the most jaw-dropping scenery I've ever encountered, yes Namibia is undoubtedly one of Africa's best travel gems.
Gifted with by expansive deserts, flanked by a wild coastline and known to be one of the most sparsely populated countries on earth, there's no doubt however that getting between different destinations in Namibia is an integral part of the adventure here!
As such, planning a rough route through this country is essential in helping you see as much as you can in a short timeframe and in ensuring, no matter whether you are taking a tour or opting for a self-drive, you are well prepared for some big distance days.
So to help you do just that, I've picked up my 9 favourite places to visit in Namibia you can't miss, so that your time here is every bit as spellbinding as it should be.
Oh, and if you want to take a great tour through Namibia, visiting all the hot spots in this epic country, then I highly recommend Absolute Africa.
I loved my trip with them so much that I'm currently offering all my readers an exclusive discount on their tours, meaning you can now travel even more in this amazing country for less!
Simply send this top African overland company an email on [email protected], quoting the discount code BWSP, and start planning your incredible trip to Namibia with them today!
---
Related Posts
---
This page contains affiliate links meaning Big World Small Pockets may receive a small commission on any purchases at no extra cost to you.
---
#1 Etosha National Park
It's the top national park in this country and undoubtedly one of the best national parks in Africa; no question then that Etosha National Park is one of the best places to visit in Namibia.
Located in the north of the country, not far from the Angolan border, Etosha is formed of many giant saltpans, and was once the bed a huge, ancient, and now evaporated, lake.
In this dry, dusty land, animals congregate around a few precious waterholes so are both plentiful and easy to spot. And with the big 5 on offer, spotting some magnificent wildlife here is pretty much guaranteed.
The backdrop of the white arid landscape around also makes for an entirely unique safari experience and one you'll never replicate or forget!
LEARN MORE: The Ultimate Guide to Etosha National Park
#2 Orange River
Right on the border with South Africa, Orange River is one of the best places to visit in Namibia due to the beautiful scenery and calm peaceful ambience.
Kayaking down the river, which actually straddles the national border, is totally possible here and the surreal experience of essentially floating between 2 countries, looking out at both, makes this utterly unique experience few other places in the world can offer!
With plenty of riverside camping spots where you can park up or pitch up for the night, Orange River also makes the perfect place to stop on your way into or out Namibia / from or to Cape Town.
#3 Spitzkoppe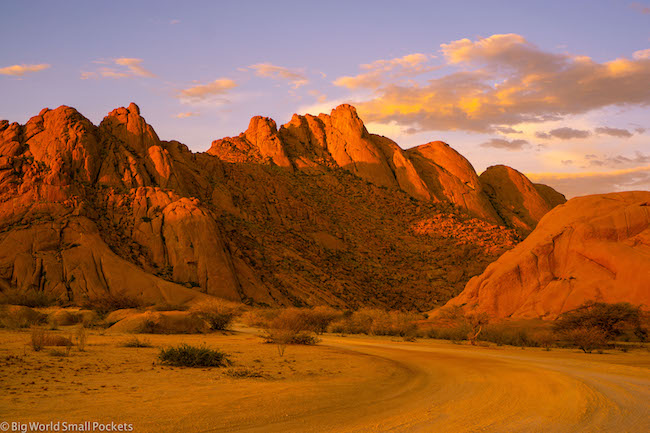 This probably has to be my favourite place in Namibia, not least because I had never even heard of it before I travelled to this country, and therefore had zero knowledge of what to expect!
What I quickly discovered, however, is that this ancient and protected desert space is home to some of the most amazing rock formations I've ever seen, some of the most dramatic sunrises / sunsets I've witnessed and some of the oldest human artwork I've ever encountered too.
Yes, there's no question Spitkoppe is definitely one of the best places to visit in Namibia and staying at least 1 night in this remote location will give you endless photo opps and more stars than you can possibly ever gaze at!
#4 Swakopmund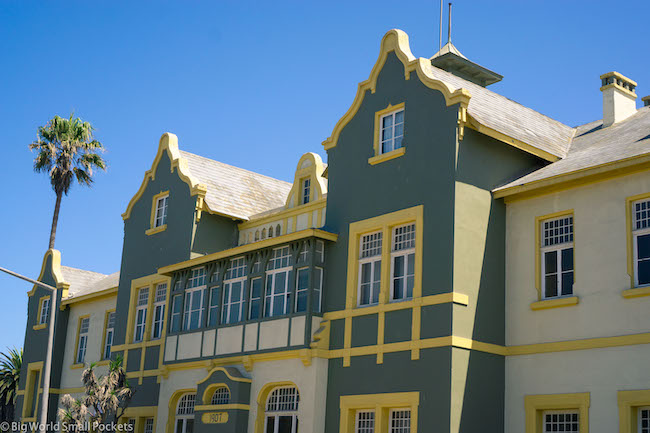 Sometimes though, it is good to come in out of the desert and experience a little bit of civilisation – and Swakopmund is the perfect place to do just this, which is why I'm including it on this list of the best places to visit in Namibia.
I'm also including it because this place is totally unique and utterly bonkers!
A mix between a coastal resort, a German heritage village and an African city, there's no doubt Swakopmund is something of a law unto itself, surrounded entirely by empty desert dunes and the wild Atlantic Ocean.
What Swakopmund does offer amidst this isolation is a fascinating charm, tons of extreme adventure activities and the chance to relax at the beach, all of which make it a hit in my book!
#5 Solitaire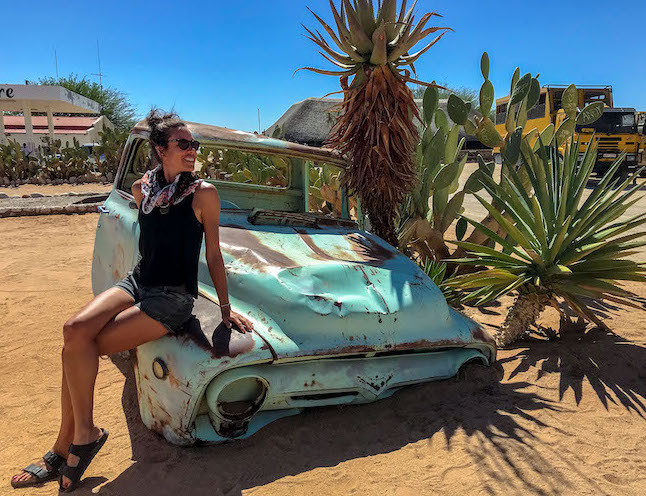 And talking of bizarre towns, if you thought Swakopmund was a bit of an anomaly, wait until you get to Solitaire, another one of the best places to visit in Namibia for its end-of-the-earth, final-frontier feeling.
Yes entering this tiny hamlet, unequivocally in the middle of the nowhere, feels like walking into a Mad Max set, and offers more Wild West-style photo moments than you know what to do with!
There's also a famous café offering arguably the best apple pie in the country.
Personally, I went for an espresso instead, but either way this is a great pitstop, which reminded me a lot of my time in Outback Australia.
#6 Windhoek
It goes without saying that you can't miss the capital when you travel to Namibia, and this colonial gem is definitely worth at least a few days of your itinerary to explore its cute cafes, quaint feel and heritage architecture.
When it comes to budget places to stay, Chameleon Backpackers comes highly recommended and many tours both begin and end in Windhoek, making it a good place to bookend your time here.
If self-drive is more your thing and you're not carrying onto either South Africa or Botswana, then Windhoek is also a good place to begin and end any circuit road trip in Namibia, where rental vehicles are easy to find.
HOW LONG TO SPEND IN NAMIBIA

Well how long is a piece of string?!

Honestly I'd suggest at least 2 weeks in Namibia to ensure you have the chance to tick most of the major sights off your list.

This country is huge and travelling between places takes a lot of time you'll need to factor in as well.

If you can 3 weeks, that would be ideal!
#7 Cape Cross Seal Colony
Prepare yourself for the smell and don't say you haven't been warned!
But seriously, stench aside, the chance to see thousands of seal, including babies, at this coastal colony is pretty damn impressive.
Rumoured to be the largest seal colony in the world, take a scarf or buff to wrap around your face for the stink, and then just enjoy the endless stretches of seals sunbaking and frolicking in the waves!
#8 Fish River Canyon
If you haven't got the impression already that Namibia is a land of dramatic, breath-taking scenery, then surely you will with this entry on the list – yes coming in at number 8 of the best places to visit in Namibia it's Fish River Canyon.
The second largest canyon in the world, and the biggest in the African continent, the size of Fish River Canyon really has to be seen to be believed… and even then it's still hard!
If you visit during the cooler months, hiking down into and along the canyon is possible as part of a multi-day trek that would be amazing to experience.
Otherwise, you can just enjoy the view, and some shorter rambles between the many of the lookout points at the top of the gorge, and then head off to take a dip in the nearby hot springs at Ai-Ais.
#9 Sossusvlei
And finally, at number 9 on my list of the most amazing places to visit in Namibia, it's got to be the one, the only, the incredible Sossusvlei!
If you've seen any pictures of Namibia on Instagram, it's likely to be of this spot, where the magnificent coloured dunes invariably stretch for miles against a rich blue sky.
Sunrise here, atop Dune 45, was a particular favourite of mine, as was witnessing the insane landscape of the petrified forest at Deadvlei, where the skeletons of so many trees jutting out of the desert sands was like something out of a storybook.
Honestly, if there's only one spot in Namibia you experience, make it Sossusvlei!
PIN IT TO PINTEREST!
And there you have it, my list of the 9 most amazing places to visit in Namibia.
One of my favourite African countries to travel, if not one of my favourite countries worldwide, Namibia can't fail to impress and I highly recommend heading there if you too have a love of the wilderness, vastness and emptiness of some extreme scenic drama!