A hidden gem isolated in the remote Pacific, Samoa is a paradise just begging to be discovered.
From tropical forests to world-class beaches, rich heritage attractions to unbelievable underwater adventures, there's so much to do during a trip to this small island nation that my list of things to do there just didn't seem to stop growing!
Because before my trip to Samoa, I really had very little idea about just how diverse and delightful this place would be.
With my expectations of tropical island trips dominated by a fear large, impersonal resorts so common in the Caribbean, I was delighted to find in Samoa something totally different.
An amazing country with a vibrant cultural identity, unique ambience and strong independent spirit, it may come as no surprise to you therefore that I quickly fell in love with this place and its very authentic, down to earth and personal atmosphere.
Yup, there's no denying it, Samoa's got some serious soul, and couple this with its beautiful beaches, crazy coral reefs, wonderful waterfalls and seriously off the beaten track vibes and you got yourself a winner ladies and gents!
So here they are, the 21 epic things to do in Samoa…
---
Related Posts
---
My trip to Samoa was kindly sponsored by Samoa Tourism, but, as always, all views are my own.
Prices listed are correct at the time of publication.
This page contains affiliate links meaning Big World Small Pockets may receive a small commission on any purchases at no extra cost to you.
---
#1 Hit the Beach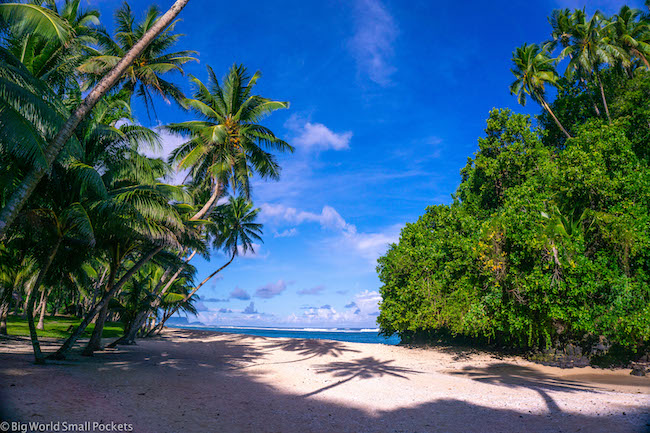 Cutting straight to the chase, there's no question that one of the best things to do in Samoa is hit the beach!
With some of the most beautiful stretches of sand I've ever seen and plenty to choose from too, I honestly think you could hit several different beaches each day during your travels in Samoa and still not see them all!
Most accommodation across the Samoa islands is either on, or close to, the beach and this will be the cheapest stretch of sand for you to hit.
Otherwise, beaches in Samoa tend to be privately owned, so you may have to pay up to 5 Tala to visit them.
That said, with beaches on Samoa like Lalomanu – once voted one of the top beaches in the world – it's a price worth paying I reckon!
Cost: Free where you're staying, otherwise varies
#2 Discover the Lava Fields
And to prove to you early on just how diverse these islands' landscape are, coming in at number 2 on this list of things to do in Samoa is visit the lava fields.
Yes from sand to hardened molten rock in just a few minutes, who knew Samoa was still home to an active volcano?
Not me before I went there that's for sure!
However discovering the lava fields – an amazing place where an abandoned church sits on top of an old molten stream that suddenly decided to pick up speed, plough through and destroy it many years ago – it was clear this volcano definitely means business when it wants to!
Cost: 5 Tala per adult
#3 Enjoy the Sliding Rocks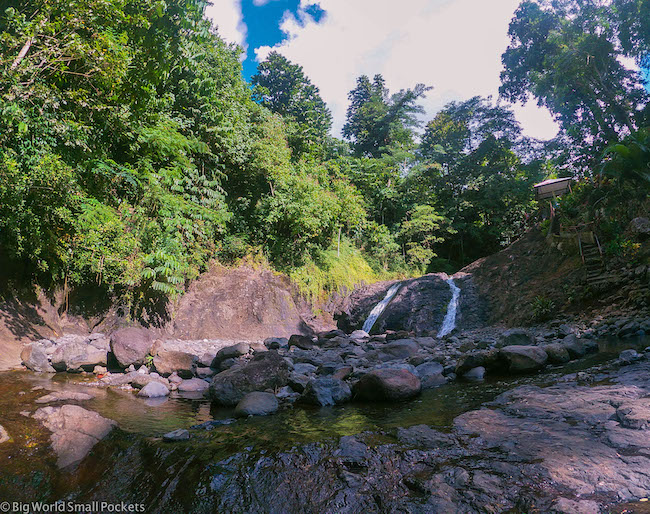 And from beaches to volcano paths to jungle cascades, number 3 on this list of the best things to do in Samoa has to go to the fantastic Papaseea Sliding Rocks.
Hiking down 100 steps to get to these natural cascades will reveal a beautiful forest glen complete with natural pools that are perfect for cooling down in.
The lush jungle surrounds aren't bad as a backdrop either!
The braver ones among you might choose to slide down these natural waterslides, although please take care as I was warned it was not totally safe!
Cost: 5 Tala per adult
#4 Be Amazed at the Snorkelling
And sticking with the watery fun theme, you simply can't visit Samoa and not try a bit of snorkelling while you're there.
With some of the best coral I've ever seen in just waist-deep water, Samoa's marine life is on another level when it comes vibrancy and vitality.
Reefs seem to dot the coastline almost everywhere and generally just swimming out from the beach for a few metres, often right in front of your accommodation, will provide you with some of the most amazing snorkelling experiences ever!
And yes, there's turtles!
2 species in fact!
Cost: Free if you bring your own snorkelling gear, otherwise many accommodation providers offer rental sets, sometimes for free if you're staying there
#5 Take a Dip at the Ocean Trench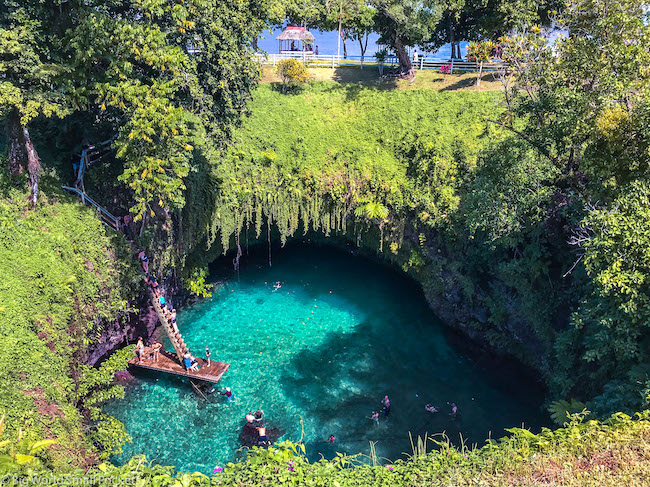 But if the colours of the ocean around Samoa weren't enough, it's about to get even more paradisaical care of the incredible To Sua Ocean Trench.
Because this really is next-level paradise!
Essentially a large sinkhole filled with ocean water, climbing down into this hole in the earth to splash around in some of the most crystal clear, sparkling water I've ever seen, is definitely one of the best things to do in Samoa, if not the world!
Seems an exaggeration, but it's not!
Cost: 20 Tala per adult and worth every cent
#6 Visit the Robert Louis Stevenson Museum
Who knew that Robert Louis Stevenson, author of Treasure Island, lived and died on Samoa?
Not me!
Yup, just another surprise in Samoa's great arsenal, this famous writer also fell in love with this Pacific paradise (spot the theme here people!) and built a grand old home here for him and his fam to chill out in.
Lovingly restored, you can now visit this beautiful plantation-style residence come museum to learn more about the life of Stevenson and to see some incredible, historic pictures taken during his time on the island.
Cost: 20 Tala per adult
#7 Sleep in a Fale
Fale is the name given to the traditional Samoan buildings that you still see everywhere on the island, with most still in use.
Essentially round wooden structures with palm roofs, many have been now been upgraded to include privacy blinds or curtains.
The centre of village life, fale have also now sprung up along the coast in Samoa and are the perfect accommodation of choice for budget travellers.
Situated literally inches from the lapping waves and often on stilted platforms just above the sand, this is the best way to experience a slice of traditional Samoan culture and make the most of this island's blissful natural landscapes at the same time.
Cost: Various. Try Faofao Beach Fales or Matareva Beach Fales for some great deals
#8 Scream at the Blowholes
Honestly, I'd forgotten just how fun a good blowhole was, because trust me, everyone is reduced to a joyful child-like screaming state when these natural tidal sensations go off!
Essentially eroded holes in the ocean-skirting rocks, the extreme tidal force of the great Pacific Ocean around Samoa, means seawater regularly gets pushed through these holes with such force that the result is a spring-like jet of water shooting suddenly high into the air.
Trust me, it's a lot more fun than it sounds and screaming along at the Alofaaga Blowholes on the island of Savai'i is definitely one of the most epic things to do in Samoa.
Cost: 5 Tala per adult
#9 Stroll the Canopy Walk
Also situated on Savai'i, the second largest island of the Samoan collection, is the wonderful Canopy Walk, which is essentially a suspended rope bridge in the jungle here.
Plucking up the courage to walk across the swinging, elevated path is half the fun, after which you can climb up the wooden staircase built around the trunk of a huge Banyon tree.
Brave it to the top and you'll be rewarded with an epic forest lookout over the canopy of the jungle all the way to the ocean.
Cost: 10 Tala per adult
#10 Sample the Local Food
Next in, we can't talk about travel in Samoa and not mention the food.
Being a vegetarian I didn't get to sample the main speciality here, namely the sensational fresh fish, which those travelling with me definitely enjoyed to the max!
That said, the taro and the coconut and the yam and the delicious fresh fruits were all wonderful and more than enough to keep me happy!
It may also be worth pointing out here, that it is totally possible to travel as a vegetarian in Samoa, with most places offering at least one meat-free option and plenty of salads.
Cost: Various
#11 Cast a Line
Again, not one for me as vegetarian personally, but an activity that I know lots of people will appreciate on this list of the best things to do in Samoa, is to cast out a line and reel in some fish!
With special chartered sailing trips available, as well as cheaper options in traditional canoes or from the shore, this is a great one for all those fanatics out there.
Cost: Various. Shore casting prices start from around 15 Tala per hour
#12 Hop on a Local Ferry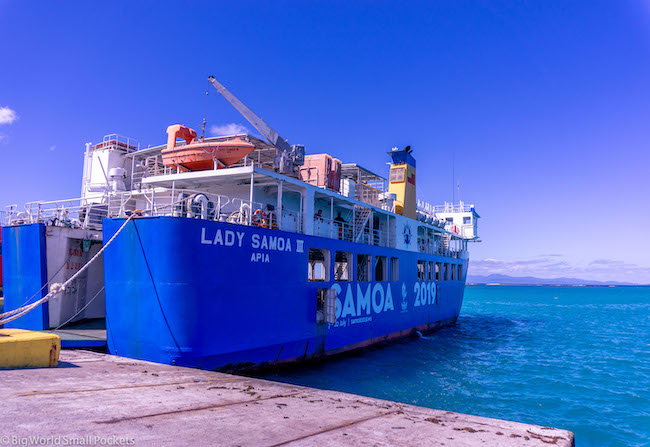 But, if like me, your idea of a good boat trip is not to catch something, but to get somewhere, then hopping on one of the local ferries that transport passengers, vehicles and cargo between some of the Samoan islands is a wonderful adventure.
Chock full of local people, and with some potential to spot whales during the right time of year, I loved catching the ferry between islands during my time in Samoa – not only for the stellar sea views, but because it was a very authentic and non-touristy experience too.
Cost: 12 Tala per adult foot passenger on a one way journey from Upolu to Savai'i
#13 Experience a Sunday Service
And sticking with the authentic, local vibes, if you weren't aware Samoans a) love to sing and b) are devoutly religious, which really makes the Sunday services that take place in every church on the island quite the spectacle.
Dress in smart, white clothes if you want to blend in with the locals and get ready for the roof to be raised!
Cost: Free, with the option to make a donation if you wish
#14 Snap the Waterfalls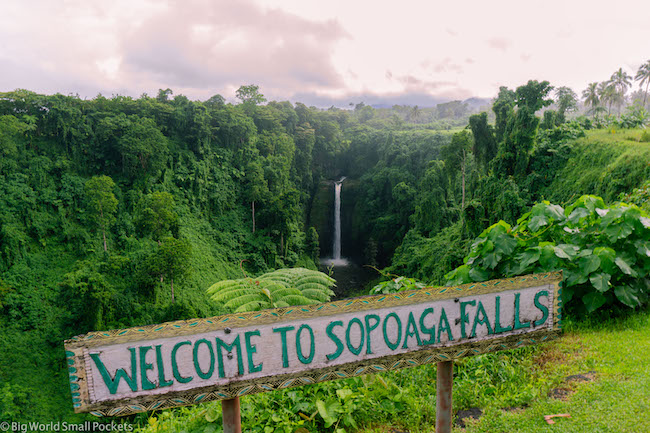 Heading back to the natural attractions now, one of the most epic things to do in Samoa you can't miss is snapping some of the country's sensational waterfalls.
The 3 largest and most spectacular are Sopoaga, Papapapai-Uta and Togitogaga, all examples of huge bodies of water tumbling over dramatic cliff edges amidst lush, tropical rainforest.
Spotting a rainbow while you're there only adds to the magic of course!
Cost: Varies, but roughly 10 Tala per adult
#15 Discover the Cultural Village
Samoa has a rich and unique cultural heritage with many strong, traditional practices that are still in use today.
Learning more about some of the customs here, including the ritual tattoo ceremonies, the ancient way of cooking and the traditional arts of carving and weaving, as well as dying and printing fabrics, will certainly compliment your travels in Samoa and give you a greater appreciation for the country's deep heritage.
And the best place to do this is definitely the Samoan Cultural Village.
Set in the capital, Apia, the demonstrations here are given 3 times a week (on a Tuesday, Wednesday and Thursday) and will take you through many traditional practices, including song and dance performances, over a number of hours from 10:30am – 1pm.
Absolutely one of the best things to do on a budget, this amazing spectacle is totally free!
Cost: Free
#16 Kick Back in a Kayak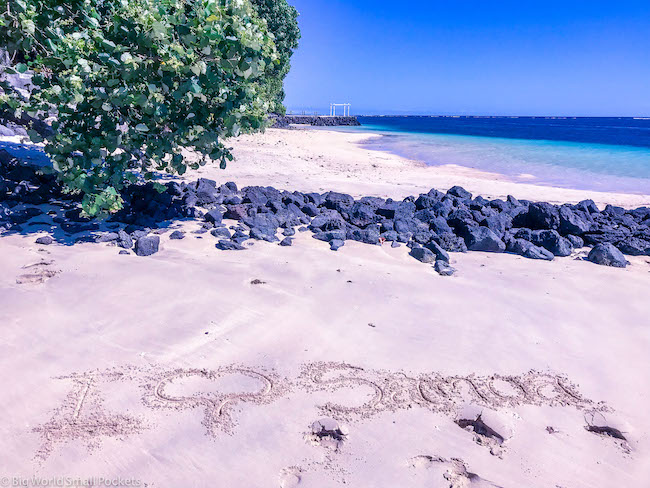 So we've covered the snorkelling, the swimming and the fishing, but we can't miss out the kayaking on the beautiful blue waters of Samoa too.
Perfect for spotting those turtles, given the higher perspective you can get, many accommodation providers have kayaks you can use for free if you stay there.
SUP-ing in Samoa is also possible and every bit as amazing as cruising through the waters of a tropical ocean on a board with a paddle sounds!
Cost: Various
#17 Experience a Local Bus
And moving onto number 17, definitely one of the most fun things to do in Samoa is to experience a local bus ride.
These decked-out, old school buses make for quite the scene as they cruise around the island, and finding the most vividly painted one with the loudest blaring music is going to be the perfect way to get into the full Samoan swing of it all.
Cost: A few Tala per journey
#18 Peruse the Markets
And yet another way to experience modern Samoan life is to head along to one of the local markets in the capital Apia to check out the amazing array of fruits and vegetables, as well as enjoy a spot of people-watching and local chatter too.
Many also offer some great souvenirs, so this is the place to head if you want to pick up a gift or 2.
Cost: Depends how restrained you are!
#19 Treat Yourself to a Massage
The next entry on my list of the most epic things to do in Samoa involves a little bit of a splurge, but is still way cheaper than most of us would pay at home.
Yes getting a traditional Samoan massage, which is quite a deep tissue affair, is a must during your time here if you really get to get the whole relaxation thing rounded off to a tee!
Most hotels in Samoa offer a spa service, which is well worth indulging in at least once I reckon.
Cost: Various
#20 Lunch with a View
We're almost there with this mammoth list (I told you it just kept growing!), but I couldn't miss enjoying lunch with a view off this list of the epic things to do in Samoa.
Obviously you can go crazy and have lunch on the beach at one of the fanciest hotels here, but if you're on a budget, then the delightfully quaint Forest Café, makes the perfect alternative.
Set in some beautiful jungle surrounds, you can sit at a high table here, enjoying a smoothie and a sandwich and feel totally immersed in the natural landscape.
Cost: Lunch for under 15 Tala
#21 Marvel at a Samoan Sunset
And last but not least on this list of the 21 most epic things to do in Samoa, is round off your island time in style with a Samoan speciality.
Yes I'm talking about a sunset of course, because this island really knows how to do well!
Need I say more?
Cost: Free
Mini Travel Guide to Samoa
How to Get to Samoa?
It's no secret that Samoa is about as remote as it gets, which doesn't make journeying to this island especially easy or cheap.
That said, it's worth every cent when you do get there!
Some of the cheapest flights to Samoa go direct from with Sydney or Auckland, so check out Skyscanner for the best deals around.
How Long to Spend in Samoa?
I guess the answer to this is really, how long have you got?
Because, if you're anything like me, you're probably going to struggle to pull yourself away from Samoa in all reality!
But knowing that most of us have to travel on timeframes, I'm going to suggest a week is the minimum time you should head to Samoa in order to get a good flavor of what the country has to offer and to justify the travel time to get there.
If you can stretch to 10 days or 2 weeks, you'll have plenty of time to explore some of the other Samoan islands, such as Savai'i, as well as get off the beaten track on the main island of Upolu more too.
5 Packing Essentials for Samoa
#1 Dry Bag – I discovered dry bags during my time in Southeast Asia and now I wouldn't go anywhere without one, especially not to somewhere like Samoa where the water activities, beach days and jungle adventures here are plentiful and the risk of your unprotected electronics getting wet therefore is high!
#2 Birkenstocks – A good pair of sandals are king in Samoa and I love my Arizona Birkenstocks which are perfect for keeping my feet cool, supported and for kicking on and off easily when you hit the beach. Literally wore them all day, every day in this island!
#3 Australia Power Adapters – Samoa primarily uses the Australian type power outlets, so make sure you come prepared with a suitable Skross adapter.
#4 Action Camera – I love my GoPro Hero 7, which was ideal for capturing all the watery and active fun of this diverse and delightful paradise.
#5 Sarong – A great multi-purpose travel item that can be brilliantly used through Samoa as a beach towel or a dress to slip over wet swimwear. A good sarong is a tropical island travel must-have in my book.
Travel Insurance for Samoa
World Nomads offers simple and flexible travel insurance. Buy at home or while travelling and claim online from anywhere in the world.
Alternatively, if you're a long-term traveller, digital nomad or frequent remote worker seeking travel health cover, check out Safetywing's Nomad Insurance policies.
PIN IT TO PINTEREST!
And there you have it, my list of the 21 epic things to do in Samoa.
Are you planning a trip to this island paradise?
Let me know all about it in the comments box below…