I could keep this really simple and short and just say that the number 1 reason you need to get "travel Samoa" on your bucket list asap is because this place truly is paradise.
Like seriously, picture postcard, perfect paradise.
But that wouldn't make a very interesting or useful article would it?!
So it's probably best that I explain a little more about just how much (and why) this Pacific gem quickly dazzled me beyond measure!
Here's the 9 reasons you need to visit Samoa real soon…
---
Related Posts
---
My trip to Samoa was kindly sponsored by Samoa Tourism and Virgin Australia, but, as always, all views are my own.
This page contains affiliate links meaning Big World Small Pockets may receive a small commission on any purchases at no extra cost to you.
---
#1 There Are Hardly Any Tourists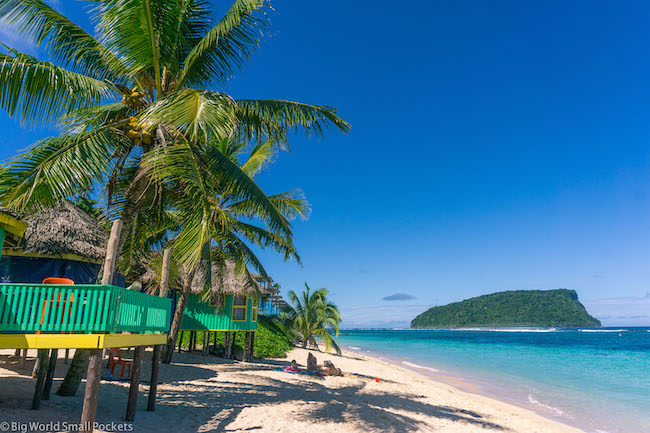 So as you may have guessed by now, getting off the beaten track is def one of my fav travel things to do.
In fact, I really should have called this blog something like Big World, Small Pockets, Off Grid…. or maybe not!
But I digress, the point is that getting to spots that few other travellers know about / have visited / are visiting is what really gets this travel girl all fired up.
And I'm delighted to say Samoa definitely ticked this box in a big way.
Being about as remote as remote can get, a quick look at Google maps will have you realising that this island is pretty much at the end of the earth.
Yup, it's a 3+ hour flight east of New Zealand and if you keep going east from Samoa, you actually cross the international dateline and go back in time.
I know, blew my mind too!
So anyway, my point is that given its geographical location, Samoa is a true island gem that has remained delightfully free of tourists despite its paradisiacal vibes.
Certainly on par with any of the more famous dreamy island spots, such as the Maldives, the Caribbean or Seychelles, Samoa tops them all in my opinion, but people haven't yet realised it!
Having spent a week in Samoa, outside of the few hotels I stayed in, I saw hardly any other tourists (even though it was the start of high season) and, it seemed I was such a rarity that I was even interviewed by the local press!
Of course, less tourists means Samoa has not been blighted by commercialism, ruined by large package tourist groups or generally trampled all over.
And, as such, it's still super pristine, untouched and incredibly pretty.
And, as far as remote, island, bliss spots go, it's pretty reasonably priced too.
So seriously, get "travel Samoa" on your bucket list asap before everyone else does and the prices start shooting up.
#2 It's Incredibly Clean
And, of course, one of the things I'm talking about when I say Samoa has not yet been ruined by over-tourism is that nature here has not been blighted by development or littered with trash.
In fact, it's quite the reverse and I honestly think Samoa is one of the cleanest places I've ever travelled in my life.
Now, this may be because directly before I visited these islands I'd been travelling in Southeast Asia, where the pollution and waste issue depressed me on a near-daily basis, but seriously, Samoa blew my mind with just how clean the whole country was.
Litter bins are everywhere, people use them and, best of all the whole county is plastic-bag and plastic-straw free – these items are actually banned.
Even the streets of the capital city, market places and bus stations are clean as a whistle.
The waterfalls and beaches are spotless too and I never saw a single piece of floating plastic in the ocean around this country.
How clean Samoa was really delighted me beyond words and only emphasised what a paradise this island is and why you should travel Samoa as soon as you can… in case it all gets ruined.
#3 It's Beautiful Beyond Words
And what makes the fact that Samoan people look after their beautiful islands even more special, is the reality that they've got some serious beauty to look after.
Yup, if you picture your ideal tropical, island dream, you're probs going to conjure up something pretty close to the Samoa reality.
It goes a bit like this…
The clearest of ocean waters, brimming with vibrant coral and marine life such as turtles and whales.
The purest, white sand beaches which, stretching for miles, are backed by palm trees gently swaying in the breeze and hardly have a soul on them.
The lushest, green rainforest dripping down from mountains amidst tumbling waterfalls, gorges and natural swimming holes.
Honestly, I could barely go 5 minutes in Samoa without getting out my camera to snap yet another amazing view and at points, was so dumbfounded by the colour spectacle in front of me that words failed me.
I know… that good!
Nature in Samoa really is something else, so if you're into jaw-dropping gorgeous vistas (and let's, be honest, who isn't) then you def need to get "travel Samoa" as an item on your bucket list pronto!
#4 There's So Much Diversity to Discover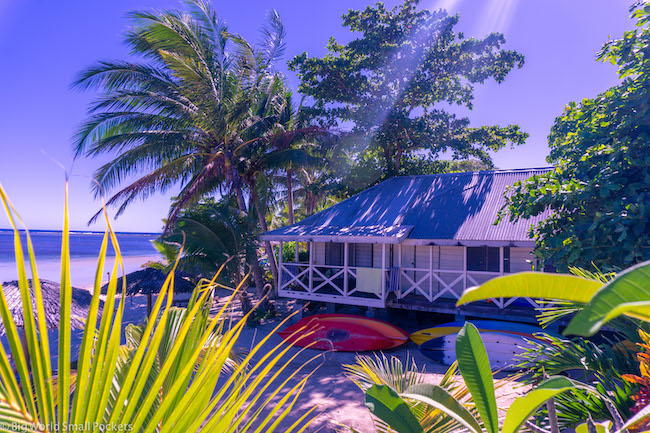 And leading on from the beauty point, I also want to emphasise that the landscapes of Samoa are also super diverse.
In my book, this deserves a point in its own right, because you don't just have to settle for a boring beach holiday in Samoa if you don't want to.
No, no my friends, perfect for the whole family, groups of friends, solo adventurers or couples who like some active time along with some chill days on holiday, Samoa offers the perfect all-round, all-in, solution.
From diving and snorkelling to kayaking and SUP-ing, discovering hidden spots on island drives, shrieking at blowholes, sliding down rapids, trekking jungle paths, visiting cultural attractions, snapping waterfalls, discovering lava fields, swimming in ocean trenches and enjoying local cooking lessons, the list goes on and on.
So not only should "travel Samoa" be on your bucket list for the beauty, but the sheer diversity of this beauty really is quite astounding and well worth a look in!
#5 The Locals are Super Friendly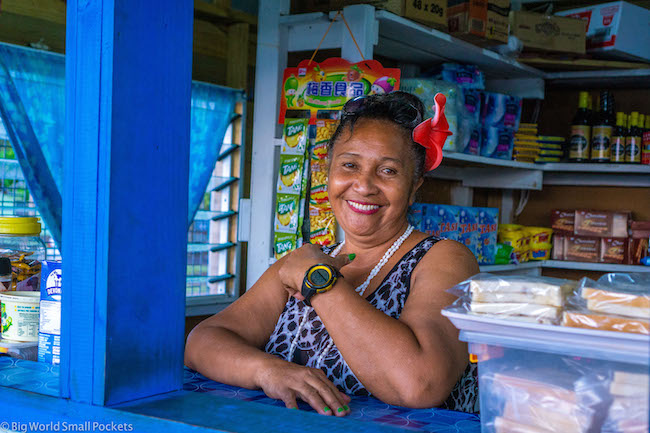 But now it's time to move onto the people, because definitely one of the top reasons "travel Samoa" should be on your bucket list is for the incredibly warm welcome you'll receive here.
Samoans are some of the most relaxed, easy-going and friendly people I've ever met and there's absolutely no question that you'll be looked after perfectly when you visit their island home.
In general, people here are super proud of their culture (as they should be) and are always more than willing to talk to you about it or engage in conversation about the amazing place they live.
Being a remote country, Samoa very much runs on island time, so kick off your shoes, leave your schedule at home and get ready to be welcomed with a big Samoan hug into life at a chilled pace.
And when I say chilled, I mean chilled.
Just what you need from a tropical holiday I say.
#6 The Culture is Utterly Unique
But as I've pointed out before, Samoa is so much more than just a beach holiday and one of the main reasons for this is the strong, traditional local culture, elements of which are still very much in practice today.
With opportunities to learn more about the unique history, customs and rituals of this island nation at every turn, the depth of this heritage and practice adds a rewarding level of interest to any travel time in Samoa.
For me, it was definitely a big part of why I enjoyed my time in this country so much, because it's where the heart and soul of Samoa really comes to life.
From a wonderful morning spent at the Cultural Village in Apia to the local dance performances I experienced over dinner, you'll quickly learn that these people love nothing more than singing, dancing and sharing it with people.
And, wait until Sunday, when they all pour into the churches and the religious fervour gets thrown into the mix!
#7 It's Easy to Travel To and Around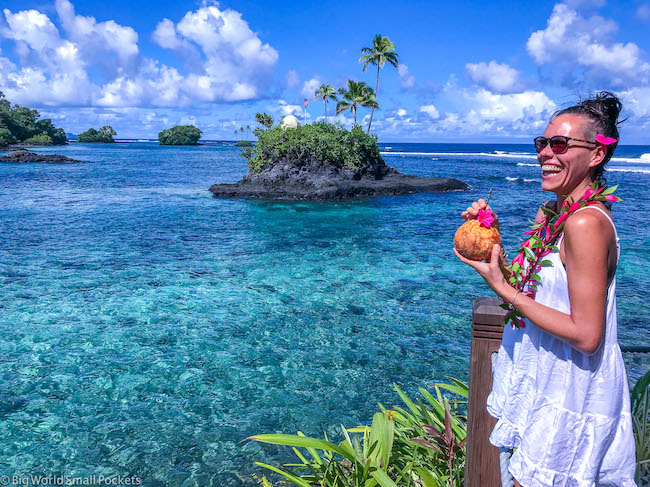 And come in at number 7 on my list of the reasons you need to get "travel Samoa" on your bucket list asap, is because this island is surprisingly easy to travel in.
Yes, while it may be way out there in the Pacific, direct flights from both New Zealand and Australia several times a week mean if you're in or around the Land Down Under already, it's just a 5 hour hop, skip and jump across to Samoa.
I flew direct with Virgin Australia from Sydney and loved the fact that this night flight had me waking up in paradise with a whole day ahead of me to start exploring!
And once you get to Samoa, you'll also find travel here very accessible with plenty of good accommodation on offer, restaurants to sample and easy car rentals if you want to explore the island.
Finding your way is easy too, with low speed limits and only a number of small roads circumnavigating the island.
With most local people speaking some level of English and happy to help, travelling in Samoa couldn't be any easier, even if you do get lost!
#8 It's Wonderfully Safe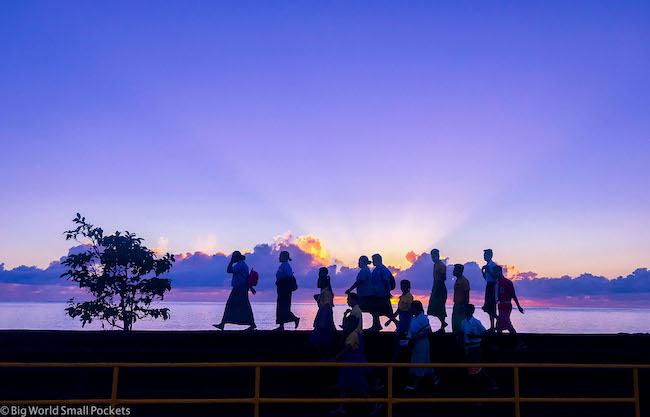 I travelled to Samoa as solo female and certainly felt very safe being there.
In fact, I wasn't hassled once and felt totally comfortable visiting beaches, cultural attractions and swimming alone.
With a beach culture, dress standards are very relaxed here for tourists, which is a blessing given the heat and humidity.
It's also a small community – across all the islands that make up Samoa there's a total population of only 200,000 – which also makes Samoa feel very secure.
It's totally the sort of place, where you sense everyone knows everyone on some level and with family honour being crucial to the fabric of society here, crime is super low.
I honestly felt Samoa is the sort of place you could leave your door unlocked without any problem.
In fact, many of the traditional homes, known as fale, don't even have walls, let alone doors or windows, perfectly illustrating my point.
#9 It's the Ultimate Escape
And finally, last on my list of the reasons "travel Samoa" should be on your bucket list is because this destination makes for the perfect escape.
If you need a complete break, want to get away from it, relax entirely, forget about the stresses of everyday life and retreat to the end of world, Samoa is literally the spot.
If you want to get lost in nature, spend days reclining at blissful beaches, discover untouched, underwater worlds and chill the heck out, then you will be hard-pushed to find a more dreamy spot than Samoa.
Having come straight from a few months in the crazy and hectic cities of Southeast Asia, Samoa was the ultimate antidote for me, and if I've ever felt more refreshed, revived and in love with the beauty of the world as I did after a week in this heaven I can't remember it.
Mini Travel Guide to Samoa
How to Get to Samoa?
It's no secret that Samoa is about as remote as it gets, which doesn't make journeying to this island especially easy or cheap.
That said, it's worth every cent when you do get there!
Some of the cheapest flights to Samoa go direct from Sydney or Auckland, so check out Skyscanner for the best deals around.
Flying to Samoa with Virgin Australia is a great option as every fare includes food and 23kg checked baggage.
With direct flights from Sydney and Brisbane, you'll be able to find yourself a great-priced fare.
If you want to plan the perfect Samoa holiday, you can call Virgin Australia on 13 15 16, or visit virginaustralia.com.
How Long to Spend in Samoa?
I guess the answer to this is really, how long have you got?
Because, if you're anything like me, you're probably going to struggle to pull yourself away from Samoa in all reality!
But knowing that most of us have to travel on timeframes, I'm going to suggest a week is the minimum time you should head to Samoa in order to get a good flavor of what the country has to offer and to justify the travel time to get there.
If you can stretch to 10 days or 2 weeks, you'll have plenty of time to explore some of the other Samoan islands, such as Savai'i, as well as get off the beaten track on the main island of Upolu more too.
5 Packing Essentials for Samoa
#1 Dry Bag – I discovered dry bags during my time in Southeast Asia and now I wouldn't go anywhere without one, especially not to somewhere like Samoa where the water activities, beach days and jungle adventures here are plentiful and the risk of your unprotected electronics getting wet therefore is high!
#2 Birkenstocks – A good pair of sandals are king in Samoa and I love my Arizona Birkenstocks which are perfect for keeping my feet cool, supported and for kicking on and off easily when you hit the beach. Literally wore them all day, every day in this island!
#3 Australia Power Adapters – Samoa primarily uses the Australian type power outlets, so make sure you come prepared with a suitable Skross adapter.
#4 Action Camera – I love my GoPro Hero 7, which was ideal for capturing all the watery and active fun of this diverse and delightful paradise.
#5 Sarong – A great multi-purpose travel item that can be brilliantly used through Samoa as a beach towel or a dress to slip over wet swimwear. A good sarong is a tropical island travel must-have in my book.
Travel Insurance for Samoa
World Nomads offers simple and flexible travel insurance. Buy at home or while travelling and claim online from anywhere in the world.
Alternatively, if you're a long-term traveller, digital nomad or frequent remote worker seeking travel health cover, check out Safetywing's Nomad Insurance policies.
PIN IT TO PINTEREST!
Have these 9 reasons to get "travel Samoa" on your bucket list ASAP got you planning your trip to this island paradise yet?
Let me know all (or fire over any questions) in the comments box below…